The Classical Tradition

Henri Matisse
Henri Matisse is widely regarded as the greatest colorist of the 20th century..
Read More About Henri Matisse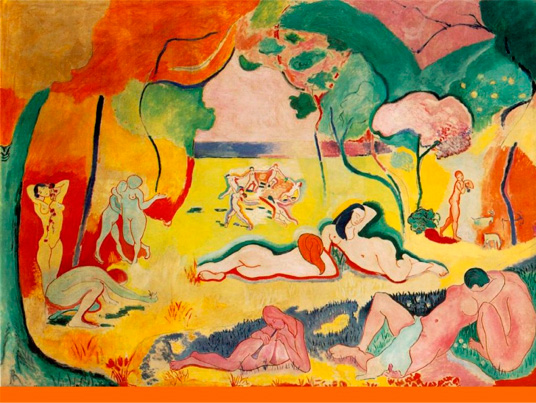 Henri Matisse, "The Joy of Life" (Bonheur De Vivre), 1905-6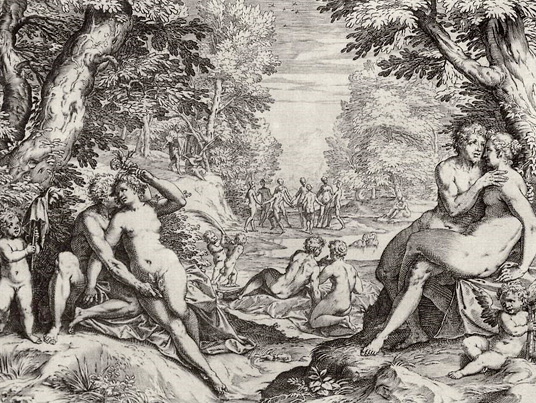 Agostino Carracci, Reciprico Amore , 1589-1595
The figures in this, Matisse's largest and most ambitious picture to date, are arranged in the manner of a pastoral scene, a genre with a history reaching back to classical poets such as Virgil. The composition draws on a remarkable range of sources, including Agostino Carracci, Giorgione, Puvis de Chavannes, Poussin, Maurice Denis and many others. Above all, however, Matisse borrowed elements from The Golden Age, by Ingres, a picture that had been prominently displayed in Ingres's retrospective in Paris in 1905. In so doing, Matisse confronted one of the most prominent and respected members of the French classical academic tradition. He retained the classical essence of his sources, but he deployed the figures on flat fields of clashing color. He simplified the figures' forms, depicted them at different scales (thus abandoning traditional perspective), and reduced many of them to silhouettes. The strange couplings, and the schematic and occasionally ambiguous rendering of the anatomy of many of the figures, has led some critics to read the picture as an image of wild sexual confusion and desire. In contrast, Ingres's, The Golden Age, has no such dazzle of color and unleashed pictorial anatomy. The subject matter is kept quiet with subdued consonant color, and elegant line and balance. Notice also the more pacified dancing of the ring of figures, relatively grounded compared to the Matisse. And where Ingres used color to naturalistically serve the figures, Matisse used the subject as a container for bold color expression that is akin to fireworks.
Back to Matisse Comparison Page
Decoration
The Image Comparison Learning Tool was developed for The Art Story Foundation by
Stephen Knudsen
and
Morgan Falconer
. Please visit
www.SteveKnudsen.com
for full information on this methodology and for further information on The Beardsley ICU System.