The Visceral Response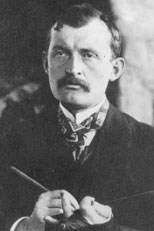 Edvard Munch
Edvard Munch (1863 –1944) was the Norwegian painter who is best remembered for creating The Scream (1893), a picture which has become an icon of modern anxiety and alienation.
Read More About Edvard Munch
Edvard Munch's The Sick Child, 1886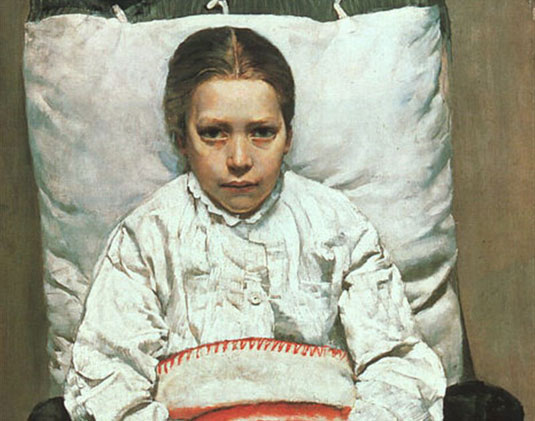 Christian Krohg's Sick Girl, 1880-1
Edvard Munch's defining breakthrough as an artist came with the painting, Sick Child, that reflected on one of the most disturbing episodes of his life, the loss of his beloved sister, Sophie. She was only 15, and he 14, when she died of tuberculosis, an event made even more disturbing since the children had already lost their mother to the disease. Tuberculosis took a strong toll on Scandinavian countries in this period, and Munch's teacher, Christian Krohg, also lost a sister to it. Krohg also memorialized the episode in a picture entitled Sick Girl (1880-1), a painting made five years before Munch's version.
Though the two paintings express similar personal experiences, the difference in execution is striking. Krohg uses a dull palette and detailed observation, meticulously rendering pale flesh and cloth in a clinical light. In contrast, Munch's Sick Child is a blizzard of wild brushwork and color that remembers both the deathbed scene and the artist's emotional response to it. While Krohg had been shaped by the Naturalism that was prevalent in Norway during an earlier period, Munch was gravitating toward the Symbolism he had seen in some of the French avant-garde art, and these examples powerfully influenced his approach to Sick Child. While Krohg's pale sister is sharply and clearly illuminated, Munch's sister seems to dissolve and glow under a light that could almost be coming from within the painting itself. And while Krohg's picture seems faithful to local color – to the natural hues of the chair and the girls' coverings – Munch's palette is a stew of changing hues that reveals his inner feelings in a more visceral way.
Back to Munch Comparison Page
Inner Anxiety Made Visible
The Image Comparison Learning Tool was developed for The Art Story Foundation by
Stephen Knudsen
and
Morgan Falconer
. Please visit
www.SteveKnudsen.com
for full information on this methodology and for further information on The Beardsley ICU System.