Abstraction and Spirituality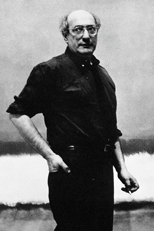 Mark Rothko
A legendary Abstract Expressionists, Mark Rothko was insistent that his art was filled with content, and brimming with his ideas..
Read More About Mark Rothko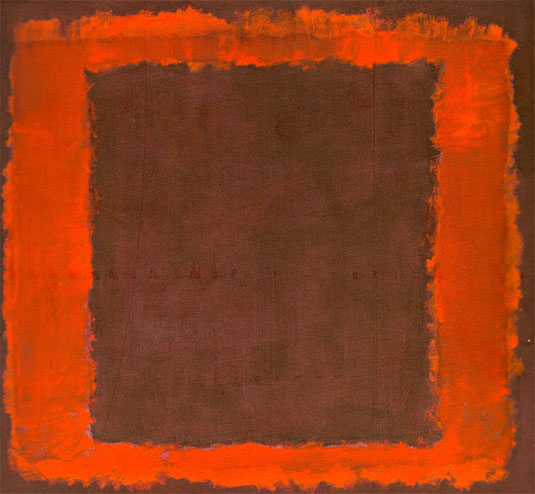 Mark Rothko's Untitled (Seagram Mural), 1959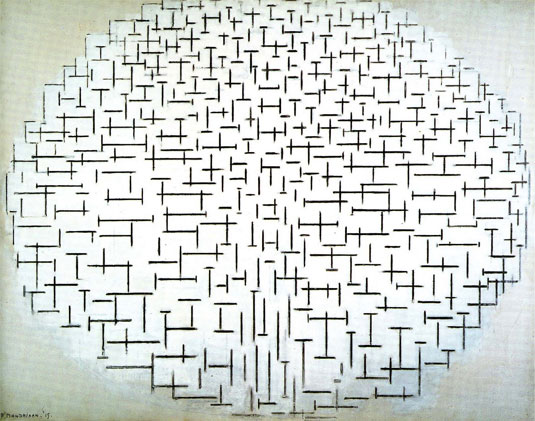 Piet Mondrian's Composition 10, Pier and Ocean, 1915
Mondrian was powerfully influenced by Cubism during the years he spent in Paris between 1912 and 1914, and upon his return to Holland he chose a site he was familiar with at Domburg as the focus for a major series of paintings which were inspired by the style. However, the motif he chose, a pier jutting out into the North Sea, represented a challenge to the Cubist style, since it contained no freestanding objects that could be viewed in the round. It had no glasses, no jugs, none of the conventional components of a Cubist still life: only a flat surface receding into a body of flat water. Mondrian's approach was to employ little more than the grid that is fundamental to Cubist paintings, and strip it of all incident, using only slight variations in the length and direction of the lines to indicate the presence of the pier and the ripples of the water. The picture's only object, only figure - the pier - was therefore made to almost dissolve into the surrounding ground supplied by the water. Cubism had reached the cusp of total abstraction. And, for Mondrian, this carried it away from the world of objects and into the realm of the spirit. A sight which prompted him to reverie, the sight of the open sea, was translated into an art that encouraged the same feelings in the viewer - with only the barest reference to the real world.

Although Mark Rothko's Untitled (Seagram Mural) (1959) contains absolutely no direct reference to the outside world, it does contain metaphors that evoke that world for us. Its earthy palette of reds, browns and oranges, suggests the landscape, while the square at the center of the picture evokes a window out onto that landscape. Mondrian used geometric abstraction to pursue his ends, and Rothko used expressionist traditions, but both sought to use abstraction to evoke the spiritual by emptying their pictures of direct references to the real world. Indeed, they suggested that the world has been dematerialized, dissolved into line and color, and they leave only metaphors to excite our imaginations.
Contemplating the Void
Color and Spirituality
The Image Comparison Learning Tool was developed for The Art Story Foundation by
Stephen Knudsen
and
Morgan Falconer
. Please visit
www.SteveKnudsen.com
for full information on this methodology and for further information on The Beardsley ICU System.