Artists
Tony Smith
Biography and Legacy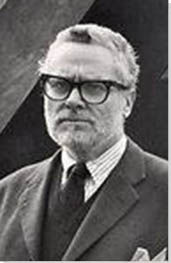 Born: September 23, 1912 - South Orange, New Jersey
Died: December 26, 1980 - New York City

"I had always been impressed by systems of order. I always felt that instead [of] reducing a subject they lent to it an air of mystery."

Biography of Tony Smith
Childhood
Born in 1912 and raised in South Orange, New Jersey, Anthony Peter Smith used to say that his initials stood for "architect, painter, sculptor". The second of seven children, his father was a mechanical engineer for the family waterworks factory, his mother a homemaker. In 1915, the family visited the Panama-Pacific International Exposition in San Francisco. Smith later recalled his interest in the neo-classical Palace of Fine Arts, built by the Arts and Crafts-era architect Bernard Maybeck to house the Exposition's artworks, as well as a visit to the ruined dwellings of the ancient Puebloan civilization in New Mexico on the way home.
Shortly after this trip, and for the rest of his childhood, Smith was quarantined with tuberculosis. In 1916, he moved out of the family home into a small, prefabricated property within its grounds. He was cared for by a nurse and educated by a private tutor, occasionally attending the Sacred Heart Elementary School nearby. During his seclusion, Smith occupied himself by building models of Pueblo villages from medicine cartons, plasticine and matchsticks. He later referred to this period of isolation, and his earlier experience of visiting the Pueblos, as "formative influences" on his art.
Education and Early Training
Smith recovered from his tuberculosis around 1926. He studied at several institutions, including Fordham University and Georgetown University, but did not stay at any of them for more than a year. After his time at Georgetown, he returned to New Jersey to work, commuting into Manhattan at night to attend classes at the Art Students League. Juggling multiple commitments, Smith had to work quickly, recalling that "[s]ometimes I made quite a few things in one day".
In 1937, he enrolled at the New Bauhaus (now the IIT Institute of Design) which had been founded that year in Chicago by the Hungarian artist and former Bauhaus tutor László Moholy-Nagy (one of many European modern artists forced to flee Germany in the 1930s as the Nazis clamped down on cultural expression). Enrolled to study architecture, Smith soon befriended his course-mate Theodore van Fossen, whom he would partner with professionally between 1940 and 1944. Smith left the school after a year, however, to work with the iconic modernist architect Frank Lloyd Wright, having been inspired to ask Wright for a job upon seeing his work in Architectural Forum magazine. Within Wright's organization, Smith rose from bricklayer and carpenter to construction supervisor. Despite not earning official certification, he also set up his own architectural practice in 1940; a budding teaching career supported his creative work, affording him the time and resources to experiment.
During the late 1940s and 1950s, Smith established himself in the art world, though arguably more as a social than a creative presence. The art historian Phyllis Tuchman describes him as "a gaunt, bewhiskered Irishman with an indefatigable spirit and a raconteurial manner". He became known as the charismatic friend of prominent artists associated with the Abstract Expressionist movement, including Jackson Pollock, Mark Rothko, and Theodoras Stamos. Smith even designed a house for Stamos in 1951, and a painting studio for the artist Fritz Bultman in 1945.
Mature Period
In 1951, Smith had an epiphany about art whilst driving across the unfinished New Jersey Turnpike. Surrounded by the half-finished human landscape, he observed "dark pavement moving through the landscape of the flats, rimmed by the hills in the distance, but punctuated by stacks, towers, fumes, and colored light". The experience was deeply significant to Smith, inspiring him to develop a new creative language which would express the growth and repetition of objects in space.
Just after, Smith took a break from architecture, leaving New York City to join his wife, the opera singer and actor Jane Lawrence, in Heidelberg, Germany, where she was then working. Whilst in the country, Smith visited World War Two ruins, describing them as "surrealist landscapes, something that had nothing to do with any function, created worlds without tradition"; these man-made but inhuman worlds perhaps had something in common with the urban landscape around the New Jersey Turnpike. Between 1953 and 1955, Smith created what is known as the Louisenberg Series, paintings formed from colorful geometric grids of repetitive organic shapes, that can be viewed as an exercise in understanding sculptural form.
Smith returned to New Jersey in 1955, by which time he had three daughters, Kiki, Seton, and Beatrice. In addition to working as a draftsman for the architectural firm Edelbaum and Webster, he taught at the Delahanty Institute, the Pratt Institute of Art, and Bennington College. During his time as a teacher, he produced his first titled three-dimensional work, Throne (1956-57). Smith preferred the term "presences" over "sculptures" for these three-dimensional pieces, explaining: "I was just thinking about form [...] They just exist [...] They are just present."
Late Period
Despite his frustration at the way in which his architectural designs were often altered by builders, Smith worked primarily as an architect for much of his life, maintaining his practice until 1961, when he developed a rare blood condition following a car accident. Whilst recovering from the accident, he returned to his childhood practice of creating small sculptures from paper and cardboard modules, often aided by his own children, who staged 'exhibitions' of Smith's work in the backyard. His assistants would then construct the models on a larger scale using plywood, painted black in order to "camouflage [...] imperfections". The six-foot cube Die (1962) was one of the first models Smith created which was built to the desired scale, followed by his first steel sculpture, Black Box (1962).
Despite his active creative life, Smith did not exhibit as an artist until 1964, when The Elevens Are Up (1963) was included in the exhibition Black, White, and Gray at the Wadsworth Atheneum in Connecticut. Two years later, Smith's work was included in Primary Structures at the Jewish Museum in New York, an exhibition that, like Black, White, and Gray, helped to establish the stylistic parameters of Minimalism. Smith's first solo exhibition followed in the fall, whilst articles in Artforum and Time increased his public profile.
During the late 1960s, Smith designed several unrealized site-specific projects, including one for the University of Hawaii, where he was then teaching. He became particularly interested in installing works "against buildings or against trees and foliage so that you can feel the volume of the space within which the piece exists." Among his final works was a series of sculptures called Groves (1980), designed to be erected in parks and squares across America. He likened these works to "an avenue of sphinxes or an avenue of horses or camels", feeling that they offered an abstract symbol of American culture. By 1980, Smith's health had seriously deteriorated, and he died of a heart attack in December, aged 68.
The Legacy of Tony Smith
The art critic Robert Storr has called Smith "a true Renaissance man", a description befitting a figure who mastered architecture, sculpture and painting during his lifetime. Smith received the Award of Merit Medal for sculpture from the American Academy of Arts and Letters in 1978, and was elected a full member of the Academy the following year. His sculptures are found in museums and private collections throughout North America, Europe and Asia, often exhibited outdoors. The 31-foot red steel sculpture For Marjorie (1961), for example, stands in the grounds of MIT, whilst the 35-foot, 75-foot-wide orange arch Last (1979) is located in downtown Cleveland.
As well as excelling across multiple media, Smith was a pioneer of Minimalism. Exhibiting at the seminal Black, White, and Gray exhibition in 1964, he helped to introduce a new, monochrome and monolithic aesthetic into North-American art, signaling a decisive move away from the emotive spontaneity of Abstract Expressionism. Die (1962) has been seen as a key Minimalist work, its dark surface and lack of visual differentiation challenging traditional understandings of artistic expression as involving a finely wrought, complex aesthetic appeal. Nevertheless, Smith distinguished himself from the more famous initiators of Minimalism - Carl Andre, Dan Flavin, Donald Judd, Sol LeWitt, Robert Morris - stating that "Morris and Judd and all those guys really thought about what they were doing [...] I never thought about anything that I did. I just did it."
Smith was also a remarkable networker, and a larger-than-life presence on the American art scene; Phyllis Tuchman notes that "the pages of Smith's life read like a 'Who's Who' of American art". Smith developed friendships and creative relationships with prominent artists such as Jackson Pollock, whose stained-glass windows he included in designs for an unrealized church in 1950, and whom he would often watch painting. Smith was also responsible for remodeling the former French and Company Gallery in the Parke-Bernet Building, where both David Smith and Barnett Newman held influential shows in 1959, and even designed a headstone for Newman following his death. Smith's students at New York University included Larry Rivers and Robert Goodnough, both artists who found original routes through the byways of Abstract Expressionism. At Hunter College in New York he mentored the land-based sculptors Robert Morris and Alice Aycock. Two of his three daughters, Kiki and Seton Smith, also became visual artists.
Most Important Art
Stamos House (1951)

Influenced by the modernist architecture of Mies van der Rohe and Frank Lloyd Wright, the underlying structure of Tony Smith's Stamos House comprises a rectangle on stilts, though the pitched roof and angled trusses provide a hexagonal facade. This striking geometrical shape is emphasized by lifting the main body of the building off the ground, as if it were floating: an idea Smith would return to in later sculptural works. Unlike Smith's other projects of the 1950s-60s, such as his unrealized church and the so-called Bennington Structure, Stamos House does not follow a repeated cell structure - involving reiterated, correlating three-dimensional forms - but instead resembles instead a single, hexagonal module.

The house was built for the Abstract Expressionist artist Theodoras Stamos, a friend of Smith's, who granted him control over both the design and construction of the work. As such, the materials, construct techniques, and visual design were all devised in harmony, thereby avoiding the friction with constructors that Smith experienced on some of his architectural projects. The art historian Robert Storr notes that prior to working on the Stamos House, Smith had studied Alexander Bell's experiments with Chinese kites (1901), and Buckminster Fuller's Dymaxion House (1944-46), which was also designed to be raised off the ground. Taking inspiration from these projects, Smith developed an interest in prefabrication and modular assembly which was also in line with contemporaneous developments in architectural theory. He likened the Stamos House to a 'tetrahedral kite' - a phrase Bell used to describe the flying machines he constructed during the 1900s - which could be built from standard materials specified by a designer, assembled like a kit of parts. This construction technique was similar to that of Dymaxion House.

Raised off the ground, Stamos House has been likened to a spaceship. In spite of its modest size, the appearance of the building is monumental, and the innovation of its design can be seen as a significant contribution to the second wave of modernist architecture following the Second World War. Emphasizing Smith's reticence about describing his work as either art or architecture, critic Robert Storr has described Stamos House as a "presence", a term the artist used to describe his sculptures.

Read More ...

Tony Smith Artworks in Focus:
Tony Smith Overview Continues Below
If you see an error or typo, please:
tell us
Cite this page

Content compiled and written by Dawn Kanter
Edited and revised, with Synopsis and Key Ideas added by Greg Thomas
" Artist Overview and Analysis". [Internet]. . TheArtStory.org
Content compiled and written by Dawn Kanter
Edited and revised, with Synopsis and Key Ideas added by Greg Thomas
Available from:
First published on 05 Oct 2018. Updated and modified regularly.


[Accessed ]