Biography of Henri Rousseau
Childhood
Henri Julien Felix Rousseau grew up amid humble circumstances in Laval, a small town in northwestern France. His father, a metalsmith, had long-term financial difficulties, amassing enough debt to result in the seizure of the family house in 1851. Subsequently, the young Henri enrolled as a boarding student at Laval High School, which he attended until 1860. He was an average student, aside from receiving distinctions in music and drawing.
Early Training
The family moved to Angers in 1861, where Rousseau found a job as a clerk for the local bailiff. He managed to avoid the military draft by drawing lots, but ended up serving in the 51st infantry regiment to avoid scandal after his employer accused him of theft. His seven years of active duty passed uneventfully in France, but Rousseau often embellished accounts of his military feats. One of his fabricated adventures involved helping to stem the uprising against Emperor Maximilian in Mexico, where he would ostensibly have been exposed to the jungle life that inspired his later paintings.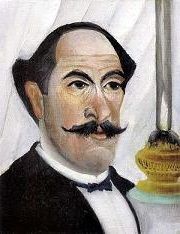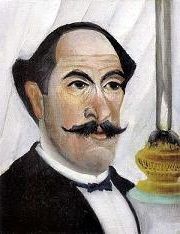 Rousseau married his first wife, Clemence Boitard, in 1868. Of their several children, only a daughter, Julia, survived into adulthood. After leaving the regiment he took a job checking goods for the toll authority, which gained him the lifelong nickname of "Le Douanier." During his tenure there, Rousseau completed his first drawings and paintings. The beginnings of his career as an artist are uncertain, but he claimed that he began to paint at the age of forty (1884), which corresponds to the time that he obtained a license to make copies of paintings at the Louvre. His job as a customs officer required only occasional periods of diligence, and it is possible that Rousseau was able to practice drawing during slow periods at work.
Surprisingly, Rousseau expressed the greatest admiration for painters such as Jean-Leon Gerome and William-Adolphe Bouguereau, and strove for recognition from the Académie des Beaux-Arts. Having been rejected from the Salon, however, he exhibited for the first time with the Groupe des Indépendants in 1885. The two paintings chosen for the show illustrate his vacillation between tradition and modernity: Italian Dance depicts a subject popularized by academic painters, while the other, Sunset, handles a theme favored by the Impressionists. In the following year, the Groupe des Indépendants established its own Salon, in which Rousseau participated nearly every year until his death. The first Salon des Indépendants featured Carnival Evening(1886), an early painting that already exhibited the odd, dreamlike quality and compositional arrangement of Rousseau's mature style. Surprised! Tiger in a Tropical Storm (1891), the first of his well-known jungle paintings, was exhibited at the Indépendants in 1891. Contrary to Rousseau's accounts of these works, they were most likely inspired by trips to the Paris Jardin des Plantes and the Museum d'Histoire Naturelle.
Mature Period
In 1889, Rousseau traveled to Paris for the World's Fair, which inspired him to write a play about the experience. The fair was also incorporated into the background of the painting Myself, Portrait-Landscape (1890), which was received by critics with mockery and sarcasm.
Taking early retirement from the customs office in 1893, Rousseau became a full-time painter. War (1894), exhibited at that year's Independants, marked a turning point in his career. The large-scale allegorical painting garnered him his only positive review to date in the journal Mercure de France. It also attracted the attention of the poet and writer Alfred Jarry, who published a lithograph of War in his magazine. Rousseau executed a portrait of Jarry in 1895, which was later destroyed by Jarry himself for the novelty of ruining his own image.
In 1898, ten years after the death of his first wife, Rousseau married Josephine Noury, a widow. Continuing to seek acclaim, he entered two competitions between 1898 and 1900 to paint the town halls of Vincennes and Asnieres, respectively, but failed to win either. Through commentary from the press, however, he came to realize that he had gained a degree of notoriety with his jungle paintings, and returned to the subject with Scouts Attacked by the Tiger in 1904. Its inclusion at the Indépendants prompted numerous reviews, thrusting Rousseau back into the public eye.
It was around this time that the younger generation of artists discovered Rousseau, whose work seemed closely related to the "primitive" art that was becoming popular among many members of the avant-garde. He quickly made friends with a number of these artists, including Georges Braque, Pablo Picasso, Guillaume Apollinaire, and Robert Delaunay. In 1906, Rousseau met Wilhelm Uhde, a German art collector and critic who was instrumental in promoting his work during the last years of his life. Rousseau's career suffered a setback, however, when he was imprisoned for bank fraud in 1907. The series of notes he wrote to the judge petitioning for release, which exaggerated his character and his merits, account for some of the most accurate information on the artist in existence today.
Late Years and Death
Uhde organized Rousseau's first, though unsuccessful, solo exhibition in 1908. In the same year, Pablo Picasso purchased Rousseau's Portrait of a Woman (1895) that he found in a secondhand shop. To celebrate his acquisition, Picasso hosted a now-legendary party that inspired colorful written accounts by many of the guests, including Gertrude Stein. As the guest of honor, Rousseau sat in a throne improvised from a chair raised onto a packing crate, and even added to the entertainment by playing a waltz he had written and named for his first wife. In spite of his popularity among his fellow artists, Rousseau continued to be seen as a figure of amusement in the art world, and lived in poverty for the rest of his life. He died in 1910, suffering from an infected leg wound and despondent over the rejection of his romantic overtures by Leonie, a shop assistant.
The Legacy of Henri Rousseau
Rousseau's friends and fellow artists played an important role in promoting his legacy immediately after his death. The artist Max Weber introduced Rousseau's work to American audiences with a New York exhibition in 1910, followed by a memorial exhibition organized by Robert Delaunay at the Salon des Indépendants the following year. Uhde also published the first biography on Rousseau, which made a profound impression on Wassily Kandinsky, who later purchased two of Rousseau's paintings and included reproductions of his work in the Blaue Reiter Almanac(1912).
Endowed with an oddly appealing strangeness that could evoke mystery within the commonplace and the exotic, Rousseau's oeuvre left an indelible imprint on artists of the next generation and beyond. His work's unschooled technique and sense of childlike simplicity resonated with the "primitivism" embraced by early-20th-century modern artists such as Picasso and Kandinsky, who looked to art forms such as African tribal masks and Russian folk art in their search for a more "primal" means of expression. Rousseau was also hailed as a "proto-Surrealist" by André Breton, for his art's dream-like, absurdist, and metaphysical quality, and use of bright colors and clear outlines, anticipating the oeuvres of Surrealists such as René Magritte and Giorgio de Chirico.
Content compiled and written by Tracee Ng
Edited and published by The Art Story Contributors
"Henri Rousseau Artist Overview and Analysis". [Internet]. .
TheArtStory.org
Content compiled and written by Tracee Ng
Edited and published by The Art Story Contributors
Available from:
First published on 21 Jan 2012. Updated and modified regularly
[Accessed ]