Biography of Joan Miró
Childhood
Joan Miró was born in Spain in 1893 to a family of craftsmen. His father Miguel was a watchmaker and goldsmith, while his mother was the daughter of a cabinetmaker. Perhaps in keeping with his family's artistic trade, Miró exhibited a strong love of drawing at an early age; not particularly inclined toward academics, he said he was "a very poor student...quiet, rather taciturn, and a dreamer."
In 1907 when he was fourteen, Miró began studying landscape and decorative art at the School of Industrial and Fine Arts (the Llotja) in Barcelona. At the same time, at the behest of his parents who wanted him to pursue a more practical career, he attended the School of Commerce. He began working as a clerk, and because of the constant demands of his studies, he experienced what has been characterized as a nervous breakdown, followed by a severe case of typhoid fever. His family bought Montroig, a farm in the countryside outside of Barcelona, as a place where Miró could recover, and as he convalesced, he devoted himself fully to making art and abandoned his commercial pursuits.
Early Training
In 1912, Miró enrolled in an art academy in Barcelona where he learned about modern art movements and contemporary Catalan poets. Poetry was to have a lifelong influence on him, as he said later, "I make no distinction between painting and poetry," seeing his work as implicitly metaphoric, evoking resemblance to objective reality, while remaining outside of it. As part of his studies, his teacher Francisco Galí had the young artist draw by touch, sometimes while blindfolded, to encourage a spatial understanding of objects while relying upon intuition. Miró also associated with the Cercle Artístic de Sant Lluc, an artistic group that included renowned architect Antoni Gaudí among its members. Between 1912 and 1920, Miró painted still-lifes, portraits, nudes, and landscapes, in a style, dubbed Catalan Fauvism by some scholars. Influenced by Vincent van Gogh, Paul Cézanne, and the bold, bright colors of the French Fauve painters, he also drew upon his Catalan roots, calling himself "an international Catalan."
Mature Period
Miró's first solo show in Barcelona in 1918 was a complete disaster, his works ridiculed by both critics and the public, with not a single work sold. Utterly disappointed and seeking a more invigorating and receptive artistic world, he went to Paris in 1920, where he met a number of artists, including Max Jacob, Pablo Picasso, André Masson, and Tristan Tzara. However, it wasn't until three and a half months later when he went home to the Montroig farm that he was able to paint, saying, "I immediately burst into painting the way children burst into tears." For the following decade, to maintain the balance between his Catalan inspiration and the Parisian art world, he subsequently began living in Paris for part of the year, while returning to Montroig every summer, as he said, "Paris and the countryside until I die." Due to financial hardship, his life in Paris was difficult at first. Later describing those lean, early years, he quipped, "How did I think up my drawings and my ideas for painting? Well, I'd come home to my Paris studio in Rue Blomet at night, I'd go to bed, and sometimes I hadn't had any supper." Yet, it seems that physical deprivation enlivened the young Miró's imagination. "I saw things," he explained, "and I jotted them down in a notebook. I saw shapes on the ceiling."
He had his first solo show in Paris in 1921 and exhibited at the Salon d'Automne in 1922, while associating with many of the leading Dada and Surrealist artists. He became friends with the Surrealist writer and leader, André Breton, forming a relationship that lasted for many years. The Surrealists were most active in Paris during the 1920s, having formally joined forces in 1924 with the publication of their Surrealist Manifesto. Their members, led by Breton, promoted "pure psychic automatism," a concept for which Miró felt an affinity from his own history of unconscious drawing through touch and intuition. He participated in the first Surrealist exhibition in 1925, though, nonetheless, as art historian Stanley Meisler noted, he "steadfastly refused to sign any Surrealist manifesto, especially the ones extolling 'psychic automatism.' He simply refused to believe that any painting could come full-blown out of a dream." His increasingly biomorphic, enigmatic, and innovative art, as seen in the Harlequin's Carnival (1924-25), a work he said he painted in a "hallucination of hunger," was also carefully planned, first composed on a grid background. Simultaneously, he also explored near abstract treatments, as he simplified his biomorphic forms to schematic shapes, pictorial signs, and visual gestures, as seen in his Painting (1927), where three ambiguous shapes and schematic lines are depicted against an empty blue background.
Miró married Pilar Juncosa in 1929, and their only child Dolores was born in 1931. As his art began to be exhibited and sold in both France and the United States, his career began to flourish, though any economic stability was cut short by the effects of the global depression. In 1932, no longer able to support his family in Paris, they moved to Barcelona. Years of disruption followed, as in 1936 while visiting Paris he was trapped with his family, unable to return to Spain where the civil war had erupted. In 1939 he fled to Normandy as the German invasion threatened and in 1941 to Mallorca, where he said, "I was very pessimistic. I felt that everything was lost." He turned to painting small works on paper, which he titled Constellations (1939-41), of which he said, "When I was painting the Constellations I had the genuine feeling that I was working in secret. But it was a liberation for me...I ceased thinking about all the tragedy around me."
Ironically, while he was hiding in Mallorca, using his wife's last name to escape the attention of Franco's government, Miró was given his first retrospective at New York City's Museum of Modern Art to great acclaim. When, immediately following the end of the war, Constellations was also shown in New York, his renown continued to grow in America, prompting a large-scale mural commission in Cincinnati in 1947. Miró's simplified forms and his life-long impulse toward experimentation inspired the generation of American Abstract Expressionists whose emphasis on non-representational art signaled a major shift in artistic production in the both the U.S. and in Europe. Yet, despite the acclaim for his paintings, he continued to explore new media, turning to ceramics, as he collaborated with Joseph Llorens Artigas, and to sculpture in the mid-1940s.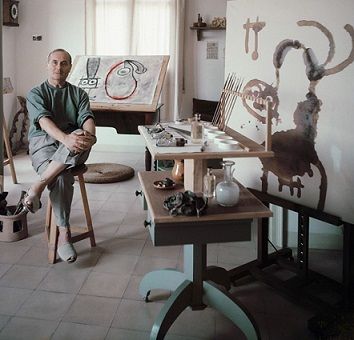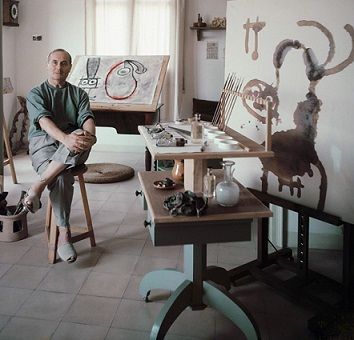 In the 1950s, Miró again began dividing his time between Spain and France. A large exhibition of his works was held at the Gallerie Maeght in Paris and subsequently at the Pierre Matisse Gallery in New York in 1953. However, from 1954-58 he worked almost exclusively on printmaking and ceramics, including two ceramic wall murals for the UNESCO building in Paris. In 1959, he, along with Salvador Dalí, Enrique Tabara, and Eugenio Granell participated in Homage to Surrealism, an exhibition in Spain organized by André Breton. The 1960s were a prolific and adventurous time for Miró as he painted the large abstract triptych Bleu (1961) and worked intensely in sculpture, in some instances revisiting and reinterpreting some of his older works. While he never altered the essence of his style, his later work is recognized as more mature, distilled, and refined in terms of form.
Late Period and Death
As Miró aged, he continued to receive many accolades and public commissions. He continued to head in new directions, saying, "It's the young people who interest me, and not the old dodos. If I go on working, it's for the year 2000, and for the people of tomorrow." In 1974, he was commissioned to create a tapestry for New York's World Trade Center, demonstrating his achievements as an internationally renowned artist as well as his place in popular culture. He received an honorary degree from the University of Barcelona in 1979. Miró died at his home in 1983, a year after completing Woman and Bird, a grand public sculpture for the city of Barcelona. The work was, in a sense, the culmination of a prolific career, one so profoundly integral to the development of modern art.
The Legacy of Joan Miró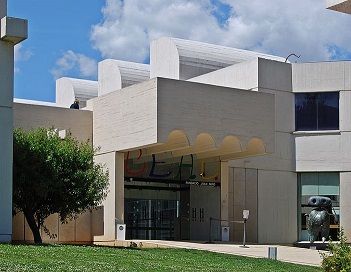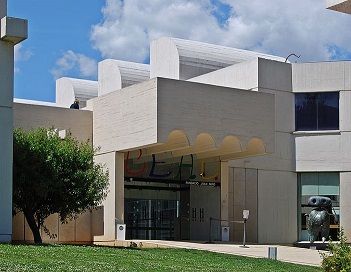 Miró once famously stated, "I want to assassinate painting." Along with other Dada and Surrealist artists like Jean Arp and Yves Tanguy, he explored the possibility of creating an entirely new visual vocabulary for art that could exist outside of the objective world, while not divorced from it. His unique artistic idiom often used biomorphic forms that remained within the bounds of objectivity, while simultaneously being forms of pure invention. Expressive and imbued with meaning through their juxtaposition with other forms and the artist's use of color, they became increasingly abstract pictorial signs. His explorations of all media and innovative techniques gave his work an edge - simultaneously, new, yet instantly recognizable as Miró.
What art critic Ryan Steadman called Miró's "personal form of abstraction" was a defining influence on his longtime close friend Alexander Calder and on the Abstract Expressionists Jackson Pollock, Robert Motherwell, Arshile Gorky, and William Baziotes, as well as the Color Field painters Mark Rothko and Barnett Newman. Helen Frankenthaler also credited Miró's influence upon the development of her Post-Painterly Abstraction style. More recently, his work has influenced the designers Paul Rand, Lucienne Day, and Julian Hatton, as well as contemporary artists Josh Smith and Chris Martin.
To this day, Miró's freewheeling artistic expression continues to be a generating spark for evolving artists and art movements.
Content compiled and written by Rebecca Seiferle
Edited and revised, with Summary and Accomplishments added by Kimberly Nichols
"Joan Miró Artist Overview and Analysis". [Internet]. .
TheArtStory.org
Content compiled and written by Rebecca Seiferle
Edited and revised, with Summary and Accomplishments added by Kimberly Nichols
Available from:
First published on 25 Jan 2009. Updated and modified regularly
[Accessed ]