Biography of Henri Laurens
Childhood
Laurens was born in Paris in 1885, growing up in the suburb of Saint-Denis. The artist's father, Joseph, was a cooper, and his mother, to whom Henri was devoted, was the daughter of a sailor. The Laurens family had fled poverty in rural France for the possibilities of a better life in the city. However, despite his family's desire for social and personal betterment, Laurens' life would come to be defined as one of constant poverty, even after his late-career fame. The dealer Daniel-Henry Kahnweiler described Laurens' life as "simple and dignified" albeit one of greatly "modest circumstances" to match his "modest" but "great" temperament.
Laurens decided on an artistic career early in his life. To commemorate the hundredth anniversary of the French Revolution, the new French Republic erected sculptural monuments, such as Jules Dalou's Le triomphe de la République (1879-89) in the Place de la Nation. Laurens, along with his family and other working-class families in Paris, would visit the sculpture sites to watch the artists assemble and, in some cases, directly carve the monuments. The experience of watching the physical creation of these public sculptures instilled in the young Henri the desire to become a sculptor himself.
Early Training and Work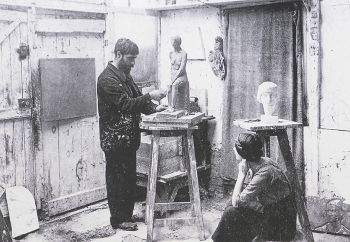 Between 1899 and 1902, Laurens attended the École d'Art Industriel Bernard Palissy in Paris to study decorative and ornamental sculpture. While working as a mason's apprentice at Parisian building sites, the artist concurrently took evening classes in drawing with the sculptor Jacques Perrin.
At 17, Laurens moved to the Montmartre artistic district in Paris. Here, he worked as a stonemason and also befriended individuals like Paco Durrio, who had been a friend to Paul Gauguin and an early mentor to Pablo Picasso. Through Durrio, Laurens initiated his contact with the Spanish avant-garde residing in Paris. Laurens's early sculptural works were inspired by Auguste Rodin, though he worked hard to refine his own aesthetic approach. In 1908, Laurens married Marthe Duverger, who was also an artist. An admirer of Georges Braque, Marthe later created Cubist-inspired still lifes and became a respected ceramicist.
In 1902, Laurens began to display the first symptoms of bone tuberculosis, an affliction that would persist for the remainder of his life, and would result in the amputation of his left leg in 1909. Kahnweiler, in his recollections of Laurens's life, noted that the artist was "often in pain" as a result of his bone disease. Laurens himself never complained, however, and the dealer described him as a "brave man".
Mature Period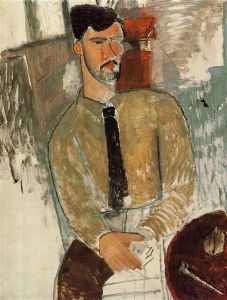 Around 1911, the artist's professional trajectory dramatically shifted when he met Braque, whose wife was Marthe's childhood acquaintance. Through Braque (the two men would become life-long friends), the artist was introduced to Juan Gris, Picasso, and their experimental methods. Laurens had maintained a relatively solitary practice prior up to this point. But after his new associations, he became more closely involved with the Parisian avant-garde and dedicated himself to the study of Cubism. In 1912, Laurens made his first Cubist sculptures in terracotta, and then, around 1915, his first collages. Laurens's collages, like those of Picasso and Braque, embraced non-traditional materials and ephemera, including rusty sheet metal, wood boards, and plaster.
At the outbreak of World War One, Laurens's handicap curtailed any military participation and he spent the duration of the conflict increasing his profile through his Cubist experiments and his practice became steadily more diverse. By 1918 he was working on freestanding Cubist sculptures; Cubist reliefs and assemblages; illustrated works of poetry; and engaged in interdisciplinary exchanges with writers of the avant-garde Nord-Sud magazine and the Groupe des Six musicians circle. Indeed, in his interactions with Laurens, photographer Brassaï described the artist's work as "plastic lyricism" which was consistent with the artist's love for music and its powers of inspiration. In what would become a hallmark of his varied practice, Laurens also designed sets for the Ballets Russes and other theatrical productions, and created Cubist-inspired decorative arts pieces.
By 1919, Laurens had returned to sculpture in the round, according to scholar Isabelle Monod-Fontaine, where he used direct carvings or bronze castings to create works unified in a rhythmic "dense core" which was "broken but not divided by Cubist angles and planes". Laurens' practice began to shift to stone, terracotta, and wood reliefs in lieu of Cubist sculptures, and in the 1920s he produced terracotta as well as small bronze sculptures. Laurens preferred to let his works speak for themselves, and never indulged in extended expositions.
Laurens signed contracts and exhibited with the Cubist dealer Léonce Rosenberg, both in solo shows, and as part of Cubist and avant-garde exhibitions alongside Picasso, Braque, Gris, Fernand Léger, and Piet Mondrian. In 1920, Laurens confirmed his affiliation with the Cubist elite when he signed a contract with Picasso and Braque's champion, the dealer Daniel-Henry Kahnweiler. However, Laurens declined to renew his contract with Kahnweiler after its expiration, preferring to work henceforward with collectors and other creative collaborators directly.
Late Period
In the interwar years, Laurens befriended and socialized with advocates of figuration and Surrealism, such as Jean Cocteau and Michel Leiris. By 1925, his practice shifted away from a strict Cubist aesthetic and he began producing, according to the Museum Beelden aan Zee catalogue for the artist's retrospective exhibition, "voluminous representation[s] of the human figure". It was a period in art history that gave rise to Interwar Classicism; a style that looked to the past when abstraction was seen (by some) as self-indulgent. Laurens belonged to a group of artists who preferred to explore new combinations of classicism and modernity. Laurens's practice in his later years simplified form and subject, fixating often on classical nude female sculptures whose bodies the artist reduced to studies in voids and compact geometries.
Laurens's curved forms took their inspiration from nature. Marthe recalled that, while staying in the French countryside near Marly, the artist would take long walks through the forest and then create figures akin to knotted tree branches, with surface textures approximating bark. In 1937, he began his notable sculptural series of nude women, Sirènes, after visiting the Brittany seaside. His practice remained diverse, and he created traditional sculptural work, bronzes, carpet and fire screen designs (for the art collector, philanthropist, and cosmetics entrepreneur Helena Rubinstein), decorative fountains, lithographs, and text illustrations.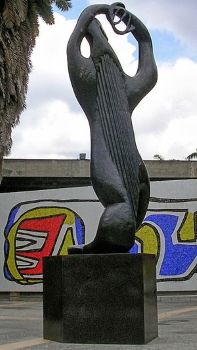 Politically, the artist was associated with anarchist and anti-Fascist ideology. In the lead up to World War Two, Laurens participated in any artistic event dedicated to the critique of Fascism, and, in response to the global upheaval, he created a work depicting the Greek demi-deity Amphion, who promoted peace through music. L'Amphion, made specifically for the new campus of the University of Caracas was completed shortly before his death (a copy of L'Amphion is held by the Dallas Museum of Art). Such was Laurens's commitment to the political cause, during the Nazi occupation of Paris, Laurens hid the Spanish Republican sculptor Baltasar Lobo in his home.
In 1938, Laurens's work began to be exhibited in America with a solo exhibition at the Brummer Gallery, and in 1939 Laurens was part of the famous Museum of Modern Art exhibition celebration of the avant-garde, Art in our Time. In 1950, he was, according to the Museum Beelden aan Zee, "ignored for the Grand Prix for Sculpture" at the Venice Biennale but "received from Matisse half of his Grand Prix for Painting as a gesture of sympathy". Laurens died on May 5, 1954, of a heart attack while out on a walk in Paris.
The Legacy of Henri Laurens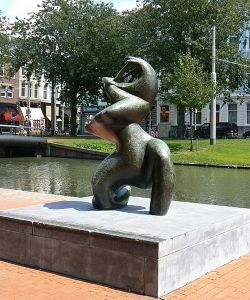 Laurens' influence on future artistic generations largely stems from his translation of Cubist planar fragmentation into three-dimensions, and his extension of the Cubist dissolution of space into more rounded, organic iterations. In addition, the artist's varied practice blurred boundaries among artistic mediums. Whether through his painted Cubist sculptures, where physical shapes and colorfully painted planes competed to suggest contour and depth, or through his literary illustrations, Laurens's oeuvre provided his successors with a model of artistic activity and diversity which transcended singular categorization.
Known as an ethical and honorable man, Laurens was one of the few artists who turned down the French Legion of Honor, citing political differences. According to art historian Mady Ménier, the Laurens family was never financially secure, as the artist only accepted those commissions "that interested him". Yet, Laurens's only financial regret was that his diminished income prevented him from creating a memorial tribute to his close friend, the poet Max Jacob, who had perished on the way to Auschwitz internment.
Content compiled and written by Elizabeth Berkowitz
Edited and revised, with Summary and Accomplishments added by Antony Todd
"Henri Laurens Artist Overview and Analysis". [Internet]. .
TheArtStory.org
Content compiled and written by Elizabeth Berkowitz
Edited and revised, with Summary and Accomplishments added by Antony Todd
Available from:
First published on 03 Apr 2020. Updated and modified regularly
[Accessed ]