Progression of Art
1915
Head of a Woman
In Head of a Woman, Laurens demonstrates what is meant by "sculpto-painting", a term used by author and museum director A.M. Hammacher to describe this work and to place Laurens alongside the likes of Cubist sculptor Alexander Archipenko. Laurens's piece made tangible the Analytic Cubist technique of fracturing three-dimensional forms onto a two-dimensional canvas. The artist here flattened composite views of the woman's head as seen from various angles and at various times of day, and used jagged triangular, rectilinear, and curved shapes to indicate the co-presence of these diverse perceptual experiences. Yet, unlike Cubist paintings, Laurens literally worked in three-dimensions with his non-natural sculptural planes translating the impossible experience of simultaneous vision into an actual spatial representation.

The artist also used paint strategically. Reversing aerial perspective, which would relegate darkened colors to the more distant background with lighter, brighter, more visible spaces in the foreground, Laurens painted the back recesses of the woman's eye areas light brown, with black-painted planes composing the contours of her face. White-painted accent triangles suggested the outlines of the woman's nose, and, in another reverse of chiaroscuro, the shadowed recesses of her neck.
Painted wood construction - Museum of Modern Art, New York
1916
L'Instrument de Musique (The Musical Instrument)
Laurens's Cubist collages and papier collé works closely aligned with the methods and themes of his fellow Cubists, such as Pablo Picasso. Like Picasso, Laurens used Cubist compositional techniques on a narrow range of themes, such as still lifes - in this case, a guitar. Laurens deconstructed the guitar into planar units with overlaid chalk and charcoal drawings indicating the guitar sound hole, strings, outline, as well as its frets. The artist also integrated text with his collage, including the word "musique" as a means to signify auditory experience unable to be captured through visual media.

Unique to Laurens, however, was his maintenance of a coloristic and sculptural sensibility in his collages. Here, the artist played with overlapping black and white planes which at once suggested standard Cubist formal fragmentation, but at the same time reduced chiaroscuro to planar units of light and shade. Color, or, in this case, value, did as much of the compositional "heavy lifting" to suggest three-dimensionality as the tangible pasted papers.
Collage with charcoal and white chalk on brown paperboard - National Gallery of Art, Washington, D.C.
1919
Woman with a Mandolin
The subject of a woman with a mandolin was a common theme amongst Cubist painters and sculptors. Here, Laurens's sculpture (like Picasso's 1910 Girl with a Mandolin) used a combination of sharp and curved planar units to blur the boundaries between the female subject and the instrument she played.

Woman with a Mandolin in particular invites comparison with works by another notable Cubist sculptor, Jacques Lipchitz. Like Laurens, Lipchitz, in works such as his 1920 Seated Man with Clarinet I literalized the Cubist dissolution of perspectival illusionism, creating layers of angular, geometric forms which suggested the simultaneity of foreground and background space. Yet, unlike Lipchitz's work, Laurens's Woman with a Mandolin is as a more organic (less fragmented) sculpture. Here planar angles build from the ground to an apex with a tapered, bent head, rather than progressed outward as a deliberately sharp sculptural articulation of front and back planes.

Anticipating the curved female forms of his later career, Laurens rendered this woman as almost a fluid, organic outgrowth of the earthenware; with the barest suggestion of hair, head, eyes, and arms. Despite the compositional fragmentation, the woman appeared to emerge naturally from within the material.
Unglazed cast earthenware - Smart Museum of Art, University of Chicago
1920
Tête de jeune fillette (Head of a Young Girl)
Laurens's various iterations of female heads during the 1920s are reminiscent of similar heads by Constantin Brancusi, as they, like Brancusi's sculptures, appear as smooth, organic, and abstracted mutations of the compositional materials themselves. Like Brancusi, and the works of Laurens's friend, Amedeo Modigliani, the artist turned to non-Western sources for inspiration, notably African masks. Laurens composed his bust with features akin to Modigliani's female faces, which were characterized by elongated noses, almond eyes, and tiny bud lips. In works such as Head of a Young Girl, Laurens also indicated his affinity for archaic sculptures, such as the sharp angularity of Cycladic figures or ancient Mesopotamian pieces. Laurens, in fact, described Cycladic sculpture as leading "nowhere" and yet containing "everything".

The artist softened the complexity of Cubist fractured planes, reducing his representation to a few simple geometric shapes and an interplay between the curved forms of the base and oval shape of the head, and the sharp, triangular planes which comprised her face. Laurens translated the Cubist project of simultaneous vision to this sculpture, where each facet of the young girl's face adds detail to her appearance. For instance, whereas the left facial plane provides outlines of her facial features and ear, the right facial plane introduces abstracted linear waves to suggest her flowing hair, and a deeply carved line to outline the girl's eyelid.
Limestone - Tate, London
1920
Tête de boxeur (Head of a Boxer)
Here Laurens's boxer emerges firstly as a low-relief black plane that passes through a further three painted - yellow, pink, white - surfaces. The Tate gallery attributes this work's inspiration to Laurens's Cubist collage more than his sculptural practice. The Tate also records that the paint application results in "geometric areas with no tonal gradation," a decision which "emphasizes the similarity between these shallow planes and the cut-out and superimposed elements of a collage". Laurens's planar units, distinguished from one another by unmodulated color blocks, additionally work to indicate a "play between flatness and volume," caused by the "effects of light and shade falling across the difference levels of the surface".

The influence of collage can also be detected in Laurens's play with texture. Rather than simply experiment with the representation of depth through varying levels of relief, the artist depicted the most recessed black plane with horizontal bands, creating ridges. In this manner, Laurens replicated the interplay of textures typical of Cubist collage through the terracotta medium alone.
Painted terracotta - Tate, London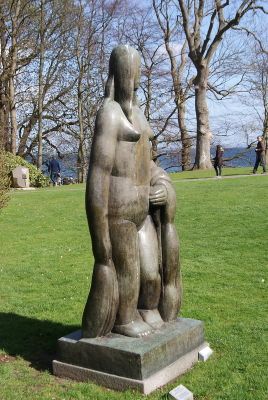 1928
Woman with Drapery
Woman with Drapery showcases both Laurens's return to curvilinear forms and his interest in Classical themes. This piece reinterprets the caryatid goddess, or the Classical nude Venus, in an avant-garde idiom. Like its Classical form, Laurens's woman, who appears with a slight contrapposto, has flowing locks and holds her discarded Grecian garment. Yet whereas the sculptors of Classical caryatids aimed to conceal the stone mass beneath the softness and delicacy of the female form, Laurens chose to reverse this dynamic.

His Woman with Drapery constitutes an almost amorphous, solid figure, with her breasts, face, and limbs barely distinguishable. Though she bends one knee in contrapposto, the implication of motion doesn't deny the sculpture's weight, but rather reinforces it through the knee's roughly planar segments, and the thick, heavy foot. As with many of his works, Laurens juxtaposed perceptions of mass; despite the thick, block-like appearance of the sculpture, the work tapers upwards to a thin, elegant head with flowing hair.
Bronze - Museum of Modern Art, New York
1950
La petite sirène (The Little Siren)
As part of a series of siren sculptures inspired by his trip to the Brittany coast, Laurens depicted the treacherous mythological woman as if an extension of the sea from which she came, and of the rocks upon which she lured unsuspecting sailors. A continuous form, her body begins as an undulating curve, which develops into a stone, and then upwards like a swelling wave to her torso.

The artist uses an interplay between sinuous curling lines and pointed, jagged forms to illustrate the threat of the siren. Like the sailor, the siren's body begins with a beautiful song, her torso an organic curve as if born from the waves. Yet, moving upward, Laurens depicted her breasts, outstretched arms, and head as jagged, sharp points jutting out into space. Just as the siren's body transitions from swelling waves to threatening daggers, the sailor's attraction leads to his deadly end, when the distraction of the siren's call causes his ship to crash upon the rocks.
Bronze - Mildred Lane Kemper Art Museum, St. Louis
c. 1953
Reclining Woman
Laurens's artistic production was prolific, and he illustrated many texts and books of poetry over his lifetime. In this example, the artist translated his curvilinear reclining female nude sculptures to woodcut. Like his sculptural work, Laurens reduced the female form to a sinuous, organic shape, with curves and rounded forms suggesting a body more liquid than material.

Yet, here in an image from Un Poème dans chaque livre by Paul Élouard, Laurens also indicated the fruits of his friendship with Surrealist artists, as well as his continuing fascination with Picasso and his admiration for Henri Matisse. The Reclining Woman suggests Picasso's continuous line drawings or Matisse's cut-outs or dancers, as the contours of the woman's body appear to have neither a beginning nor an end. Indeed, the "eye-hole" at the head of the figure is the only independent mark on the figure.

In addition, this work is akin to a Surrealist automatic drawing, the curved planes of Joan Miró and Jean Arp, or Picasso's Surrealist bathers, their legs, breasts, and heads fragmented, continuous, and hollowed-out planes. Unlike Picasso's seemingly skeletal bathers, however, Laurens removed the menace implied through Picasso's nude women's sharp, bared teeth. Laurens' Reclining Woman is rather a fluidly rendered, reclining Venus meant to be seen and admired, her head back and eye closed in ecstasy.
Woodcut - The Museum of Modern Art, New York
Related Artists
Related Movements & Topics