Artists
Anish Kapoor
Biography and Legacy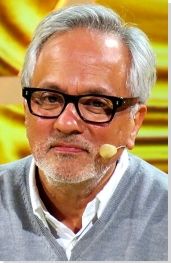 Born: 1954 - Mumbai, India

From Our Sponsor
"The act of making a mark is violent and that's poetic."

Biography of Anish Kapoor
Childhood
Anish Kapoor was born in 1954 in Mumbai, India. His mother was the Iraqi-Jewish daughter of a rabbi who immigrated to India from Baghdad with her family when she was an infant. His Hindu father was a hydrographer for the Indian Navy, who spent much of Kapoor's childhood on the ocean collecting data and charting marine navigation. Both of his parents were very modern and cosmopolitan, and sent Anish and his younger brother, IIan, to the prestigious Doon School, an all-boys boarding school in Dehra Dun. There the boys learned equally as much European history as they did knowledge about India. Because of this exclusive education, combined with the diversity and forward thinking within his own family, Kapoor spent his childhood feeling like an outsider unsure of his identity within Indian society. In his late teens, his sense of not belonging developed into deep internal turmoil. "I was seriously fucked up, full of inner conflict that I didn't know how to resolve." As result, Kapoor spent the next 15 years in psychoanalytical therapy, acquiring the tools needed to cope with his imbalance.
Education / Early Training
As a child, Kapoor enjoyed finishing his mother's paintings, but he had no intention of becoming an artist. At age 17, he and his brother used free plane tickets to go to Israel and live and work at a kibbutz in Gan Shmuel. Kapoor fully embraced the kibbutz's communal living and utopian ideas of making a difference in the world. The experience was one of great liberation for Kapoor, and he intended to stay in Israel to study to become an engineer. However, after three years and the realization that he wasn't particularly good at mathematics, Kapoor began to think seriously about becoming an artist. Determined to make a new career path for himself, he hitchhiked across Europe, finally settling in London to attend Hornsey College of Art in 1973. Once settled in the UK he realized that he was doing something he really loved. His mentor, British-Romanian sculptor, Paul Neagu encouraged Kapoor to pursue Performance art, and his guidance influenced Kapoor's approach to sculpture.
After attending Chelsea School of Art for postgraduate studies, Kapoor quit after one year. Unsure where his art career would lead, he traveled back to India. "I suddenly realized all these things I had been making at art school and in my studio had a relationship to what I saw in India", he recalled. "It was a certain attitude to the object. I was making objects that were about doing, about ritual." His trip to India inspired a three-year period of creativity and lead to the creation of his first major works - his ritualistic pigment sculptures. Because of the material, people initially thought Kapoor was a female artist. In spite of this confusion, he quickly gained recognition within the international art community.
Nicholas Logsdail, the owner of Lisson Gallery in London soon took notice of Kapoor's work. During the early 1980s, Logsdail was gathering together a diverse selection of British sculptors, to later become known as the New British Sculptors, and he wanted Kapoor to be part of the group. With his reputation as a serious artist now secure, Kapoor represented Britain in the 1990 Venice Biennale, and won the prestigious Turner Prize in 1991. Kapoor found affinity in his use of traditional earthy materials and tendencies towards spiritual expression, with Logsdail's vision of the New British Sculptors. The loosely formed group included Julian Opie, Antony Gormley, Richard Deacon, Tony Cragg, and Rachel Whiteread, and provided a network of equals with whom Kapoor could exhibit and share ideas.
Mature Period and Current Work
At the same time Kapoor found artistic success, he also found personal fulfillment. In 1995, he married the German-born art historian, Susanne Spicale, while also finally resolving his psychological issues. Crediting psychoanalysis with allowing him to explore his inner mind and process, Kapoor attributes the therapy to a better understanding of his art. From the mid-90s onwards he expanded his use of materials to include polished stainless steel, and then later red wax, and water. More recently, in last two decades, the artist's works are often colossal and site-specific.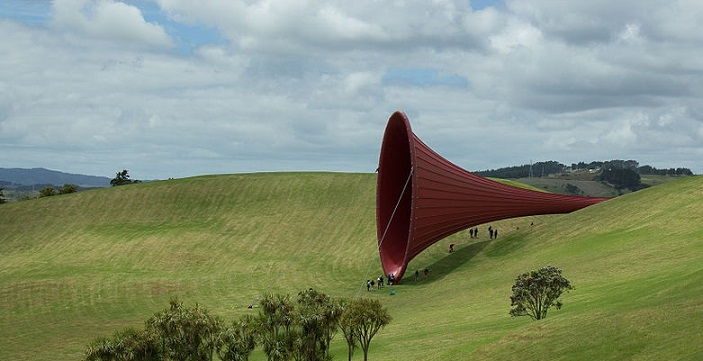 Anish Kapoor's Dismemberment, Site 1 - an 80ft high, 280ft length sculpture (2009)
Due to Kapoor's large-scale sculptures and numerous public commissions he has become extremely wealthy. He is well known and outspoken on the international art scene. For example, when conceptual artist and activist, Ai Weiwei was imprisoned by the Chinese government for creating subversive work, Kapoor took to social media to protest the unjust treatment of his friend. Embracing the limelight the protest brought with it, Kapoor even starred and danced in a "Gangnam for Freedom" music video along with other notable art world professionals.
In 2014, Kapoor obtained the exclusive rights to Vantablack, making him the only person in the world who could paint using this extremely deep shade of black. The concept of exclusivity surrounding a color seemed ridiculous and caused outrage amongst artists. As English painter, Christian Furr, explained of the controversy, "I've never heard of an artist monopolizing a material. Using pure black in an artwork grounds it. All the best artists have had a thing for pure black - Turner, Manet, Goya. This black is like dynamite in the art world." In retaliation, contemporary British artist, Stuart Semple created the "world's pinkest pink" and banned Kapoor from using it. And while he allows others to use the pigment, they must first agree to a legal declaration stating they are not Kapoor. Further escalating the feud, Kapoor posted a picture on social media of his middle finger dipped in the pink pigment and included the caption: "Up yours #pink". Of course, despite these public escapades, Kapoor continues to produce work at a prolific rate, working from his studio in his home city of London.
The Legacy of Anish Kapoor
Following in the Post-minimalist tradition, according to famed art critic, Roberta Smith, "Kapoor has paid homage to Minimalism's faith in weightless volumes, abstraction, specific materials, saturated color and simplicity of form, while also exploring different materials' capacities for visual illusion, the biggest of Minimalism's no-nos". Many of Kapoor's sculptures, however, appear intensely weighty both in material and in meaning and thus share little of the Post-Minimalist one sighted exploration of material. Furthermore, unlike the Young British Artists who took the art world by storm during the 1990s with their immediately shocking art, Kapoor preferred a gentler approach - enticing his audience with less scandalous but still arresting forms.
Kapoor combines Eastern heritage with Western influence and as a result makes truly international art. His influence has been felt widely and particularly in the work of fellow British sculptor, Conrad Shawcross. Like Kapoor, Shawcross uses sculpture to illustrate metaphor and to make physical poetry. Thus the lyrical, abstract language of modernism that flows from Kapoor continues to be a very current language of art making. Kapoor's iconic public monuments can be found all over the globe illustrative that his is an art that speaks to us of being human, in the simplest and most everyday sense, wherever and whoever you are.
Most Important Art
1000 Names (1979-80)

Inspired by the rich colors of India and embracing his Eastern heritage, Kapoor used saturated pigment and geometric shapes to create groupings of sculptures that were strikingly simplistic. Kapoor worked on such sculptures throughout the 1980s and decided that as each and every piece was somehow related to the next, he would give them all a generic title of 1000 Names, to suggest infinity. The series consisted of arrangements of monochromatic objects set on the ground or hung from the walls. Inspired by sculptor Anthony Caro's removal of the plinth, Kapoor placed his geometric sculptures directly on the ground, as an integrated part of their surrounding environment. In a performance influenced by his time at art school, Kapoor ritualistically laid loose pigment in red, white, yellow, and blue over the simple forms, with the pigments eventually spilling beyond the objects themselves and onto the floor or wall. As Kapoor explains, "1000 Names implies that the objects are part of a much bigger whole. The objects seem to be coming out of the ground or the wall, the powder defining a surface, implying that there is something below the surface, like an iceberg poking out of the subconscious." These early sculptures are the first works in which Kapoor began to manipulate the viewer's perception of space and form.

Although at this point still relatively small, built to fit the gallery environment, Kapoor's sculptures are architectural. The shapes recall pyramids, temples and skyscrapers, but also paradoxically - incense cones and candles. There is a union of the sacred and the profane, the social and the domestic at work, and also a meeting of the mind and the body. However uplifting spiritually and apparently meditative in tone, other works by the artist confirm that he is as equally concerned with the bodily.

When Kapoor returns 30 years later to pigment work, but on a much larger-scale in Dismemberment of Jeanne d'Arc (2009), connection to flesh is made more obvious through Kapoor's creation of an abstract "dismembered body" of the martyred saint. Staged in a large warehouse-like space during the Brighton Festival in England, the public work consisted of two colossal breasts, two outstretched limbs, and a pit signifying a womb and female genitalia. The mounds and pit were then covered in red powdered pigment to evoke Joan's naked, bloody, and tortured body. Dismemberment of Jeanne d'Arc helps to highlight the fact that however minimal, 1000 Names speaks of a path to enlightenment that marries ethereal musings with the importance of flesh.

Read More ...

Anish Kapoor Artworks in Focus:
Anish Kapoor Overview Continues Below
If you see an error or typo, please:
tell us
Cite this page

Content compiled and written by Katelyn Davis
Edited and revised, with Synopsis and Key Ideas added by Rebecca Baillie
" Artist Overview and Analysis". [Internet]. . TheArtStory.org
Content compiled and written by Katelyn Davis
Edited and revised, with Synopsis and Key Ideas added by Rebecca Baillie
Available from:
First published on 19 Nov 2017. Updated and modified regularly.


[Accessed ]