Artists
Dan Graham
Biography and Legacy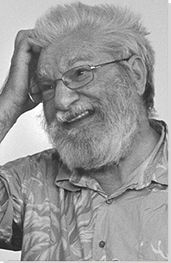 Born: 1942 - Urbana, Illinois

From Our Sponsor
"I like to get into new areas, and I like them to be in a borderline situation, rather than definitively one thing."
Biography of Dan Graham
Childhood
Dan Graham was born in Urbana, Illinois in 1942 to Jewish-American parents. His father was a scientist while his mother was an educational psychologist. The family moved, three years later, to Union County, New Jersey, a suburban setting which would influence Graham's later artistic practice. Graham was enchanted by television during the 1950s, watching shows such as Uncle Fred and Howdy Doody, fascinated by the role of the studio audience and relationships between spectators and performers. He also enjoyed building a telescope from a kit with his father and started an astrology club as a teenager, indicating an interest in vision and social relationships that would continue across his adult life.
Graham's childhood was, however, largely difficult. He has described his mother as "cold," while his father was abusive. Graham had a breakdown at the age of thirteen and was prescribed anti-psychotic medication. He had difficulty in school and felt alienated from his peers, finding solace in reading widely, with the work of Jean-Paul Sartre, Walter Benjamin, Margaret Mead and various science fiction writers proving particularly influential. Graham has described the physicality of his work as a reaction against his difficult intellectual upbringing, noting that his mother "was in denial of the body" while his work became about relationships between the body and its physical environment, drawing upon the suburban playgrounds and prefabricated housing of his youth.
Early Training and Work
Upon graduating from high school, Graham saw himself as a "dropout," rebelling against the middle-class assumption that he would attend university. He instead produced reviews and essays for rock magazines, something he described as "an adolescent dream." Graham's writing served as an introduction to the art world; he admired those, such as Robert Smithson, Dan Flavin and Donald Judd, who were interested in combining art and writing, and began to move in their direction.
In 1964, at age twenty-two, Graham founded the John Daniels Gallery with two friends, naming the gallery after an amalgamation of two partners' first names. The gallery, made possible through the financial support of Graham's parents, was located on East 64th Street in Manhattan and set itself apart from the dominant Pop Art and Abstract Expressionist scenes, instead favouring Minimalism and Conceptual Art, then in their infancy.
The John Daniels Gallery allowed Graham to meet the artists that he admired and learn from their work. Soon after the gallery opened, Sol LeWitt had his first solo exhibition there, attracting his friends, who included Robert Morris and Dan Flavin. The gallery was creatively and critically successful, but failed financially, closing after less than a year. Graham learned from the artists he worked with and began to create his own work, initially favouring photographic projects and graphic design.
In 1965, Graham returned to his parents' home in New Jersey to evade creditors, and began to photograph the housing developments of Northern New Jersey and Staten Island, which would form the basis of his first significant project, Homes for America. Graham presented his artworks, during the late 1960s, in magazines and as slide shows, resulting in the attention of Marcel Broodthaers and John Gibson, a prominent gallerist, who introduced him to collectors and museums and gave him his first solo show, at John Gibson Gallery, in 1969.
Mature Period
In 1970, Dan Graham was included in Kynaston McShine's exhibition, Information, at the Museum of Modern Art, which introduced Conceptual Art to mainstream audiences. He was invited, later in the same year, to the Nova Scotia College of Art and Design in Halifax, where he was among the artists included in David Askevoldhad's course 'Projects,' in which students executed works by prominent Conceptual artists; Graham's contribution, on which the students worked, was a set of seven video pieces.
Reluctant to be pigeonholed as a Conceptual artist, Graham continued to publish critical writing on music, art and architecture whilst expanding his artistic practice into performance and installation, with an increased interest in the psychology of audience behaviour, using cameras, mirrors and projection to destabilise viewer experiences. Later in the decade, Graham was invited to return to teach at Nova Scotia College of Art and Design, leading seminars exploring contemporary mass media.
In the 1980s, Graham was closely involved with the New York music scene, befriending Glenn Branca, Kim Gordon and Robert Longo, among others, and designing album covers for groups including Sonic Youth. These influences informed his art work, culminating in the video collage Rock My Religion, which combined text, film footage and performance to meditate on connections between punk rock and organised religion.
In the same decade, Graham began creating the mirrored structures for which he is best known, interactive pavilions that visitors can move through and around. These resulted in international solo exhibitions and institutional and private commissions around the world, cementing his reputation as one of the most significant contemporary artists working in the United States.
Late Period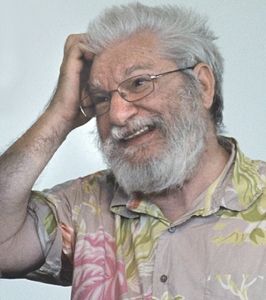 Dan Graham in Zürich 2007
In the 1990s, Graham published several retrospective collections of essays, including Rock my Religion, 1965-1990 and Two-Way Mirror Power: Selected Writings by Dan Graham on his Art. He continued to teach internationally, including in Japan, where he met Mieko Meguro, an art student with whom he kept in touch. As Meguro's career as an installation artist developed, the pair became a couple and eventually married.
In 2004, Graham wrote a rock opera for puppets titled Don't Trust Anyone over 30, created with his friends, the artists Tony Oursler and Rodney Graham. Subsequently, he has focused on the pavilions for which he is best known, often collaborating with architects or designers.
Graham continues to live with Mieko Meguro in New York City. In 2016, he suffered a series of health issues that led to his spending several months in hospital; he is now often unable to travel internationally for his work. In 2017, Meguro held an exhibition, For My Love, Dan and Potato Chips, at Shoot the Lobster responding to Graham's hospitalisation, presenting the celebrated artist as husband and muse, laughing and smiling in paintings, alongside an installation composed of the bags of potato chips that sustained Meguro during her visits.
The Legacy of Dan Graham
Dan Graham resists his categorisation as a Conceptual and Minimalist, and even as an artist, preferring to conceive of himself as an artist-writer and emphasising the importance of cultural criticism as a means of interacting with his peers. Nonetheless, he is widely recognised for his contributions to Conceptual Art and Minimalism, creating work that bridged the divide between intellectual traditions and popular culture, and his impact on those he worked alongside and on subsequent artists is widely felt. His early use of the magazine as a site for art influenced other artists and curators involved with Conceptual Art, including Lucy Lippard and Mel Bochner.
Graham's interest in collage, as manifested in his early videos, has influenced artists including PPaul McCarthy and Mike Kelley, who have similarly experimented with combining unusual cultural references and ranges of media; Kim Gordon, leader of Sonic Youth, has also noted Graham's impact on her band's approach, crediting her awareness of art's sociological possibilities to Graham. More recently, his impact can be seen in the use of the video essay as a form of cultural criticism.
Graham's use of the pavilion as a form of art bridging sculpture and architecture has had an impact on artists including Daniel Buren and Neil Beloufa, both of whom use mixed media installations as a form of Institutional Critique that involves the gallery visitor. His use of literary and philosophical reference points for immersive installation has reciprocally influenced a number of contemporary artists, including Yayoi Kusama and Martin Creed.
Most Important Art
Homes for America (1965)

In this photograph, a series of houses recede into the distance, each identical save for their different shades of grey, brown or black. The frame is dominated by the soft, grey sky and the landscape is cropped such that only the upper storeys and rooves of the houses appear, abstracting them. The repetitive geometry of these houses is emphasised by the framing of the photograph, which removes the surrounding townscape, the contours of the land and the position of the photographer. This image is one of a group, taken in Northern New Jersey and Staten Island, which were initially exhibited as a slideshow and ultimately published, with an accompanying text by Graham, in Arts magazine.

Homes for America is indicative of Graham's early Minimalist and Conceptual influences along with the ways in which his work explores the built environment. The houses appear as grid-like patterns, with the powdery colours echoing the paintings of Agnes Martin. His use of deadpan photography, produced on a low budget, to elevate the ordinary to the status of art follows the ideas of Lucy Lippard and the work of Ed Ruscha. In this case, the subject that is scrutinised by its positioning as art is the suburbanisation of the United States; Homes for America focuses on the developments, characterised by the repetition of cheaply-built, almost identical houses, that sprung up on Staten Island and in Northern New Jersey during the period after World War II. Graham's photograph, however, does not make judgements on this phenomenon; the images, shown without figures, cast the houses as lonely, but the dominance of the sky is suggestive of openness and dream, imbuing the suburbs with a sense of poetry.

Read More ...

Dan Graham Artworks in Focus:
Dan Graham Overview Continues Below
If you see an error or typo, please:
tell us
Cite this page

Content compiled and written by Rosie Lesso
Edited and revised, with Synopsis and Key Ideas added by Anna Blair
" Artist Overview and Analysis". [Internet]. . TheArtStory.org
Content compiled and written by Rosie Lesso
Edited and revised, with Synopsis and Key Ideas added by Anna Blair
Available from:
First published on 29 May 2019. Updated and modified regularly.


[Accessed ]