Artists
Marcel Broodthaers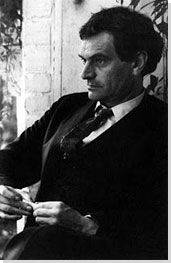 Born: January 28, 1924 - Brussels, Belgium
Died: January 28, 1976 - Cologne, Germany

"I remove the object from it usual context, I place it in another... "

Summary of Marcel Broodthaers
Marcel Broodthaers' meteoric rise to the top of the art world upon his entrance onto the scene in 1964 - coupled with his brilliant output until his untimely death twelve years later - makes one wonder why he waited until age 40 to begin his artistic career. On the other hand, Broodthaers' work explores irony, contradiction, and the questioning of long-established artistic institutions, so it may be fitting that his artistic fame constituted a 180-degree turnaround from a 20-year period spent in poverty as a poet and journalist. Broodthaers' engagement with language, history, and identity helped establish the genre of Conceptual Art and fought to free visual art from the shackles of aesthetic taste and commercialization.
Key Ideas
Because Broodthaers spent years outside of the art world - despite his friendships with other prominent artists and intellectuals - much of his work exposes how art is often "colonized" by either an elite, by the state, or by commerce, and attempts to reclaim the exhibition of art as a catalogue of an artist's experiences, instead of a display showroom for a certain demographic.
Broodthaers often incorporates humor, language, and personal metaphor as source material, which both helps to make his conceptual work accessible to a broader public and challenges conventional understandings of governments, museums, galleries, and other sources of power and control both within and outside the art world.
Broodthaers' engagement with identity - and particularly Belgian identity - helped provide fresh attention to his native country's art for the first time after the Second World War, but paradoxically, it also called into question the meaning of national identity in an increasingly-globalized dialogue about art.
Broodthaers' films are diverse, ranging from comedies to documentaries to melodramas, and they often reveal a sense of humor and playfulness that is less apparent in his other work. Often they show him performing ridiculous acts under obviously staged circumstances, or humorous depictions of him dressed as historical or imaginary characters. They frequently illuminate the artistic influences on Broodthaers, such as
Magritte
and
Schwitters
, and critique both the methods of filmmaking and the locations of shooting and display.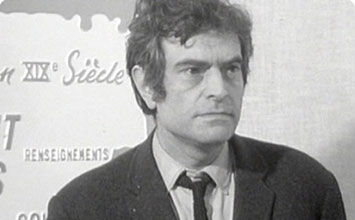 Marcel Broodthaers was born in Brussels in 1924. As a youth he was known to be bright and academically-inclined. From a relatively early age Broodthaers was involved in political and social issues. Around the age of 16, he was introduced to the "Surréalisme Revolutionnaire," a branch of the surrealists in Belgium, and during World War II he joined the anti-Nazi resistance.
Important Art by Marcel Broodthaers

The below artworks are the most important by Marcel Broodthaers - that both overview the major creative periods, and highlight the greatest achievements by the artist.


Artwork Images

La Clef de l'Horloge: Poème Cinématographique en l'Honneur de Kurt Schwitters (The Key to the Clock: Cinematographic Poem in Honor of Kurt Schwitters) (1957)

Artwork description & Analysis: Broodthaers decided to become an artist full-time in 1964, but he experimented before then with various media - most significantly, film, to which he returned repeatedly throughout his subsequent career. In Broodthaers' films, he reveals his inner playfulness even more so than in his other works, and La Clef de l'Horloge, made in 1957, hints at this. Its creation is the result of an after-hours shoot of an exhibition of Kurt Schwitters' work at the Palais des Beaux-Arts in Brussels (Broodthaers was only able to gain access with the assistance of the night guards). Broodthaers focuses closely on fragments of Schwitters' works, in many cases collages, where Schwitters has removed excerpts of material from advertisements, labels, and other commercial packaging - usually featuring numbers and letters - and recast them in a nearly-nonsensical context akin to Dada works. The narration at the beginning of La Clef de l'Horloge consists of a man describing the works, noting that Schwitters was the inventor of "Merz" art - a combination of the contemporary influences of commercialism and the disruptive nature of Dada. It then shifts to the recitation of a love poem, fitting because Schwitters himself was a poet, like Broodthaers. Much of the spoken words in the film are recorded over the tick-tock of a clock, suggesting the passage of time.

La Clef de l'Horloge thus not only highlights some of the influences on Broodthaers, but also touches on themes that would emerge significantly in his later work. Its nearly "homemade" quality - Broodthaers had to balance his camera on the shoulders of one of the guards and rely on a torch for light - echoes both the materials used in Schwitters' work and later, Broodthaers' own pieces - shells, postcards, patio furniture, for example. It is implicitly a critique of the museum itself and public access to art, with institutional rules about viewing hours, proper lighting and display, and even security of its spaces. Finally, with his "after-hours" viewing, Broodthaers thus gives the public viewer of the film an arguably even-more-privileged view of the exhibition than the social elite of the museum's patrons - in literally a completely different light, no less.

16 mm film, black and white, sound, 7min 40 sec - Collection Museum of Contemporary Art, Barcelona


Artwork Images

Pense-Bête (Memory Aid) (1964)

Artwork description & Analysis: In 1964, Broodthaers tried his hand at visual art by taking unsold copies of his latest volume of poetry, titled Pense-Bête, and encasing them sloppily in a mix of plaster and other materials. As his first "official" piece, Pense-Bête set the tone for the rest of Broodthaers' artistic output, including his pursuit of preserving ideas of experience. Here, he takes his "failed" poetry - which didn't sell - and converts it into something new that actually was considered to be successful, worthy of preservation.

Broodthaers' attempt with this work was to transform the refined poetry to which he had dedicated himself into an aesthetically "ugly" object. The conversion accomplishes two ends: it reveals the absence of a link between either hard work or beauty and eventual success, and it recontextualizes his past experience as a writer into something else entirely - into a form whereby his words would be preserved, rather than forgotten. Ironically, therefore, his polished verses had to be degraded into a "mess" in order to be positively received.

In a way, Pense-Bête showed Broodthaers mocking both his own history and his fellow contemporary artists. There is a certain humor in the fact that the title refers to the means by which his apparently forgettable poetry would become memorable. The rather haphazard way in which the plaster and ordinary materials are applied to the volumes of text pokes fun at the usually careful nature of the construction of artworks as a product of great technical skill. The title also contains a bit of humor in its translation as "Memory Aid," yet the conglomeration of materials grouped around the books do not immediately remind the viewer of anything specific and remain ambiguous as a referent. The transformation of the original poetry, meanwhile, does not make the text of the poetry itself any more memorable - it only achieves lasting fame as a piece of a larger work.

Books, paper, plaster, plastic balls on wood base 11 4/5 x 33 3/10 x 16 9/10 in - Collection Flemish Community, long-term loan S.M.A.K.


Artwork Images

Un jardin d'hiver II (A winter garden II) (1974)

Artwork description & Analysis: One of Broodthaers' running themes in his work is the idea of an installation as a movie set. This piece, the second in his Un Jardin d'Hiver series, approximates the interior setting reminiscent of colonial-era Palm Courts, a decision that references two historical circumstances. More generally, Broodthaers alludes to the display of artwork in cultural institutions as a staged gathering place for an economic and social elite to voyeuristically view the experience and life of the "other" - either the lower-class subjects of art or the pedestrian artists themselves - a move possibly influenced by Broodthaers' own longtime experience as a starving, aspiring writer. On a more specific level, the use of palm trees and selection of decorative imagery is a direct link to Belgium's pre-1960 colonization of Africa - where an elite European culture exploited the so-called "primitive" civilizations and cultures of the Congo.

Broodthaers adds complexity to the piece, however, by incorporating part of his other artwork in the installation. In Un Jardin d'hiver II, he shows a film recording the installation of Un Jardin d'hiver I, displayed earlier that same year, thereby making the staging of a previous work part of the staging of this work. As such, Jardin d'hiver II is only "complete" and fully experienced while the film of Jardin d'hiver I is being played. Jardin d'hiver II thus not only emphasizes process, but could be said to exist itself only as process and only for the duration that Jardin d'hiver I is being played in the installation.

Jardin d'hiver II places the viewer in the position of the elite empirically viewing the work of the proletarian artist. Broodthaers' work - and literally, the work of installing it - is on display for the pleasure of the viewer. Broodthaers thus equates his own condition (a struggling artist whose work exists for consumption by a social elite) with the residents of the Congo, formerly colonized and plundered for the pleasure of Belgians. But in Jardin d'hiver II, he inverts the power dynamic, as the audience is unable to stop the rolling of the film, and arguably is uncomfortably conflated with this exploitative contemporary and historical viewing elite. Likewise, in his references to the Congo, Broodthaers acknowledges the products of the region's residents as works of art, and by extension, insists upon broader recognition of their cultural importance and value - an honor systematically denied to them by Europeans.

Six photographs of 19th century etchings, painted chairs, 30 potted palms, 16-mm film - Estate Marcel Broodthaers
More Marcel Broodthaers Artwork and Analysis:
Influences and Connections
Influences on Artist
Artists, Friends, Movements
Influenced by Artist
Artists, Friends, Movements

Interactive chart with Marcel Broodthaers's main influences, and the people and ideas that the artist influenced in turn.
View Influences Chart


Influences on Artist

Marcel Broodthaers
Years Worked: 1957-1976
Influenced by Artist

If you see an error or typo, please:
tell us
Cite this page

Content compiled and written by The Art Story Contributors
Edited and revised, with Synopsis and Key Ideas added by Peter Clericuzio
" Artist Overview and Analysis". [Internet]. . TheArtStory.org
Content compiled and written by The Art Story Contributors
Edited and revised, with Synopsis and Key Ideas added by Peter Clericuzio
Available from:
First published on 28 Nov 2016. Updated and modified regularly.


[Accessed ]