Progression of Art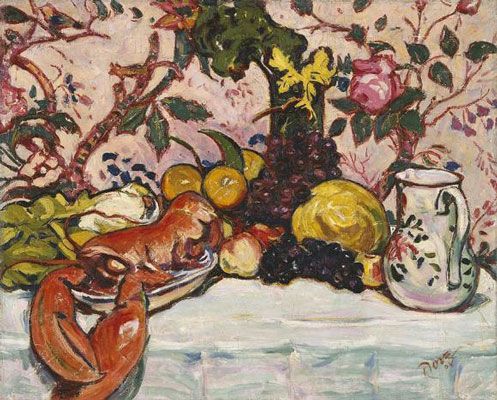 1908
Lobster
Painted while in Paris, Lobster shows the influence of the French modern masters upon Dove, in particular Paul Cézanne's spatial arrangements, and Henri Matisse's bold, signature color. Here, Dove reinterprets the traditional artistic subject of a still life in a modern style. Dove represents a splendid repast of ripe fruit and a lobster arranged on a cloth-covered table, against a vividly patterned wallpaper suggestive of a middle-class home. When he left Europe to return home to America the following year, Dove left the painting behind to be exhibited at the 1909 Salon d'Automne, the Parisian showcase for progressive, modern art. In 1910, Dove was introduced to Alfred Stieglitz and was included in his influential exhibition of the same year Younger American Painters. American critics, rather conventional in their tastes and unaccustomed to modernist works, denounced Lobster's "radical" French traits such as its high key colors, thickly applied paint (impasto), and the tilt of the table, which flattens the picture plane. Lobster was the last representational image Dove painted.
Oil on canvas - Amon Carter Museum, Fort Worth, TX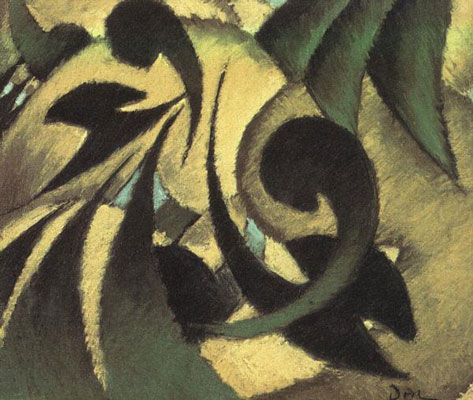 1911
Nature Symbolized No, 2
Rather than try faithfully reproducing elements of nature, Dove stove as a painter to capture its spiritual aspects, bringing attention to those movements and lifecycles beyond the human eye. The heart of Dove's artistic philosophy was the articulation of "essences" that would transmit this sense of the spiritual in nature. These "essences" were biomorphic shapes that represented different kinds of energy or organic evolution, suggesting an inner principle of inherent reality. In this work, curvilinear forms and shades of green relate a sense of growth and also, movements in nature, evoking the sensation of greenery being rustled by the wind. His early abstractions, especially the large pastel paintings on linen such as this work, are part of his effort to capture these transitory effects.
Large pastel paintings on linen - The Art Institute of Chicago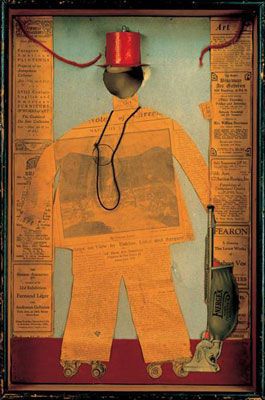 1925
The Critic
For this whimsical piece, Dove pasted together art auction advertisements, art reviews, and exhibition announcements. Few American artists prior to World War II made collages, and Dove was the most proficient artist to do so. In Europe, Braque and Picasso had explored the compositional interplay between painted and glued-on elements, while Dada artists introduced the political, the irrational, and the satirical in their collages. In addition to these European precedents, Dove could have also been inspired by 19th-century American folk art such as work by Victorian amateurs and the Shakers; folk art was then in vogue in America. Here, Dove has created a pointed commentary on the critic Forbes Watson of whom the artist was himself highly critical. Watson's empty head and idle monocle hanging from his neck provides telling clues about the uselessness of the critic's word and judgment. The vacuum cleaner that the critic holds and the roller skates that he wears, both cut from newspaper, diminish any sense of the man's authority. Dove's The Critic, through its light humor, reveals tensions between the old guard and modern artists in America.
Collaged paper, newspaper, fabric, cord, glass, pencil, and watercolor on board - Whitney Museum of American Art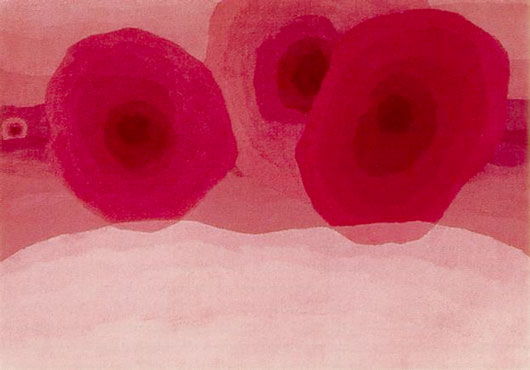 1929
Foghorns
There is a visceral, experiential aspect to viewing this work by Dove, which interprets the sound of foghorns in the mist. As the sounds echo, they become more diffuse in color and form, yet pulsate within the viewer's mind and body. Dove recasts an aural experience into one that is visual. Here, the haunting sound of a foghorn is evoked by three overlapping concentric rings of paint, growing in lightening tones of pink emanating outward from a dark center. Dove explored the psychological state of synesthesia, a condition in which sounds could be experienced and portrayed as colors or shapes, making the work descriptive, yet abstract. What he achieved was a lyrical distillation of form, color, and line that poetically celebrates a deep attunement with nature and its forces. Rather than the long and rich tradition of representational images of nature, Dove has eschewed the unessential to release its spiritual aspects and place the viewer in immediate contact with natural forms, removing himself as the intermediary.
Oil on canvas - Colorado Springs Fine Arts Center, Colorado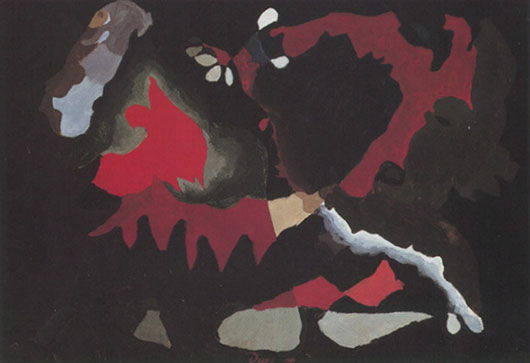 1938
Swing Music (Louis Armstrong)
Jazz in the 1920s and 1930s was considered red hot and modern. Created primarily by African Americans, such as renowned trumpeter Louis Armstrong, jazz and its performers represented a break from Euro-American culture and traditions, and thereby, were uniquely American. A dedicated music fan and amateur musician, Dove sought to connect his painting with sound and music, which he believed were able to convey pure emotion without referring to the material world. In the late 1920s, Dove started listening to the radio while painting, especially jazz and swing. To Dove and others, Armstrong's signature playing evoked the dynamism of modern life. Alfred Stieglitz exhibited Dove's paintings inspired by what he heard on the radio at his gallery, An American Place. Here, the pulsating red forms, irregular and improvisational, capture the raw exuberance of jazz and swing for the viewer to sense fully.
Emulsion, oil, and wax on canvas - Art Institute of Chicago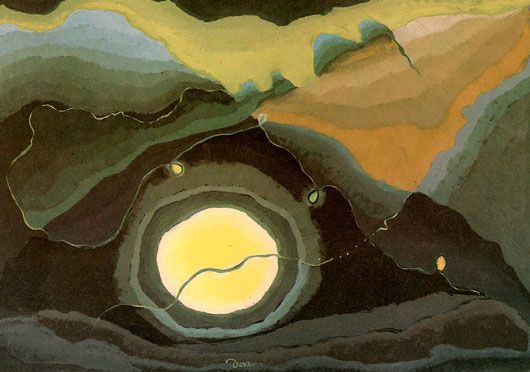 1937
Me and the Moon
While previously this work has been solely considered to be Dove's personal vision of his natural surroundings, recent examination of his diaries and correspondences from the late 1930s reveal a more complex tale. Dove painted this work while his beloved wife and creative inspiration, Reds, was absent for two months tending to her infirmed mother. Dove, who created approximately 17 canvases related to music, began listening daily to the radio for companionship and inspiration. Both he and Reds referred to the paintings of the late-1930s, such as Me and the Moon, as "From the Radio" works. He took the painting's title from a popular song of the day. In Reds's absence, Dove began tracking the moon for two months in his diaries, only stopping when his wife returned. Influenced by the writings of Henri Bergson, Dove saw the moon as his living companion. Me and the Moon has been called one of the culminating works of his career. It reveals Dove's deep and personal connection to the natural world, and also, how nature became a vehicle for Dove to express his inner, emotional world.
1937 - The Phillips Collection, Washington, DC
Similar Art
Related Artists
Related Movements & Topics