Artists
Claude Monet
Claude Monet
French Painter
Movement: Impressionism
Born: November 14, 1840 - Paris, France
Died: December 5, 1926 - Giverny, France

"For me, a landscape does not exist in its own right, since its appearance changes at every moment; but the surrounding atmosphere brings it to life - the light and the air which vary continually. For me, it is only the surrounding atmosphere which gives subjects their true value."
Synopsis
Claude Monet was the leader of the French Impressionist movement, literally giving the movement its name. As an inspirational talent and personality, he was crucial in bringing its adherents together. Interested in painting in the open air and capturing natural light, Monet would later bring the technique to one of its most famous pinnacles with his series paintings, in which his observations of the same subject, viewed at various times of the day, were captured in numerous sequences of paintings. Masterful as a colorist and as a painter of light and atmosphere, his later work often achieved a remarkable degree of abstraction, and this has recommended him to subsequent generations of abstract painters.
Key Ideas
Monet's early work is indebted to the Realists' interests in depicting contemporary subject matter, without idealization, and in painting outdoors in order to capture the fleeting qualities of nature.
Inspired in part by
Edouard Manet
, Monet departed from the clear depiction of forms and linear perspective, which were prescribed by the established art of the time, and experimented with loose handling, bold color, and strikingly unconventional compositions. The emphasis in his pictures shifted from representing figures to depicting different qualities of light and atmosphere in each scene.
In his later years, Monet also became increasingly sensitive to the decorative qualities of color and form. He began to apply paint in smaller strokes, building it up in broad fields of color, and exploring the possibilities of a decorative paint surface of harmonies and contrasts of color. The effects that he achieved, particularly in the series paintings of the 1890s, represent a remarkable advance towards abstraction and towards a modern painting focused purely on surface effects.
An inspiration and a leader among the Impressionists, he was crucial in attracting
Pierre-Auguste Renoir
,
Alfred Sisley
,
Edouard Manet
and
Camille Pissarro
to work alongside each other in and around Paris. He was also important in establishing the exhibition society that would showcase the group's work between 1874 and 1886.
Biography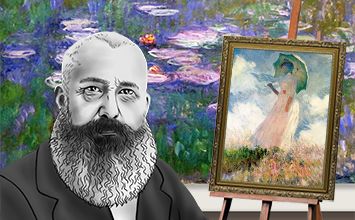 Childhood
Born in Paris, Oscar Claude Monet moved at the age of five to Le Havre, a seaside town in northern France. His father was a successful grocer that later turned to shipping. His mother died when he was 15. The ocean and rugged coastline of Northern France had a profound effect on him at an early age, and he would often run away from school to go for walks along the cliffs and beaches. As a youth, he received instruction at the College du Havre from a former pupil of the famous Neo-Classical artist Jacques-Louis David. Creative and enterprising from an early age, he drew caricatures in his spare time and sold them for 20 francs apiece. Capitalizing on his early aptitude for art, he managed to save a good bit of money from his art sales.
- - - - - - - - - - - - - - - - - - - - - - - - - - - - - - - - - - - - - - - - - - - - - - - -
Claude Monet Biography Continues

Influences and Connections
Influences on Artist
Artists, Friends, Movements
Influenced by Artist
Artists, Friends, Movements

Interactive chart with Claude Monet's main influences, and the people and ideas that the artist influenced in turn.
View Influences Chart

Artists

| | |
| --- | --- |
| | Eugéne Boudin |
| | Gustave Courbet |
| | Jean-François Millet |
| | Édouard Manet |
| | J.M.W. Turner |

Personal Contacts

| | |
| --- | --- |
| | Pierre-Auguste Renoir |
| | Frédéric Bazille |
| | Charles Baudelaire |
| | Alfred Sisley |
| | Émile Zola |

Movements

| | |
| --- | --- |
| | Neoclassicism |
| | Japonism |
| | Realism |

Influences on Artist

Claude Monet
Years Worked: 1852 - 1926
Influenced by Artist

Artists

| | |
| --- | --- |
| | Vincent van Gogh |
| | Paul Cézanne |
| | Edgar Degas |
| | Georges Seurat |
| | Camille Pissarro |

Personal Contacts

| | |
| --- | --- |
| | Paul Durand-Ruel |
| | Stéphane Mallarmé |
| | James Whistler |
| | Georges Clemenceau |

Movements

| | |
| --- | --- |
| | Impressionism |
| | Post-Impressionism |
| | Symbolism |
| | Pointillism |
| | Fauvism |
If you see an error or typo, please:
tell us
Cite this page

Content compiled and written by The Art Story Contributors
Edited and published by The Art Story Contributors
" Artist Overview and Analysis". [Internet]. . TheArtStory.org
Content compiled and written by The Art Story Contributors
Edited and published by The Art Story Contributors
Available from:
[Accessed ]