Artists
Joan Miró
For Educators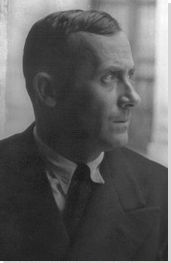 Joan Miró
Spanish Painter and Printmaker
Movements and Styles: Surrealism, Dada
Born: April 20, 1893 - Barcelona, Spain
Died: December 25, 1983 - Palma De Mallorca, Spain

"The joy of achieving in a landscape a perfect comprehension of a blade of grass.. as beautiful as a tree or a mountain.. What most of all interests me is the calligraphy of the tiles on a roof or that of a tree scanned leaf by leaf, branch by branch."

Synopsis
Early in his career, Miró primarily painted still-lifes, landscapes, and genre scenes. Influences ranging from the folk art and Romanesque church frescoes of his native Catalan region in Spain to 17th-century Dutch realism were eventually superseded by more contemporary ones: Fauvism, Cubism, and Surrealism captivated the young artist, who had relocated to Paris in 1921. His exposure to the ideas of André Breton and Breton's Surrealist circle prompted Miró to make radical changes to his style, although the artist cannot be said to have identified consistently with a single school. Rather, his artistic career may be characterized as one of persistent experimentation and a lifelong flirtation with non-objectivity. Miró's signature biomorphic forms, geometric shapes, and semi-abstracted objects are expressed in multiple media, from ceramics and engravings to large bronze installations.
Key Ideas
Conducting his own Surrealism-inspired exploration, Miró invented a new kind of pictorial space in which carefully rendered objects issuing strictly from the artist's imagination are juxtaposed with basic, recognizable forms - a sickle moon, a simplified dog, a ladder. There is the sense that they have always coexisted both in the material realm and in the shallow pictorial space of Miró's art.
Miró's art never became fully non-objective. Rather than resorting to complete abstraction, the artist devoted his career to exploring various means by which to dismantle traditional precepts of representation. Miró's radical, inventive style was a critical contributor in the early-20th-century avant-garde journey toward increasing and then complete abstraction.
Miró balanced the kind of spontaneity and automatism encouraged by the Surrealists with meticulous planning and rendering to achieve finished works that, because of their precision, seemed plausibly representational despite their considerable level of abstraction.
Miró often worked with a limited palette, yet the colors he used were bold and expressive. His chromatic explorations, which emphasized the potential of fields of unblended color to respond to one another, provided inspiration for a generation of
Color Field painters
.
Artists have traditionally confined themselves to visual expression in a single medium with occasional forays into other materials. However, Miró was, in a sense, a modern renegade who refused to limit himself in this regard. While he explored certain themes such as that of Mother and Child repeatedly throughout his long career, Miró did so in a variety of media from painting and printmaking to sculpture and ceramics, often achieving surprising and disparate results.
Biography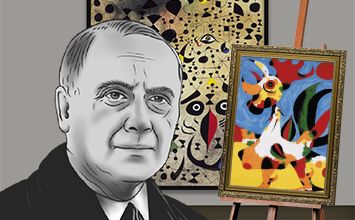 Childhood
Joan Miró was born in Spain in 1893 to a family of craftsmen. His father, Miguel, was a watchmaker and goldsmith, while his grandfathers were cabinetmakers and blacksmiths. Perhaps in keeping with his family's artistic trade, Miró exhibited a strong love of drawing at an early age; according to biographers, he was not particularly inclined toward academics. Rather, Miró pursued art-making and studied landscape and decorative art at the School of Industrial and Fine Arts (the Llotja) in Barcelona.
- - - - - - - - - - - - - - - - - - - - - - - - - - - - - - - - - - - - - - - - - - - - - - - -
Joan Miró Biography Continues

Important Art by Joan Miró

The below artworks are the most important by Joan Miró - that both overview the major creative periods, and highlight the greatest achievements by the artist.


Artwork Images

The Ear of Grain (1922)

Artwork description & Analysis: The Ear of Grain is an early work in which Miró demonstrates his close study of everyday objects. As a young artist, Miró was influenced by the painstaking, detailed realism of the Dutch Masters and by his academic training. The attention he gives to objects is reflected later in the care Miró takes with constructing the clean-edged, biomorphic forms of his trademark style.

Oil on canvas - The Museum of Modern Art, New York


Artwork Images

The Farm (1921)

Artwork description & Analysis: A dramatically tilted picture plane presents the viewer with a glimpse of a busy Spanish masia or "family farm." Miró wrote of this work, "The Farm was a résumé of my entire life in the country. I wanted to put everything I loved about the country into that canvas - from a huge tree to a tiny snail." The artist spent sometimes as many as eight hours a day for nine months working on this painting, for which he then struggled to find a buyer in a Parisian modern art market that preferred Cubism. In The Farm, Miró combines an interest in primitivism, perhaps harkening back to his attraction to Catalan folk art, and a Cubist vocabulary to produce a strangely haunting landscape that prefigures his Surrealist work. With an almost maniacal attention to detail, he carefully rendered objects are displayed against stark, monochromatic expanses of space makes for an unsettling contrast. Flattened forms exist side-by-side with carefully rendered and modeled objects, a testament to the influence of Cézanne and the Cubists.

Oil on canvas - National Gallery of Art, Washington D.C.


Artwork Images

The Tilled Field (1923)

Artwork description & Analysis: Populated with complex, often inscrutable forms, The Tilled Field, with its puzzling iconography, is an abstract depiction of the landscape of Miró's Catalan homeland. The painting, teeming with organic forms that merge and meld seemingly in defiance of nature, is a testament to Miró's ever-increasing stylization and abstraction at this point in his career. The picture may be viewed as both an homage to Spain's past and a statement on the contemporary political upheaval in Europe. In works like this one, as well as works from the period leading up to and throughout World War II, Miro frequently expressed his own political sentiments. The painting also emphasizes how extremely radical Miró's departure was from his previous, naturalist style once he arrived in Paris and was exposed to the avant-garde art of that city where innovation thrived.

Oil on canvas - Solomon R. Guggenheim Museum, New York
More Joan Miró Artwork and Analysis:
Influences and Connections
Influences on Artist
Artists, Friends, Movements
Influenced by Artist
Artists, Friends, Movements

Interactive chart with Joan Miró's main influences, and the people and ideas that the artist influenced in turn.
View Influences Chart

Artists

| | |
| --- | --- |
| | Marc Chagall |
| | Vincent van Gogh |
| | Wassily Kandinsky |
| | André Masson |
| | Francis Picabia |

Personal Contacts

Movements

| | |
| --- | --- |
| | Expressionism |
| | Fauvism |
| | Surrealism |
| | Dada |
| | Cubism |

Influences on Artist

Joan Miró
Years Worked: 1907 - 1983
Influenced by Artist

Artists

| | |
| --- | --- |
| | Robert Motherwell |
| | Mark Rothko |
| | Jackson Pollock |
| | Arshile Gorky |
| | Helen Frankenthaler |

Personal Contacts

Movements

| | |
| --- | --- |
| | Abstract Expressionism |
| | Color Field Painting |
Useful Resources on Joan Miró
If you see an error or typo, please:
tell us
Cite this page

Content compiled and written by Ashley Remer
Edited and published by The Art Story Contributors
" Artist Overview and Analysis". [Internet]. . TheArtStory.org
Content compiled and written by Ashley Remer
Edited and published by The Art Story Contributors
Available from:
[Accessed ]