Artists
Constantin Brancusi
For Educators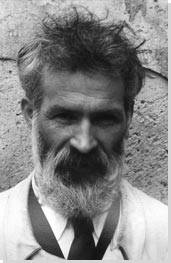 Constantin Brancusi
French-Romanian Photographer and Sculptor
Movements and Styles: Dada, Cubism
Born: February 19, 1876 - Hobitza, Romania
Died: March 16, 1957 - Paris, France

"What my work is aiming at is, above all, realism: I pursue the inner, hidden reality, the very essence of objects in their own intrinsic fundamental nature; this is my only deep preoccupation."

Synopsis
Constantin Brancusi is often regarded as the most important sculptor of the 20th century. His visionary sculptures often exemplify ideal and archetypal representations of their subject matter. Bearing laconic titles such as Fish, Princess X, and Bird in Space, his sculptures are deceptively simple, with their reduced forms aiming to reveal hidden truths. Unlike the towering figure of Auguste Rodin, for whom Brancusi briefly assisted early in his career, Brancusi worked directly with his materials, pioneering the technique of direct carving, rather than working with intermediaries such as plaster or clay models.
Key Ideas
Explaining that "The artist should know how to dig out the being that is within matter," Brancusi sought to create sculptures that conveyed the true essence of his subjects, be they animals, people, or objects by concentrating on highly simplified forms free from ornamentation. While many regarded his art as abstract, the artist disagreed; he insisted on the representational nature of his works, asserting that they disclosed a fundamental, often concealed, reality.
Brancusi's work was largely fueled by myths, folklore, and "primitive" cultures. These traditional, old-world sources of inspiration formed a unique contrast to the often sleek appearance of his works, resulting in a distinctive blend of modernity and timelessness.
The materials Brancusi used - primarily marble, stone, bronze, wood, and metal - guided the specific forms he produced. He paid close attention to his mediums, meticulously polishing pieces for days to achieve a gleam that suggested infinite continuity into the surrounding space - "as though they proceeded out from the mass into some perfect and complete existence."
Biography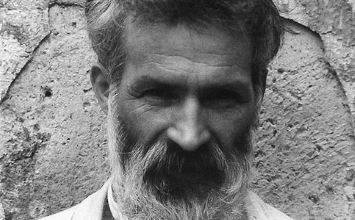 Childhood
The second of four children, Brancusi was born in the small farming village of Hobitza, Romania, in 1876. He had a difficult childhood, in part due to challenging relationships with his father, a property manager of a monastery, and the children from his previous marriage. After several attempts to leave home, Brancusi finally did so permanently in 1887, at the age of eleven.
- - - - - - - - - - - - - - - - - - - - - - - - - - - - - - - - - - - - - - - - - - - - - - - -
Constantin Brancusi Biography Continues

Important Art by Constantin Brancusi

The below artworks are the most important by Constantin Brancusi - that both overview the major creative periods, and highlight the greatest achievements by the artist.


Artwork Images

The Kiss (1916)

Artwork description & Analysis: Brancusi's first version of The Kiss, created in 1907, marked a major departure from the emotive realism of Rodin's famous handling of the same subject. This 1916 version is the most geometric of Brancusi's series, reflecting the influence of Cubism in its sharply defined corners. Its composition, texture, and material highlight Brancusi's fascination with both the forms and spirituality of African, Assyrian, and Egyptian art. That attraction also led Brancusi to craft The Kiss using direct carving, a technique that had become popular in France at the time due to an interest in "primitive" methods. These sculptures signify his shift toward simplified forms, as well as his interest in contrasting textures - both key aspects of his later work.

Limestone - Philadelphia Museum of Art


Artwork Images

Sleeping Muse I (1909-10)

Artwork description & Analysis: Portraits, heads, and busts were frequent subjects for Brancusi, and he received several commissions for such work. With Sleeping Muse I, modeled on the Baroness Renee-Irana Frachon, Brancusi developed a distinctive form of the portrait bust, representing only its sitter's disembodied head. This work was Brancusi's first handling of the sleeping head, a thematic cycle that occupied the artist for roughly twenty years. The smoothness of the piece, achieved by the artist's practice of polishing the surface of his sculptures until they achieved a high gleam, contrasts with the carved definition of the sitter's facial features.

Marble - Hirshhorn Museum and Sculpture Garden, Washington, D.C.


Artwork Images

Endless Column (1918)

Artwork description & Analysis: In this, the first of Brancusi's several variations of Endless Column, he references the axis mundi, or axis of the world, a concept crucial to the beliefs of many traditional cultures embodying the connection between heaven and earth. This focus reflected Brancusi's strong and persistent affinity for the sacred, cosmic, and mythical. Endless Column also treats another theme of Brancusi's work, the idea of infinity, here suggested by the repetition of identical rhomboid shapes. The most famous of Brancusi's Endless Columns was the version that served as the centerpiece of the tripartite sculptural memorial to fallen soldiers in World War I erected in Tirgu-Jiu, Romania in 1935.

Oak - Museum of Modern Art, New York
More Constantin Brancusi Artwork and Analysis:
Influences and Connections
Influences on Artist
Artists, Friends, Movements
Influenced by Artist
Artists, Friends, Movements
Interactive chart with Constantin Brancusi's main influences, and the people and ideas that the artist influenced in turn.
View Influences Chart

Artists

| | |
| --- | --- |
| | Marcel Duchamp |
| | Paul Gauguin |
| | Fernand Léger |
| | Auguste Rodin |

Personal Contacts

| | |
| --- | --- |
| | Alfred Stieglitz |
| | Edward Steichen |
| | Henri Rousseau |

Movements

Influences on Artist
Constantin Brancusi
Years Worked: 1907 - 1957
Influenced by Artist

Artists

| | |
| --- | --- |
| | Isamu Noguchi |
| | Richard Serra |
| | Robert Morris |
| | Donald Judd |

Personal Contacts

| | |
| --- | --- |
| | Ezra Pound |
| | Amedeo Modigliani |

Movements

| | |
| --- | --- |
| | Art Deco |
| | Minimalism |
Useful Resources on Constantin Brancusi
The books and articles below constitute a bibliography of the sources used in the writing of this page. These also suggest some accessible resources for further research, especially ones that can be found and purchased via the internet.
biography
works
More Interesting Books about Constantin Brancusi

If you see an error or typo, please:
tell us
Cite this page

Content compiled and written by Rachel Gershman
Edited and published by The Art Story Contributors
" Artist Overview and Analysis". [Internet]. . TheArtStory.org
Content compiled and written by Rachel Gershman
Edited and published by The Art Story Contributors
Available from:
[Accessed ]