Movements, Styles, and Tendencies
Post-Impressionism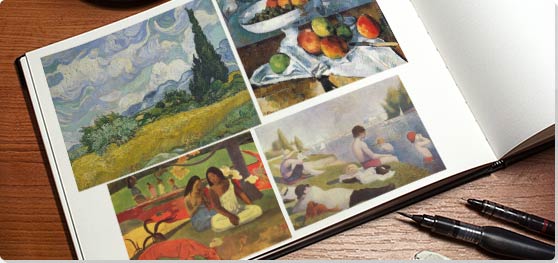 Post-Impressionism
Started: Early 1880s
Ended: 1914

"Nature is not only all that is visible to the eye...It also includes the inner pictures of the soul."

Synopsis
Post-Impressionism encompasses a wide range of distinct artistic styles that all share the common motivation of responding to the opticality of the Impressionist movement. The stylistic variations assembled under the general banner of Post-Impressionism range from the scientifically oriented Neo-Impressionism of Georges Seurat to the lush Symbolism of Paul Gauguin, but all concentrated on the subjective vision of the artist. The movement ushered in an era during which painting transcended its traditional role as a window onto the world and instead became a window into the artist's mind and soul. The far-reaching aesthetic impact of the Post-Impressionists influenced groups that arose during the turn of the 20th century, like the Expressionists, as well as more contemporary movements, like the identity-related Feminist Art.
Key Ideas
Symbolic and highly personal meanings were particularly important to Post-Impressionists such as
Paul Gauguin
and
Vincent van Gogh
. Rejecting interest in depicting the observed world, they instead looked to their memories and emotions in order to connect with the viewer on a deeper level.
Structure, order, and the optical effects of color dominated the aesthetic vision of Post-Impressionists like
Paul Cézanne
,
Georges Seurat
, and
Paul Signac
. Rather than merely represent their surroundings, they relied upon the interrelations of color and shape to describe the world around them.
Despite the various individualized styles, most Post-Impressionists focused on abstract form and pattern in the application of paint to the surface of the canvas. Their early leanings toward abstraction paved the way for the radical modernist exploration of abstraction that took place in the early-20th century.
Critics grouped the various styles within Post-Impressionism into two general, opposing stylistic trends - on one side was the structured, or geometric style that was the precursor to
Cubism
, while on the other side was the expressive, or non-geometric art that led to
Abstract Expressionism
.
Beginnings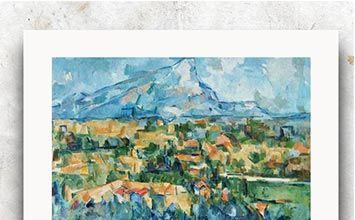 Impressionism and the Rise of Post-Impressionism
In 1872, Claude Monet radically altered the path of painting, ushering in a revolutionary mode of visual expression in which artists responded to their modern surroundings. This was achieved in the painting Impression, Sunrise (1872), in which Monet used each visible brushstroke to record exactly how the light from the sun fell upon the steamships and water below. The critic Louis Leroy derisively dubbed their style of painting "Impressionist" because of the visible brushstrokes, and unwittingly gave the group their collective identity. Although the core membership consisted of Claude Monet, Berthe Morisot, Auguste Renoir, and Edgar Degas, many other artists associated with the group. Among them was Paul Cézanne, who exhibited with the Impressionists during the 1870s and early 1880s.
- - - - - - - - - - - - - - - - - - - - - - - - - - - - - - - - - - - - - - - - - - - - - - - -
Post-Impressionism Overview Continues

If you see an error or typo, please:
tell us
Cite this page

Content compiled and written by The Art Story Contributors
Edited and published by The Art Story Contributors
" Movement Overview and Analysis". [Internet]. . TheArtStory.org
Content compiled and written by The Art Story Contributors
Edited and published by The Art Story Contributors
Available from:
[Accessed ]