Progression of Art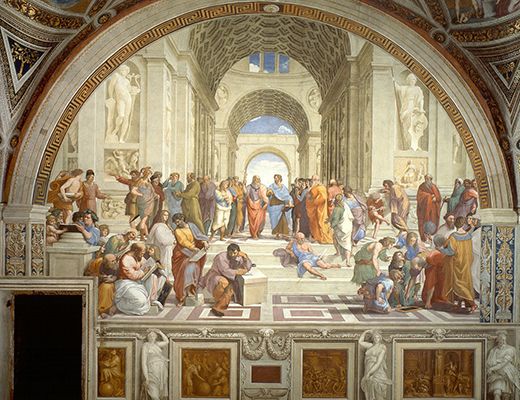 1509-10
The School of Athens
The idea of an academy has its roots in the school Plato established to teach philosophy in Athens in the fourth century BC. When Raphael painted four stanzas representing various branches of knowledge for the Vatican, he devoted one to philosophy and represented many ancient Greek thinkers. But he included a self-portrait on the right of the picture, as an assertion of Renaissance artists' claim to be deserving of a new and higher education than that which was once provided by the guild system.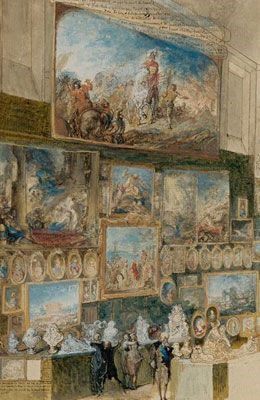 1771-72
The Academicians of the Royal Academy
Zoffany's group portrait shows a scene from the life drawing room at Old Somerset House, the old home of London's Royal Academy. Rather than emphasize the technical ability of drawing, he shows the academicians discussing the nude, underlining instead their intellectual credentials. Some have seen the picture as a mock-heroic version of Raphael's School of Athens (1509-10).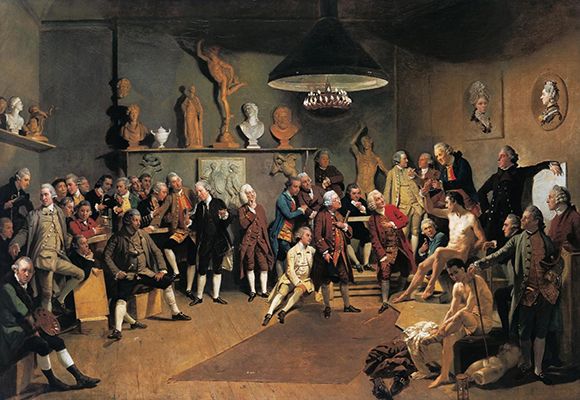 1785
The Oath of the Horatii
David's subject comes from the Roman tale of the three sons of Horatius who were selected to represent their city against the Curiatii, champions from a neighboring city. The oath was lent drama by the fact that the two families were related by marriage. Many have read it as an outstanding example of the teaching of the French Academy - its clarity, respected classical source, and stern moral message making it the perfect model. It was one of several pictures that propelled David to the front ranks of French painting and into official positions within the state.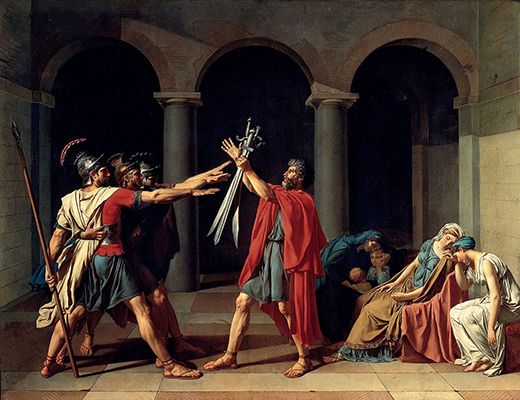 1765
The Salon du Louvre in 1765
Gabriel de Saint-Aubin never won the great Academy prize that would have launched his career, so he spent his years as a street draughtsman. He sometimes earned money by recording the pictures that were hung in the Academy's great biannual exhibition, the Salon. This spirited drawing lends an impression not only of the crowded competition that the Academy encouraged among its members, but also of the hierarchy that governed such exhibitions - and that governed success at the Academy - with large history paintings gaining the greatest profile and minor genres, such as still lifes, being relegated to less favorable spots.
Related Artists
Related Movements & Topics