Progression of Art
1952
Painting No. 7
Unlike his friends Pollock and de Kooning, Kline never experimented with figurative elements in his mature work. Painting No.7 is a fine example of his black and white pictures. The rigid geometry of broad black lines defines the composition, perhaps manifesting his reconsideration of the iconic paintings of squares by Kazimir Malevich.
Oil on canvas - The Solomon R. Guggenheim Museum, New York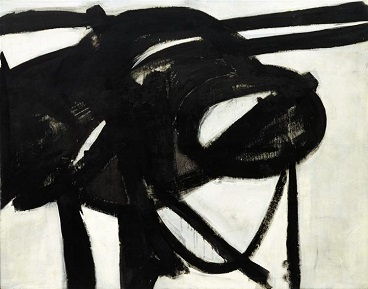 1950
Chief
Critics' comments on the pictures included in Kline's breakthrough show of 1950 set the pattern for later reviews with their variety of analogies. Chief was the name of a locomotive Kline remembered from his childhood, and it's possible to read the image as a sensory reminiscence of its power, sound and steaming engine. Some also believed that the artist's obsession with black was connected to his childhood spent in a coal-mining community dominated by heavy industry. Many have since noted, however, that the forms in these early abstractions seem to have evolved from Kline's drawings of his wife Elizabeth. He made numerous sketches of her sitting in a rocking chair in the years when she began to succumb to mental illness; the circular forms in Chief bear comparison with the blank circles representing her face in the drawings.
Oil on canvas - The Museum of Modern Art, New York
1956
Four Square
Four Square is another example of Kline's experimentation with angular compositions. Although apparently structured in its compositional rigidness, Four Square is a fine example of his gestural approach to painting. The viewer is led to ponder the canvas, seeing as either a close-up of a linguistic symbol or, perhaps, a set of open windows. In this work Kline is also attempting to construct a three-dimensional abstract composition, whereas most of the Abstract Expressionists preferred the two- dimensional treatment of the pictorial surface. Kline achieves the visual effect of depth through energetic juxtapositions of vertical and horizontal lines and their diagonal overlapping.
Oil on canvas - The National Gallery of Art, Washington, D.C.
1960
Meryon
Meryon has a strong architectonic sense in its composition. The inspiration was possibly an engraving of a clock tower by the 19th-century French artist Charles Meryon. Again, Kline represents not the object itself, but his vision of it. Seemingly spontaneous in its arrangement, this composition was conceived through a number of preliminary studies, shedding a new light on the nature of his gestural technique.
Oil on canvas - Tate Gallery, London
1956
Black Reflection
Black Reflection is an example of Kline's early attempts at introducing color back into his works. The treatment of color in this composition could be related to the contemporary paintings of Willem de Kooning and Hans Hofmann. The focal point of this picture is the black shape that Kline previously employed in the Untitled composition of 1954. This fact further attests to the careful consideration the Action Painting artists devoted to the pictorial forms in their compositions.
Oil on canvas - The Metropolitan Museum of Art, New York.
1960
Probst I
Probst I refers to Jack Probst, a fellow artist who lived near Kline in Greenwich Village. At first glance, this composition is typical of his black and white work. However, more colors are present on this canvas. There are dabs of yellow and pale salmon that illuminate the massiveness of black twisted shapes, creating warm luminous effects. Probst I is an example of Kline's late work where he returned to employing a wider palette.
Oil on canvas - The Museum of Fine Arts, Boston.
Similar Art
Related Artists
Related Movements & Topics