Biography of Max Ernst
Childhood
Max Ernst was born into a middle-class Catholic family of nine children in Bruhl, Germany, near Cologne. Ernst first learned to paint from his father, a strict disciplinarian who was deaf, and a teacher who held an avid interest in academic art. A good deal of Ernst's work as an adult sought to undermine authority including that of his father. Other than this introduction to amateur painting at home, Ernst never received any formal training in art: thus he was responsible for his own artistic techniques. Ernst matriculated at the University of Bonn in 1914 to study philosophy but soon abandoned it, later claiming that he avoided "any studies which might degenerate into breadwinning." Instead, the artist preferred those areas of study considered "futile by his professors - predominately painting...seditious philosophers, and unorthodox poetry." At this time, Ernst became deeply interested in psychology and the art of the mentally ill. When World War I broke out Ernst was conscripted into the German army and served in an artillery division in which he directly experienced the drama and bloodshed of trench warfare - he served on both the Eastern and Western Fronts. Ernst was one of multiple artists who emerged from military service emotionally wounded and alienated from European traditions and conventional values.
Early Training
Although primarily self-taught, Ernst was influenced by the works of Vincent van Gogh and August Macke, and the canvases of Giorgio de Chirico prompted his interest in dream imagery and the fantastical. Ernst mined the experiences of his childhood and war to depict both absurd and apocalyptic scenes. A subversive tendency remained strong in Ernst throughout his career, as he literally turned the world upside down in many of his works. Returning to Germany after armistice, Ernst along with the artist-poet Jean Arp helped form the Dada group in Cologne; simultaneously he maintained close ties with the Parisian avant-garde. Ernst began creating his first collages in 1919, reworking mundane materials such as scientific manuals and illustrated catalogs from the turn-of-the-century to create new stunning, fantastical images without set narratives. This irrational image-making allowed Ernst to make the world of dreams, the subconscious, and the accidental all visual as he plumbed his own psyche for inspiration and to confront his own trauma.
Ernst edited journals while in Cologne and helped stage a Dada exhibition in a public restroom where visitors were greeted by a sweet young girl reciting obscene poetry. Also on view was a sculpture by Ernst with an axe alongside it that the public was invited to use to attack and to destroy the piece of art. This audience participatory event caused quite a scandal to bourgeois sensibilities.
Mature Period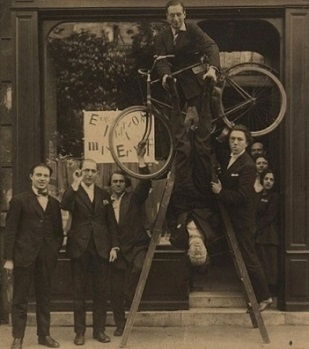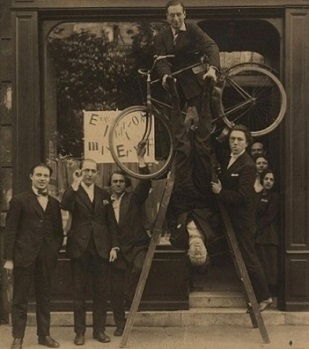 In 1922, Ernst left his first wife behind and moved to Paris, where he would live and work until 1941 - when World War II made it impossible to remain in Europe. During these decades, Surrealism came to displace Dadaism with the publication of André Breton's "First Surrealist Manifesto"(1924), and Ernst became one of the movement's founding members. Ernst and his artist-colleagues were discovering the possibilities of autonomism and dreams; in fact, his artistic investigations were aided by hypnosis and hallucinogenics. In 1925, in order to activate the flow of imagery from his unconscious, Ernst began to experiment with frottage (pencil rubbings of such things as wood grain, fabric, or leaves), a technique he in fact developed, and decalcomania (the technique of transferring paint from one surface to another by pressing the two surfaces together). His experiments and technical innovations led to finished images, accidental patterns, and definite textures which he would then incorporate into his drawings and paintings. This emphasis on the contact between materials, as well as transforming everyday materials in order to arrive at an image that signified some sort of collective consciousness, would become central to Surrealism's concept of automatism.
Late Years and Death
By 1933, Hitler and the Nazi Party had seized control of Germany. By the fall of 1937, Hitler had accumulated approximately sixteen-thousand works of avant-garde art from Germany's national museums, and shipped six hundred and fifty works to Munich to be for his infamous exhibition "Degenerate Kunst" (Degenerate Art). It appears that Ernst had at least two paintings on display in the exhibition, both of which have since disappeared, or most likely were destroyed. Ernst fled from France with the Gestapo on his heels after being interned three times as a German national. As a refugee in New York where along with such important European avant-garde artists as Marcel Duchamp and Piet Mondrian, he electrified a generation of American artists. Ernst met Peggy Guggenheim, the flamboyant socialite, gallery owner, and patron of the arts, who was to become his third wife. Guggenheim provided Ernst entry to New York's burgeoning art scene.
Ernst's rejection of traditional painting techniques, styles, and imagery (as symbolized by the classical style of his father's work) captivated young American painters, who similarly sought to forge a fresh and unorthodox approach to painting. He had a particularly strong effect on the direction of Jackson Pollock's painting, who became interested in the collage aspects of Ernst's work, as well as his tendency to use his art as an externalization of his internal state. The younger artists were greatly interested in Ernst having captured the unconscious and the accidental in his art making, and his great Surrealist experimentation with autonomism and automatic writing. In 1942, Ernst experimented with "Oscillation" or painting by swinging a paint filled can punctured multiple times with holes over the canvas; this especially impressed Pollock.
Divorcing Guggenheim, Ernst soon relocated to Sedona, Arizona with his fourth wife, the American Surrealist painter Dorothea Tanning. Ernst and Tanning ultimately moved back to France in 1953. In 1954, Ernst was awarded the main painting prize at the prestigious Venice Biennale. In 1971, to honor the artist's 80th birthday, a major retrospective toured through America and Europe. Ernst was active as an artist up until his death in Paris in 1976. He was interred at Paris's famed Pere Lachaise Cemetery.
The Legacy of Max Ernst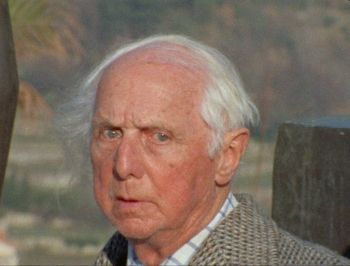 Max Ernst achieved a rare feat in that he established a glowing reputation and critical following in three countries simultaneously (Germany, France, and the United States) while still living. Although Ernst is an artist who is better known by art historians and academics than by the general public today, his influence in shaping the direction of mid-century American art is easily recognizable. Through his association with Peggy Guggenheim, Ernst interacted with the Abstract Expressionists directly, and via his son, Jimmy Ernst, who became a well-known German/American Abstract Expressionist painter after the war.
While based in Sedona, Ernst became attracted to Southwest Native American Navajo art as artistic inspiration. The younger Abstract Expressionists, in particular Pollock, in turn became fascinated with the art of sand painting, which are deeply tied to healing rituals and evocations of the spiritual. Ernst remains a foundational figure for those artists deeply interested in technique, psychology, and the desire to shock and confront social mores.
Content compiled and written by The Art Story Contributors
Edited and published by The Art Story Contributors
"Max Ernst Artist Overview and Analysis". [Internet]. .
TheArtStory.org
Content compiled and written by The Art Story Contributors
Edited and published by The Art Story Contributors
Available from:
First published on 05 Dec 2014. Updated and modified regularly
[Accessed ]