Movements, Styles, and Tendencies
De Stijl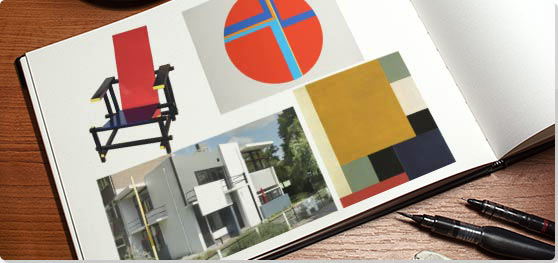 De Stijl
Started: 1917
Ended: 1931

"We speak of concrete and not abstract painting because nothing is more concrete, more real than a line, a color, a surface."

Synopsis
The Netherlands-based De Stijl movement embraced an abstract, pared-down aesthetic centered in basic visual elements such as geometric forms and primary colors. Partly a reaction against the decorative excesses of Art Deco, the reduced quality of De Stijl art was envisioned by its creators as a universal visual language appropriate to the modern era, a time of a new, spiritualized world order. Led by the painters Theo van Doesburg and Piet Mondrian - its central and celebrated figures - De Stijl artists applied their style to a host of media in the fine and applied arts and beyond. Promoting their innovative ideas in their journal of the same name, the members envisioned nothing less than the ideal fusion of form and function, thereby making De Stijl in effect the ultimate style. To this end, De Stijl artists turned their attention not only to fine art media such as painting and sculpture, but virtually all other art forms as well, including industrial design, typography, even literature and music. De Stijl's influence was perhaps felt most noticeably in the realm of architecture, helping give rise to the International Style of the 1920s and 1930s.
Key Ideas
Like other avant-garde movements of the time, De Stijl, which means simply "the style" in Dutch, emerged largely in response to the horrors of World War I and the wish to remake society in its aftermath. Viewing art as a means of social and spiritual redemption, the members of De Stijl embraced a utopian vision of art and its transformative potential.
Among the pioneering exponents of abstract art, De Stijl artists espoused a visual language consisting of precisely rendered geometric forms - usually straight lines, squares, and rectangles--and primary colors. Expressing the artists' search "for the universal, as the individual was losing its significance," this austere language was meant to reveal the laws governing the harmony of the world.
Even though De Stijl artists created work embodying the movement's utopian vision, their realization that this vision was unattainable in the real world essentially brought about the group's demise. Ultimately, De Stijl's continuing fame is largely the result of the enduring achievement of its best-known member and true modern master,
Piet Mondrian
.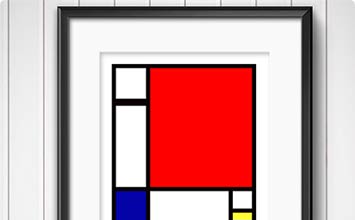 Beginnings:
In 1917, Theo van Doesburg founded the contemporary art journal De Stijl as a means of recruiting like-minded artists in the formation of a new artistic collective that embraced an expansive notion of art, infused by utopian ideals of spiritual harmony. The journal provided the basis of the De Stijl movement, a Dutch group of artists and architects whose other leading members included Piet Mondrian, J. J. P. Oud and Vilmos Huszar.
If you see an error or typo, please:
tell us
Cite this page

Content compiled and written by Justin Wolf
Edited and published by The Art Story Contributors
" Movement Overview and Analysis". [Internet]. . TheArtStory.org
Content compiled and written by Justin Wolf
Edited and published by The Art Story Contributors
Available from:
[Accessed ]