"Popular culture isn't a freeze-frame; it is images zapping by in rapid-fire succession, which is why collage is such an effective way of representing contemporary life. The blur between images creates a kind of motion in the mind."
"I'm the one who gave steroids to Pop art."
"I feel lucky that I've been able to make a living from painting any idea that comes into my head."
"I'm interested in contemporary vision - the flicker of chrome, reflections, rapid associations, quick flashes of light. Bing! Bang!"
"The best thing about being an artist is the free clothing and getting to kiss pretty girls."
"When I started out, I wanted to paint the Sistine Chapel. But I didn't have the content."
"I stick the collages on the wall and, if I still like them after a month or two, I make a painting."
"I painted billboards above every candy store in Brooklyn."
Summary of James Rosenquist
A seminal figure in the Pop art movement, James Rosenquist is best known for his colossal collage paintings of enigmatically juxtaposed fragmentary images borrowed largely from advertisements and mass media. Brought together and enlarged so as to cover entire gallery walls and overwhelm the viewer, these seemingly unrelated pictures of consumer products, weaponry, and celebrities hint at the artist's social, political, and cultural concerns. The billboard painter-turned-artist's early works are also considered emblematic of a burgeoning consumer culture in America during the 1960s. For six decades Rosenquist created massive, provocative paintings, whose continued relevance hinges on their engagement with current economic, political, environmental, and scientific issues.
Accomplishments
The artist was among the first to directly address the persuasive, even deceptive, powers of advertising by applying the Surrealist practice of juxtaposing seemingly unrelated subjects to fragmented commercial images and ads in a manner that highlights the omnipresence of ads.
An advocate for his fellow artists, Rosenquist used his prominent artistic reputation to help lobby for federal protection of artists' rights during the 1970s and was soon thereafter appointed to the National Council on the Arts.
Because he successfully moved beyond his early fascination with popular culture and mass media to address new issues, such as the intersection of science and aesthetics, Rosenquist is credited with being one the few Pop artists whose later work continues to be relevant.
The Life of James Rosenquist

Rosenquist started out by painting advertising imagery for others, but found his success in producing his own, similarly large scale, images. He said "I feel lucky that I've been able to make a living from painting any idea that comes into my head."
Important Art by James Rosenquist
Progression of Art
Biography of James Rosenquist
Childhood
James Rosenquist, born in North Dakota, was the only child of amateur pilots Ruth and Louis Rosenquist. His father's search for work repairing planes meant that the family moved frequently, particularly during World War II, occasionally sending Rosenquist to stay with his grandfather on his farm near Mekinock, North Dakota. When the war concluded, the family settled in Minneapolis. By then, Rosenquist had lived in five different towns and attended seven different schools, all the while working during his summers and after school collecting newspapers, selling ice cream, picking seasonal produce at his grandfather's farm, and making deliveries for a local drug store.
Throughout these years, Rosenquist's mother, also an amateur painter, nurtured her son's budding creativity by taking him to visit art schools and museums whenever she could. Paper was hard to find, but young Rosenquist made do by drawing on rolls of discarded wallpaper. While his parents were away working, the artist sketched large battle scenes, cars, airplanes, and boats, honing his abilities. In eighth grade, Rosenquist's watercolor of a sunset won him a scholarship for four free classes at the Minneapolis School of Art (now Minneapolis College of Art and Design). While there, he was exposed to "real artists" - veterans who had studied art in Paris after World War II.
Early Training
Rosenquist's formal art training began in 1952 when he matriculated to the University of Minnesota and studied under painter Cameron Booth. An American Abstract Expressionist who had studied in France under the guidance of renown German painter Hans Hofmann, Booth introduced his students to modern and contemporary art movements and took them to exhibitions at the Art Institute of Chicago.
During his first summer at the university, Rosenquist began working as a commercial sign painter, traveling throughout Minnesota and Iowa for various jobs. Although today most signs are printed, in the 1950s billboards were painted by hand, a job that took a good deal of skill and considerable effort. Rosenquist painted large-scale signs based on small pictures he was given so that the image could be seen from far away - even from a moving car. Commercial sign painting, a job that would have a long-term impact on his art, did not however, deter the artist from creating Abstract Expressionist paintings at school. Rosenquist considered Action Painting particularly heroic, admiring what he described as "splashing your psyche on the canvas."
This began to change in 1955, when, at Booth's suggestion, the artist enrolled in the Art Students League in New York City. Rosenquist later recalled that Booth "was a man of the world, he'd taught all over. He told me to get out of the Midwest and to go to New York." There Rosenquist studied with Will Barnet, Vaclav Vytlacil, and George Grosz. The artist also interacted with members of the Beat Generation literary scene, such as Jack Kerouac and Allen Ginsberg.
Rosenquist experienced a cultural jolt upon moving to New York - one that altered his outlook on wealth and consumerism: "My life changed drastically. I was like a young bum. I had no money. I lived really poorly. I walked everywhere. The luxury of being in a car was amazing."
When he was not in his studio creating small works in the Abstract Expressionist style, Rosenquist was perched atop scaffolding high overhead painting billboards. For Rosenquist, sign painting was more than a way to earn some cash. Painting alongside veteran sign painters who offered tips on coloring and perspective constituted a modern version of working in an old master's workshop. In the artist's words: "I felt as if the craft of traditional painting had gotten mislaid; you no longer learned your trade from a master painter, but from books and classes, and it occurred to me that looking for art at an art school was like looking for your wallet under a streetlamp when you hadn't lost it there." As a sign painter, Rosenquist experimented with color, learned how to manipulate paint to mimic other media (such as film), and developed an interest in the impact and prevalence of advertising in American culture. After quitting his job in 1960 when a fellow sign painter fell to his death, Rosenquist applied all he had learned to his canvas paintings.
Mature Period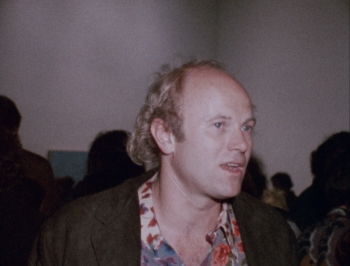 1960 was an important year for James Rosenquist. After marrying textile designer Mary Lou Adams, the artist began renting a small studio in Coenties Slip, an area of lower Manhattan popular among emerging artists at the time. His neighbors included Robert Indiana, Agnes Martin, and Ellsworth Kelly. Working in this new studio space, Rosenquist began to reconsider his approach to painting. The Abstract Expressionist style he so admired for its intensity and its success in making New York City the new center of the art world during the early 1950s was, by 1960, running on fumes. According to Rosenquist, "Abstract Expressionism had become this corny-looking habit...What had been brilliant and incisive in the 1940s and early fifties had become idiot-like and romantic...Everyone was searching to get down to absolute zero, to just color and form, and the only way I knew to do that was to start using imagery again, to paint specific things that couldn't be confused with something else."
The artist turned instead to a new realism and to the techniques that he had developed through billboard painting. Working on a massive scale, Rosenquist painted brightly colored, fragmented pictures from the commercial realm, creating collages that comment on the socio-political and economic climate of America. Collectors and influential gallery owners like Richard Bellamy and Leo Castelli began to show interest in Rosenquist's new paintings. His work made him a pioneer of Pop art in 1962 when his first solo exhibition at the Green Gallery in New York sold out at approximately the same time that two other like-minded artists, Andy Warhol and Roy Lichtenstein, held similarly successful and groundbreaking shows. Rosenquist remembered: "They called me a Pop artist because I used recognizable imagery. The critics like to group people together. I didn't meet Andy Warhol until 1964. I did not really know Andy or Roy Lichtenstein that well. We all emerged separately."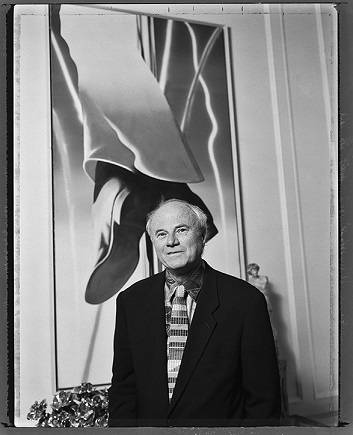 Fame came quickly to Rosenquist. The artist seemed to be in as high demand as were his large-scale paintings. Rosenquist remembers one evening in particular, during which he dined with Surealist painter Salvador Dalí, one of his idols, and Jeff Koons. Rosenquist ordered asparagus and, according to Koons, Dalí placed the vegetable on his head for the entire meal. Dalí's absurd behavior (for which he had a reputation) amused the artists in his company. Rosenquist, having been catapulted into the upper echelons of New York's art scene, enjoyed such engagements. His fame continued to grow and in 1987 he was admitted to the American Academy and Institute of Art and Letters in New York.
Late Period
Rosenquist's commissions often took him away from New York City. In the 1970s, the artist began work on two murals for the State of Florida. He set up a studio in Ybor City before commissioning a house and studio from architect Gilbert Flores in 1976. This new workspace in Aripeka allowed more room for his large canvases.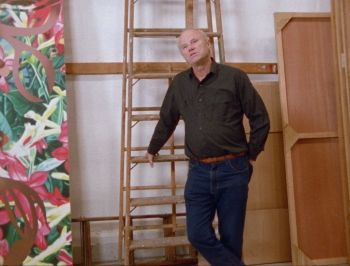 During this time, Rosenquist also became politically involved; lobbying the government in 1974 for better legislation to protect artists' rights and protesting the Vietnam War. Paintings created during this decade reflect his political concerns, as well as his fascination with technology, modern innovations, and their sometimes conflicting relationship with nature. By 1980, ecological issues had begun to concern Rosenquist, as evidenced in his series depicting local tropical flora. And by the 1990s, his fascination with space and time had become a dominant theme, echoing the fashion for science fiction in other areas of popular culture. In addition to painting, Rosenquist also produced large-scale prints. His 1992 work Time Dust is thought to be the largest print ever made, measuring 86 x 420 inches.
Throughout his career, one characteristic has remained constant - the artist's fascination with chaos. Fragmented images overlap, collide, and swirl across massive canvases that overwhelm the gallery space they occupy and the viewers who enter that space. Sadly, in 2009, a fire gutted Rosenquist's home and studio in Aripeka, Florida, destroying the majority of his work held there. Among the work destroyed was a huge mural that would have measured a massive 133x24 feet upon completion.
The fact that he has outlived so many of his colleagues, saddened Rosenquist: "They're not around, they're dead. D-E-D, dead. Roy [Lichtenstein], Andy, Dan Flavin, Don Judd. I hate it." Many of the artist's paintings are now commissioned by corporations or purchased by private collectors. Every composition is meaningful and finished to the highest possible quality no matter its intended destination. Rosenquist insisted to his last days: "I never let anything go out of my studio if I don't think it has something, an essence, because it could wind up in a museum."
The Legacy of James Rosenquist
James Rosenquist's irreverent and at times surreal appropriation of popular culture and the materials and techniques of advertising inspired several other artists. For example, Richard Prince's photographic use of advertisement imagery demonstrates Rosenquist's influence, as do Marilyn Minter's ad-inspired paintings. Rosenquist's legacy has impacted many contemporary artists, such as Jeff Koons, whose vibrant works often echo the huge scale and incorporation of popular imagery and advertisements characteristic of Rosenquist's paintings. His significance to modern art is assured, but Rosenquist himself was unconcerned about how or if he will be remembered after death: "You live till you die, and that's the end of it. What good is your legacy when you are dead? I worry about being alive, selling work, having fun, moving and doing things when I am alive."
Influences and Connections
Influences on Artist

Influenced by Artist
Friends & Personal Connections
Movements & Ideas
Contemporary Art
Artists
Marilyn Minter
Movements & Ideas
Neo Pop Art
Useful Resources on James Rosenquist
Books
The books and articles below constitute a bibliography of the sources used in the writing of this page. These also suggest some accessible resources for further research, especially ones that can be found and purchased via the internet.
biography
artworks
Similar Art