"[Art] was never anything other than the identification of desire, an identification, however, that still largely eludes cognitive connection."
"It seems that all things become alive at the touch of the parabola."
"I call our concept of painting metaplastic because although our means consist in direct plastic expression, our aims are not solutions of formal problems, but a new meaning. The meaning is to be the image-makers of a cosmic freedom which makes human consciousness find its true place as the beams of the balance between the infinitely great and the infinitely small."
Summary of Wolfgang Paalen
Paalen's restless search "to find the invisible within the visible" saw his art pass through two distinct phases. Having become an established member of the European Surrealist movement, his art followed a new direction on a tour of the Americas where he became entranced by indigenous art and ideas. This "awakening" saw his art follow a more mystical and meditative route; one influenced by the relationship between Native American communities and their spiritual connection with their natural habitats and the cosmos. His "totemic" art was an important influence on the burgeoning Abstract Expressionist movement.
Accomplishments
Perhaps Paalen's greatest contribution to 20th century art came with the publication of his journal Dyn. It served, not just as a platform to advance his own theories on art, but as major early influence on the artistic revolution that was Abstract Expressionism. Dyn inspired the likes of Jackson Pollock, Robert Motherwell and Arshile Gorky who, as key players in the New York School, helped the city usurp Paris as the epicentre of international modernism.
Paalen devised the fumage technique in which candle smoke residue is used to create patterns on the surface of paper. It was a technique that exemplified the Surrealists' search for automatic, subconscious modes of painting, drawing, and writing. His fumages could be nebulous forms that gave rise to obscure and anthropomorphic patterns and shapes, or works in which Paalen blended the deposited soot into figurative compositions.
Having toured British Columbia, Paalen became fixated on the art of indigenous North Americans and later, through his friendship with Frida Kahlo and Diego Rivera, Pre-Colombian art. He would eventually put his Surrealist phase behind him and devote his creative energies to more transcendental and cosmic ideas that took account of the forces of the animistic world.
Paalen's indigenous art came close to pure abstraction in its simultaneous allusions to science, ancient art, and the cosmos. The connecting feature of these works was Paalen's parabolic lines. These swirling, hurtling shapes brought his images a sense of dynamism and movement with the effect that the eye finds it difficult to rest on any single picture detail.
Paalen (with Peruvian poet and painter César Moro) organized the 1940 International Exhibition of Surrealism in Mexico City. It was a cultural "event"; one which had a decisive impact on future Mexican art exhibition and curatorial practices. The exhibition would become a reference point (and catalyst) for the development of second-half 20th century Mexican modernism.
The Life of Wolfgang Paalen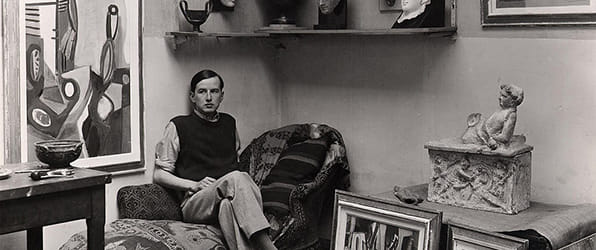 The scope of Paalen's art was without philosophical boundaries. He stated, "The meaning is to be the image-makers of a cosmic freedom which makes human consciousness find its true place as the beams of the balance between the infinitely great and the infinitely small".
Important Art by Wolfgang Paalen
Progression of Art
Biography of Wolfgang Paalen
Childhood
The eldest of four sons, Paalen's upbringing was marked by an early exposure to Vienna's intellectual community. His father, Gustav Robert Paalen, was a successful inventor who patented both the Thermos bottle and vacuum cleaner, bringing the family status and wealth. An art collector with a particular affinity for Old Master paintings, Gustav also counted the artists Hans Hofmann and Leo von Konig, and the art critic Julius Meier-Graefe, amongst his close circle of friends. When Gustav converted to Christianity, the family was given noble status by the emperor. Paalen duly spent his time between Vienna, the family's castle in Silesia, and the Jesuit College in Sagan where he studied. During the war years (1914-18), he and his brothers received private lessons from the organist and scholar Georg Lubrich.
Education and Early Training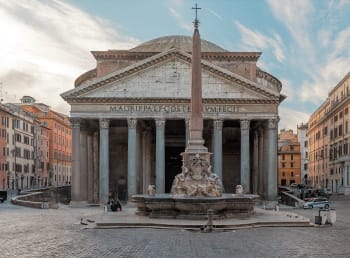 The Paalen family moved to Rome in 1921. Wolfgang studied archaeology and classical architecture, becoming a connoisseur of Greek and Roman art. In 1922, Paalen studied art in Berlin and exhibited some early Impressionist-style paintings. He was, however, rejected by the Art Academy in Berlin in 1924, which led him to take a sculpture class where he met Eva Sulzer, a musician and artist who became a lifelong friend. He exhibited more Impressionistic paintings with the Berlin Secession in 1924 before moving to Paris, where he was first exposed to Cubism and other avant-garde movements. In 1927, he moved to Munich where he studied with the renowned avant-garde artist and teacher Hans Hofmann.
Paalen's family was blighted by tragedies directly related to mental illness. After World War I, his mother suffered from bipolar disorder, while Paalen witnessed his brother, Rainer, shoot himself in the head. Rainer survived the suicide attempt only to die 10 years later. His brother Hans-Peter was also admitted to an insane asylum, where he died, likely by suicide, in the late 1920s. In 1928, his parents separated and Paalen broke ties with his family, settling in Paris the following year.
Mature Period
Soon after his arrival in Paris, Paalen joined the Abstraction-Création group with early paintings leaning towards total abstraction but with, perhaps, a semblance of Cubism. However, after learning more about Surrealism, Paalen became fascinated with the movement and shifted his allegiance. In 1931, he met the poet, Alice Rahon. They were married in 1934. Inspired by Paalen's work, Rahon began to paint too.
Historians Dafne Cruz Porchini and Adriana Ortega Orozco note that "Paalen had entered the ranks of the Parisian surrealist avant-garde in 1936 and participated in the major surrealist exhibitions of this period. He played a key role in the organization of the 1938 Exposition Internationale du Surréalisme in Paris and had a solo show at the Galerie Renou et Colle facilitated by Breton". He also became closely acquainted with Surrealist artist Gordon Onslow Ford. It was at the Exposition Internationale du Surréalisme that Paalen first exhibited, Articulated Cloud (Nuage articulé) (1936), an umbrella made of sponges, and, Gallows with Lightening Rod (Potence avec paratonnerre), a four meter high scaffold made of wooden beams with an antenna/lightening rod and a plaque that read "Hommage á Lichtenberg" (the 18th century German physicist who, through his experiments with electricity, produced tree-like electrical discharge patterns which became known as "Lichtenberg Figures").
It was around this period that Paalen started producing works using his signature fumage (smoke) technique. Sometimes he chose to work his smoky residues into a new composition, as he did with Pays interdit (Forbidden Country) (1936-7). The work was produced followed a trip to Greece which Paalen felt compelled to take on learning that Rahon was having an affair with Pablo Picasso (ultimately leading to her having an abortion). The painting featured a foreboding landscape and falling meteorites which can be interpreted as analogous with his gruelling emotional state. It also features a female figure in the form of a deity that alludes to the oracle of Delphi. According to Greek mythology, the oracle was a real woman who, having become intoxicated on botanical plants and toxic fumes that rose up from the earth, entered into a divine trance that embodied the spirit god Apollo and gave her the power to forecast the future. As art historian Andreas Neufert said of the work, "The artist was engaging in a complex way with the connections between fear of death and femininity".
Late Period
Historians Porchini and Orozco explain how "Breton's trip to Mexico [in 1938] and its reverberations throughout the French art scene interested other surrealist artists who visited Mexico or settled there temporarily or permanently. Among these artists were Benjamin Péret, Remedios Varo, Leonora Carrington, Wolfgang Paalen, Alice Rahon and César Moro". Fleeing the war in Europe, Paalen, Rahon, and the photographer Eva Sulzer, arrived in Mexico via the Northwest Coast of America. Paalen was keenly interested in ethnography and anthropology and greatly admired the natural wonder of the landscape and the myths and legends that had been passed down generation-on-generation by the Indigenous population. He also started to avidly collect artworks gathered on his travels.
In August 1939, Paalen visited the Canadian artist Emily Carr in her Victoria home and the pair struck up an instant friendship. Curator Robin Laurence writes that "Rapport between her, then 67, grouchy, insecure and in poor health, and Paalen, half her age, not French, exactly, but a Paris-based Austrian, arriving on her doorstep after a momentous journey from Alaska to southern British Columbia, would have seemed unlikely. Carr deplored Surrealism, regarding it as the product of 'diseased minds...skipping over sanity and decency.' Yet it appears that Carr was delighted by Paalen". Laurence suggests that the two artists probably connected "through the accounts of his travels to many of the same Indigenous Northwest Coast sites that Carr had visited in 1908, 1912 and 1928. He also admired Carr's 'Indian' paintings, an undoubtedly gratifying experience for the Victoria artist, isolated as she was from the cultural life of the great cities - and confronted daily, in her cramped studio, with racks of unsold canvases".
Having accepted a personal invitation from Frida Kahlo, the travelers arrived in Mexico City in September of 1939. Paalen and Rahon formed close friendships with Kahlo, Diego Rivera, and Inés Amor. The latter ran the Galería de Arte Mexicano, the city's leading independent gallery, and had already established close ties with Mexico City's Surrealist community. As Porchini and Orozco state, "It is from the presence of Paalen and Moro in Mexico that the project of the 1940 International Exhibition of Surrealism was born [...] According to the exhibition catalogue, the exhibition featured 108 pieces of contemporary art by fifty-one artists. These were complemented by eight works of pre-Columbian art and five masks from Diego Rivera's private collection in addition to five pieces from Paalen's 'primitive art' collection. By gathering such a heterogeneous set of objects in one space, the exhibition intended to create a dialogue between objects from different times and spaces that could be decrypted actively by the viewer". Indeed, the exhibition is often cited (not least by Porchini and Orozco) as a catalyst for the flowering of Mexican modernism.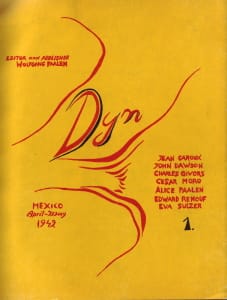 While in Mexico, Paalen published the journal Dyn, which carried artworks and essays from a variety of contributors on topics ranging through anthropology, archaeology, and science. The word Dyn came from the Greek tó dynatón, connoting "the possible". In the first edition, published in 1942, Paalen wrote the essay "Farewell to Surrealism" in which he announced his break with the movement. He discussed its limitations, his dislike of Marxism, and the possibility to move beyond its boundaries in favor of an abstract art that did not completely abandon figuration. Onslow Ford, also in Mexico at the time, was a frequent contributor, and the journal had a significant influence on many artists, particularly those of the incumbent New York School. Paalen began to create abstract paintings suffused with a sense of movement and particles inspired by physics textbooks. In 1946, he and Alice divorced, allowing him to marry the artist Luchita Hurtado.
Between 1947-51, Paalen spent time in the San Francisco Bay Area, where he and Onslow Ford encountered the densely patterned and rhythmic works of Lee Mullican. For his part, Mullican had encountered Dyn during his time in the US Army as a topographical draughtsman. The three artists banded together, forming the group Dynaton. They held an exhibition at the San Francisco Museum of Art in 1951 featuring their works as well as items from their personal collections of Northwest Coast Indian, and Pacific Island art, which they placed in what they called the "Ancestor Room". Paalen's work featured more of an "all-over" style with vestiges of figuration suggesting outer-space and cosmic beings. While the group disbanded shortly after the exhibition, the men remained close friends and corresponded frequently.
Against the wishes of his wife, Paalen desired to return to Mexico, and they divorced as a result (Hurtado married Mullican in 1950). Paalen returned to Paris in 1951 with his fiancé Marie Wilson before moving to a home in Tepoztlán, Mexico, where he lived for the remainder of his life. Having trouble selling his works, and suffering from bipolar disorder, he sold items from his personal collection to support himself. As a direct result of accusations and rumors that he had engaged in the looting of archaeological sites, added to his fragile mental health, Paalen took his own life in 1959.
The Legacy of Wolfgang Paalen
Paalen was a significant figure within the evolution of the Surrealist movement. His fumage technique established him as an authority on automatism and was adopted by the likes of Salvador Dalí. Robert Motherwell stated that he received his "post-graduate education in Surrealism" from Paalen. As founder of the journal Dyn, he championed abstraction and North American ethnographic art, while his greatest legacy probably relates to the birth of the New York School. Indeed, his essay "Farewell to Surrealism" provided American artists with a sense of the possibilities of an avant-garde outside the School of Paris and contributed to the genesis of Abstract Expressionism.
Jackson Pollock owned every issue of Dyn, and the stylistic impact of its cosmic content is apparent in Pollock's gestural works as well as the Color Field chromatic iterations of Adolph Gottlieb, Barnett Newman, Mark Rothko, and Clyfford Still. As art historian Amy Winter states in her biography of the artist, "Time after time, parallels with Paalen's theory, iconography, and form reasserted themselves in the work of the emerging painters in their own personal styles. But if Paalen eschewed religion and mysticism by likening the physics of nature and the emotional, human dimension, the New Yorkers turned to quasi-religious discourses to develop a modern counterpart to the metaphysical aspirations of the past".
Influences and Connections
Influences on Artist

Influenced by Artist
Friends & Personal Connections
Gordon Onslow Ford

Lee Mullican
Movements & Ideas
Indigenous Art
Friends & Personal Connections
Gordon Onslow Ford

Lee Mullican
Useful Resources on Wolfgang Paalen
Books
The books and articles below constitute a bibliography of the sources used in the writing of this page. These also suggest some accessible resources for further research, especially ones that can be found and purchased via the internet.