Biography of Joel Meyerowitz
Early Life
Joel Meyerowitz was born in the Bronx, New York City in 1938, to working class Jewish immigrant parents from Hungary and Russia. Even in his formative years, Meyerowitz was aware of his heritage and the idea that he could see his homeland from the position of an outsider. As he recalled later: "My sensitivities and sympathies, my cultural and moral stance, were informed through a kind of Jewish passport - a way of looking at the world and seeing characteristics, qualities, sentiments and emotions touched by a Jewish sympathy."
Meyerowitz describes a chaotic but warm childhood. He partook in the usual childhood games, acting out Cowboys and Indians by the Bronx River, playing baseball and building model aeroplanes. But he was also born with the instincts of a flaneur and he passed time by wandering the streets of the Bronx. He claimed that he inherited the skill for quiet observation from his father who was a Charlie Chaplin impersonator: "it seemed to me as a kid that his instinct for pointing out things to observe, the comedy of the streets, was flawless", he recalled, "I think that I got my 'chops' from my father's nudging me to say, "Watch, watch what happens here!" Indeed, even in his early life he was developing a keen eye for seeking out the absurd in the detail of everyday American street-life.
Education and Early Work
In 1959, Meyerowitz graduated with a degree in painting and art history from Ohio State University. He moved back to New York where he found work at an advertising agency as an art director. One day in 1962, word reached Meyerowitz that an exciting young photographer was working on a location shoot for the clothing brochure he was working on. The photographer was none other than Robert Frank.
The 24-year-old Meyerowitz travelled across Manhattan to observe the shoot. He became immediately transfixed on Frank's "effortless" and "balletic" movement between the models and he felt a special kind of frisson at the sound of the "click" of Frank's shutter: "For a moment [life] kind of froze in a gasp-like quality" he recalled. The idea that photography could accommodate (and capture) such movement proved to be a moment of epiphany and on his walk back to his office Meyerowitz remembered "reading the text of the street in a way that [he] never had before." Resigning his post with immediate effect, he told his boss, Harry Gordon, that he too wanted to be a photographer. Gordon retorted "You have a camera? Well, schmuck, how are you going to make photographs?" Gordon handed Meyerowitz a Pentax Camera saying "use mine until you can afford one." And with that act of kindness, Meyerowitz took his first steps to becoming a serious Street photographer. A few months later, Meyerowitz was given a copy of Frank's seminal photobook, The Americans, which merely redoubled his commitment to a career in photography. Meyerowitz says to this day that "Robert Frank is the reason I make photographs."
Mature Period
Despite his early enthusiasm, Meyerowitz was as an inhibited photographer. He soon managed to overcome his shyness however when on one of his first projects photographing bystanders at a street parade he realized then that "Nobody thinks there's anything odd about a photographer at a parade." This realization gave him a feeling that a photographer could become invisible. During this early New York period Meyerowitz became close friends with the British photographer Tony Ray-Jones and fellow American Gary Garry Winogrand. While Ray-Jones returned to Britain, Meyerowitz "walked and worked" Fifth Avenue with Winograd on a daily basis for some five years. Indeed, Meyerowitz claimed Fifth Avenue as "my boulevard," declaring that "No street in the world [...] has for me the kind of sexy, improvisatory collisions between elegance and lowness. You can see bike messengers and models, billionaires and hustlers, and it's all out there every day."
Between the mid-to-late 1960s and the early 1970s, Meyerowitz travelled around America, making important visits to Cape Cod and Florida, and across Europe with his first wife, the painter Vivian Bower (they had married in 1963). As he aged as a photographer Meyerowitz became more introspective and looked to different subject matter for inspiration. He remarked that his restless search for new ideas was a combination of professional and self-examination, candidly asking himself: "How interesting is this medium? And how interesting can I make it for me? And, by the way, who the fuck am I?" Meyerowitz began to concentrate less on the "fleeting moment", where the subject was centralised and the background somewhat secondary, and instead constructing images that was more composed in terms of their depth of field. Turning away from the Cartier-Bresson "decisive moment" technique, Meyerowitz began to take "field photographs". These were more carefully planned, more sharply focused in depth, and required a greater distance between lens and subject-matter.
But perhaps the most important change in his new approach was Meyerowitz' full allegiance to color photography which he committed to from 1972. From saturated street photographs, to luminous landscapes, Meyerowitz confronted the widespread opinion that color was "cheap and vulgar" and simply not suitable for "serious" photography. Meyerowitz expressed a different worldview altogether: "The world was in color. It was just so obvious to me. I had no idea people were snobbish about color. To me, black and white just seemed back there, historical."
In his pursuit of a more studied picture frame, Meyerowitz switched from a 35 mm camera to a large format Deardorff camera. The two types of camera offered very different options. Yet Meyerowitz "tried to bring to the View Camera some of the same instantaneous responses that [he] learned from 35 millimetre" and he was "grateful for the fact that [he had] started on the street." Some of Meyerowitz's most successful photobooks were published in this period, including Cape Light, now considered a seminal work of color photography, in 1978. Throughout the 1980s, Meyerowitz continued in this format and as he grew in prominence he took his place next to other greats of his generation such as Diane Arbus and Lee Friedlander.
Late Period
Having divorced from Vivian Bower in the late 1980s, Meyerowitz was remarried in 1990 to the English novelist Maggie Barrett. This change in his personal circumstances meant that Meyerowitz began to travel across Europe, and Italy especially, with more frequency. In 1998, at the age of 60, Meyerowitz decided to create his first film, Pop, which documented a three-week road trip he made with his 32-year-old son, Sasha, and his 87-year-old father, Hy. The film was an intimate family portrait of three generations of Meyerowitz men.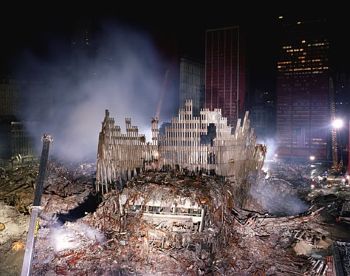 In 2001, the tragic events of the 9/11 terrorist attacks prompted Meyerowitz to go back home and undertake an extended project. The attacks had had a profound effect on Meyerowitz, and he felt a sense of personal responsibility to document the devastation and reconstruction of Ground Zero. New York City Mayor Rudy Giuliani had forbidden the recording of the aftermath of the biggest ever attack on American soil (on the grounds that it was a crime scene), but Meyerowitz used his connections to gain legitimate access to the site. He was in fact the only photographer granted access to the scene, and he began to build an archive of over 5,000 photographs, many documenting the emotional journey endured by builders, firemen, neighbourhood residents, and rescue teams. He said "I got the sense that that's what I could do to help - that I could figure out a way to get in there and take photographs and make an archive that I could give to the City of New York as a gift. And I did. I managed to go into Ground Zero on September 23rd and stay for eight and a half months."
After the Ground Zero project, Meyerowitz spent more of his time in Italy where he took to photographing the Tuscan landscape. It was a time of self-examination for Meyerowitz who came to the realization that he needed to be, in his words, less "self-indulgent" and "more useful more often." It was in this mindset that he travelled back to New York in 2010 where he undertook a series on New York's public parks. His sumptuously colored photographs showed the innocent and peaceful side of his damaged city; a sort of New York companion-piece for his Ground Zero project.
Since 2014 Meyerowitz and his wife Maggie have lived in a restored farmhouse in Tuscany. Meyerowitz had gone back to the basics of photography, focusing on still life pieces inspired by the European Impressionists. He spends his days trawling Tuscan flea markets for interesting objects to document. In 2018, now aged 80, he published Where I Find Myself, a "reverse retrospective" which looks at his journey backwards, from Tuscany to the Bronx. He also began to teach photography online through interactive masterclasses. When reminded recently of his first questions about photography and life ("How interesting is this medium? And how interesting can I make it for me? And, by the way, who the fuck am I?") he claimed he hadn't found out the answers yet, but though "time is running out," he was in fact "getting there."
The Legacy of Joel Meyerowitz
Writing in 2010, Sean O'Hagan identified Meyerowitz, Gary Winogrand, Lee Friedlander "as the key influences on a generation that has rediscovered and is busy reinventing [street photography]." Though Street Photography has a history almost as old photography itself (O'Hagan cites Eugène Atget, Brassaï, André Kertész, Jacques Henri Lartigue, Henri Cartier-Bresson, Walker Evans and Robert Frank as its principle exponents) in the current climate the term was used to denote an "attitude" that the New York photographers of the 1960s and '70s - namely Meyerowitz, Winogrand and Friedlander - did so much to define.
Seen first and foremost as the Godfather of modern color photography, Meyerowitz performed a key role in elevating color documentary photography to the status of fine art. He was brought his influence to bear specifically on the likes of Martin Parr - Parr credits him (along with William Eggleston and Stephen Shore) for his lurid and saturated use of color - and a young William Eggleston who, in an evening in New York in 1968, came to Meyerowitz apartment "spending hours studying my hundreds of color photographs."
Meyerowitz has won countless awards and accolades during his six-decade career. He is a Guggenheim Fellow (twice over) and the recipient of National Endowments for the Arts (NEA) and National Endowments for the Humanities (NEH) awards. He has been the subject of numerous exhibitions and his work forms part of the permanent collections the world over. On January 18, 2017 Meyerowitz was honored as a "magician using color" and for being able to "both capture and frame the decisive moment" as he took up his place in the Leica Hall of Fame. Perhaps the greatest part of legacy however was his Ground Zero archive. As Meyerowitz himself put it: "The archive is a work of testimony that will enter not just the history of photography, but history itself."
Content compiled and written by Eve MacNeill
Edited and revised, with Summary and Accomplishments added by Antony Todd
"Joel Meyerowitz Artist Overview and Analysis". [Internet]. .
TheArtStory.org
Content compiled and written by Eve MacNeill
Edited and revised, with Summary and Accomplishments added by Antony Todd
Available from:
First published on 16 Dec 2018. Updated and modified regularly
[Accessed ]