Progression of Art
1965
New Year's Eve, NYC (Kiss Me Stupid), New York City
This iconic photograph is a classic of Meyerowitz's early New York street photography. At this point in his career he had only been photographing for three years, and was eager to find comedy and melodrama around every corner of New York's streets. The photograph was shot with in 35mm black and white film and shows a prominent cinema banner, advertising the romantic comedy movie "Kiss Me, Stupid", starring Dean Martin and Kim Novak. Directly underneath the banner, in the centre of the composition, a couple share an intimate New Year's Eve kiss, framed by passing crowds on either side. The cheerful crowds are blurred, as they move past, set on their own paths for the evening celebrations. By comparison, the central couple seem frozen in time, oblivious of the world around them.

The sweet comedy of the Kiss Me Stupid sign is almost suggestive of some kind of benevolent cinema employee, encouraging romance on this New York evening. The quotation marks call into memory perhaps the captions of a silent movie, as if subtitling the couple's dialogue. Meyerowitz captures a spontaneous moment of magic and synchronicity that as passing strangers we may not have looked twice at had the photographer not assumed an invisible presence behind the lens.
Gelatin silver print - Five Colleges Collection Database
1963
New York City
This photograph was one of Meyerowitz very earliest, and an example of his natural predilection for color film before he made a self-conscious decision to use it. He remembers "I hadn't even been [shooting] a year and was learning how to become invisible on the street and get closer to people. This was the Puerto Rican Day Parade, and this young man was a perfect model, with a big flashy pompadour and probably a leather jacket in his car . . . But there was a sweetness to him, too. He was in the machine that he'd polished to a T. It was his vehicle, and his work of art."

This style of photograph calls into mind Meyerowitz deep admiration for Robert Frank. In the mode of Frank, Meyerowitz captures the melting pot of mid-century American life, creating a brand of Americana as observed from the position of an onlooker. The smooth, shining blue automobile cuts a diagonal line across the frame, a symbol of the American dream. Meanwhile, an American flag flutters in the breeze which is perhaps a specific nod to Frank for whom the American flag was something of a motif in The Americans. Yet, other elements of the photograph challenge ask us to consider what it meant to "be" American. The combative stare of the young man in the middle, in 1950s style greaser clothes, is counter to 1960s mainstream American culture while his "otherness" - the car owner is of Puerto Rican appearance - hints at a conflicted heritage; much like American-Jews like Meyerowitz and Swiss-Americans like Frank.
Archival pigment print - Huxley Parlour Gallery, London
1975
New York City
This photograph marks a crucial point in Meyerowitz career. In this period during the mid-1970s, Meyerowitz switched from a small handheld camera to a large format 8 x 10 Deardorff. The loss of mobility is however compensated for by the much larger, high quality color prints. Though the switch to the Deardorff took away some spontaneity, it adheres to the same "snapshot" principle of Meyerowitz's street photography: that of capturing a moving city in a split moment in time and place. Speaking of the location on the intersection of 59th street and Madison Avenue, Meyerowitz suggested that he had "picked a hard, sunny corner, with something in the frame that appealed to [him];" in this case specifically, a "gaudy and horrible" office building that was "exactly of its era."

In terms of its composition, we see that the picture frame is divided into geometric shapes of light and shadow. Against this architectural order, passing individuals are purposeful, concentrated and introspective, striding across the composition in a mix of drab greys and tans and gaudy pink or blue. Yet collisions seem somehow inevitable given that each figure is in a world of their own. The color film meanwhile is integral to creating a mood and impression of a particular time and place. As Meyerowitz himself put it in this discerning quote: "When I first showed these sorts of image to my friends Garry Winogrand and Tod Papageorge they thought that I had lost my mind, or lost my eye. And yet, when I look back on this picture - at the newsagent, or the man striding around the corner, or the gigantic woman - I feel a kind of giddy delight that I was there. This was a crucial turning point, which moved me further along my own path. Anyone who looked at this in 2050 would be able to say: 'So that's what it was like to be in New York 75 years ago."
Archival pigment print - Howard Greenberg Gallery, New York
1977
Red Interior, Provincetown
For his Cape Light "vacation" series, Meyerowitz's produced a series of tranquil, reflective (some might even say nostalgic) color photographs taken in and around Cape Cod, Massachusetts in the "joyous and feverish" summers of 1976 and 1977. Published in 1978, Cape Light broke new ground for color photography and helped elevate color photography to the status of "art". On a denotative level, the images show an untroubled, idyllic seaside location tinged with a mood of Americana. Meyerowitz was not trying to make any kind of social statement with the collection, however, but was rather concerned with aesthetics and affects, realized here in the relationship between object, light, and time.

Shot with a large format 8x10 Deardoff camera, his images used the natural and available light to illuminate landscapes, sky, water, and architecture and to seek out new subtleties within the depths of his frame. In a 2014 interview with Alessia Glaviano for Italian Vogue, Meyerowitz explained how with the Cape Light series he had wanted to "remove background noise and sources of distraction" from his images; he was, in his own words, trying to "visualize the complexity of his soul and emotions." Indeed, Meyerowitz suggested to Glaviano that for a photograph to be considered art, it must have a "transformation 'coefficient'" which he explained as the "variance between reality and the vision of reality that artistry brings with it [...] Without transformation," Meyerowitz continued, "photography would be a mere paper sheet." It is this ability to transform an image into something "more" - to exploit to the full the image's range of artistic possibilities - that gives color its advantage over monochrome.

Here for instance the "Red Interior" of the title refers to the lit interior of a car whose doors have been left open. The luminous red is offset against the deep blue eventide sky and the white masonry of the holiday homes. It is through these juxtapositions of color that Meyerowitz achieves a hyperreal quality. As he stated, "color suggests that light itself is a subject" and it is this, helped by the "quiet" stillness of the postcard location, that elevates the image to art and ultimately brought Meyerowitz his just accolades.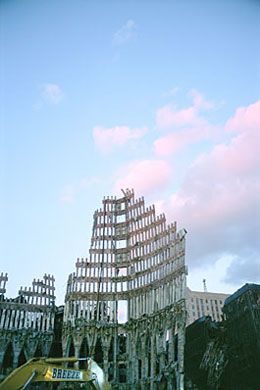 2001
The North Wall
After the 9/11 attacks on New York, Meyerowitz spent nine months at the Ground Zero site photographing its aftermath for what would become a 5,000 piece archive. The Guardian writer Peter Conrad describes some of Meyerowitz's most chaotic and ravaged scenes as showing an "Armageddon" of biblical proportions; "a sulphurous underworld in which the sky was a remote, mocking memory." Indeed, in this shot, against the black skeleton of the building's burnt out wall, we are given an almost unforgivable dreamy pink and blue sky that dominates the upper two thirds of the composition.

Meyerowitz described his composition in terms of what he called an "awful beauty". And one can easily see what he meant by this. On one level the image reflects the foibles of human beings which are here merely illuminated when set against the majestic beauty of nature. Yet, this photograph might also be seen in a more hopeful sense. Meyerowitz felt that the catastrophe had brought out the very best in human nature in the rescue and rebuild schemes that followed. In other ways, then, this photograph is demonstrative of the human ability for perseverance and regeneration under the most appalling set of circumstances. Even in this most ugly of events, Meyerowitz saw that human resolution, and hope for the future, was alive and well in the collective response of his fellow New Yorkers.
U.S. State Department and the Museum of the City of New York
2009
Bronx Ricer, New York Botanical Gardens, Autumn
"Wherever I went it was the wild and unmanaged parts of the parks that called to me" said Meyerowitz of his New York Parks project. As a companion to his Ground Zero archive, Meyerowitz produced a series called Legacy - The Preservation of Wilderness in New York City Parks. Meyerowitz decided to document the natural and beautiful chaos of the wild, untamed corners of New York's green spaces. With 9/11, Kat Kiernan notes, "Meyerowitz took on the responsibility of photographing the manmade devastation and documenting the rapidly changing landscape as the city began to rebuild. Applying this same technique in Legacy, Meyerowitz once again assumes this responsibility. By preserving the New York City parklands, we allow for change - growth and overgrowth, natural rather than manmade destruction."

Nostalgic, perhaps, but touchingly simple, this series provided the antidote to Meyerowitz's deeply affecting work at Ground Zero. The collection follows the common thread which connects all of Meyerowitz work: freezing fleetingly beautiful moments in unexpected places. The fiery oranges and golds of the autumn leaves and the lush green grasses reflected against the water would hardly be expected to be located in one of the busiest high-rise cities in America. Yet Meyerowitz invites the viewer to take a moment for reflection in this most secluded location, enveloped by the arching tree branches. Meyerowitz is telling us that even where civilization has made its most profound impact nature still finds its way into our lives if we are willing to look hard enough.
Howard Greenberg Gallery, New York - Archival pigment print
2016
Morandi's Objects
During the last decade, Meyerowitz has been largely concentrating on still life work. With his more permanent move to rural Tuscany, the bustle of urban street photography has given way to more rural surroundings and a culture steeped in European art history. In this series Meyerowitz wanted to document objects owned by, or inspired by, Morandi and Cezanne.

In many ways, it may seem an unlikely change of subject matter for Meyerowitz. Yet, the principle behind his worldview remains unchanged: a celebration of color and light in the everyday. When Meyerowitz received the invitation to visit Morandi's studio in Bologna and to document over 250 of his objects, he seized the opportunity. The photographer imagined that "[Morandi] would sit in the studio in his Bologna home for days on end, living with his mother and these objects." The idea that the artist lives with, rather than amongst, the objects imbues them with an animistic character and beauty in and of themselves. Indeed, Meyerowitz said that he "could commune with these humble forms precisely because their personae were available to [Morandi]." It was a humble artistic existence that Meyerowitz found for himself in the quiet retreats of rural Tuscany.
Howard Greenberg Gallery, New York - Archival pigment print
Related Artists
Related Movements & Topics