Progression of Art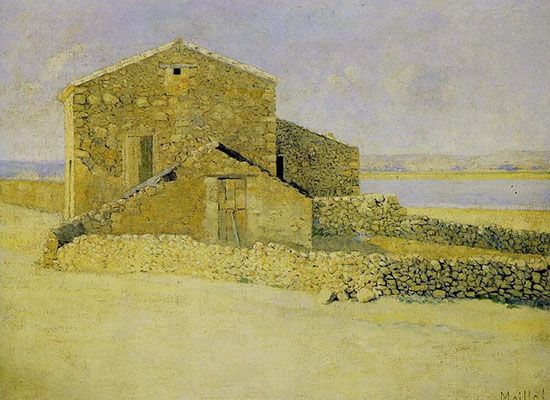 1888
House in Roussillon
Maillol moved to Paris in 1881 (aged 20) and from 1884 he had taken to returning home for the summer months. It was there that he "discovered" natural light, and between 1885 and 1886, he produced several paintings of old stone hillside houses from a high vantage point using impressionistic daubs of varying density and length.

The famous (last) Eighth Impressionist Exhibition of 1886 - which brought together works by Degas, Cassatt, Zandomeneghi, ​Forain, Gauguin, Monet, Renoir, and Pissarro - coincided with the birth, through Georges Seurat and Paul Signac, of Neo-Impressionism. Neo-Impressionism immediately signalled the onset of Post-Impressionism and Maillol had been captivated by the works which he discovered at the Salon des Independants.

His early paintings of this period experimented with a combination of styles. During his summer jaunts, Maillol painted the facades of the village of Puig-del Mas experimenting with the Post-Impressionist style that borrowed from Van Gogh, Matisse, and Degas. These works had their own poetic quality but it was House in Roussillon that proved to be his first significant work. Maillol had, over two summers, finessed a markedly different approach to the landscape by bringing to the countryside the subtle pastel tones and delicate precision associate with Degas. Indeed, House in Roussillon is as much about the artist's delicate modulation of hues and light as it is about technical accuracy. The art critic Maurice Guillemot so admired this piece that he visited the artist in his studio, and while Guillemot implored Maillol to produce more landscapes in this style, the artist's future was headed in a different direction.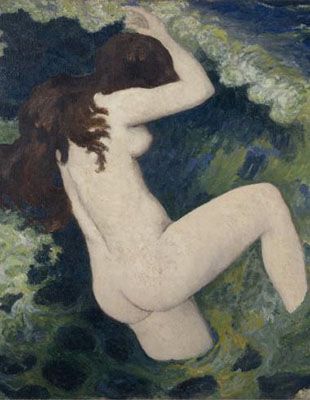 1898
The Wave
A naked woman, with long dark hair and her back facing the viewer, dominates the center of The Wave. Stumbling in blue-green water that reaches to her upper thigh, she seems to be at the mercy of natural forces. Indeed, the crest of a long wave, capped with a line of white foam, is travelling down towards her from the top of the canvas.

This work serves as an important example of the paintings Maillol created early in his career. It embodies the style of the Nabi group; most evident here in the vivid, large patches of color which make up the water and the flat forms of the figures. It is thought the painting was inspired by the group's leader (and Maillol's idol) Paul Gauguin. Maillol's fascination with the water, so much a part of his childhood, is also evident here. Acknowledging this he once wrote, "I do studies of the sea. It feels strange painting the sea, you never know what colour it is".

While Maillol is better known for his female nude sculptures, this painting provides one of his earliest explorations into the subject; which he was only able to do having found a willing model in his wife, Clotilde Narcisse. According to author Bertrand Lorquin, this painting may have been created originally with the intention of being used as a design for the stage; an artistic pursuit Maillol took up briefly during this period.
Oil on canvas - Collection of Musée du Petit Palais, Paris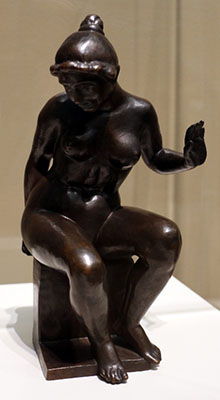 1900
Leda
Typical of Maillol's small-scale sculptures, Leda features is seated nude female. However, her head is bowed; her body turned towards her right; while her left arm is raised with palm outstretched as if attempting to push away (rather than invite the gaze of) the viewer.

A narrative piece, this work, one of his earliest bronze sculptures, is Maillol's interpretation of the Greek myth in which the god Zeus takes the form of a swan in order to seduce the Spartan Queen, Leda. While the subject has been the source of great inspiration for artists, not least the masters of the Renaissance, Maillol's approach is the very embodiment of modernity. While his preliminary sketches and early drafts reveal an attempt to include the swan, in the final work we see that it has been removed. The forward-thinking approach to this work lies in the fact, as explained by author Bertrand Lorquin, that, "the only reference to the violence of the myth is the gesture of her raised hand repelling the god's advances with deep shame. There are in fact no overt allusions at all to the myth, which has been pared down to the delicate pose of a young girl leaning forward slightly to push back the ardor of an invisible god". Even as his sculptures became more ambitious in scale, it was the isolated form of the female figure who will be all that links the viewer to the original source of the myth.

Having been bought by one of his patrons, the French writer Octave Mirbeau, the sculpture made a strong impact on fellow Frenchman Pierre-Auguste Rodin. When the legendary sculptor saw Leda on display in Mirbeau's home, Rodin commented, "Maillol is as great as the greatest sculptors. In that little bronze, you see, he sets an example for everyone, the old master as well as the young neophyte. (...) What's admirable about Maillol, and I'll even say what is eternal about him, is the purity, the luminousness, the transparency of his technique and thought".
Bronze - Collection of Art Institute of Chicago, Chicago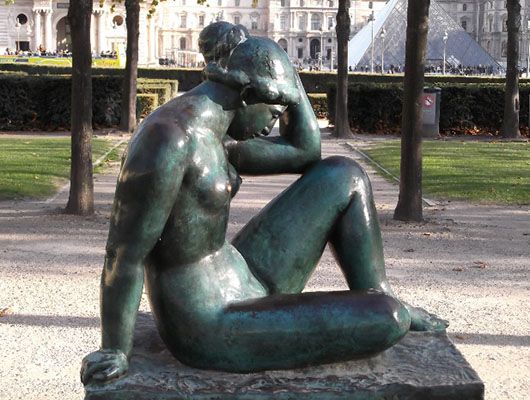 1905
La Méditerranée
Aristide Maillol's large-scale sculpture, La Méditerranée, features a nude female. Highly posed, as was the case with most of his figures, the woman is a masterclass in balanced opposites. Her right arm is extended straight behind her as is her right leg; while her left leg is bent on which rests her left elbow. She looks downward as if in repose as she cradles her head in her left hand. The sculpture is a prime example of how perfectly composed his figures were and as if designed specifically for the space in which they would reside. According to author Bertrand Lorquin, "her body occupies a neat square; the volumes are so perfectly balanced that she could be described as an abstract construction of an idealized woman absorbed in thought".

Rather than strive to capture perfect motion, Maillol looked to the lessons of the Classicists to inform on an abstracted essence of the human figure. Indeed, Lorquin recorded that "though his wife modelled for it, he did not want the finished sculpture to contain any element of resemblance or imitation of reality [...] Maillol wanted something more vigorous and structured".

Maillol's interest in minimizing the empty space surrounding the figure is evident here in the tightness of the composition. The concept of space is deliberately limited in this figure, and as Lorquin explains, Maillol "felt he had to knit together the different parts of the body, to make each one of them fully meaningful within the cubic volume determining the composition". For his part, the artist alluded to the relationship between this work and architecture: "the reason I strive to bring the limbs together is that one enters a sculpture as one enters a house" he stated. As one of the pioneers of contemporary sculpture, Maillol's analytical approach would resonate in the more abstract approach of future generations of sculptors including Constantin Brancusi and Henry Moore.
Bronze - Collection of Louvre Museum, Paris
ca. 1923
Port-Vendres Monument to the War Dead
A larger-than-life-sized female is the subject of Maillol's sculpture Port-Vendres Monument to the War Dead. Depicted in a reclining position, wearing a dress with multiple folds, her legs are outstretched with her left arm, on which she cradles a shawl, bent back to support the upper half of her body. Looking out with a contemplative expression, in her right hands she holds a cluster of olive branches. The figure closely resembles, in fact, Maillol's earlier (1912) commission for the Aix-en-Provence (though refused on completion and subsequently housed at Musée d'Orsay) dedicated to the memory of the French master Paul Cézanne.

Maillol was commissioned in 1919 to make the work by the local government to honor the young men who had been killed in action during the First World War. While many artists at the time received such commissions, Maillol's approach to the subject was unique. Unlike the more typical scenes of battle, fallen soldiers, or depictions of overwhelming grief and anguish, Maillol chose what author Bertrand Lorquin describes as, "a silent image to express the tragedy of a nation's youth being sacrificed in battle". A revolutionary approach to such a monument, Maillol described his reasoning, as "one can express grief with motionless features but not with a twisted expression and wide open mouth". Rather than focus on anguish, the olive branches the woman holds makes a statement about the hope for peace; while her look of pensive reflection asserts the quiet dignity and strength of the French people in their time of great loss. In 1994 the sculpture was classified as a historic monument and a bronze copy was made and located in in the Jardin des Tuileries in Paris.
Lead - Collection of Louvre Museum, Paris (Jardins du Carrousel)
1938
La Rivière (The River)
Maillol's most audacious sculpture went against the grain of his still, formally balanced nudes. In particular, La Rivière defied all conventions for "upright" monuments by having his figure placed, haphazardly and seemingly falling, below the line of her pedestal. In so doing, Maillol's most famous sculpture introduced a new relationship between viewer and sculpture since his prone figure asks the viewer to look downward (rather than upward) in order the meet her agonized gaze.

La Rivière stemmed from a commission to honor the French writer and pacifist Henri Barbusse. Conceived of initially as a work on the theme of war, the monument was intended to represent a woman who had been stabbed in the back and was falling, possibly to her death. The commission fell through, however, and Maillol transformed his original idea into La Rivière. When one takes into consideration the title of the sculpture, one can find clear thematic links with his early painting, The Wave, which also presents a young woman at the mercy of currents of natural water that threaten to overwhelm her.

While this sculpture, too, features a female nude, it was in the words of the author, and son of Dina Vierny, Bertrand Lorquin (effectively speaking about his mother here), "one of the most tension-filled and tormented of Maillol's works". As he explained, the figure "appears to be swept by a momentum that no human power can contain [while the] head expresses a kind of terror and the hands seem to be trying to arrest the current that is sweeping it along". That this work was created as the world was in a state of anxiety over the march of fascism, it is hard to imagine that Maillol (who had lived through the First World War) would not be feeling that anxiety and might then turn to his art as a vehicle for channeling these fears.
Lead - Collection of Louvre Museum, Paris (Jardins du Carrousel)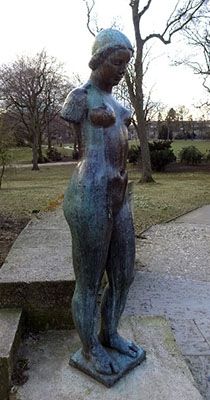 1944
Harmony
Harmony features a sculpture of a young woman. Missing her arms, she stands in a contrapposto style with her left hip raised; her right knee slightly bent. Her hair is pulled back with two braids into a knot allowing focus on her facial expression as she looks innocently downward.

An important sculpture, it was the unfinished piece Maillol was working on at the time of his death, and during the years ravaged by the horrors of the Second World War. In many ways this work is a culmination of a career-long obsession with the female form. Beginning with the standing figures of early works such as Pomona in 1910, we see here a maturation of his female form. It is no surprise that the arms are what were left unfinished since his figures always began with the perfection of the torso. According to author Lorquin, "Maillol always began modelling the torso, and only once he was satisfied with it did he add limbs. Adding limbs was always his greatest worry, especially when sculpting standing figures". Even when describing the famed Ancient Greek sculpture Venus de Milo (101 BC), Maillol found the lack of her arms of no consequence, stating that their presence, "would add nothing to its beauty. On the contrary they would probably detract from it".

As the title (Harmony) reflects, it could be assumed that in this work Maillol was searching for a feeling of equilibrium for his beloved nation. To think however that this was all this sculpture was for Maillol would be incorrect; rather he was trying to move his sculpture forward in a new direction. Once more he turned to his model and muse Dina Vierny as inspiration but in this work he was much less interested in balanced forms. Usually only working off drawings of his models, Maillol described what he wanted to achieve thus: "I want this work to be more realist and alive than anything I have done up until now. That is why I am for once working directly from a model, and not just from drawings, as I usually do [...] It is a form and a preconceived idea that guides the artist. Followed by gracefulness, power, and all other qualities which accrue in the course of the work, and as a result the work is not just the realization of an idea, of an intellectual conception, but it is also a work of art". Harmony may have been unfinished, but it stood as the most fitting epitaph for an artist who sits on the very highest plateau of modern sculpture.
Bronze - Collection of Hofgarten Park, Düsseldorf, Germany
Related Artists
Related Movements & Topics