Progression of Art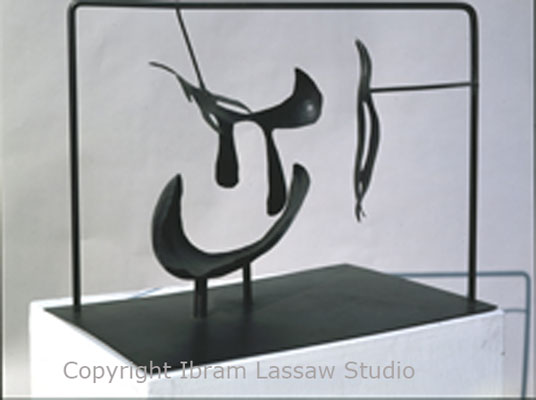 1938
Sculpture in Steel
After experimenting with plaster, rubber and wire, Lassaw began working with steel, which became a frequent medium for the artist, along with other metals. Sculpture in Steel, composed of biomorphic forms, reflects the important influence Surrealists such as Alberto Giacometti and Joan Miró had on Lassaw. This sculpture, Lassaw's first crafted from welded sheet metal, also reveals the distinct influence of Alexander Calder's mobiles. Around this time, Lassaw was also creating shadowbox sculptures and other works shaped around similar rectangular frames, beginning to develop pieces that depended on and created empty space as a structural element.
Steel - Whitney Museum of American Art, New York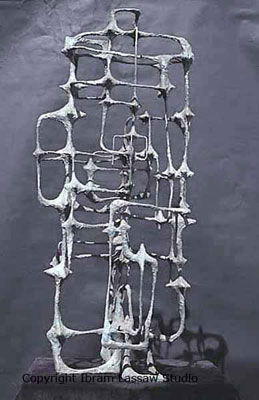 1950
Milky Way
Milky Way is notable for signaling a new direction in Lassaw's mature open space style. He considered it his breakthrough sculpture. Here Lassaw was able to work without the rigid framework he had used to support more delicate organic forms. Previous efforts to work in this style has failed due to the use of structurally poor materials such as plaster and metalized compounds. The work is made from a plastic-metal paste which could be applied and shaped by a palette knife over sturdy wire before it hardened. Although this was not the most perfect material for sculpture, Milky Way still stands strong sixty-six years after it was created. Lassaw had a life long interest in all sciences and astronomy, and he used titles with cosmological references because he wanted viewers to experience the work directly without the conceptual baggage a recognizable name would have.
Plastic-metal compound - Denise Lassaw Collection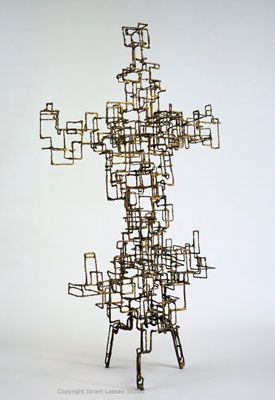 1952
Kwannon
In 1951, after making his first sale, Lassaw was at last able to buy oxyacetylene welding equipment to create sculptures in metal. This work, which followed the morphology of his first 18 welded sculptures was created by first bending and shaping galvanized wire and then fusing molten bronze in layers to build up thickness and strength. The title, Kwannon is the Japanese name for the Buddhist Goddess of mercy and compassion.
Welded bronze and nickel-silver - Museum of Modern Art, New York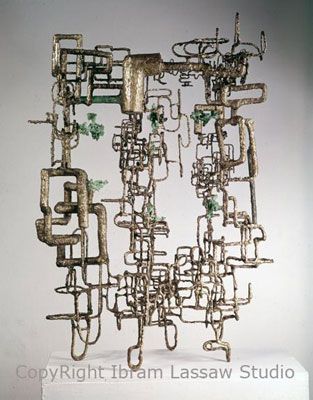 1957
Counterpoint Castle
Lassaw continued to expand his explorations and variety of space textures using copper tube shapes which he made and covered with bronze, with the thin wire shapes. Lassaw used various metals for their colors but in Counterpoint Castle he added the use of acids to turn some areas of the sculpture blue.
Bronze and copper - Denise Lassaw Collection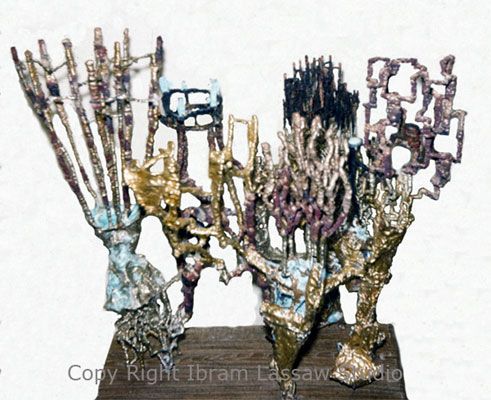 1961
Banquet
Banquet exemplifies Lassaw's use of a technique he developed in which molten metal is built up by fusing globs of metal together, similar to the accretion of stalagmites. The work grows spontaneously, as Lassaw has written, "The work is a 'happening' somewhat independent of my conscious will. The work uses the artist to get itself born." Some people think sculptures like Banquet look like coral, however that was not Lassaw's intention. The morphology of Banquet and the morphology of coral, like other crystalline structures found in nature may appear similar.
Bronze, bronze alloys, and steel - National Collection of Fine Arts, Smithsonian, Washington, D.C.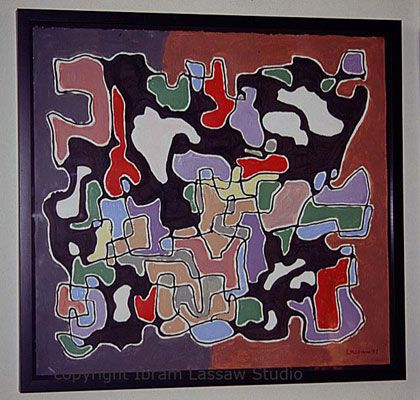 1979
Vortex F
In addition to the sculptural works for which he is primarily known, Lassaw also produced many drawings, lithographs and works on canvas and paper, much of which demonstrated a spatial interest similar to that of his three-dimensional works. The forms created by empty space in Vortex F are as important, if not more important, than the lines themselves. Here, as in many of his works, Lassaw combined geometric and biomorphic shapes, drawing the viewer's eye into the maze-like composition.
Acrylic on paper - The Parrish Art Museum, Southampton, NY
Similar Art
Related Artists
Related Movements & Topics