Artists
Hannah Höch
Biography and Legacy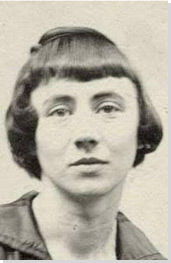 Hannah Höch - Biography and Legacy
German Photomontage Artist
Movement: Dada
Born: November 1, 1889 - Gotha, Germany
Died: May 31, 1978 - Berlin, Germany

From Our Sponsor
"I have always tried to exploit the photograph. I use it like color, or as the poet uses the word."

Biography of Hannah Höch
Childhood and Education
Hannah Höch was born as Anna Therese Johanne Höch into an upper-middle-class family in southeast Germany. Her father Friedrich was the supervisor of an insurance company, while her mother Rosa was an amateur painter. She later claimed that her father believed that "a girl should get married and forget about studying art." She was the eldest of five children. Her education began at the local girls' high school, but it ended early when she was 15, as her parents needed her to stay at home and look after her youngest sister.
Her education was only picked up again six years later, when in 1912 she joined the School of Applied Arts in Berlin. Here she studied glass design, discovering an interest in the applied arts and design that would inform her later practice. The school was closed at the outbreak of the First World War in 1914, and she returned home to join the Red Cross.
She was able to return to Berlin in 1915, and studied graphic arts at the School of the Royal Museum of Applied Arts under Emil Orlik. In the same year she met the Dadaist artist Raoul Hausmann. The pair went on to have an intense and stormy romantic relationship. She also became close friends with the artist Kurt Schwitters, who reportedly added the final "H" to her adopted name of "Hannah," so that it would be palindromic.
Early Period
Between 1916 and 1926, Höch worked for the magazine and newspaper publishers Ullstein Verlag. She worked in the department dedicated to handicrafts and designed patterns for crochet, knitting and embroidery. In 1918 she wrote a manifesto of modern embroidery, which encouraged Weimar women to pursue the "spirit" of their generation and to "develop a feeling for abstract forms" through their handwork.
In the same year, Höch and Hausmann took a holiday to the Ostsee, where she later claimed to have discovered the concept of photomontage that would be fundamental to her artistic practice. They found images that German soldiers sent home to their families, with pictures of their faces pasted onto the bodies of musketeers. From these she claimed she discovered the power of collage to "alienate" images - that is, to give them new meanings when placed in conjunction with new elements and in new contexts.
Höch soon started to make the photomontage images for which she is best known. During the late 1910s and early 1920s she was part of the Dada movement in Berlin. She is the only woman to have been involved among this group of creative innovators and would-be avant-garde cultural revolutionaries, but that distinction was often something of a double-edged sword. Her work was exhibited at the First International Dada Fair in Berlin, but before the show's opening George Grosz and John Heartfield tried to stop her from being included. It was only when her lover Raoul Hausmann threatened to pull his own contributions from the exhibition that they relented. Dadaist Hans Richter's only memory of her is of the food she provided, writing in his memoirs of the "sandwiches, beer and coffee she managed somehow to conjure up despite the shortage of money."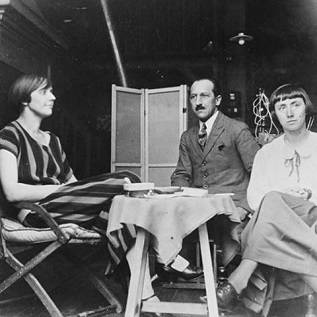 Photo of Nelly van Doesburg, Piet Mondrian, and Hanna Höch in the studio of Theo van Doesburg (1924)
Although Höch's aesthetic of borrowing from popular culture, dismemberment and collage fitted well with that of the Dadaists, the union was an uneasy one, not least because of the inherent sexism of the movement. She also felt uncomfortable with the exhibitionist element of the Dada circle, and was embarrassed by the behavior of some of her peers. In 1922, she ended her relationship with Hausmann.
Mature Period
Towards the end of the 1920s, she had moved away from the group and was starting to make connections with other artists. She became friends with Piet Mondrian, Tristan Tzara and László Moholy-Nagy, and was influenced by the De Stijl movement. She settled in The Hague in the Netherlands in 1926, and started a lesbian relationship with Dutch writer Til Brugman. The couple lived together for the next decade.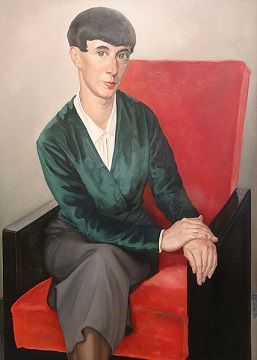 Hannah Höch Portrait by Chris Lebeau (1933)
During the rise of the Nazi party in Germany in the 1930s, Höch found herself under attack from the party as a producer of "degenerate art." She was supposed to have an exhibition of her work at the Bauhaus school in 1932, but it was closed by the local Nazi council. She had been designated a "cultural Bolshevik," along with many other Dadaists. She returned to Berlin permanently in 1936. While other artists fled Germany, Höch stayed in her own form of exile. She bought a house near Berlin and lived there throughout the Second World War, hoping that her neighbors would not guess her identity and give her away. She married Kurt Matthies, a businessman and pianist, in 1938. The marriage ended in divorce in 1944.
Late Period
After the War, Höch broke many of her pre-War ties, both artistically and socially. Her work moved away from her figurative montages and veered into the territory of abstraction, which was being explored by many artists at the time. Although she still produced work on a fairly prolific scale, her pieces from this era are less well-known and generally less well-received by critics.
Art historian Dawn Ades visited Höch in her Berlin home in the early 1970s, and found that the artist was "as interested in nature as she was in art." She recalls how "you had to crawl under apple trees to get through the front door. She incorporated leaves and twigs and other organic matter into her collages of the time."
The Legacy of Hannah Höch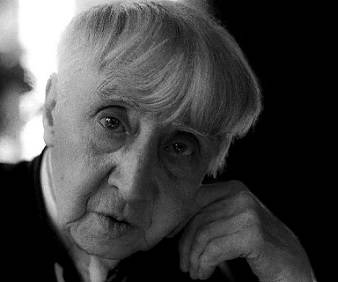 Hannah Höch in 1974
Höch's deliberate attempt to obscure herself during the Second World War, and the fact that she continued to live in her modest home on the outskirts of Berlin until the end of her life, may account for her relative obscurity. The art historian Dawn Ades notes that "she wasn't interested in becoming a celebrity," which perhaps speaks to her early embarrassment at the exhibitionism of the Dada group.
Nevertheless, her pioneering work in photomontage was influential for many later artists, especially for women artists. These include her near-contemporaries German-born Grete Stern and Surrealist artist Claude Cahun, as well as later artists such as Cindy Sherman. The influence of her style has also been traced in the cut-up aesthetic of the punk movement, which came in just after her death in the early 1980s.
Most Important Art
Dada Puppen (Dada Dolls) (1916)

Höch's darkly playful Dada Dolls are quite distinct from any work created by the others in the Berlin group of Dada artists with which she was affiliated early on. Given that the Berlin chapter of Dadaists only formed in 1917, these small-scale sculptural works suggest her awareness of Dada ideas more generally from its inception in 1916 in Zurich. She was likely influenced by writer Hugo Ball, the Zurich-based founder of Dada, given Höch's doll costumes' resemblance to the geometric forms of Ball's own costume worn in a seminal Dada performance at the Swiss nightclub Cabaret Voltaire.

Ball achieved notoriety for his declamation there of sound poetry, which he recited while wearing a mechanical looking outfit comprised of geometric shapes. The costume can be read as a commentary on contradictory feelings held towards developing technology. Technology was both revered and feared at this time, since it both aided social and economic progress but also threatened humanity with its destructive power. A common belief among Dadaists was that technology caused humans to become more machine-like themselves. One intent of the Dada movement was to use art as a satirical critique of such elements of culture that were both intimidating and absurd.

As Paul Trachtman has portrayed it, in a description that is apt for both Ball's and Höch's work: "When Dadaists did choose to represent the human form, it was often mutilated or made to look manufactured or mechanical. The multitude of severely crippled veterans and the growth of a prosthetics industry struck contemporaries as creating a race of half-mechanical men."

Read More ...

Hannah Höch Artworks in Focus:
Hannah Höch Overview Continues Below
If you see an error or typo, please:
tell us
Cite this page

Content compiled and written by Anna Souter
Edited and published by The Art Story Contributors
" Artist Overview and Analysis". [Internet]. . TheArtStory.org
Content compiled and written by Anna Souter
Edited and published by The Art Story Contributors
Available from:
First published on 21 Jan 2016. Updated and modified regularly.


[Accessed ]