Progression of Art
1969
Pray for America
Pray for America is one of Hammons' early "body prints" created while he was living in Los Angeles. Performative in nature, to make the prints Hammons coated himself in cooking fat or margarine then rolled around on the canvas, imprinting his face and body. He then sprinkled pigment over the grease to reveal a ghostly outline against a plain white background. These X-ray-like images were then juxtaposed with politically charged symbols, like the American flag, which were silkscreened onto the canvas or paper after the body images were fixed. For his body prints Hammons experimented with the use of unusual or "poor" materials, working in a similar vein to artists affiliated with Arte Povera. The performative aspect of the body prints and the use of everyday materials is also reminiscent of Neo-Dada, particularly Yves Klein's Anthropométries series or Robert Rauschenberg's large-scale cameraless photographs made in collaboration with his then-wife Susan Weil, however, in their use of the body, Hammons' prints also reflect the rise of Body Art in Los Angeles in the late 1960s and early 1970s.

In Pray For America, the figure, shown in profile with arms raised in prayer, is veiled in an American flag that covers much of the head and body. The figure thus takes on a quasi-religious symbolism, but with an explicitly political message. His reference to black identity and politics and his choice of a graphic medium reflect the influence of Charles White, who Hammons had studied with at Otis Art Institute. In its use of figuration and the commentary on racism it also reflected the concerns of the Black Arts Movement. As Kellie Jones has noted, in the body prints "the fulcrum of signification revolved around the performative body," adding that in this instance "Hammons was the dynamic agent, collapsing the position of auteur with those of signifier and signified."

Produced at a fraught moment in American history - a time of political assassinations, civic unrest, racial injustice, and national protests - Hammons asks the viewer to contemplate this history and its consequences. At a basic level, he is asking the viewer to pray for the government and by extension the American people. The American flag is thus a powerful symbol of lives forgotten and promises broken. In speaking about this work, Hammons has said that he felt a "moral obligation as a black artist to try to graphically document what I feel socially." As art critic Holland Cotter has noted, Hammons' body prints contain "a distinctive mix of popular graphics, black vernacular art, performance art and the emotional weight of Goya's print. Humor, particularly in satirical riffs on ethnic stereotyping, prevents clear-cut reading. Yet the simple fact that the imprinted bodies are black bodies, and self-portraits, makes the racial politics volatile and profound."
Screenprint and pigment on paper - Museum of Modern Art, New York
1973
Spade in Chains
By the 1970s, Hammons had moved to New York, and began to shift his focus to popular symbols and language. This shift also involved a transition from primarily two-dimensional works that could be framed and sold, to three-dimensional objects and performance. While his past work referenced the power of symbols (like the American flag), in this period Hammons began to more overtly interrogate symbols and signs used in everyday culture and parlance. This exploration of symbols occurred, as art historian Kellie Jones has noted, in terms of "both [of] its connotations and physicality."

Spade in Chains (1973), part of his Spade series, dissects the layered history of racially derogatory language. The word "spade" had been used as a derogatory term for African Americans since at least the 1920s, perhaps deriving from the phrase "as black as the ace of spades" which referred to the suits of a deck of playing cards. Because of the association of spades and race, the phrase "to call a spade a spade" also took on racial undertones. There were efforts to reclaim the word by African-American communities, such as Ted Joans' poem dedicated to Malcolm X in 1965 entitled "My Ace of Spades".

David Hammons recalls "I was called a spade once, and I didn't know what it meant ... so I just took the shape and started painting it...Then I started getting shovels (spades); I got all of these shovels and made masks out of them. It was like a chain reaction." In this 1973 work, Hammons turns the garden spade upright and attaches a series of draped chains that allude to African masks, but also to the legacy of slavery and to the ways that language can be used to bind and oppress. As Jones has suggested, "The 'Spade' series led Hammons into the realm of the metaphoric, the allusional, into abstract art. He began to realize more fully the power of the symbolic, its cultural significance and potential for recognition and understanding by a broad audience. It is amazing that a discarded shovel could be transformed, so very simply, to carry another meaning." Indeed, the piece does not focus itself on simply criticizing or calling out racially derogatory language. Instead, it interrogates its origins, meaning, and function in American society.
Metal spade with metal chains
1986-7
Higher Goals
In the 1980s, Hammons' work became grander in scale and more public; often including large installations, sculpture, and street performances or actions. Working in the context of the urban and social landscape, Higher Goals continued Hammons' exploration of racially charged symbols, but brought the work into the urban environment.

Higher Goals, a temporary structure erected in Brooklyn's Cadman Plaza Park (and later in Harlem), was a public commission that consisted of five telephone poles of up to 30 feet in height covered in bottle caps and topped with basketball hoops. That there are five poles is not insignificant. According to Hammons, "It takes five to play on a team, but there are thousands who want to play - not everyone will make it, but even if they don't at least they tried." Made from the detritus of urban African-American experience, Higher Goals includes approximately 10,000 caps in total, which are flattened and arranged to create intricate patterns reminiscent of African and Islamic design and Italian mosaics. The bottle caps were collected by Hammons over the course of several months from local bars and pubs. In describing his use of discarded materials, Hammons has said "You can't miss if you use something people use everyday...Everyone has to pop a bottle cap sometime, especially in the summer. Also, I prefer to go with something that already has a spirit on it. That's why I never buy anything new, because it has no spirit. The bottle caps already have a story to them." As is typical in Hammons' work, the choice of materials and objects have multiple connotations that invite the viewer to address their meanings at the level of experience.

Although the work might be read as a positive symbol of African-American experience, basketball, in this context, takes on a more complicated set of references. On the one hand, as artist Kim Anno writes, "Unfettered joy surround[s] sports, no matter whether games result in defeat or victory. Legends are held in the hearts of elders and recounted to friends and family members in extreme detail. The National Basketball Association is in its own way a royal court, complete with the tallest people in the world at the center. The rags-to-riches stories of NBA players inspire generations of young boys who will most likely never enter the royal halls of elite athletes. Nevertheless, sports are the biggest leveler in a class-based society, an arena where privileged training resources cannot always triumph over impoverished full-hearted athletes." And indeed, for many young African-American men, basketball was viewed as a means of escape from life in the ghetto, but this dream was beyond reach for many. Higher Goals is thus a commentary on the role of basketball in contemporary urban culture. As Hammons said in a 1986 statement, "It's an anti-basketball sculpture...Basketball has become a problem for the black community because the kids aren't getting an education. They're pawns in someone else's game. That's why it's called 'Higher Goals.' It means you should have higher goals in life than basketball."
Temporary Installation using telephone poles, metal and bottle caps - Brooklyn and Harlem, Courtesy of Public Art Fund
1988
How Ya Like Me Now
First painted in 1988, David Hammons' 20-foot-high painting on tin billboard appeared on a street corner in Washington, D.C., facing the National Portrait Gallery. The painting depicted black civil rights leader Reverend Jesse Jackson with white skin, blonde hair and blue eyes. Scrawled across the bottom, in graffiti-like script, were the words, taken from a song by the iconic eighties Rap artist Kool Moe Dee, "How Ya Like Me Now." Shortly after the painting was installed, without a label or any other indication that it was a work of art, a group of young black workers attacked the billboard with sledgehammers, partially destroying it. The painting was ultimately returned to Hammons, who re-created the work and installed it inside mounted to the gallery wall with a row of sledgehammers in a row directly in front of it. The vandalism inflicted on the work at its unveiling ultimately became a part of it. As David Hammons later said about the vandalism: "Whenever you put something outside you have to be prepared."

How Ya Like Me Now was Hammons' contribution to a Washington Project for the Arts exhibition entitled The Blues Aesthetic: Black Culture and Modernism. Curated by Rick Powell, the exhibition included a series of outdoor installations by seven African-American artists across Washington, D.C. While most of the outdoor installations were placed on private property, How Ya Like me Now was the only work placed on city property. It thus required additional approvals that significantly delayed its installation. For Hammons, the location of the work was critical to its meaning. Facing the National Portrait Gallery, the painting was a comment on the lack of diversity in the institution's collection. But more importantly, its presence in the nation's capital during Jesse Jackson's second run for President was an overtly political act. As Hammons has said, "This was a very on-the-edge experience. I think if Jackson had been white, he would have been elected long ago. I wanted the white community to see that very clearly - basically, how racism in America works." Depicting Jackson with pale skin, blond hair, and blue eyes, alluded to the belief that even the most influential black cultural figures were expected to assimilate into white culture.

The use of the quotation How Ya Like Me Now from eighties rap with the image of a prominent civil rights leader brings into question the nature of racism in American culture and politics. As Ellie Clarke has stated, "Many argue that the framing of an icon of black political solidarity with hip-hop graffiti was a way in which Hammons comments on the disparity between the civil rights generation and the incipient hip-hop generation. Perhaps black leaders, such as Jackson himself, were prepared to assimilate into a predominately white government. In which case, had their struggles been in vain?"

By placing the work outdoors in the heart of Washington, D.C., Hammons ensured that its political message would resonate. As curator Rick Powell has said, "For me it is very evident what it is about - are your likes or dislikes about people based on race? That was the question it was posing to people." And indeed, the work initiated a visceral and angry response among passers-by who took the painting as a cruel insult and because it was installed just three feet off the ground, it was an easy target. When asked about Hammons' depiction of him as a white man and the painting's subsequent destruction, Jesse Jackson said, "Sometimes art provokes...Sometimes it angers, which is a measure of its success."
Oil Paint and spray paint on tin billboard - Washington Project for the Arts. Private Collection.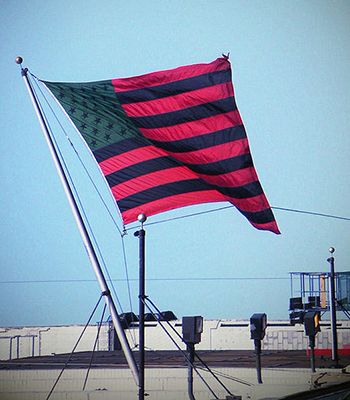 1990
African American Flag
One of David Hammons' most important works, African American Flag was created in 1990 for an exhibition in Amsterdam entitled Black USA. The group show, curated by Christiaan Bruan, aimed to give prominence to African-American artists that were under-represented in Europe. Featuring the colors of black liberation, African American Flag was a centerpiece of the exhibition, where it flew in the courtyard of the Museumplein that surrounds Museum Overholland.

WThe American flag was a recurring symbol in Hammons' work. Here, by simply changing the flag's colors, he questions whether or not it can be a symbol of both African and American identities. Meant to represent abstract ideals of purity, valor and justice, the red, white and blue have been replaced by red, black, and green of the Pan-African flag, which represent "...the blood, skin tone, and the natural resource richness of the African land." Long a powerful symbol in African-American social, political and cultural life, the Pan-African flag was adopted by Marcus Harvey's Universal Negro Improvement Association and African Communities League in the 1920s, and went on to become an emblem of the civil rights struggles in the 1960s and 70s.

The creation of African American Flag coincided with Nelson Mandela's release from Robben Island after years of campaigning and the election of David Dinkens as New York City's first and only black mayor. In this time of change, Hammons questions whether or not the United States is or can be a nation that is truly representative of its people and ideals. In changing the flag's colors, he changed its symbolism, creating a new symbol for a changing world. As artist Thomas Hirschhorn has noted, the "African-American Flag is not only an artwork, it is a flag for a new nation, a flag for a new insight, it is a new flag for a new form and a new truth. David Hammons creates a new truth - what more can art do?" Hirschhorn argues that the flag is hopeful about the capacity of a nation to change. For Hammons the placement of the flag in the Museumplein courtyard was significant, as it faced the flag-laden American consulate, a symbol of American political power. A version of the flag now hangs in front of the Studio Museum in Harlem, an important venue for African-American artists.
Dyed Cotton - Private Collection
2001
Hair Relaxer
Throughout his career, David Hammons has continued to make use of the detritus of African-American experience, including human hair collected from local black barber shops. Hammons thus encourages a new way of looking at these found objects; noting that "Old dirty bags, grease, bones, hair ... it's about us, it's about me. It isn't negative. We should look at these images and see how positive they are, how strong, how powerful. Our hair is positive, it's powerful, look what it can do. There's nothing negative about our images, it all depends on who is seeing it and we've been depending on someone else's sight ... We need to look again and decide."

In Hair Relaxer, Hammons combines an object of relaxation, the chaise lounge, specifically a Récamier couch, with discarded hair that has been scattered along its crevice. His use of the couch recalls Jacques-Louis David's famed 1800 painting Madame Récamier, which depicts the renowned beauty Madame Juliette Récamier reclining on an elegant divan. An idealized representation of female beauty, David's painting, which hung in the Louvre from the mid-nineteenth century, was influential to future painters, including Édouard Manet and his 1863 painting Olympia. The use of hair and its strategic placement on the chaise refers both to Manet's painting of Olympia, in which she subtly covers her pubic region with her hand while she is attended by her black maid (whose hair is covered), and the kinky hair that many African Americans sought to straighten.

A decades long preoccupation for Hammons, the use of hair in works like Hair Relaxer explores the complex set of associations that hair represents for the African-American community. For many, hair has been a source of shame, pain, desire and pride for those who felt the need to conform to societal pressures. In Hair Relaxer, Hammons creates a visual pun that refers to the chemical process for relaxing hair. For many years, African Americans have used chemicals to relax or straighten hair as a means of conforming to traditional white notions of beauty. As art historian Kellie Jones has suggested, hair "becomes an important vehicle for expression. And in African-diasporic practice, as a 'popular art form,' it is a method through which black people have been able to convey their sense of the beautiful and their creative aspirations, in the face of historical exclusion 'from access to official social institutions of representation'." In combining African-American hair with an object that references art history and depictions of female beauty, Hammons questions the history of representation and its erasure of difference.
Chaise Lounge and natural hair - Private Collection
Similar Art
Related Artists
Related Movements & Topics