Progression of Art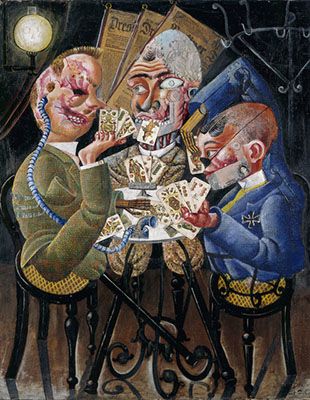 1920
Skat Players (Card-Playing War Cripples)
Showing both his Dadaist and Cubist influences, Dix makes a clear social statement using his bold technique in this painting. The skat players are war veterans horribly disfigured and crippled by their service, yet they are still able to play cards. Skat was a card game favored by Krupps, the German manufacturers of weapons. Dix uses the repetition of the cards, the chair legs, and the stumped limbs of the men to build a composition that is disturbing in form as well as content.
Oil on canvas with photomontage and collage - Staatliche Museen zu Berlin, Nationalgalerie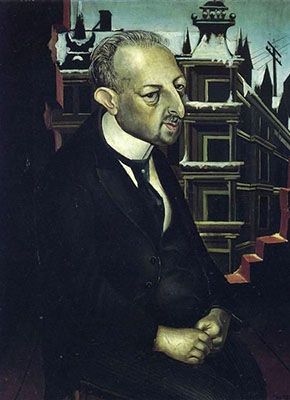 1921
Portrait of the Lawyer Dr. Fritz Glaser
This picture of the lawyer Dr. Fritz Glaser is typical of Dix's portraiture from the early 1920s, in which he depicted his friends from the professional classes - doctors, lawyers and other notables who were also interested in the arts. Dr. Glaser assembled an extensive collection of art including works by artists such as Wassily Kandinsky, Paul Klee, and Emil Nolde. Dix shows him in front of the snow-covered facade of a typically ornate Dresden building, which appears to have been shattered during the war. Typical of his inclination toward caricature, the artist emphasizes the prominent features in Glaser's face, in this case his Semitic nose. The picture is also typical of the contradictions in Dix's life and work - contradictions between the good relations he had with many of Dresden's bourgeoisie, and the icy, critical tone with which his art remembered them.
Oil on canvas - Pompidou Centre, Paris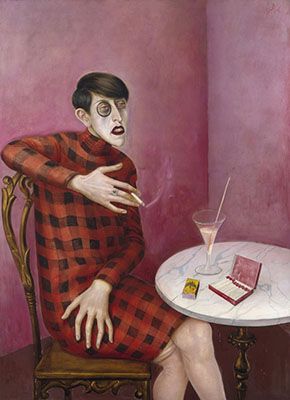 1926
Portrait of the Journalist Sylvia von Harden
As a character of her time just as the woman herself, this image of Sylvia von Harden became iconic of the era. This portrait is perhaps Dix's most recognized. It was even referenced in the 1972 film Cabaret, set in Weimar-era Berlin. It is said that Dix painted this portrait after seeing von Harden in the street and exclaiming, "I must paint you, I simply must! You represent an entire epoch." She was amused. "So you want to paint my lackluster eyes, my ornate ears, my long nose, my thin lips. You want to paint my short legs, my big feet -- things that can only frighten people and delight no one?" Dix claimed that she was a perfect image for a society that was less concerned about a woman's outward appearance than her psychological state.
Oil on canvas - Pompidou Centre, Paris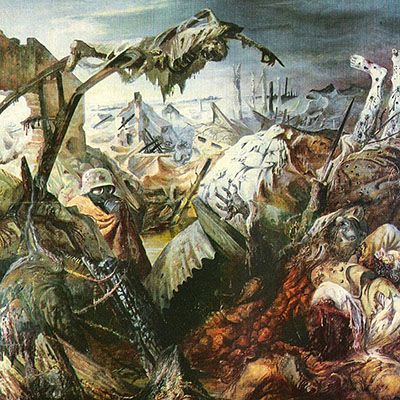 1929-32
The War
Dix was extremely affected by his war experiences and returned to them often for inspiration. The War shows men going into battle, it shows the aftermath of conflict, and it shows them returning from the field. Dix studied the Old Masters in both their subject matter and painting methods. This triptych is immediately reminiscent of grand history paintings as well as German Renaissance artist Matthias Gruenwald's Isenheim altarpiece (1506-15). Andrea Mantegna's Dead Christ (1480) is evoked in the lower panel showing the dead soldiers. Johann Wolfgang von Goethe, Friedrich Nietzsche, and the Bible also influenced Dix, thus associations of sacrifice and apocalypse with war imagery are common in his works.
Oil and tempera on wood - Staatliche Kunstsammlungen, Dresden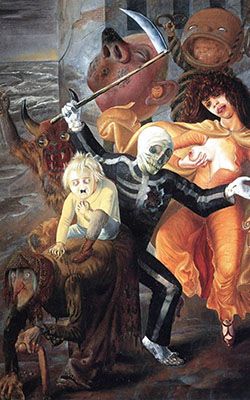 1933
Seven Deadly Sins
In response to the Nazis' dismissing him from his teaching post at the Berlin Academy, Dix created this surreal satire on German politics. The figure of Sloth, depicted in the center, is a skeleton whose outstretched arms and scythe form a sort of swastika. Dix felt that this sloth or lack of concern and unwillingness to take early action by the German people had allowed Hitler's rise to power. The most poignant aspect of this picture is the representation of Envy, riding on the back of Avarice: he wears a Hitler mask. However, it wasn't until after the war that Dix painted in the telltale mustache.
Oil and egg tempera on wood - State Gallery, Stuttgart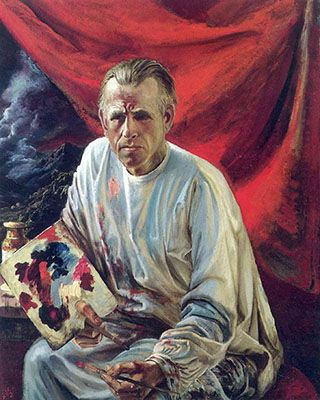 1942
Self Portrait with Palette before Red Curtain
Dix created many self-portraits throughout his lifetime. His maturity as an artist and a man can be chronicled in these reflective and intense studies of his own image. In this scene, he is fully facing the viewer, while in other portraits he is in profile. He is engaged in the act of painting, presumably the portrait itself. The dark and ominous view of the Alps can be seen out the window in the distance.
Mixed media on wood - Private Collection
Similar Art
Related Artists
Related Movements & Topics