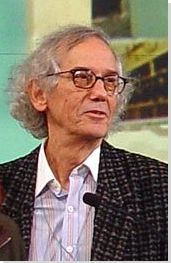 Born: June 13, 1935 - Gabrovo, Bulgaria

From Our Sponsor
"The work of art is a scream of freedom."

Biography of Christo
Early Period
Christo was born in Gabrovo, Bulgaria, a small town in the Balkan Mountains. His given name was Christo Vladimirov Javacheff, and his parents were Ivan Vladimir Javacheff, a chemist and a businessman who ran a fabric factory, and Tzveta Dimitrova, a political activist and a secretary at the Academy of Fine Arts in Sofia, Bulgaria. Ivan and Tzveta were socially connected with artists and intellectuals around Gabrovo, and Christo grew up surrounded by progressive ideas and culture. Christo began creating art early on, inspired by his parents' bohemian social circle, and was encouraged by several professors from the Academy of Fine Arts who would frequent the family home's to visit his parents. Politics also shaped his early life, and as a young boy Christo witnessed his birth country's invasion by the Nazis, and later by the Soviets.
Christo enrolled at the Fine Art Academy in Sofia in 1952, and studied and worked there until 1956. The curriculum at the academy focused mainly on Soviet Socialist Realism, a government-mandated style of artistic production that was developed in the early-20th century in the Soviet Union as a specifically non-capitalist form of populist art. Christo also became involved in a campus Communist Youth group, where he assisted in creating propaganda posters in line with the tenets and techniques of Socialist Realist political art.
After he graduated from the academy, Christo left for Prague, Czechoslovakia. There he forayed into theater design, and studied with the Burian Theatre, where he was first exposed to the work of Matisse, Miró, Klee, and Kandinsky. During his first year in Prague, the Hungarian Revolution broke out in 1956, a situation that became particularly dangerous for students and members of the artistic and intellectual classes. Christo fled Hungary by bribing a railway worker to stow him away on a train transporting medicines and medical supplies. He made it safely to Vienna, Austria, but the move forced him to lose his Bulgarian citizenship and become known as a "stateless person," a UN designation initiated in 1954 to manage the mass refugee crisis following World War II. He stayed briefly in Vienna, studying sculpture at the Academy of Fine Arts under the artist Wotruba for one semester. He then relocated to Geneva for one year, and then on to Paris in 1958, where he met Jeanne-Claude de Guillebon, his future partner, and remained in the city for the next six years.
Middle Period
Christo's early years in Paris were not without difficulty, as he struggled to learn the language and assimilate into the culture. He made a living by painting portraits on the street, which he felt were not representative of his skill or true artistic identity, so he signed these under the name "Javacheff" rather than with his own. During these years, he met Arman, Daniel Spoerri, Jean Tinguely, and Yves Klein, all artists associated with the Nouveau Realisme movement in which the objects and materials of everyday life are directly appropriated and incorporated into multi-media works. Christo began experimenting with everyday objects such as beer cans, bicycles, and road signs.
Christo first met Jeanne-Claude's mother when he painted a street portrait of her. He was initially attracted to Jeanne-Claude's half-sister Joyce, and at the time Jeanne-Claude was engaged to Phillipe Planchon. Christo and Jeanne-Claude found out that they had been born on the same day, in the same year, and within the same hour, and a partnership quickly formed in art making and in life. Jeanne-Claude remained engaged to Planchon even as she became pregnant with Christo's child, and went through with the wedding. Eventually she revealed the truth to Planchon, parted ways with him, and Christo and Jeanne-Claude's son Cyril was born in 1960.
The two began working together creatively in Paris. They experimented with oil barrels, first by wrapping them, and then creating large-scale installations that would later become hallmarks of the couples' collaborative works. They started to gain footing in the city and became recognized as viable artists in the early 1960s. In 1964 the couple moved to New York City and lived as undocumented immigrants for three years, squatting in an illegal building that they eventually purchased in 1973 when Christo also became an American citizen. Christo created life-sized installations entitled Store Fronts and Show Windows, and sold these large-scale gallery works to help finance his other, less saleable projects, which included wrapping entire buildings in Italy and the U.S., and working with landscapes from the Australian coast to the mountain ranges of Colorado.
Later Period
Jeanne-Claude was originally seen as Christo's publicist and business manager, but was later given due credit for her role as his creative and administrative partner. The pair emphasizes that everything they created since the 1960s had been a dual effort, and for marketing purposes, they chose only to put Christo's name on their artwork. The couple worked from their studio and home in New York, rarely hired assistants, and self-funded their projects through the sale of sketches, blueprints, and 3-D models. Their collaboration was so integral to their process that they often travelled on different planes to ensure that if one plane crashed, the other could continue to work on their joint projects.
The couple were working on two simultaneous projects, Over the River in Colorado and The Mastaba in the United Arab Emirates, when Jeanne-Claude suffered from a brain aneurysm in 2009. She died from resulting complications on November 18, at the age of 74. Christo has continued working toward the realization of their large-scale works since her death.
The Legacy of Christo
Jeanne-Claude and Christo's outdoor works are regarded as some of the most ambitious and innovative in the world, thought they are oftentimes controversial due to their size and questionable impact on the environment. To address these controversies, the artists conducted thorough environmental impact studies and recycled every material that they expressly manufactured.
Aesthetic impact is the value that Christo and Jeanne-Claude have emphasized as the most important, intended aspect of their work, yet the effect their work has had on the world far exceeds the merits of aesthetics alone. Their work pushes the boundaries of convention and categorization of art, in particular the notion of sculpture as a fixed, permanent object. Acting directly upon the environment, rather than at a contemplative remove from it, implies for some that their work is a commentary on notions ranging from freedom, to human agency, to the powerful impermanence of the natural world. Jeanne-Claude has in fact likened their work to a rainbow, made all the more beautiful and exciting because it is temporary.
The couple's efforts have been recognized by filmmakers and photographers, and a 1973 documentary about their work was nominated for an Academy Award. In 2004, they won the Achievement in Contemporary Sculpture Award, and in 2006, they received the Best Project in a Public Space award for The Gates, as well as the Vilcek Prize in Fine Arts for foreigners working abroad.
Most Important Art
Wall of Oil Barrels - Rideau de Fer (The Iron Curtain) (1961-1962)

Christo and Jeanne-Claude's first collaborations involved wrapping dozens of oil barrels with cloth and rope, and stacking them in layers across public spaces so as to partially or completely block access. Earlier iterations of this site-specific work on Rue Visconti in Paris included a version in the courtyard of Christo's studio, as well as 1961's Stacked Oil Barrels and Dockside Packages, both of which were installed for two weeks on the harbor in Cologne, Germany. Particularly in Wall of Oil Barrels, the artists expanded the scope and scale of the previous works, creating a larger and more impenetrable wall of both wrapped and unwrapped barrels that blockaded a section of a city street. Christo was propelled by the idea of spatially reconfiguring a specific outdoor location with a common, contextually misplaced object, a notion that would play a role in many of his future creations and collaborations with Jeanne-Claude.

The piece utilized 89 barrels, and measured 13.2 feet wide, 2.7 feet deep, and 13.7 feet tall. It took eight hours to assemble. An expression of the artists' views on the disruptive nature of the Cold War and the Berlin Wall, which was then in the process of being built, Wall of Oil Barrels commented on the politics of space, freedom, and mobility under increasingly conservative and divisive governmental policies throughout Europe. Since they installed it without permission, Parisian authorities demanded that the piece be dismantled, but Jeanne-Claude was able to persuade them to allow the work to remain in place for several hours. This monumental work and its brief celebrity as a public nuisance helped Christo and Jeanne-Claude gain early notoriety in Paris.

Oil barrels became an important medium for Christo in 1958. He had previously been utilizing smaller, everyday, affordable objects like beer cans, but the barrels initiated a significant shift towards larger works, while still adhering to a distinct type of sculptural form. Wall of Oil Barrels was Christo's first large scale work, and marked the beginning of the collaborative, massively scaled, site-specific works for which he and Jeanne-Claude would become famous.

Read More ...

Christo Artworks in Focus:
Christo Overview Continues Below
If you see an error or typo, please:
tell us
Cite this page

Content compiled and written by Laura Fiesel
Edited and revised, with Synopsis and Key Ideas added by Brynn Hatton
" Artist Overview and Analysis". [Internet]. . TheArtStory.org
Content compiled and written by Laura Fiesel
Edited and revised, with Synopsis and Key Ideas added by Brynn Hatton
Available from:
First published on 28 Jun 2016. Updated and modified regularly.


[Accessed ]