Progression of Art
1949
Catrame 2
The Catrami, or tars, were Burri's first series of paintings that explored the properties and tones of the color black . Covering his canvas with tar, and tar-like substances, Burri, in the description offered by the Guggenheim, "gouged and scraped the dense, viscous material into rich relief topographies of cavities and scabs, incising the surface with grid lines, sometimes adding pumice stone for texture or drips of black enamel paint".

Here the image appears like a collage, juxtaposing the manmade biomorphic shapes with the scaly, apparently random, impasto textures within them. Close inspection reveals a sense of movement and incongruity, displaying Burri's ability to transform the mundane into something fascinating, primeval and alive. Though abstract, the Catrami helped define a new sense of realism. Curator, Emily Braun, observed that Burri's "early compositions look like a collage. It's as if he cut out shapes and glued them onto a flat plane [...] He's focusing our attention on the materials themselves: all of their innate qualities, what makes them alive or what makes them seemingly abject or unpleasant but ultimately quite beautiful. And this focus on what they're made of and how he makes them is what we call a material - and process -based realism".

It is an interesting footnote to record that beneath Catrame 2's thick tar surface, conservation scientists working at the Guggenheim in New York "discovered a colorful figurative painting from an earlier period" and another on the verso, or reverse, of Burri's canvas.
Vatican Museums, Vatican City
c.1949
Biancho (White)
Following immediately on from his black tar Catrami works, Burri turned his attention to exploring the properties of white. His new project was rooted in his fascination with Renaissance art, the white ground of frescoes, and the gesso layer underlying paintings. This example, one of his first Bianchi, explores the variety of shades, textures and effects that can be achieved with white alone (and small traces of black from the base of a paint can). Burri swirls and drips the pigment, mixing it with sand or crushed pumice stone, spreading it with his fingers, a knife or a trowel, leaving the expressive, physical process of making the image exposed. Braun suggests that with this piece, Burri "makes us aware of all of the different applications of the white paint" and that Burri turns his painting into "this scruffy, eloquent thing [with] lumpy, paint trickled, lathered, smeared, dripped, and transferred".

While it was never been formally acknowledged by the American artist himself, the Bianchi seems likely to have made an impact on the development of the art of Cy Twombly, who visited Burri's studio during this period and saw his works at Rome's Obelisco Gallery. Twombly later returned to live in Rome where he recreated, in works that carried echoes of Burri's Bianchi, the effects of the Mediterranean sun on crumbling, bleached surfaces.
Private collection
1953
Rosso Gobbo (Red Hunchback)
In the series labelled Gobbi (Hunchbacks), Burri wedged objects - such as tree branches or metal rods - behind the canvas, causing distortions to the image surface and straining the canvas to create a prominent hump. The taut picture plane is thus put under physical stress, bent out of shape and thrust forward towards the viewer. Burri termed this the "invasive space" technique. In this fine example of painting merging with sculpture, two fabric scraps stuck to the vermilion background and three punctured circles accentuate the protrusions created by the unseen curved metal rod. The damage that Burri inflicts upon his materials places him at odds with the flatness and aspirations towards purity of much modern painting. The Gobbi seem to continue a logical progression from Burri's earliest abstract works in which he was arranging his colours and forms so that they appeared to exist on different levels. One might call this as a philosophical reversal of Synthetic Cubism's attempt to capture multiple planes from a single viewpoint, despite the similar use of collaged scraps and printed materials.

It has often been suggested that the contrasting elements - stitched sacking so prevalent in its use for sandbags and carrying supplies, the black reminiscent of charred buildings, and red with its connotations of blood - reference Burri's training as a doctor and the traumatic experience of front line military service. According to curator James Johnson Sweeney, Burri "transforms rags into a metaphor for bleeding human flesh, breathes life into the inanimate materials which he employs, making them live and bleed". For Sweeney, the "picture is human flesh, the artist a surgeon". It was not, however, a reading endorsed by Burri who said "I have worked with a big red space that is expanding forward and in all directions. With the other elements it is involved in a whole chain of pulls and tensions. But this is only the architectonic structure. For the rest I have nothing to add". Burri may (unconsciously) also be referencing a rich tradition in Italian art, translating the red, black and gold of Renaissance drapery into a meditation upon the trauma of post-War Italy. However one wishes to interpret it, the work, like so much of Burri's output, is a merging of both painting and sculpture; the abstract and the figurative. "It is a picture, or better yet, the fiction of a picture", wrote the critic Giulio Carlo Argan, "a sort of reversed trompe l'oeil in which the picture no longer imitates reality but reality imitates a picture".

Still struggling to garner the approval of the Italian critics or public, Burri's fortunes received a welcome fillip from Lucio Fontana who was the first significant figure to endorse Burri's work by purchasing a piece from the same series. Indeed, in the 2000 exhibition, "Against Nature", featuring Burri, Fontana and Pierre Manzoni, New York's Sperone Westwater Gallery stated in their press release that the three men formed an informal group of Italian artists who were "searching for truth in new places" and that, between them, the men located this "truth" in "materials that came from urban and industrial refuse". It was "through these new materials - polyester, cotton fibers, cut canvas, burlap, glue, neon, glass etc. - [that] the canvas became a theatrical place where a new pictorial space could emerge".
Private collection
1955
Combustione legno (Wood combustion)
Artists such as the Anselm Kiefer had, like Burri, produced densely textured works that incorporated found organic materials (such as straw) and metals to create bleak and haunting war images. But whereas Kiefer was willing to directly address the legacy of Germany's recent history, and the ruins and debris which were the aftermath of the Second World War, Burri, despite his own first-hand experiences of that war, insisted that his art was purely formal and it was a misguided critic who searched his canvases for his attitude towards social or political matters. Burri stated of Combustione legno that "[f]or a long time I have wanted to explore how fire consumes, to understand the nature of combustion, and how everything lives and dies in combustion to form a perfect unity". With this in mind he produced his Combustioni legni which are made of wood veneer panels that the artist then transformed using an oxyacetylene torch. Under the flame of his torch, the material is aged and blackened to create something that feels somewhat sinister, like a forest at night or perhaps a door to an ancient dungeon.

Burri's flame has not only blackened, but warped the wood creating an undulating surface that reflects light unevenly. There are glimpses of the natural wood around the holes suggestive of wounds while also clearly conveying that the material has been acted upon by a destructive, more powerful, force. According to Sweeney, with the introduction of fire, the interaction between the artist and the material is laid bare in the image: Burri "plays in it: plays with the material he employs, allows them to play with him, to collaborate in the final expression, even to dictate some of the forms", he wrote. Braun adds that "Despite the precarious quality, and the fact that the material itself seems to crumble apart or want to fall away, it's held together structurally and visually by an underlying grid. The wood combustions really are the most ordered of all of Burri's series because he bought the veneer in sheets. Wood itself is solid and flat, and he builds the composition around that".
Private Collection
1967
Combustione Plastica: Sion, Le Couvent Des Capucins
One of his later additions to his Combustione Plastici is Burri's rhomboidal window for the Swiss convent, Couvent des capucins, situated in the pre-historic province of Sion. Built in 1631, the medieval building was re-designed by the Venetian architect Mirco Ravanne between 1962 and 1968. Because of Ravenne's involvement, the Brutalist project caught the attention of a number of experimental artists including Buri, Kengiro Azuma and Antoni Tapies. Ravanne already held works by Burri in his private art collection, and saw Combustione Plastica as a means of bringing a deep sense of reflective spirituality to the reconstructed convent.

Positioned in the apse where one traditionally finds an effigy of Christ on the cross, the plastic window sits above the candles that burn below it, giving the impression that they have burned the window. Despite the artist's insistence that his work was resolutely materialist - "Form and Space! Form and Space! The end. There is nothing else" being Burri's oft-quoted maxim - its presence in a convent cannot help but imbue the work with a profound spiritual resonance. The burned holes represent the wounds on Christ's body but the life-giving light that shines through them suggest a force for healing. The window thus symbolizes the Christian ideal of hope and rebirth. The convent's own online publicity suggests that "The uniqueness of this artwork lays in its inner paradox, i.e. in being in-between life and death, health and illness, optimism and nihilism. For all these reasons, Combustione Plastica stands out as a masterpiece that is profoundly conceptual but also pragmatically ground-rooted".
Plastic, Combustion on iron stretcher - Private collection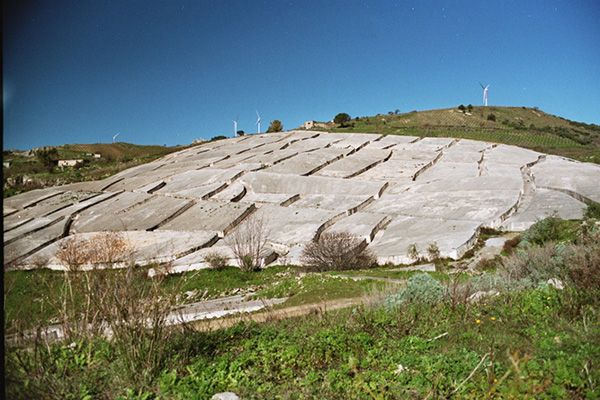 1985 - 2015
Grande Cretto Bianco (Cretto of Burri)
With the Grand Cretto Bianco, Burri created a sacred work of Land Art realized on the site of the lost Sicilian town of Gibellina. Originally an agricultural settlement dating back to medieval times, it was expanded in the late-fourteenth century by a Sicilian nobleman named Manfredi Chiaramonte and over the centuries grew to become home to a population of around 100,000 mostly poor, working families. On 15 January 1968, a devastating earthquake struck Sicily's Belice Valley, completely destroying the historic center of Gibellina and six neighbouring villages. The tremor claimed the lives of at least 200 locals, injured another 1,150, and left near on 100,000 homeless. While a new city was soon under construction about 20 km from the devastation, the ruins of the old Gibellina remained untouched. What was left was an abandoned site strewn with rubble, broken glass, twisted metal, broken toys, smashed cars, torn books and clothes, and all manner of other debris.

On the invitation of the mayor, Ludovico Corrao, Burri visited the new Gibellina with a view to creating municipal art works. Once he arrived, however, Burri observed that "the new city was nearly complete and full of new pieces" and asked Corrao if they might visit the site of the old town instead. On their arrival, Burri stated that he "almost felt like crying" before the idea came to him: "here I could do something ... This is what I would do: we compact the ruins - which are a problem for everyone - we reinforce them well, and with concrete, we create an immense white crack as a permanent symbol of what happened here". It proved an enormous (not to mention costly) undertaking and, with the full support of the mayor (sadly neither Burri or Corrao would see the work's completion), Burri enlisted the services of the Italian military and local construction companies who, between them, compacted the rubble and detritus and enclosed it in metal nets. The project, which began in 1985, was interrupted after four years, leaving close to a third of the surface area still uncovered. The completed structure was finally inaugurated on 17 October 2015; the centenary of Burri's birth.

At approximately 85,000 square metres, Grande Cretto Bianco remains one of the largest works of all landscape art; an indelible memorial that the curator Rita Salerno calls "the most beautiful slab of concrete in the world". Salerno explained that as a "piece of public art, the intent was to construct a communal identity for local residents and Italians as a whole, crafting a monument reflecting profound cultural and social values". It was under this initiative that Burri's structure, whose vast "cracks" invite visitors to wander amongst the entombed ruins, was complemented by the Great Cretto of Gibellina Museum ("the museum recovers, conserves, and communicates the memory of Gibellina") which opened in May 2019. The museum's "Assessor of Culture", Tanino Bonifacio, offered a fitting eulogy to Burri himself when he said of Grande Cretto Bianco, it is "a place for narration and knowledge where life once flourished, now conserving its memory: what was once a tabernacle of death, today welcomes a monument generating life".
Related Artists
Related Movements & Topics