Artists
René Magritte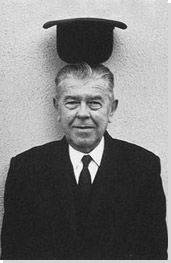 Born: November 21, 1898 - Lessines, Belgium
Died: August 15, 1967 - Brussels, Belgium

"Everything we see hides another thing, we always want to see what is hidden by what we see."

Summary
Surely the most celebrated Belgian artist of the 20th century, René Magritte has achieved great popular acclaim for his idiosyncratic approach to Surrealism. To support himself he spent many years working as a commercial artist, producing advertising and book designs, and this most likely shaped his fine art, which often has the abbreviated impact of an advertisement. While some French Surrealists led ostentatious lives, Magritte preferred the quiet anonymity of a middle-class existence, a life symbolized by the bowler-hatted men that often populate his pictures. In later years, he was castigated by his peers for some of his strategies (such as his tendency to produce multiple copies of his pictures), yet since his death his reputation has only improved. Conceptual artists have admired his use of text in images, and painters in the 1980s admired the provocative kitsch of some of his later work.
Key Ideas
Magritte wished to cultivate an approach that avoided the stylistic distractions of most modern painting. While some French Surrealists experimented with new techniques, Magritte settled on a deadpan, illustrative technique that clearly articulated the content of his pictures. Repetition was an important strategy for Magritte, informing not only his handling of motifs within individual pictures, but also encouraging him to produce multiple copies of some of his greatest works. His interest in the idea may have come in part from Freudian psychoanalysis, for which repetition is a sign of trauma. But his work in commercial art may have also played a role in prompting him to question the conventional modernist belief in the unique, original work of art.
The illustrative quality of Magritte's pictures often results in a powerful paradox: images that are beautiful in their clarity and simplicity, but which also provoke unsettling thoughts. They seem to declare that they hide no mystery, and yet they are also marvelously strange. As Magritte biographer David Sylvester brilliantly described, his paintings induce "the sort of awe felt in an eclipse."
Magritte was fascinated by the interactions of textual and visual signs, and some of his most famous pictures employ both words and images. While those pictures often share the air of mystery that characterizes much of his Surrealist work, they often seem motivated more by a spirit of rational enquiry - and wonder - at the misunderstandings that can lurk in language.
The men in bowler hats that often appear in Magritte's pictures can be interpreted as self-portraits. Portrayals of the artist's wife, Georgette, are also common in his work, as are glimpses of the couple's modest Brussels apartment. Although this might suggest autobiographical content in Magritte's pictures, it more likely points to the commonplace sources of his inspiration. It is as if he believed that we need not look far for the mysterious, since it lurks everywhere in the most conventional of lives.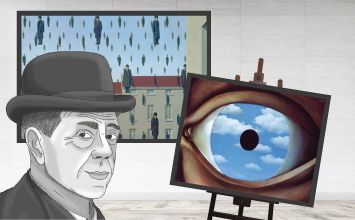 René Magritte was the eldest of three boys, born to a fairly well-off family. His father is thought to have been in the manufacturing industry, and his mother was known to be a milliner before her marriage. Magritte's development as an artist was influenced by two significant events in his childhood; the first was an encounter with an artist painting in a cemetery, who he happened across while playing with a companion. Magritte later wrote, "I found, in the middle of some broken stone columns and heaped-up leaves, a painter who had come from the capital, and who seemed to me to be performing magic." The second pivotal event was the suicide of his mother in 1912 when Magritte was 14. According to the apocryphal account, Magritte was present when her body was fished out of a river, her face covered completely by her white dress. While current scholars believe this to be no more than a myth propagated by his nurse, the image of a head uncannily concealed by a contour-hugging cloth reoccurs throughout the artist's oeuvre.
Influences and Connections
Influences on Artist
Artists, Friends, Movements
Influenced by Artist
Artists, Friends, Movements

Interactive chart with René Magritte's main influences, and the people and ideas that the artist influenced in turn.
View Influences Chart

Artists

| | |
| --- | --- |
| | Giorgio de Chirico |
| | Max Ernst |
| | Jean Metzinger |
| | Fernand Léger |
| | André Breton |

Personal Contacts

| | |
| --- | --- |
| | Paul Eluard |
| | Edward James |

Movements

| | |
| --- | --- |
| | Impressionism |
| | Futurism |
| | Cubism |
| | Purism |
| | Surrealism |

Influences on Artist

René Magritte
Years Worked: 1915 - 1967
Influenced by Artist

Artists

Personal Contacts

| | |
| --- | --- |
| | Paul-Gustave van Hecke |
| | E. L. T. Mesens |
| | Paul Nouge |

Movements

| | |
| --- | --- |
| | Pop Art |
| | Conceptual Art |
| | Appropriation Art |
If you see an error or typo, please:
tell us
Cite this page

Content compiled and written by Sophia Powers
Edited and published by The Art Story Contributors
" Artist Overview and Analysis". [Internet]. . TheArtStory.org
Content compiled and written by Sophia Powers
Edited and published by The Art Story Contributors
Available from:
First published on 01 Aug 2012. Updated and modified regularly.


[Accessed ]