The 7 Most Important Modern Artists
This timeline details the top 7 works in Modern Art. The Art Story has developed interactive timelines that show the progression of Modern Art. They aim to educate and introduce topics using technology and the interactive capabilities of the web. Please visit this page on your desktop computer to see this timeline.

This elite group of artists represents the true giants who changed the course of modern and contemporary art. Whether they were recognized during their lives or ahead of their time, their legacies can be traced through countless followers, emulators, and admirers.
Claude Monet

Vincent Van Gogh

Pablo Picasso

Marcel Duchamp

Salvador Dalí

Jackson Pollock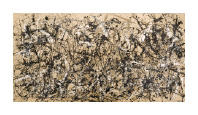 Andy Warhol