Progression of Art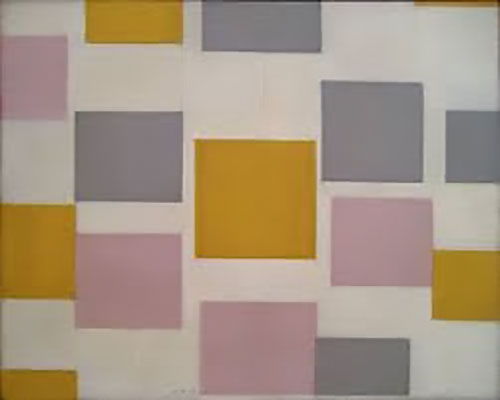 1917
Composition with Color Planes 5
By 1917, Mondrian had abandoned any allusions to representations of nature, and this work is among the first group of paintings to embody the ideas that he put forth in "Neo-Plasticism in Painting," published in the same year. In previous work, like Pier and Ocean (1915), Mondrian used only black and white lines on a white background to depict a very abstracted landscape. According to Mondrian, "Vertical and horizontal lines are the expression of two opposing forces; they exist everywhere and dominate everything; their reciprocal action constitutes 'life'."

The ochre, mauve, and grey rectangles cover the surface of the painting in an asymmetrical fashion, subverting the regular grid format. While the rectangles seem to float above the white background, close inspection reveals that the "background" itself consists of painted white rectangles. Without inscribing lines on the painting, these white rectangles of varying size hold the others in place. Mondrian wrote to a friend that paintings similar to this one "represent a development which I believe offers a better solution for color planes against a background. As I painted, it gradually became clear to me that for my work color planes set against a solid field do not form an entity." By setting the colored blocks amidst white ones, Mondrian created a tightly interlaced, united composition.
Oil on canvas - Museum of Modern Art, New York
1918
Composition
In this geometric abstract work, six rectangles in varying sizes are depicted in pairs of primary colors - red, blue, and yellow - against a white background. Two short horizontal lines float at the upper right and lower left corners, and three short lines create a broken diagonal from the lower right to upper left corners.

This work is one of Van der Leck's few completely abstract paintings. Prior to meeting Mondrian in 1916, his work included figurative elements, but in the following association with Mondrian, he began using line and geometric form to create abstract works. He was one of the co-founders of the magazine, De Stijl, and for a time collaborated with the group. Eventually, he came to disagree with Mondrian and the others about the representational aspects of art. Van der Leck used the geometrical elements of Neo-Plasticism to create recognizable images, as can be seen in his Man te paard (The horseman) of 1918.

It is possible that even this abstract composition could have begun as a vase of flowers on a table, but after deconstructing the image to its most elemental forms, we are left with a seemingly abstract configuration of shapes and lines. Notable is the use of the diagonal in the line segments dividing the canvas, and the placement of rectangles to resemble diamond shapes. As a result the overall effect is that the color rectangles create a kind of implicit shape on the canvas, the suggestion of an underlying reality, outlined with a minimalist vocabulary.
Oil on canvas - Tate Modern, London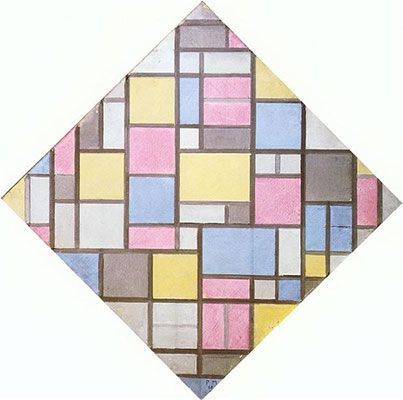 1919
Composition With Grid VI
Mondrian turned his usual square format on its edge to produce a diamond-shaped canvas, creating one of the first "lozenge paintings," as he called them. After a period of time when he abandoned line to work only with geometric shapes of color, Mondrian reintroduced line again in 1918 as he continued to develop Neo-Plastic ideas with his fellow artists Theo van Doesburg and Bart van der Leck. Subsequently, he made a number of rhomboid paintings like this one, composed of a grid of rectangles, divided by black lines and painted in rose, grey, yellow, and white.

For Mondrian, the right-angle meeting of lines and planes was crucial for conveying the equilibrium of contrary forces, but he was willing to experiment with whether the same equilibrium could be found in the meeting of diagonals. Art historian Carel Blotkamp suggests that Mondrian painted the composition oriented as a square so that all of the lines would have been diagonal, but after further discussion and consideration with his colleagues, Mondrian reoriented the painting so the lines would be vertical and horizontal.

Heavy black lines divide some of the rectangles, but other lines are lighter, creating an impression of translucent color, and conveying a sense of shallow, not illusionistic, depth on the surface of the canvas. Mondrian said that the lozenge paintings were all about "cutting." The diagonal edge of the diamond-shaped canvas cuts through the vertical and horizontal lines, in effect cropping the composition. The viewer can imagine the grid continuing beyond the edges of the canvas onto the surrounding space, thus suggesting the underlying unity of the world.
Oil on canvas - Kröller-Müller Museum, Otterlo, Netherlands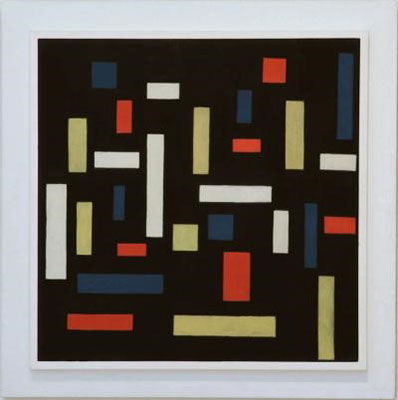 1917
Compositie VII: 'de drie Gratien'
Composed of rectangles of varying sizes and shapes in primary colors and white, Mondrian's Neo-Plastic influence is evident in this early work by van Doesburg. Distinctively, however, he uses a black background, instead of Mondrian's white, and retains an element of the representational, not only in his title, referring to the "Three Graces" of Greek myth, but in the arrangement of the shapes and colors to suggest the motif of the three dancers.

Van Doesburg valued dance, seeing it as ideal form of expressive art that linked to his interest in Hindu spirituality. Unlike Mondrian's strict abstractions, this painting is more expressive. The black background provides a dynamic contrast to the short and long rectangles, creating a sense of movement and rhythm.
Oil on canvas - Mildred Lane Kemper Art Museum, Washington University in St. Louis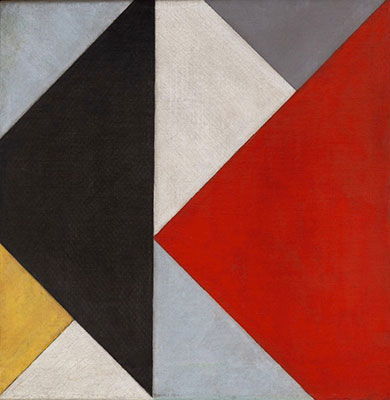 1925-26
Contra-Compositie XIII
Theo van Doesburg here created an all-over, dynamic composition with a number of triangles, painted in red, yellow, black, white and grey. Around 1924, van Doesburg began painting what he called his Counter-Compositions to reflect his theory of Elementarism. Feeling that Neo-Plasticism was too static, he wanted to create more dynamic works, using diagonals placed at 45 degree angles. His ideas caused a rift in his friendship and working relationship with Mondrian in 1925.

The diagonals of the triangles create aggressive intersections, but not all of the triangles are whole, leading the viewer's eye to follow the diagonals off the painting's edge to complete the shapes. While van Doesburg adhered to the Neo-Platonic tenet of "peripheric" composition, which puts the focus on the edges of the canvas instead of the center, his decentered arrangement of forms does not create an equilibrium. Instead, the off-centered edge of the large black triangle and the intersecting point of the red triangle create a constantly shifting sense of balance.
Oil on canvas - Guggenheim Museum, New York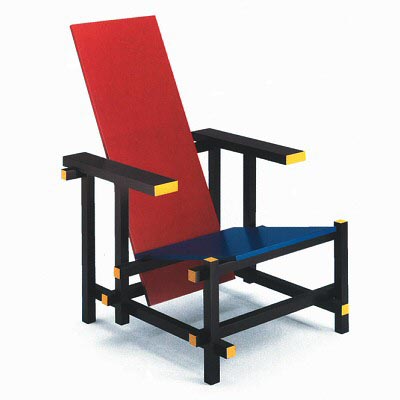 c. 1923
Red and Blue Chair
This chair, designed in 1918 and painted with bold primary colors in 1923 was one of the first instances of Neo-Plastic ideas translated into three dimensions. Its cleanly jointed horizontal and vertical planes make the chair seem to float.

Rietveld hoped to eventually mass-produce the chair and so employed standard sizes of lumber for its construction. He had originally been a cabinetmaker, but as an early member of De Stijl, he began designing furniture, starting his own furniture making company and going on to become an architect. For this work, he developed a new type of joint (now called the "Rietveld joint") that uses dowels so that the vertical and horizontal planes seem to exist independently.

When Bart van der Leck recommended the use of bright primary colors in 1923, Rietveld remade the chair with thinner pieces of wood and then painted it black, red, yellow, blue, and red. In the Schröder House, where the chair was placed against the house's black walls and floors, it seemed to disappear, except for the floating color rectangles. Rietveld was less concerned with the physical comfort and more interested in new forms of furniture to create a sense of spiritual harmony and social order.
Painted wood - Auckland Museum, New Zealand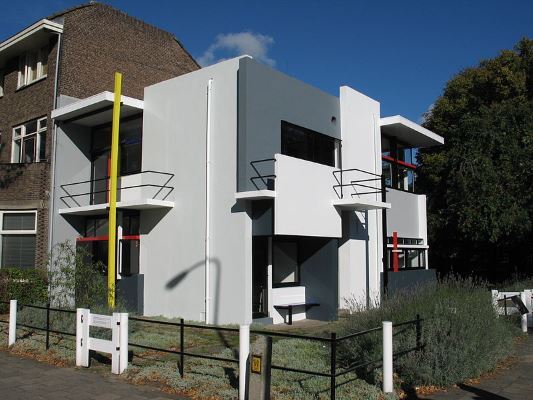 1924
Rietveld Schröder House
The best-known representation of De Stijl architecture, the Rietveld Schröder House embodies Neo-Plastic form and utopian aspirations. Using lines and planes painted in primary colors, white, black, and grey, Rietveld created an asymmetrical composition in which the interior and exterior of the house are unified.

Rietveld designed and built the home for Mrs. Truus Schroder, a widow and mother of three, whose ideas also shaped the design. Disliking the architect's initial design, she envisioned a space that was endlessly transmutable with walls and partitions that could be moved depending on the time of day and other needs. Additionally, the large windows along with the overlapping planes of the facade that created many balconies allowed the inside and outside to flow together. Schroder "wanted to live in the active sense and not be lived;" that is, she didn't want the activities of raising her children to be confined and determined by the house's structure.

The variety of building materials gives the home visual texture, and the house makes no attempt to blend into the city block. Its innovation is immediately apparent compared to the surrounding structures. Mondrian's goal for Neo-Plasticism was to transform society. He stated, "The pure plastic vision should set up a new society...a society composed of balanced relationships." To this end, the Rietveld-Schröder house is a "pure plastic vision" designed to be the cornerstone of a new vision of society, in which individuals were free to make choices about how they lived and moved in their environment.
Bricks, plaster, concrete, wood, steel girders, iron mesh - Utrecht, Netherlands
1926-27
Ciné-dancing (cinema-dance hall; also called Grande Salle or Ciné-bal) in L'Aubette
Walking into the Ciné-dancing hall, designed by Theo van Doesburg, one feels enveloped by one of the artist's Elementarist paintings. A grid of variously colored, diagonally inclined relief panels covers the walls and ceilings. These diamonds juxtaposed with the rectangular partitions between the booths, the windows, and the doors, create a visual tension in the space.

Van Doesburg, along with the Dadaists Jean Arp and Sophie Taeuber-Arp transformed the spaces of the 18th-century Aubette building in Strasbourg after receiving a commission to redesign the interior of the Cafe L'Aubette, a large area that would include a cinema, dancehalls, and a restaurant. Believing in gesamtkunstwerk, the idea of a completely integrated art that carries over into all aspects of daily life, van Doesburg also designed the lettering for the building's various signs and even the ashtrays. This room embodied the new principles of Elementarism that van Doesburg had recently articulated.

The dynamic tension created between the interior's horizontal and vertical design and the painted diagonals suggest a modern liveliness befitting the space's function as a dance hall. The integration of space, color, and movement attests to van Doesburg's desire to merge architecture and painting in order to create a utopian society. Unfortunately, the public did not take to van Doesburg's radical new space, and the artist quickly modified it.
Place Kleber Strasbourg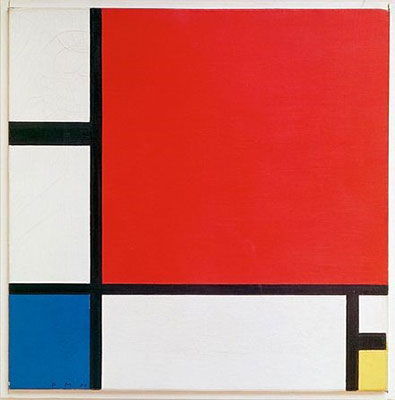 1930
Composition with Red Blue and Yellow
This minimal composition of thick black lines separating rectangles in varying sizes of pure primary colors and white, exemplifies Mondrian's mature Neo-Plastic style. Reducing the color palette to red, blue, and yellow and contrasting vertical and horizontal lines, Mondrian intended to depict "absolute reality" as a balanced relationship between contrasting forces.

The lines, cut off by the canvas' edges, implicitly extend beyond it, as do the colors of the rectangles. Upon closer examination, the lines themselves are of varying thickness, making them less like outlines and more like smaller counterparts to the abutting planes. This asymmetry of planes, creating an irregular grid, evokes a balanced tension. Despite the simplicity of the composition, the surface of the painting is not without visual interest, with glossy black lines next to the more thickly painted white rectangles with ever-so-slightly visible brushstrokes. Mondrian created relationships between forms, colors, and textures, which he ultimately understood to underlie the harmonious relations between people, objects, and their environment.
Oil on canvas - Kunsthaus Zurich, Switzerland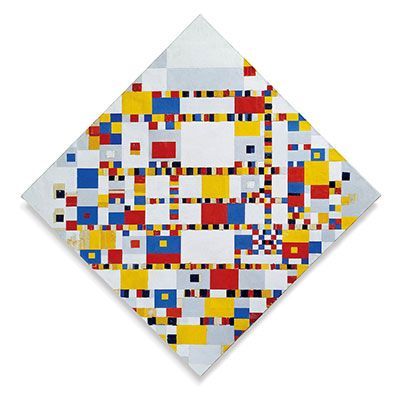 1942-44
Victory Boogie Woogie
Unfinished at the time of his death in 1944 and posthumously titled, this dense, brightly colored painting embodies Mondrian's love of New York City and American jazz, which he experienced at the end of his life. Jettisoning black lines and returning to the diamond-shaped support, Mondrian built up a composition of smaller and larger planes of primary color that creates a dazzling, even dizzying, sense of movement that contrasts with his previous, more austere canvases.

Mondrian made this work by first creating a grid of uniform, color lines that he subsequently divided with other planes of color. In the 1940s, Mondrian began using strips of colored tape to adjust and recompose his works. At one point he felt this painting was finished, but then unhappy with the result, he began using the colored tape, which is still in place on the canvas, to modify parts of the composition. While still not satisfied with his resolution, Mondrian wrote to the art historian James Johnson Sweeney in 1943 explaining that he felt he had landed upon new compositional possibilities with the destruction of lines.

With its lozenge form and its over 600 planes of color, the work is incredibly dynamic. The overall effect is of a vital and energetic multiplicity, a sequence of constantly varying relationships that conveys a sense of infinite possibilities within the (altogether finite) limitations of the pictorial frame.
Oil, tape, paper, charcoal and pencil on canvas - Gemeentemuseum Den Haag (The Hague), Amsterdam, Netherlands
Similar Art
Related Artists
Related Movements & Topics