Progression of Art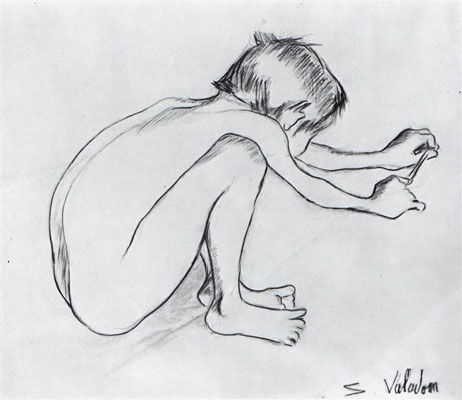 1895
Maurice Utrillo Playing With a Slingshot
As in all of her early drawings, Valadon develops a signature dark outline to her subjects. Unlike other women artists at the time Valadon rejected examples of a light and feathered "feminine" brushstroke, and instead experimented with bold and definitive lines, more typically considered to be "masculine". Indeed, the style and energy of Valadon's mark making is most comparable at this point with the work of Egon Schiele. Like Schiele, Valadon was driven by passions from within - an energy and life force. Her initial works are observational, drawings of the scenes that were around her at the time, and in this case the subject is her son.

Depicting one's children is an interesting way for a woman to combine two roles that are often considered incompatible, that of being a mother and an artist. Kathe Kollwitz did a similar thing and since Valadon, more and more women have drawn, painted, and photographed their children as a way to be artists and at the same time care for their children and maintain domestic balance. Alice Neel painted both her children and grandchildren as available models and thus as a practice born of necessity. What is revealed is very interesting because the genre of portraiture is generally transformed, no longer a vehicle to communicate status and wealth, but rather an opportunity to reflect on identity and the workings of human psychology.
Crayon and paper - Private Collection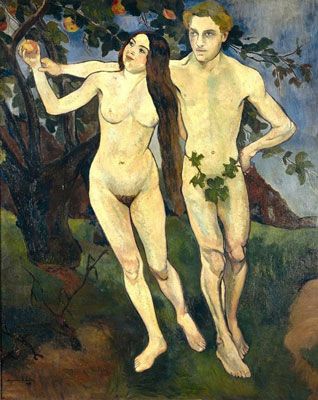 1909
Adam and Eve
This painting was made during a highly productive period for Valadon when she had just met the young André Utter. She had fallen in love again and as such felt a surge in creativity and began to paint rather than draw much more. The nearly life-sized painting depicts Valadon as Eve and Utter as Adam, the original lovers in the paradise of the Garden of Eden. The painting was originally completed without the leaves covering Utter's genitals, but they were added later in order to avoid scandal and to enable exhibition of the work in the Salon of 1920.

This was the first painting in which Valadon placed her subjects in an outdoor rather than interior setting. It was also the first painting exhibited by a female artist to show a nude man and woman together, and not merely any man or woman, but the artist and her lover (albeit in the guise of religious art). As Hewitt writes, "For a woman to paint a nude heterosexual couple showed extraordinary daring; it was simply not done." The piece was audacious on a personal level too. The figures poised on the precipice of sin, with Eve/Valadon reaching for the apple, their naked bodies already entwined. Valadon may be referencing her own relationship here - that of an older woman and much younger man - he as the forbidden fruit, and she, with the confidence to take him. Overall, the painting makes the fact that people fall in love and have sex a much more public and real idea than convention at the time. This is not an ideal fantasy, even though presented in a biblical guise; the painting speaks of the meeting of fleshy bodies in a way that prior to this was unheard of.

With the classical pose and luminous sky set against the dark trees, the painting echoes paintings of the same theme done in the early 1500s of Lucas Cranach the Elder, copies of which were readily available to Valadon. There is no serpent in Valadon's painting, though, and the figures seem weightless, appearing to be floating together. According to Hewitt, "The couple, Suzanne confessed, were caught in a timeless paradise and they were both responsible for their sin." This began a prolific period for Valadon, in which she started to paint more than draw, and to produce more paintings of nudes.
Oil on canvas - Centre Pompidou, Paris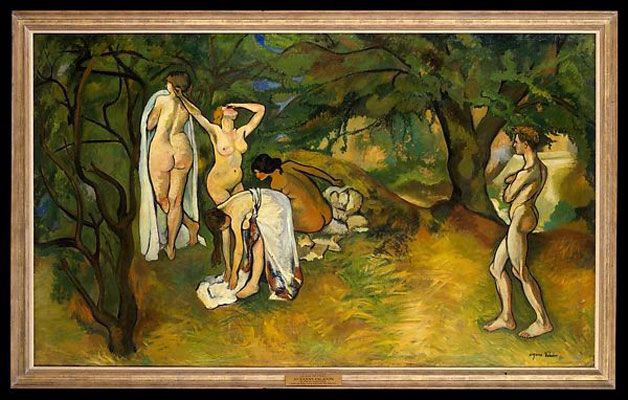 1911
Joy of Life
This is an interesting painting in that it recalls similar scenes by the likes of Cezanne and Matisse. Indeed, bathers in nature or nudes in a landscape has been a time-honored theme for artists, from ancient Greece to 20th-century Paris and beyond. Titian, Renoir, and Paul Gauguin have also painted such a scene and Valadon was familiar with all of these precedents. The main difference in Valadon's picture stems from her inclusion of the male figure to the side, for which her lover, Andre Utter, was the model. There is a sense once again that this painting seeks to demystify sex and attraction. Previously women in such scenes were portrayed languidly displaying themselves without the pointer as to where and to what the sexy poses would lead. Here there is no mistaking that what we are dealing with - desire, libido, and sex. This is not a painting about fantasy or flirtation, but about the physical yearning for sexual connectivity, importantly experienced by both men and women.

Professor and art historian Gill Perry writes in The Concise Dictionary of Women Artists, "These female figures seem strangely separate from each other, from the male viewer and from the nature that surrounds them. Far from evoking a utopian harmony of woman and nature suggested by, for example, Matisse or Gauguin, Valadon's robust and sharply outlined women suggest a more ambiguous, dislocated relationship with both nature and the male spectator."
Oil on canvas - Metropolitan Museum of Art, New York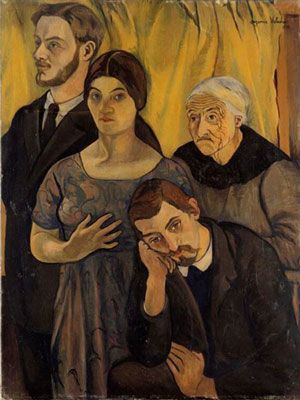 1912
Family Portrait
Here Valadon presents her new and unconventional family having recently moved in with André Utter, whilst still living with her aging mother and notoriously temperamental son, Maurice. Maurice is depicted at the forefront of the canvas in a typical artist/thinker "head in hands" pose. Valadon though is at the center and gestures towards her chest, as though saying to the viewer that now women are making art there is a new way to be the archetypical "artist"; this way is to work from the heart, from the breast, and in other words from a starting point of connectivity and love (not "from the prick" as Renoir was famous for saying). Indeed, Valadon takes on a similar pose to Mary in Virgin and Child masterworks of the Renaissance, therefore subtlety highlighting the heroic powers of motherhood. Valadon stands as the central, strong protagonist in the work.

Whilst the style of painting recalls works being made at a similar time by Vincent van Gogh and more closely, by Paul Gauguin, with Maurice even resembling Gauguin in his own self-portraits, in terms of subject - The Family, and the passage of time through generations and aging – there is an interesting parallel to be made with the Austrian Expressionists, namely with Gustav Klimt and Egon Schiele who both repeatedly depicted small family groupings. What is amazing in this painting by Valadon though, and what is not the case in the traditional father, mother, child triad depictions of family by Klimt and Schiele, is that Valadon subverts traditional expectations. Looking forward to contemporary days, Valadon shows that all combinations of love are possible and that family union can be eclectic and unexpected. She later produced another version of her "family" in which Utter does not feature, but her dog is depicted alongside her mother and son.
Oil on canvas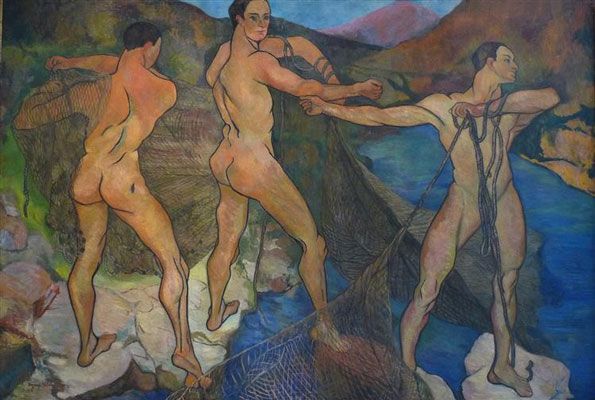 1914
Casting the Net
Completed whilst passionately entwined with the much younger Utter, and in the year that the lovers could finally marry, Casting the Net reflects the states of joy and pleasure that Valadon was experiencing at this time. It is a revolutionary painting even more brazen than previous works in its blatant disregard for societal conventions. The painting depicts three male nudes, whilst the artist – a woman – here has become the voyeur. It is a huge painting, with the figures painted practically life-sized, muscular, all in various poses in the process of casting fishing nets. Utter modeled for the work, while Valadon painted, a very unusual set up for the time.

The scene reminds the viewer of a homoerotic picture by Christopher "Kit" Wood of the same subject, Beach Scene with Bathers, Pier and Ships (1925) and thus confirms that men hauling nets is a particularly sexy event to watch. Valadon seeks to make very clear in this picture that she too experiences pleasure when looking at the male body. In a total reversal of traditional gender roles, the men are objectified whilst the female viewer looks on in fantasy and delight. It becomes almost comical that the rope covers the penis, much like the leaf for Adam in the previous painting and this was likely done so that Valadon would be able to exhibit the work in the 1914 Salon d'Automne.
Oil on canvas - Centre Pompidou - Musée National d'Art Moderne, Paris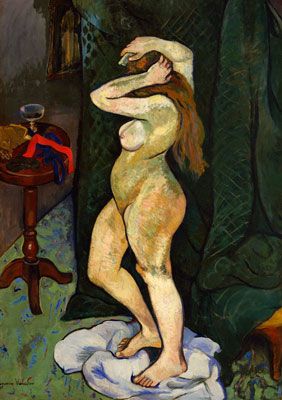 c. 1916
Nude Arranging Her Hair
Here Valadon paints a nude at her toilette, the most common subject of her friend and mentor, Edgar Degas. Valadon's depiction however does not have the same frills of femininity, neither the same pastel palette, nor the light feathered brushstroke as her "master" (perhaps a term that Valadon coined for her friend with tongue in cheek intention). Valadon's woman is burly and strong, reminiscent of a tree in her rootedness to the ground. The bright red ribbon strewn over the circular table is a symbol of experience and acknowledges that we are looking at a woman who is no stranger to life and lust.

Valadon often painted women engaged in mundane, everyday activities. This woman is probably Valadon's housekeeper, Gaby, who worked for Valadon during World War I, and who often modeled for her. Like Alice Neel would also go on to do, Valadon often painted her friends, family, and acquaintances; she painted female nudes throughout her career, as well as male nudes, and nude self-portraits. According to the National Museum of Women Artists description, Valadon was one of only a few women artists during the first half of the 20th century whose primary subject was the female nude. Unlike male representations of women, her paintings of women are unidealized, catering neither to the desires of the male viewer, nor to the vanity of the model, herself, and thus the "nude" always also becomes a "portrait" in the work of Valadon, not only some flesh to be laid eyes upon.
Oil on canvas board - National Museum of Women in the Arts, Washington, D.C.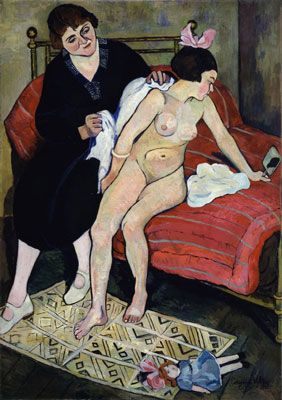 1921
The Abandoned Doll
This is a profound and wonderful painting of a subject otherwise rarely depicted, that of the onset of puberty for a growing girl. Here we are granted privileged insight into the moment of the awkward transition from girl to woman, when the body has matured before the mind has had the chance to catch up; the result is confusion and frustration whereby the figure is caught between an old doll and a new hand mirror. This is a subject not really picked up again in the trajectory of art history until the work of Balthus when the meaning and overall rendering of the subject is very different because expressed from a male viewpoint.

The figures are Valadon's niece and the girl's mother, one of two paintings that Valadon did of the duo. According to professor and art historian Nancy G. Heller, "Avoiding the voyeuristic aspect of so many female nudes painted by men, Valadon gives viewers a compassionate glimpse of an intimate moment in a young girl's life." As Delese Wear and Lois LaCavita Nixon maintain in Literary Anatomies: Women's Bodies and Health in Literature (1994), "One has the future before her, while the other is moving toward decline and aging. Valadon's representation of this reality is beautifully portrayed and quickly identified by men and women alike as an integral part of the human experience. Until Valadon and other renegade artists and writers, personal stories about life stage realities had been omitted or excluded from the creative canon."
Oil on canvas - National Museum of Women in the Arts, Washington, D.C.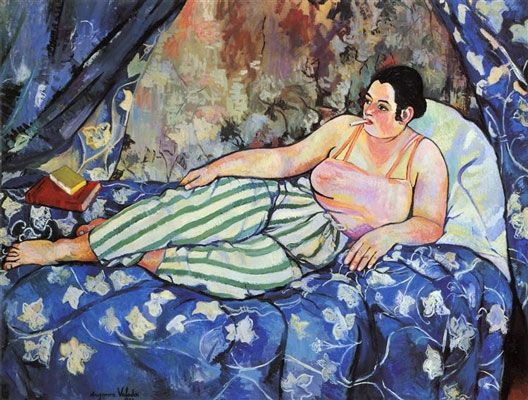 1923
The Blue Room
The Blue Room is one of Valadon's most famous paintings. Valadon portrays herself as a full-figured, voluptuous, intelligent woman and artist, lounging on an inviting daybed with books close at hand. She is wearing loose green and white striped bottoms, and a salmon pink camisole top that blends with the warm tones of her skin, almost as if she is suggesting nudity, but intentionally is not. A cigarette dangles from her mouth as she gazes off to her right seemingly lost in her own thoughts. Her right arm rests on her hip, and the other casually props herself up against a pillow. She has an air of authority at this point in her career and an overall commanding appearance. The painting shows how relaxed Valadon has now become, both with her own body and with her artistic talents.

Valadon's pose is based on art historical precedents and as such makes the canvas particularly significant. It is reminiscent of classical Renaissance nudes, such as Titian's Venus With an Organist and Cupid (1549), which idealized the female body as primarily seductive. The painting is also, and more interesting in comparison, similar to Edouard Manet's 1863 painting, Olympia. The composition is very similar but once again Manet's female nude is sexually available, whilst Valadon is self assured and content with a strong sexuality that makes up only part of a much more complex and multi-faceted character. She is a post-World War I, modern, working-class woman who dresses as she pleases - even wearing pants and smoking, traditionally male activities - and furthers her intelligence through reading.

Valadon's mastery of color and form in this picture is exquisite. Whilst the blue and white floral fabric in the foreground is reminiscent of the work of Matisse and Gauguin, the sheet in the background is much more loosely and suggestively rendered, so much so that it becomes entirely abstract and as such acts as a precursor to future artistic directions.
Oil on canvas - Centre Pompidou - Musée National d'Art Moderne, Paris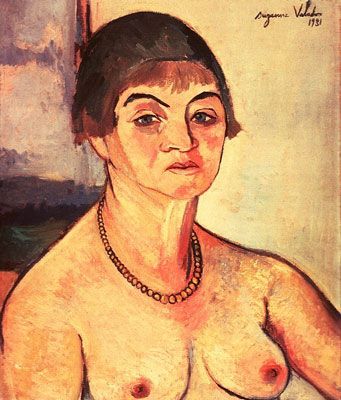 1931
Self Portrait with Naked Breasts
This self-portrait by Valadon is remarkable in that it unites two previously separate genres, the nude and the self-portrait. There is only Paula Modersohn-Becker who had done this before her in Self Portrait on my 6th Wedding Anniversary (1906) in which the artist, interestingly, also wears nothing but a necklace. Both are iconic self-portraits, extremely realistic and honest. Whilst Modersohn-Becker was young when she painted herself bare-breasted however, Valadon here is aging, and therefore as in her work on the representation of puberty, she once again highlights an important but nevertheless overlooked aspect of the journey through womanhood. Alice Neel did a similar self-portrait in 1980 when she was 75, and the English painter, Jenny Saville, would also go on to focus on bigger, "non-idealized" bodies. Like Valadon, both Saville and Neel recognize that it is the wrinkles and the sagging flesh that make a body interesting; they give a body life and proof of its journey.

It may have been because of Valadon's extensive experience as a model, as well as an artist drawing from the nude, that she really did understand that every body was different and to highlight this was, in many ways, the strength of the portrait genre. Valadon made two self-portraits showing at once her naked breasts and her signature look of seriousness, one at age 59 and then this one at age 67. It was remarkable to do this at this time, and still today for that matter; Valadon asserts her own view of her own body, not restricted by youth, and still active, present, and working well into later life. Indeed, in this picture Valadon entirely ruptures an ideal: whilst previously nudity had signified sexual availably, Valadon's nude is much more about identity, about painting the self uncovered and unrestricted in order to further and strengthen one's own personal development (and possibly to inspire others to do the same).
Oil on canvas - Collection Bernardeau, Paris
Similar Art
Related Artists
Related Movements & Topics