Artists
Marie Bracquemond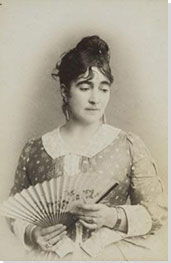 Born: December 1, 1840 - Argenton-en-Landunvez, France
Died: January 17, 1916 - Sèvres, France

Summary of Marie Bracquemond
Despite being referred to as one of "les trois grandes dames" (the three great ladies) of the Impressionist movement by the famous French art historian, Henri Focillon in 1928, the work of Marie Bracquemond was somewhat obscure until at least the 1980s. A good deal of what we know about her comes from a brief biography that Pierre, her only child, wrote about his artist parents, Felix and Marie. In contrast, it was her husband, the evidently domineering Felix who resented her career and loathed the Impressionist style, who played a significant role in downplaying the importance of Marie Bracquemond in the larger context of the Impressionist movement.

Nevertheless, she persisted in developing her apparently prodigious talent, incorporating en plein air painting techniques of her youth into her professional regimen while working with some of the most notable artists of the period such as Claude Monet and Edgar Degas and, later on, Paul Gauguin. Gradually, Bracquemond established her own distinctive, colorful approach to the style and she was rewarded with invitations to exhibit her work, including at the Impressionist exhibitions in 1879, 1880, and 1886.
Key Ideas
Bracquemond began her career as an academic painter whose polished,
Realist
style had far more in common with the anachronistic work of Salon-approved artists like Cabanel, Regnault, and Gérôme than emerging
avant garde
painters like Monet and Degas. However, after having met the latter two, her style began to change dramatically as she absorbed the precepts of Impressionism and by the 1880s her painting could only be described as fully Impressionist.
Bracquemond is known for having been something of a recluse, particularly as she aged. While earlier in her career, she enjoyed going out and painting en plein air like most of her Impressionist colleagues, by mid-career, many of her paintings were made in the garden of her home in the southwestern Parisian suburb of Sèvres.
Her work after 1886 began to change with her palette becoming increasingly more vibrant. This transformation was due in large part to Bracquemond having met Gauguin in 1886. The two were introduced by Felix, who had befriended the then-impoverished, budding new artist. At Gauguin's encouragement, Bracquemond enhanced her relatively subdued Impressionist palette so that it became much brighter, all of which was ironic given that her husband took exception most of all to her use of color, preferring printmaking in black in white to his wife's chosen medium of oil painting.
Marie Bracquemond Artist Overview Page: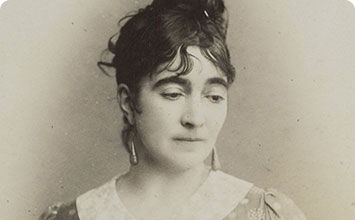 This is a mini-page that we designed for artists that are harder (or maybe impossible) to find detailed information on. If you would like us to put in a significant effort to build more information into this page, please comment. Thank you
Important Art by Marie Bracquemond

The below artworks are the most important by Marie Bracquemond - that both overview the major creative periods, and highlight the greatest achievements by the artist.

Woman in the Garden (1877)

Artwork description & Analysis: Bracquemond's Woman in the Garden reveals her roots in academic painting. In 1859, she was accepted as a pupil to the legendary painter, Jean-Auguste-Dominique Ingres. Despite learning a great deal from the French master, she reflected later that she had feared his stern nature and observed that Ingres treated his female students differently in some ways than his male students. She wrote: "The severity of Monsieur Ingres frightened me...because he doubted the courage and perseverance of a woman in the field of painting... He would assign to them only the painting of flowers, of fruits, of still lifes, portraits and genre scenes." That aside, the important art critic, Philippe Burty, referred to Bracquemond as "one of the most intelligent pupils in Ingres's studio."

Bracquemond's early portraits are examples of academic Realism. Here, a female sitter, the artist's sister, Louise, who modeled frequently for her, is perched on a garden chair. The ruffled train of her white gown spills into the space between the prim young woman and the viewer. Her delicate hands, which rest on the back of the chair, are perhaps those most emphatic references to Bracquemond's teacher, Ingres. The tips of her graceful fingers are refined nearly to points, as was the practice of Ingres, famous for his usually fairly subtle, elegant distortions of the human figure.

Louise is framed by the deep green of the lush garden setting behind her. In this painting, probably produced at least half a decade after Bracquemond left Ingres's studio, the artist is still using the somewhat refined brushwork of her early, pre-Impressionist career. Another painting, The Woman in White, closely resembles this painting both in style and subject matter. In fact, the "Lady in White" or "Woman in White" became a popular theme for the Impressionist painters.

Throughout her career, Bracquemond continued to produce works of art, from drawings and prints to finished paintings, within a somewhat restricted range of subject matter: domestic scenes, portraits, landscapes, and still lifes. These were standard themes for the women Impressionists, whom, because of their gender and class - all of them middle- or upper-class women - were restricted in terms of what and where they could paint. For instance, it would not have been appropriate for a woman artist in the 19th century to paint a nude, whether male or female. "Proper" women could not move about the modern city unaccompanied, so the women Impressionists were unable to produce the kind of genre scenes that became common fare with many of their male colleagues such as lively scenes at bars and dances.

Oil on canvas - Private collection

Afternoon Tea (The Snack) (c. 1880)

Artwork description & Analysis: By the 1880s, Bracquemond had met Monet and Degas and had begun to incorporate the loose brushwork and wistful, muted, light-infused palette of Impressionism - much to the dismay of her printmaker husband, Félix, who was famously contemptuous of the Impressionist style.

Here, Bracquemond has once again represented her sister, Louise. Attired in white once more, the young woman no longer looks directly at the viewer but is instead absorbed in reading a book. Seated at a table on the garden terrace of the artist's home, Villa Brancas in Sèvres, Louise reads while taking a cup of tea and a plate of grapes.

While the theme is typical, the style marks a dramatic departure from Bracquemond's academic treatment of such a scene. Less a portrait than a genre image, the feathery brushwork and sunlight-dappled surface of the picture, situates Afternoon Tea soundly in the Impressionist style for which she is best known. This painting is, incidentally, one of the rare ones that is in a public collection.

Oil on canvas - Petit Palais, Musée des Beaux-arts de la Ville de Paris

The Umbrellas (1882)

Artwork description & Analysis: Just as her husband, Félix, had drawn Bracquemond into the decorative arts via his role as art director at the Haviland porcelain shop, so he apparently strongly encouraged her to apply her talent as an accomplished draftsperson to printmaking. In particular, etching was his favored form of printmaking and, under his instruction, she excelled. According to her son, Pierre, however, Bracquemond found printmaking far too restrained both because of its typically small format and also because she preferred working with color.

The Umbrellas is one of Bracquemond's most successful etchings, clearly demonstrating her skill at drawing as well as at conceiving of successful compositions that exploited the range of gray tones that etching could produce. Here a young woman attempts to sell flowers to a well-to-do, top-hatted gentlemen who apparently scurries past her in an attempt to escape the rain and wind, which is described by the light diagonal lines sweeping across the image. He holds onto his hat and the viewer is left to wonder why he hasn't raised his umbrella like the other pedestrians in the image.

Bracquemond, like many of her Impressionist colleagues, cropped her images so that they resembled photographs, lending them a spur-of-the-moment sense of immediacy. Because of the cropping of the man in the foreground, there is an added urgency: the viewer feels crowded, compelled to step aside and allow him to pass.

The lively composition pulls the viewer in, past the fleeing man to the cluster of umbrellas, up the stairs, and into the excitement of the modern city.

Etching - Musée d'Orsay
More Marie Bracquemond Artwork and Analysis:
If you see an error or typo, please:
tell us
Cite this page

Content compiled and written by The Art Story Contributors
Edited and published by The Art Story Contributors
" Artist Overview and Analysis". [Internet]. . TheArtStory.org
Content compiled and written by The Art Story Contributors
Edited and published by The Art Story Contributors
Available from:
First published on 06 Mar 2017. Updated and modified regularly.


[Accessed ]