Progression of Art
1946
Helmholtzian Landscape
Smith titled the early and relatively small-scale sculpture Helmholtzian Landscape in reference to a 19th-century German scientist who studied perception. Here, Smith draws on Cubist and Surrealist painting, translating these precedents - replete with color - into three dimensions, to create a tableau that suggests a figure standing amid foliage. Works such as this were important in shaping Smith's idea of "drawing in space," and they have also encouraged critics to liken his work to that of the Abstract Expressionist painters.
Steel, painted blue, red, yellow and green - Kreeger Museum, Washington D.C.
1951
Hudson River Landscape
Hudson River Landscape offers an abstract representation of the area around Smith's Bolton Landing home. It relates to a number of works he produced in this period with pastoral themes. It can be read as translating the expressive, gestural style and automatist principles of Abstract Expressionist painting into sculptural form. Despite its materials, it achieves a surprising weightlessness, due to the sculpture's arcing lines and open construction. Moreover, this work has often been seen as a breakthrough piece for Smith, because its inspiration was a landscape, and not a figure (the monumental figure being the oldest and most traditional form of sculpture).
Welded steel - Whitney Museum of American Art, New York
1952
Tanktotem I
Tanktotem I is the first piece in Smith's eponymous series of welded-steel sculptures that he worked on from 1952 until 1960. In this piece, he combined found metal objects into an anthropomorphic, totemic form, a symbol of universal humanity. As the critic Rosalind Krauss has argued, the totem, and the idea of totemism, was an important symbol for Smith. He believed, following Freud, that totemism operated in primitive societies as a means to discourage incest. Members of the tribe were encouraged to identify with different totems, often representing animals, and the laws which applied to those animals - perhaps not to eat them, or approach them - applied also to those other members of the tribe associated with the animals. Hence, for Smith, the totem suggested an art object that might strike fear into humanity and prevent conflict. But the idea of the totem pole also answered to his formal interest in collage. Tanktotem I has been read as representing two human figures, or two birds, joined at the neck, one looking left, the other right.
Steel - Art Institute of Chicago
1952
Agricola V
Agricola V (along with all of the work in the Agricola series) was created using elements from old farm tools, a formal and aesthetic decision that demonstrates the artist's lasting connection to the materials and ethos of industrialized America. In this piece, Smith combined this distinctly American perspective, his interest in totemic forms, and his signature use of spot-welding techniques to create a personal and unique sculptural language. Many of the works in the Agricola series stand on thin linear supports, just as this does. The sculpture represents a bird, though the motif is somewhat concealed by Smith's desire to incorporate qualities of abstraction and symmetry, qualities that run throughout the series.
Steel - Private collection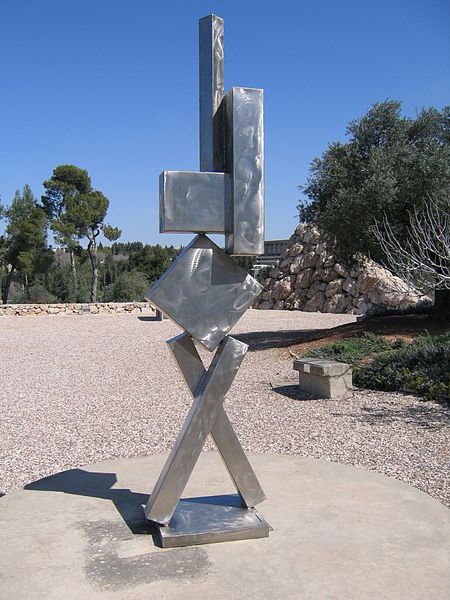 1963
Cubi VI
Composed entirely of geometric rectilinear and spherical shapes, Smith's Cubi series (1963-65) exhibits perhaps the artist's most obvious reference to Cubism in his work. His singular style is apparent in the dynamism created by balancing objects precariously and playfully in a three-dimensional yet strangely flattened space. The burnished metal used in the series is also important in suggesting weightlessness, while also preventing the viewer from fully appreciating all of its parts at once, since they are liable to give off reflective glares. The series has been talked of as representing heroic figures, or architecture, and it might be read as the culmination of Smith's "drawing in space," an idea that preoccupied him throughout the 1950s. Here, however, instead of using thin wire or found objects to make his "drawings," he uses geometrical shapes - these being for Smith just another type of found object. This series was particularly influential in the 1960s.
Stainless steel - The Israel Museum, Jerusalem
1962
Voltri VI
Smith created his Voltri series (1962) in an abandoned Italian steel factory. The curved forms (or "chopped clouds," as he called them) that rise from the Voltri VI are repurposed, irregular factory discards left over after the metal had been rolled out and flattened. The wheels that provide the base for this piece not only subvert the expectation of a traditional sculptural plinth, but also reference Giacometti's wheeled sculptures, the wheeled carts Smith used in his own studio, and, perhaps, even the locomotives that the artist played on as a child.
Steel - Raymond and Patsy Nasher Collection, Dallas
Similar Art
Related Artists
Related Movements & Topics