Artists
Archibald J. Motley, Jr.
Biography and Legacy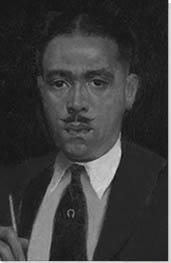 Archibald J. Motley, Jr. - Biography and Legacy
American Painter
Movement: Harlem Renaissance
Born: October, 7, 1891 - New Orleans, Louisiana
Died: January 16, 1981 - Chicago, Illinois

"I feel that my work is peculiarly American; a sincere personal expression of this age and I hope a contribution to society."

Biography of Archibald J. Motley, Jr.
Childhood
Archibald J. Motley, Jr. was born in New Orleans, Louisiana in 1891 to upper-middle class African American parents; his father was a porter for the Pullman railway cars and his mother was a teacher. His paternal grandmother had been a slave, but now the family enjoyed a high standard of living due to their social class and their light-colored skin (the family background included French and Creole). When Motley was two the family moved to Englewood, a well-to-do and mostly white Chicago suburb.
Even as a young boy Motley realized that his neighborhood was racially homogenous. He reminisced to an interviewer that after school he used to take his lunch and go to a nearby poolroom "so I could study all those characters in there. There was nothing but colored men there. The owner was colored. I used sit there and study them and I found they had such a peculiar and such a wonderful sense of humor, and the way they said things, and the way they talked, the way they had expressed themselves you'd just die laughing. I used to make sketches even when I was a kid then."
Motley worked for his father and the Michigan Central Railroad, not enrolling in high school until 1914 when he was eighteen. Once there he took art classes, excelling in mechanical drawing, and his fellow students loved him for his amusing caricatures.
Early Training and Work
Motley enrolled in the prestigious School of the Art Institute of Chicago, where he learned academic art techniques. It was an expensive education; a family friend helped pay for Motley's first year, and Motley dusted statues in the museum to meet the costs. Motley befriended both white and black artists at SAIC, though his work would almost solely depict the latter. The first show he exhibited in was "Paintings by Negro Artists," held in 1917 at the Arts and Letters Society of the Y.M.C.A. After graduating in 1918, Motley took a postgraduate course with the artist George Bellows, who inspired him with his focus on urban realism and who Motley would always cite as an important influence.
Motley's first major exhibition was in 1928 at the New Gallery; he was the first African American to have a solo exhibition in New York City. He sold twenty-two out of twenty-six paintings in the show - an impressive feat -but he worried that only "a few colored people came in. I didn't know them, they didn't know me; I didn't say anything to them and they didn't say anything to me." The following year he received a Guggenheim Fellowship to study abroad in Paris, which he did for a year. While Paris was a popular spot for American expatriates, Motley was not particularly social and did not engage in the art world circles. He spent most of his time studying the Old Masters and working on his own paintings.
After fourteen years of courtship, Motley married Edith Granzo, a white woman from his family neighborhood. Her family promptly disowned her, and the interracial couple often experienced racism and discrimination in public. Both felt that Paris was much more tolerant of their relationship. Motley remarked, "I loved Paris...It's a different atmosphere, different attitudes, different people. They act differently; they don't act like Americans."
Mature Period
Upon Motley's return from Paris in 1930, he began teaching at Howard University in Washington, D.C. and working for the Federal Arts Project (part of the New Deal's Works Projects Administration). Though the Great Depression was ravaging America, Motley and his wife were cushioned by savings and ownership of their home, and the decade was a fertile one for Motley.
He produced some of his best known works during the 1930s and 1940s, including his slices of life set in "Bronzeville," Chicago, the predominantly African American neighborhood once referred to as the "Black Belt." The Treasury Department's mural program commissioned him to paint a mural of Frederick Douglass at Howard's new Frederick Douglass Memorial Hall in 1935 (it has since been painted over), and the following year he won a competition to paint a large work on canvas for the Wood River, Illinois postal office.
Late Period
After Edith died of heart failure in 1948, Motley spent time with his nephew Willard in Mexico. He then returned to Chicago to support his mother, who was now remarried after his father's death. Despite his decades of success, he had not sold many works to private collectors and was not part of a commercial gallery, necessitating his taking a job as a shower curtain painter at Styletone to make ends meet. He retired in 1957 and applied for Social Security benefits.
Motley painted fewer works in the 1950s, though he had two solo exhibitions at the Chicago Public Library. In 1953 Ebony magazine featured him for his Styletone work in a piece about black entrepreneurs.
Motley spent the years 1963-1972 working on a single painting: The First Hundred Years: He Amongst You Who Is Without Sin Shall Cast the First Stone; Forgive Them Father For They Know Not What They Do. After he completed it he put his brush aside and did not paint anymore, mostly due to old age and ill health.
In 1980 the School of the Art Institute of Chicago presented Motley with an honorary doctorate, and President Jimmy Carter honored him and a group of nine other black artists at a White House reception that same year.
Death
Motley died in Chicago in 1981 of heart failure at the age of eighty-nine. In 2004, a critically lauded retrospective of the artist's work traveled from Nasher Museum of Art at Duke University to the Whitney Museum and the Los Angeles County Museum of Art, among others. Organizer and curator of the exhibition, Richard J. Powell, acknowledged that there had been a similar exhibition in 1991, but "as we have moved beyond that moment and into the 21st century and as we have moved into the era of post-modernism, particularly that category post-black, I really felt that it would be worth revisiting Archibald Motley to look more critically at his work, to investigate his wry sense of humor, his use of irony in his paintings, his interrogations of issues around race and identity."
The Legacy of Archibald J. Motley, Jr.
Archibald J. Motley, Jr. is commonly associated with the Harlem Renaissance, though he did not live in Harlem; indeed, though he painted dignified images of African Americans just as Jacob Lawrence and Aaron Douglas did, he did not associate with them or the writers and poets of the movement. Motley is also deemed a modernist even though much of his work was infused with the spirit and style of the Old Masters. And in his beautifully depicted scenes of black urban life, his work sometimes contained elements of racial caricature. Regardless of these complexities and contradictions, Motley is a significant 20th-century artist whose sensitive and elegant portraits and pulsating, syncopated genre scenes of nightclubs, backrooms, barbecues, and city streets endeavored to get to the heart of black life in America.
Motley's colors and figurative rhythms inspired modernist peers like Stuart Davis and Jacob Lawrence, as well as mid-century Pop artists looking to similarly make their forms move insouciantly on the canvas. Though Motley could often be ambiguous, his interest in the spectrum of black life, with its highs and lows, horrors and joys, was influential to artists such as Kara Walker, Robert Colescott, and Faith Ringgold. His sometimes folksy, sometimes sophisticated depictions of black bodies dancing, lounging, laughing, and ruminating are also discernible in the works of Kerry James Marshall and Henry Taylor.
Most Important Art
Mending Socks (1924)

Motley's beloved grandmother Emily was the subject of several of his early portraits. Here she sits in slightly-turned profile in a simple chair à la Whistler's iconic portrait of his mother Arrangement in Grey and Black No. 1: Portrait of the Artist's Mother (1871) with her hands clasped gently in her lap while she mends a dark green sock. She wears a red shawl over her thin shoulders, a brooch, and wire-rimmed glasses. The space she inhabits is a sitting room, complete with a table and patterned blue-and-white tablecloth; a lamp, bowl of fruit, books, candle, and second sock sit atop the table, and an old-fashioned portrait of a woman hanging in a heavy oval frame on the wall. The gleaming gold crucifix on the wall is a testament to her devout Catholicism. The mood is contemplative, still; it is almost like one could hear the sound of a clock ticking.

Motley's portraits are almost universally known for the artist's desire to portray his black sitters in a dignified, intelligent fashion. They are thoughtful and subtle, a far cry from the way Jim Crow America often - or mostly - depicted its black citizens. What gives the painting even more gravitas is the knowledge that Motley's grandmother was a former slave, and the painting on the wall is of her former mistress. It is telling that she is surrounded by the accouterments of a middle-class existence, and Motley paints them in the same exact, serene fashion of the Dutch masters he admired. Critic Steve Moyer writes, "[Emily] appears to be mending [the] past and living with it as she ages, her inner calm rising to the surface," and art critic Ariella Budick sees her as "[recapitulating] both the trajectory of her people and the multilayered fretwork of art history itself." That trajectory is traced all the way back to Africa, for Motley often talked of how his grandmother was a Pygmy from British East Africa who was sold into slavery. Some of Motley's family members pointed out that the socks on the table are in the shape of Africa. Thus, in this simple portrait Motley "weaves together centuries of history -family, national, and international."

Read More ...

Archibald J. Motley, Jr. Artworks in Focus:
Archibald J. Motley, Jr. Overview Continues Below
If you see an error or typo, please:
tell us
Cite this page

Content compiled and written by Kristen Osborne-Bartucca
Edited and published by The Art Story Contributors
" Artist Overview and Analysis". [Internet]. . TheArtStory.org
Content compiled and written by Kristen Osborne-Bartucca
Edited and published by The Art Story Contributors
Available from:
First published on 25 Oct 2018. Updated and modified regularly.


[Accessed ]