Progression of Art
1973
Diagram of Historical Development of Fluxus and Other 4 Dimensional, Aural, Optic, Olfactory, Epithelial and Tactile Art Forms (Incomplete)
Maciunas's Diagram of Historical Development of Fluxus and other 4 Dimensional Aural, Optic, Olfactory, Epithelial and Tactile Forms, often refereed to simply as The Chart, is a diagram of artistic movements and groups uniting Maciunas's interests in different sensory and cultural dimensions of artistic creation and experience. It shows a quixotic level of detail, and was constructed downwards from 1948 to 1971, but with offshoots, lines, and boxes that connected new sections to earlier ideas, movements, and events. The unique boxy font and layout make the 'look' of the chart quintessentially Fluxus.

George Maciunas studied graphic design amongst his many other pursuits at university, and brought this talent to bear on his interest in timelines and historical diagrams. Throughout his University years, from the late 1950s onwards, Maciunas kept reams of notes, charts and diagrams, attempting to categorize artistic movements and groups: as the Fluxus historian Astrit Schmidt Burkhardt puts it, diagrams were Maciunas's "life theme". The culmination of these project, which became known as Maciunas's Learning Machines, was 'The Chart'. It presents a narrative of interacting historical movements over many centuries building to the climactic movement, as Maciunas saw it, of Fluxus. From Roman circus and medieval fairs to Vaudeville, Happenings and Futurist Theatre, the chart argues for a natural progression in the history of performance art culminating with the Fluxus collective, with the work of John Cage placed at the very center of this milieu. Maciunas enacts his role as impresario and director by deciding exactly who and what is given a space on the chart. In some ways highly organized, the chart is also eclectic and non-linear. The diagrammatic format allowed Maciunas to adopt what we might call a three-dimensional viewpoint on the history of art, in opposition to the linear, canonizing approach he railed against. The chart also noticeably does not confine itself to the Western world, expressing the internationalist stance Maciunas sought to project through Fluxus.

Maciunas stopped working on 'The Chart' in 1973, while stating it was still incomplete. By that point he had been arranging and re-arranging it for over a decade. The chart is a striking art historical statement, completely different in approach to the formalist theories of art history, preoccupied with the canonical media of painting and sculpture, that defined the era of Abstract Expressionism, epitomized by the criticism of Clement Greenberg. For Maciunas to focus on performance and anti-art, and give them the same detailed platform as other, more highly-regarded art forms, was a huge departure from this approach. Equally significantly, our interpretation of 'The Chart' as itself a piece of art indicates the very way in which Maciunas's diagrams and timelines redefined the boundaries of the 'artistic'.
Offset Lithograph - MOMA, New York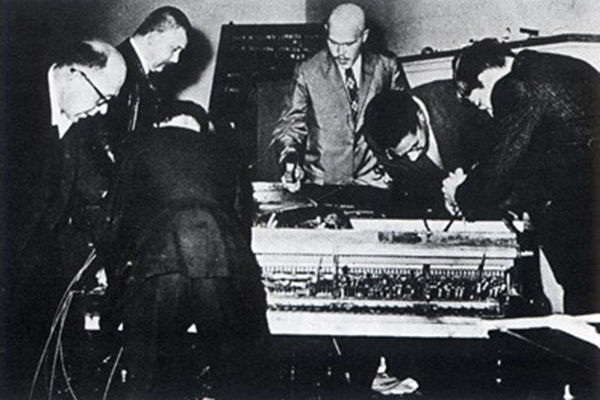 1963
Piano Activities
Philip Corner's Piano Activities piece was performed by the Fluxus artists George Maciunas, Emmett Williams, Wolf Vostell, Nam June Paik, Benjamin Patterson, Dick Higgins, and Alison Knowles as part of the Fluxus festival held in Wiesbaden, Germany in 1962. Corner was an American multi-instrumentalist, composer, and visual artist. His composition consisted of a formal score along with instructions for players to manipulate the sound of the piano with objects such as chains and bells, and by plucking the strings and rubbing them with glass or sticks. Corner did not attend the Wiesbaden festival, and rather than following his instructions, the Fluxus artists dismantled the piano over a number of days using hammers, drills, and saws, breaking it apart and clambering over it before auctioning off parts of the destroyed instrument. The piece was performed to a frenzied, excitable audience, their reactions captured on a series of recordings still available today. Although this was clearly a spontaneous, collectively realized artwork, the guiding vision behind it was Maciunas's.

By 1963 Maciunas had built up the loose network of artists, musicians, and performers that he considered to constitute the Fluxus collective. His gallery in New York had failed and he was working in Wiesbaden, Germany as a graphic designer for the US Air Force. It was there that Maciunas held the first ever Fluxus festival, inviting many of his network to come and perform. The festival was, in many ways, a process of public experimentation for the group, to work out exactly what Fluxus was to be, what it would represent, and who was to be part of it. But it was the group performance of Piano Activities that would come to encapsulate these decisions, and in so doing raise the profile of Fluxus to an unexpected degree. As the Fluxus artist Emmett Williams wrote of the performance, "the noise was heard around the world", gaining coverage in the international art press. Maciunas wrote to a friend after the festival: "[a]t the end we did Corner's Piano Activities not according to his instructions since we systematically destroyed a piano which I bought for $5 and had to have it all cut up to throw it away, otherwise we would have had to pay movers, a very practical composition, but German sentiments about this instrument of Chopin were hurt and they made a row about it."

While Maciunas was probably being facetious in claiming that they destroyed the piano to avoid movers' costs, he was certainly correct in his summary of German critical responses to the performance. A journalist writing for the Wiesbaden Kurier stated that the performers behaved "[j]ust like children" (little did he know this was exactly as Maciunas had intended it). When Corner heard of the performance, he was shocked that the Fluxus artists had ignored his intentions, and was uncomfortable with its destructive nature. Interestingly, he specifically remarked on the power of Maciunas's persona, which seemed to have overcome the directions he had given as composer in the eyes of the other performers. But Corner later expressed his respect for the boldness and commitment of performance. While the piece may have had destructive aspects, the performance was also joyous, playful, inventive, and exhilarating, while simultaneously expressing Fluxus's commitment to anti-art and group collaboration.
Prepared piano and performers - Staged during Fluxus Internationale Festpiele Neuester Musik, Hörsaal des Städtischen Museums, Wiesbaden, Germany, September 1, 1962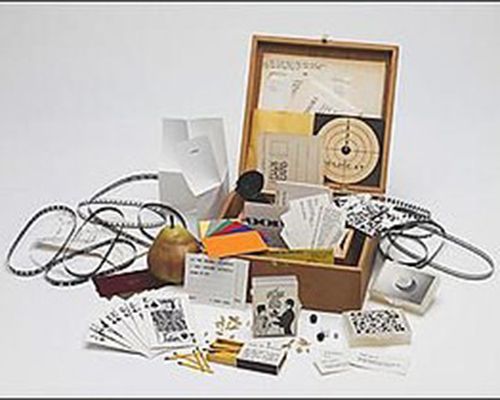 c. 1967
Flux Year Box 2
Maciunas envisioned his Fluxkits (marketed from 1964 onwards, and released throughout the 1960s-70s) as three-dimensional magazines, each containing a number of small cards, objects, and games contributed by different artists and designers. Each was presented in a customized attaché case, the first kits advertised at a price of $100. The contents would vary from piece to piece, but a typical kit would include newspapers and announcements strapped inside the box lid, with a built-in noisemaker by Joe Jones housed in the central compartment. Alongside this would be Mieko Shiomi's Endless Box, a handheld sculpture made of nested paper cubes, Ay-O's Finger Box, a wooden box with a finger hole and soft or tactile material inside, an edition of Alison Knowles's Bean Rolls, a box filled with tiny scrolls containing facts and poems about beans stored alongside real dried beans, and around 12 additional works, many of them performance scores, secured in latched plastic cases.

The Fluxkits grew out of the earlier concept of Fluxboxes, which Maciunas hatched in 1962. The idea was much the same, with Maciunas intending to perhaps release 12 boxes a year, or a series of boxes to represent different locations around the globe. The aim was to consolidate the newfound Fluxus network he had built up by creating small, easily marketable art collectors' items that could be sold in the Flux Shop or via the group's mail-order system, offering a snapshot of the collective's work. In preparation for the first Fluxbox, Maciunas sent out requests for "critical or non-critical, rational or irrational essays; scores, instructions ... visual compositions for reproductions, collages, photographs ... solid objects, scraps, smears, junk, garbage, rags, ready-makes, found objects ... or an object (like a flat painting) cut into 200 parts." The production of the first Fluxbox, Fluxus 1, ran into many technical difficulties, and the work was eventually released in 1964. Fluxus 1 was presented in a mailing crate and included individual items packed in envelopes bound with detachable metal bolts. The work did not have the critical or commercial impact Maciunas had wished for, thus he launched his formally ambitious Fluxkits. As well as being able to buy an entire kit, customers could purchase the single boxes contained within it for $1-5 dollars each. If a customer decided to buy a complete Flux Kit, it came with a random selection of different boxes and other objects inside. In form and concept, the Fluxkits were influenced by Marcel Duchamp, who had devised the idea of a mobile museum of his work which could be sold to customers many decades earlier. But a key point of distinction was that the Flux Kits embodied Maciunas's principles of collectivism and collaboration, with most of the works included only credited to particular artists in retrospect.

The Flux Kit sums up many of the complexities of Maciunas's vision for Fluxus. While taking art out of the elitist and bourgeois space of the gallery, he also moved it explicitly into the consumer market. Indeed the word "kit" implied that these objects, no matter how bizarre or silly they might have seemed, were intended to have some use or function for the customer. Nonetheless, the objects were also intended to make you question the boundaries of the conventional consumer lifestyle by bringing artistic experience into the center of that world. This emphasis on artistic experience as an integrated element of daily life was truly innovative. As George Brecht said in 1978, Fluxus introduced the idea that "every object is an event... and every event has an object-like quality."
Box filled with multiple objects
1966
USA Surpasses All The Genocide Records
Maciunas's 1966 poster The USA Surpasses All The Genocide Records partly expresses his love for data accumulation and visualization. The piece consists of a large American flag with skulls and crossbones in place of stars, the stripes formed from lines of statistics detailing the international and domestic atrocities of the US in comparison to those of various totalitarian and imperial regimes. Maciunas critically interrogates the idea of the "land of the free and home of the brave", calling the viewer's attention to the real face of North America's foreign policy, as well as its historic massacre of the country's native inhabitants.

Much of George Maciunas and Fluxus's output was intended to mock the unrelenting seriousness of the art world: to be silly and eccentric, celebrate the fun and peculiarities of the everyday world. However, just as Fluxus wanted to cut through the dullness of the art establishment, it also wished to cut through the falsehoods of the American Government's propaganda machine, particularly regarding its escalating involvement in Vietnam. Maciunas strongly objected to the image of the USA as a force for good in global politics and warfare, perhaps reflecting his experiences as a refugee and outsider in its culture. He was also determined that Fluxus would represent a commitment to political action as well as Neo-Dada absurdity. USA Surpasses All the Genocide Records is one of the works that records that commitment. While we now know that it was created by Maciunas, it was listed only as a Fluxus creation. The curator Jon Hendricks speculates that "Maciunas particularly wanted the poster to be anonymous so that its impact would be seen for itself, not because of a name associated with it."

Maciunas's dedication to research is further demonstrated by his compilation of an essay with further facts and statistics for which the viewer could write off to Fluxus headquarters, as detailed on the poster. The piece thus encourages the viewer to take action having viewed the work, to educate themselves and perhaps fight for change. This idea of avant-garde art as activism - or incitement to activism - was relatively new in the 1960s and 70s, but has since become a mainstream concept. For this reason, the piece is important, but it is perhaps best-known today for its celebrity admirers. John Lennon and Yoko Ono were famously pictured standing next to the poster, which probably such inspired their own politically engaged performances, such as the Bed-Ins for Peace in 1969, and their War is Over poster campaign, launched in 12 major cities in the same year.
Offset lithograph on paper - Hood Museum of Art, Dartmouth College [one of multiple versions]
1967
FluxHouse Co-Operative
In 1967, George Maciunas purchased a property at 80 Wooster Street, in New York's SoHo district. Though not intended to be a domestic space, Maciunas envisioned 80 Wooster Street as the first of many FluxHouse Co-operatives, spaces in which Avant-garde artists could work and live simultaneously, integrating their everyday lives with their artistic endeavors. He bought the building, previously owned by the Miller Cardboard Company, for $105,000, gathering together a $21,000 down-payment from loans, deposits from artists who wished to rent spaces in the building, and - in a typically risky move - the sum total of Maciunas's life savings, including almost all the (relatively little) money he had made through previous Fluxus projects. The former cardboard company offices became the site of multiple actions and activities: on the roof of the building, Charles Ross made his first solar-burn drawings; Joe Schlichter walked down the front façade; the whole first floor of the Co-op was dedicated to Jonas Mekas's Cinematheque, a major venue for indie and avant-garde movie screenings. Throughout the late 1960s and 1970s many artists lived illegally on the premises, which were not allowed to be lived in. Children and families were raised right amongst the art shows, happenings and performances at 80 Wooster Street. Maciunas fitted out his own illegal basement apartment where he lived with his mother, with a secret tunnel to the Cinematheque upstairs, as well as booby-traps designed to frighten away city officials who were in legal battles with Maciunas over his use of the building.

Much of Maciunas's time and energy from 1967 onwards went into realizing his vision for FluxHouse Co-operatives, which went onto encompass four successful properties in total. He raised money for each new property through artists' deposits, although this wasn't always a popular method with the artists themselves. Not only did Maciunas face increasing legal pressure as the cooperatives expanded, but he also had to contend with everyday squabbles and clashes between tenants.

Some argue that the experience of running the FluxHouse Co-operatives exhausted George Maciunas. Certainly, his reckless approach to financing them led to a horrific incident in 1975 when he was badly beaten up as a punishment for unpaid loans, leaving him with life-changing injuries and in poor health. The co-ops also represented a large financial investment with relatively little monetary gain, leaving him with very little money towards the end of his life. But the co-operatives had a huge, long-lasting and positive impact on the SoHo district. Previously a dilapidated, run-down area known as 'Hell's Hundred Acres', SoHo became a haven for creatives and countercultural figures. Maciunas's vision for integrated living/working spaces for groups of artists also introduced a new model for artists' studios that became more and more popular over the 1970s-80s. The FluxHouse Cooperatives were, therefore, a long-term success in many ways. Poignantly, in 1979, only a year after George Maciunas died, the lofts at 80 Wooster Street were finally granted a certificate of occupancy.
Property at 80 Wooster Street - SoHo District, New York
1978
FluxWedding
Roslyn Bernstein, Fluxus member and artist, was present in a loft at 537 Broadway in 1978 for one of George Maciunas' final performances, his own wedding to the poet Billie Hutching. Bernstein recalls: "The wedding on February 5, 1978, was the Fluxus event of the era. There was a Flux feast of erotic foods, including a penis-shaped pâté brought by sculptor Louise Bourgeois. For the ceremony, Maciunas and Hutching both wore bridal gowns, while their bridesmaids Jon Hendricks and Larry Miller were dressed in drag and their best man, Allison Knowles, wore tails. Geoffrey Hendricks who wrote the script for the program, conducted the ceremony and officiated as the priest. The Flux cabaret after the ceremony including Ben Patterson's Lick, where Olga Adorno was covered with whipped cream and the crowd licked it off and Maciunas and Hutching performed a piece called Black & White. The pair entered the space, he in black tails and she in a white satin gown with long white gloves and a wig. While a recording of Monteverdi's madrigal 'Zefiro Torno' played, they proceeded to undress and put their clothes on a chair, Then, down to their underwear, they redressed in each other's clothing. According to Christian Xatrec this took place on the exact spot where Maciunas was beaten."

The sense of humor, irreverence, and rebellion that had been present throughout all of George Maciunas's work was just as present at his own wedding, surrounded by Fluxus friends, in the SoHo area he had helped to transform. The wedding became far more than a wedding; rather, it was a performance piece, that carefully and playfully picked apart and twisted the gendered nature of the ceremony and the performative nature of formal celebrations in general. Later, the photographs, marriage certificate and guest registry were published as a performance score. Thus, Maciunas lived out his belief that every part of life, be it birth, marriage, divorce, death, or simply walking down the sidewalk, could be imbued with artistic meaning. This innovative idea has been influential on performance artists who make their personal lives a spectacle, such as Marina Abramović, who states: "art comes from life, not from [the] studio."

Just a few months after his wedding, Maciunas's funeral was held. Just as extravagant and artistic as the FluxWedding, the FluxFuneral involved a Flux Feast of only white, purple and black foods. George's mother, who had previously never quite understood her son's visions, attended the funeral and later wrote in her 1979 essay "My Son" of his coffin as his last Fluxbox; "When looking at his last 'box (drawer/chest)' in which his emaciated body lay, and at the lid where a huge bouquet of Nature's gifts - springtime flowers - shone perfectly, his 'children' gathered again, his friends, and his spirit saw them and rejoiced."
Event at 537 Broadway, New York
Related Artists
Related Movements & Topics