"I happened to be Mrs. Jackson Pollock and that's a mouthful.. I was a woman, Jewish, a widow, a damn good painter, thank you, and a little too independent."
"My painting is so autobiographical, if anyone can take the trouble to read it."
"I like a canvas to breathe and be alive. Be alive is the point. And, as the limitations are something called pigment and canvas, let's see if I can do it."
"All my work keeps going like a pendulum. It seems to swing back to something I was involved with earlier, or it moves between horizontality and verticality, circularity, or a composite of them. For me, I suppose, that change is the only constant."
"...With relation to the group, if you are going to call them a group, there was not room for a woman."
Summary of Lee Krasner
An ambitious and important artist in New York City during Abstract Expressionism's heyday, Lee Krasner's own career often was compromised by her role as supportive wife to Jackson Pollock, arguably the most significant postwar American painter, as well as by the male-dominated art world. Krasner was intimately involved in the synthesis of abstract form and psychological content, which announced the advent of Abstract Expressionism. Her desire to revise her aesthetic or what she called "breaks," led to her innovative Little Imageseries of the late 1940s, her bold collages of the 1950s, and, later, her large canvases, brilliant with color, of the 1960s. Krasner was "rediscovered" by feminist art historians during the 1970s and lived to see a greater recognition of her art and career, which continues to grow to this day.
Accomplishments
Krasner was a key transitional figure within abstraction, who connected early-20th-century art with the new ideas of postwar America. Inspired by artist Piet Mondrian's "grid," Krasner helped devise the "all-over" technique, which in turn influenced Pollock's revolutionary "drip paintings."
Krasner was remarkable for her artistic versatility and advanced skill, which, coupled with her intensive training in art theory, enabled her to revise her style and technique multiple times over the course of her career. Krasner purposefully initiated these "breaks" in order to distance herself from such artists as Mark Rothko and Barnett Newman, whose work she found too "rigid" and repetitive, and also to express herself more fully.
Krasner's incredibly high standards led her to cut up her older canvases that she found lacking. She recycled and reconfigured these scraps and pieces as collages, a practice that suggests that she was inspired by the work of Henri Matisse, whose work also inspired her colorful, decorative, large paintings of the 1960s. Because she reused her earlier canvases in this way, only a small body of Krasner's early work remains.
Important Art by Lee Krasner
Progression of Art
Biography of Lee Krasner
Childhood
Lee Krasner was the sixth of seven children born to Russian-Jewish immigrants on October 27, 1908, who emigrated from Bessarabia. Growing up in immigrant, Jewish neighborhoods in Brooklyn, New York, Krasner was born Lena Krassner, but changed her name several times in the early portion of her life, eventually settling on Lee Krasner by the late 1940s. Art historians have pondered if Krasner used the abbreviated "Lee" as an attempt to disguise her gender.
By the young age of 13, Krasner had already set her sights on becoming a professional artist, which was an unusual career choice for an immigrant and a woman. She eagerly applied to and was pleased to be accepted by Washington Irving High School, the only New York City public high school at the time that allowed women to study art.
Early Training
As an adult, Krasner remained in New York City, which was developing into an international art center, enrolling first at the Cooper Union for the Advancement of Art and Science in 1926, and then at the Art Students League. While a student at the prestigious National Academy of Design from 1926 through 1928, her conservative teachers often chastised her original, independent streak, which they deemed unsuitable for a woman. During this period, Krasner's work impressively ranged from realistic self-portraiture to surrealist experimentation.
Krasner had to work in a factory, as a waitress, and also as an artist's model while studying for her teaching certification at night - the then approved career-path for women artists. In 1933, she was lucky to obtain full-time work as an artist through the Works Progress Administration of the Federal Art Project (WPA/FAP), a visual arts program within Franklin D. Roosevelt's New Deal (1933-43). Many artists were kept financially afloat thanks to the New Deal programs, which also offered them camaraderie. The New Deal projects provided essential financial support to women artists, many of whom were provided their first professional opportunities under its auspices. Having quickly advanced to a supervisory position, Krasner also worked as an assistant on large-scale public murals; in turn, Pollock served as her assistant on other WPA murals.
Unhappy with the conservative artistic approach that she had learned earlier at the National Academy, Krasner fell into more bohemian art circles during the 1930s and, like many of her artistic peers, was drawn to Marxism. Her choice to study under the leading artist and theorist Hans Hofmann proved significant since he exposed the young artist to the work and theories of Cubist painter and sculptor Pablo Picasso, as well as the modernist Henri Matisse. Under the tutelage of Hofmann, Krasner began to work in an "all-over" style, covering the surfaces of her paintings with abstract, repetitive designs informed by floral motifs. Hofmann once offered her the backhanded compliment that her work was so good "you would not know it was made by a woman artist."
Mature Period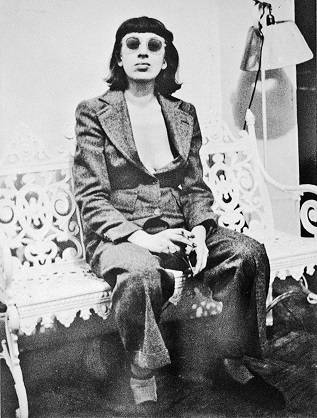 Krasner became a founding member of the American Abstract Artists, a group formed in New York City in 1936 to promote and help the public appreciate abstract art. It was then that she met Pollock, moving in with him in 1941. The pair married in 1945, and the duties of promoting and managing the practical aspects of Pollock's career fell to her. While Krasner generously embraced her new responsibilities, it meant her own career took a back seat to the increasingly famous Pollock.
Krasner never stopped creating during her 11-year marriage to Pollock. Throughout their time together, Krasner struggled with his pronounced alcoholism and womanizing. When the couple relocated from Manhattan to the Springs, Long Island, in the late 1940s, and Krasner began her breakthrough Little Imageseries (1946-50), a body of work defined by the small size of the paintings and their repetitive, linear designs often in white pigment. Along with Newman, Krasner shared an interest in Jewish Mysticism, or Kabalah, which comes to light in these small canvases. Her traditional Jewish education and heritage shaped the process and look of this series in which she intuitively painted right to left, or the direction of Hebrew lettering and created Kabalistic symbols, in order to directly connect with her subconscious. Many modernists looked to other cultures, such as non-Western and tribal groups, for their artistic inspirations, whereas Krasner in fact was returning to her own cultural origins.
Krasner possessed a lifelong admiration of Matisse's work, and in the early 1950s began to experiment with collage, a technique that Matisse used late in his career. After a particularly frustrating day in the studio Krasner impetuously tore up her finished paintings, which she then later reassembled into constructions reminiscent of Cubism. Krasner's 1955 exhibition of these works was positively received, prompting well-known and demanding critic Clement Greenberg to declare it one of the most important shows of the decade.
The following year, Krasner began a large-scale Abstract Expressionist series called Earth Green, (1956-59) after her husband's death in a fatal car accident. Critics responded negatively to these works, which combined nature-inspired forms with a rhythmic, splattered technique, because they believed that the work was both derivative of Pollock's and too decorative (a codeword for too feminine). In 1962, Krasner suffered an aneurism, which sidelined her artistic productivity for several years afterward due to ill health. In the following period, Krasner continued to work with her nature-forms in variety of ways, combining them with large areas of more solid color on her canvases (a choice inspired by Color Field Painting and Minimalism). In the late 1960s and 1970s, her work experienced a revival due to the women's movement.
Late Years and Death
Krasner's experimental techniques and innovative use of color and scale were finally recognized in her first retrospective exhibition in October 1983 at the Houston Museum of Fine Arts in Texas. Despite her poor health, Krasner was able to attend the exhibition, which subsequently traveled to San Francisco, California, Phoenix, Arizona, and Norfolk, Virginia. Unfortunately, Krasner died in June 1984 from internal bleeding due to diverticulitis and was never able to see her retrospective make its final stop at New York's eminent Museum of Modern Art.
The Legacy of Lee Krasner
Krasner's artwork and biography continue to inspire generations of painters and she has become revered especially amongst women artists. Throughout her career, she directly confronted the dominant stereotype that "women can't paint" and struggled within the Abstract Expressionist movement, which prized masculinity and heroic figures such as Pollock. Krasner influenced other artists, including those from future generations, by her stylistic and artistic innovations, her example of persistence, and her ultimate triumph. During the 1960s, her large-scale brightly-colored works encouraged the feminist artist Miriam Schapiro's femmage works. It was after Krasner's death, thanks to her generosity, that the Pollock-Krasner Foundation was established with the goal of assisting the development of fine artists. Since its creation in 1985, the foundation has awarded over 46 million dollars in grants to working artists around the world. Now affiliated with the State University at Stony Brook, New York, the Pollock-Krasner House in East Hampton, New York, has been kept as it was when the artistic couple lived and worked there and is open to the public for visitation.
Influences and Connections
Influences on Artist
Influenced by Artist
Friends & Personal Connections
Barbara Rose
Friends & Personal Connections
Barbara Rose
Useful Resources on Lee Krasner
Books
The books and articles below constitute a bibliography of the sources used in the writing of this page. These also suggest some accessible resources for further research, especially ones that can be found and purchased via the internet.
biography
written by artist
paintings
Similar Art