Artists
Carmen Herrera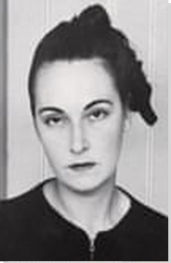 Born: 30th May 1915 - Havana, Cuba

"My quest is for the simplest of pictorial resolutions"
Summary of Carmen Herrera
Though the story of a 103-year old Latina woman painter achieving fame in the final years of her life after selling her first painting at the age of 89 is a captivating one, Carmen Herrera's story is worth telling primarily because of the quality of her work, and not because of the unique, stranger-than-fiction circumstances of her discovery. Born in Cuba in 1915, she has lived as an émigré in New York for most of her adult life, producing crisp, clean works of abstract geometrical minimalism that nonetheless seem to hum with warmth, wit, energy, and life. Having worked in relative isolation from - though by no means in ignorance of - milieus and movements for most of her life, it is not clear whether we should call her a Concrete Artist, an Op Artist, a Hard-Edged Abstractionist, or some other, more finely nuanced term. What is clear is that her work has fed on - and fed back into - all of the most enriching currents in twentieth-century abstract minimalism. She is a modern artist of considerable significance.
Key Ideas
Based in New York during the heyday of
Abstract Expressionism
, Herrera's crisp, classical style was an ill fit for her home-scene, closer in spirit to the work being produced across the continent by the painters of California's
Hard-Edged Abstraction
school. When that movement began to diffuse itself more widely - through the discovery of New York artists such as
Frank Stella
in the 1960s, for example - Herrera's creative identity perhaps began to fit its locale more clearly. Nonetheless, her emphasis on harmonious color combinations, and her interest in subtle and whimsical figurative suggestion, marks her work out from many painters to whom the "Hard-Edged" label is attached.
Likewise, we might interpret Herrera's work in relation to Op Art. Based in Paris in the late 1940s when that movement was taking off in that city - through the work of
Victor Vasarely
and others - many of Herrera's works produce the same effects of optical dazzle that made artists such as
Bridget Riley
famous during the 1950s-60s. Again, however, it is hard to judge the extent of Herrera's interaction with the Op Art scene, and the inspiration she drew from it, because of her own unique circumstances.
Herrera's clinical and clean style of draughtsmanship can be connected to her brief time as an architectural student during the late 1930s. She reportedly makes many preparatory sketches for each work she produces, working with a methodical rigor that reflects her grounding in the craft of architectural drawing. Her persistent interest in architectural space and city-scenes also seems to reflect this aspect of her creative education.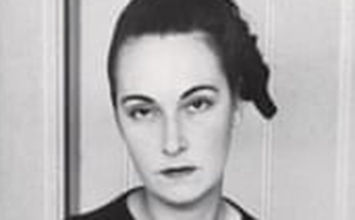 Carmen Herrera was born in Havana in 1915, the daughter of two journalists. Her father established the newspaper El Mundo, where her mother worked as a reporter. As the youngest of seven children, Herrera's house was busy and chaotic; as only one of two daughters, she had to fight to assert herself. She showed an early aptitude for art, so when she was eight, she and her older brother Addison were given private lessons by Federico Edelmann y Pinto. A well-respected painter and teacher, Edelmann y Pinto had established several art institutions in Havana, including the Association of Painters and Sculptors, and an annual Salon for the artists of the city. He was her first point of contact with the artworld, and his teaching was at the root of her lifelong passion for painting.
Important Art by Carmen Herrera

The below artworks are the most important by Carmen Herrera - that both overview the major creative periods, and highlight the greatest achievements by the artist.


Artwork Images

A City (1948)

Artwork description & Analysis: This painting, ambiguously entitled A City, was created during a key phase of Herrera's life, while she was living in Paris following the Second World War. Herrera has since commented of this time: "[i]t was about meeting new people and gaining a new set of influences and learning to filter and absorb those. Everything was marvellous; everything was possible". The sense of possibility and excitement is fully apparent in this work through the jostling shapes, colors, and forms.

In this painting as in many others, Herrera seems to combine her love of abstract space with the careful planning and composition of an architectural drawing. Her time as an architect was extremely influential, not just in terms of the aesthetic of straight, clean lines, but also the training it gave her in drawing and planning. For every painting, Herrera makes dozens of drawings before setting on the final structure. In this picture, that planning process manifests itself in a sense of carefully harnessed energy. Shapes seem to jostle against each other, and the painting feels spontaneous and lively, ironically as if it were the work of a quick, spontaneous process.

This sense of formal energy, combined with what is surely a visual reference to the Eiffel Tower on the left of the canvas, seems to evoke the multiplicity and excitement of urban experience. The contrasting blacks, blues, and yellows suggest different times of day, as if expressing the experience of living and being in the city across a stretch of time. In its allusion to key features of the Parisian landscape and incorporation of the frame around the picture, the painting may also make a subtle nod to Robert Delauney's earlier, avant-garde homage to Paris, Simultaneous Windows on the City (1912).

Writer and novelist Claire Messud notes of this painting: "[m]ore visually complicated than her later paintings, it evokes, with its sharp juxtaposed turrets of light and dark overlaying broken oblongs of opposing color, the architecture and bustle of urban life. It is hard not to smile at Herrera's witty use of the rectangular burlap frame and within it, the squared oval of tri-colored paint, which in turn contains the measured interplay of various geometrical forms." In evoking the city landscape, as Messud identifies, Herrera demonstrates the powerful language of shape and form, which can communicate so much with such simplicity.

Acrylic on burlap - Whitney Museum of American Art, New York


Artwork Images

Iberic (1949)

Artwork description & Analysis: Many of Herrera's earliest paintings were created on round canvases. In this form the painting therefore has no 'frame' as such, but instead seems to frame itself, through the quality of self-containment that circular forms, unlike rectangular forms, are able to bring to the picture-space. In fact, the idea of framing this piece would seem inherently paradoxical, especially because the title, Iberic, a synonym of 'Iberian', signifies an interest in the landmass of Iberia (modern-day Spain and Portugal), thus asking questions about belonging and identity to which there are no definitive answers. Identity, Herrera suggests, like artistic form, cannot be put in a box.

The lack of frame, that is, which might be read as imposing an organizing principle on the shapes contained on the canvas, puts the question instead to the viewer: how do these shapes fit together? And who decides what they mean? The subtly orthographic qualities of many of those shapes -their likeness to written symbols - further heightens the air of enigmatic or buried significance. Taken in the context of the title, these questions seem redolent with issues of self-identification. As a woman of Hispanic origin living as an expatriate in New York and Paris, Herrera wrestled with questions of belonging. This canvas presents that quandary as one without end or solution, but worth pursuing nonetheless.

This is also one of Herrera's earliest works to establish a compositional approach which would serve Herrera throughout the remainder of her career. As the curator Dana Miller notes, "[t]he interaction between forms of solid, unmodulated color (taken straight from the tube or can of paint) became the predominant subject of her work and remains so to this day." The oranges, blacks and reds of this painting indeed constitute blocks of uniform color, but the shapes are various, and seem to fall in and out of harmony with each other. It is this sense of energy and tension, achieved with a minimum of compositional elements, that ensures the value of Herrera's work.

Acrylic on canvas - Collection of the artist


Artwork Images

Untitled (1952)

Artwork description & Analysis: In this stark painting, black and white lines traverse a canvas bisected by a jagged line, splitting the frame into two sets of triangles. It is a bare, almost violent image, in which precise sharp edges generate a counter-intuitive sense of vibration and movement. Herrera seems to be exploring the very process by which the viewer makes sense of shape and color on the canvas, pointing to their active role in constructing the final image in their own mind.

The obvious point of reference for such work is the post-war Op Art movement which, like Herrera's oeuvre itself, emerged substantially out of post-Constructivist groupings based in Paris in the post-1945 years. It is notable that the Hungarian artist Victor Vasarely, himself famous for producing similar works of black-and-white optical dazzle, was establishing his mature style in Paris in the late 1940s during Herrera's time there (though there is no apparent evidence of their interaction). Nonetheless, like Vasarely, Herrera manages to imbue a work constructed purely from straight lines and blocks of monotone color with a sense of lively, almost magical energy. But whereas Vasarely's style emerged partly from scientific explorations into the process of ocular cognition, for Herrera, these Op-art-esque works were achieved through a more practical series of experiments, and served to celebrate the process and potential of composition. As she has remarked in interview, "[t]here is nothing I love more than to make a straight line...It's the beginning of all structures really".

Dana Miller points out that there is often little evidence of Herrera's hand in her paintings (another key point of similarity with Op Art). In the exacting lines she produces, Herrera is perhaps questioning the role of the individual artist in a new age of technological precision, wondering how and where the mind behind the work can and ought to express itself. The subtle nod to a city-scape or urban and industrial space in the suggestion of jagged roof-lines also bespeaks her love of design and urban life, and her sense of the creative potential of the architectural drawing.

Synthetic polymer paint on canvas - Museum of Modern Art, New York
More Carmen Herrera Artwork and Analysis:
Influences and Connections
Influences on Artist
Artists, Friends, Movements
Influenced by Artist
Artists, Friends, Movements

Interactive chart with Carmen Herrera's main influences, and the people and ideas that the artist influenced in turn.
View Influences Chart

Artists

| | |
| --- | --- |
| | Francisco de Zurbaran |
| | Piet Mondrian |
| | Oscar Niemeyer |
| | Kazimir Malevich |

Personal Contacts

Movements

| | |
| --- | --- |
| | Japanese Art |
| | Cubism |
| | Constructivism |
| | Concrete Art |
| | Abstract Expressionism |

Influences on Artist

Carmen Herrera
Years Worked:
Influenced by Artist

| | | | | |
| --- | --- | --- | --- | --- |
| Artists | | Personal Contacts | | Movements |
If you see an error or typo, please:
tell us
Cite this page

Content compiled and written by Katie da Cunha Lewin
Edited and revised, with Synopsis and Key Ideas added by Greg Thoams
" Artist Overview and Analysis". [Internet]. . TheArtStory.org
Content compiled and written by Katie da Cunha Lewin
Edited and revised, with Synopsis and Key Ideas added by Greg Thoams
Available from:
First published on 21 Jan 2019. Updated and modified regularly.


[Accessed ]