Progression of Art
1933
Citizen in Downtown Havana, Cuba
In 1933, Evans traveled to Havana to shoot photographs for Carlton Beals's The Crime of Cuba (1933), a book denouncing the corruption of dictator Gerardo Machado. His employers asked him to shoot emotionally charged images to support Beals's impassioned prose. Evans ignored their suggestions, and produced unobtrusive views that nevertheless suggest upheaval. In this photo Evans captures a tall man in a white suit turning, perhaps aware he is being watched. The tilt of his hat, and sidelong glance make him appear mysterious, like a character from one of the period's popular murder mysteries for film or television. He does not make eye contact with the camera or the person holding it, but looks up and out. Behind him is a column of an old-fashioned arcade, a newsstand, and a newsboy reading on an overturned box. While multiple bodies are visible in the narrow shot, no one interacts with anyone else, as if to do so might be risky.

In this photograph, as in many others from the period, the subject is surrounded by signs and posters that add layers of cultural context. One of the many photographs rejected for publication in the book, Citizen in Downtown Havana, Cuba was one of Evans's personal favorites. He chose it for inclusion in his first solo exhibition at MoMA in 1938. The exhibition, entitled American Photographs, and subsequently published as a book, otherwise contained images of the American Northeast. The inclusion of a Cuban scene amongst these images of North America reflects a diplomatic closeness between the U.S. and Cuba, which was a U.S. protectorate at the time.

Evans's early photographs of dockworkers, street vendors, policemen, and beggars reveal an ability to capture a range of information, from the micro to the macro - the minutest idiosyncrasies of a culture and its overall context, doing with images what a writer might try to do in words.
Gelatin Silver Print - Walker Evans Archive, The Metropolitan Museum of Art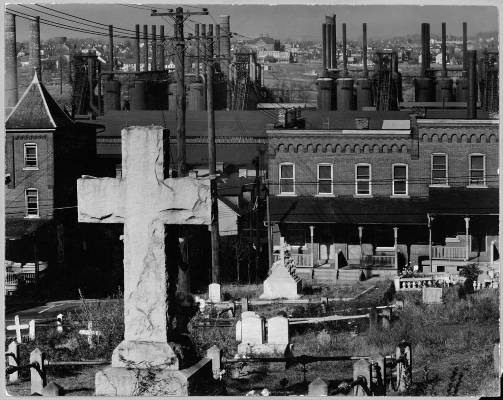 1935
A Graveyard and Steel Mill in Bethlehem, Pennsylvania
Shot on assignment for the Farm Security Administration in November of 1935, this quiet, unassuming view of the steel manufacturing town of Bethlehem, Pennsylvania reflects Evans's mastery of poetry in visual form. Though shot in a residential neighborhood, there are no figures in this quiet elegy to the generations of steel workers for whom life begins and ends here. In a reverse progression from the cradle to the grave, the eye travels from the large weathered cross in the foreground to the similarly structured power leading down the hill into the middle distance. Before we reach the river, however, smokestacks rise up, blocking access to this "cradle of civilization" and the distant shore beyond it, where stately homes appear on the horizon. In this symbolic overview of a steel-worker's life, class tensions are evident. The presence of the cross suggests the structure religion provides for those who go through life without having the privilege to examine their place in the universe. As Evans recommended to other artists and outside-the-box thinkers, "die knowing something. You are not here long."
Gelatin Silver Print - Museum of Modern Art, New York
1936
Roadside stand near Birmingham, Alabama
Two years after his return from Havana, Evans traveled through West Virginia, Georgia, Alabama, Mississippi, and Louisiana on assignment as a member of the "Historical Unit" of the Farm Security Administration (FSA). His job was to document life in the rural South. Here, two boys outside a country store hoist watermelons onto their shoulders. Behind them, two adults stand in the shade of the store, their silhouettes visible through the open door that leads straight through to the barn on the other side.

These frank, unadorned images of life in the rural south were revelations for American cultural audiences accustomed to cities, including writer and art connoisseur Lincoln Kirstein, who wrote: "The power of Evans's work lies in the fact that he so details the effect of circumstances on familiar specimens that the single face, the single house, the single street, strikes with the strength of overwhelming numbers, the terrible cumulative force of thousands of faces, houses, and streets." Reluctant to produce work that might be used as government propaganda, Evans remarked (perhaps somewhat defensively) as he embarked on this project: "This is pure record not propaganda . . . No politics whatever." Insistence on independence from political ideology was a persistent feature of Evans's artistic philosophy, as well as his imagery.
Gelatin Silver Print - Farm Security Administration - Office of War Information Photograph Collection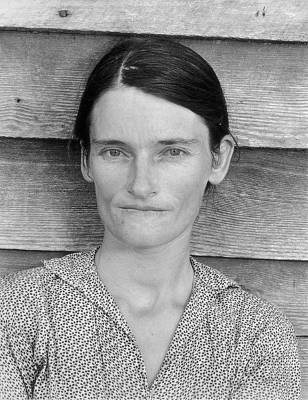 1936
Alabama Cotton Tenant Farmer Wife
While Evans was on leave from his job for the FSA during the summer of 1936, Fortune magazine commissioned him to collaborate with writer James Agee on a piece that focused on impoverished sharecropping families from Alabama. Fortune never published the material that ensued from this commission, but it resulted in some of Evans's most iconic works. In 1941 their collaboration was assembled into a book entitled Let Us Now Praise Famous Men. Deemed by the New York Public Library to be one of the most influential books of the last century, Let Us Now Praise Famous Men scrutinized a culture's character and captured the cadence of its ordinary people. Refusing to dramatize poverty, this series of unlabeled photographs captured the Great Depression as stark, truthful tragedy. The faces, towns, rooms, and clothes of impoverished famers distilled the hardship being felt all over the country.

Evans made several photographs of Mrs. Burroughs, each slightly different from the others but all bound by a characteristically clean composition and penchant for visual clarity. The weathered wall behind her, with its evocative horizontal lines, anticipates the abstraction of future photographers like Aaron Siskind and Frederick Sommer. These straight lines underscore the flatness of her unsmiling, prematurely aged features, and her expression - head slightly tilted, brows slightly furrowed, mouth slightly downturned - holds us captive precisely because it is so difficult to read. As opposed to an allegory of suffering and privation, Burroughs is an individual.
Gelatin Silver Print - Walker Evans Archive, The Metropolitan Museum of Art
1941
Subway Portrait
"The guard is down and the mask is off," Walker Evans wrote of his Subway Portraits, a series of subway commuters shot with a hidden camera from 1938 to 1942 that reflects his brilliance as a storyteller. With a 35 mm Contax camera fastened to his chest and a rigged cable release in his hand, Evans captured scores of people deep in conversation, immersed in their reading, or lost in thought. Unaware of the camera, their attitudes and expressions reflect the subway's unwritten code for human behavior, a mixture of anonymity and intimacy. They also bring forward the personalities of individuals.

Here, a well-dressed man leans forward anxiously (is he late for something?) and trains his attention on an advertisement or a sign above him. To his right, we see the hand of another commuter grasping the newspaper. The tension in their poses is essential for maintaining balance on the train, but it also conveys the constant stress of the urban environment. Using a concealed camera and riding the subway, a technically tricky endeavor, meant Evans too was unrelaxed and had to relinquish traditional types of control photographers usually exert over their shots. Just positioning himself in relation to the subject and choosing the moment at which to take it was difficult enough. As a result, his subjects are often off-kilter, the perfect metaphor for a culture constantly in motion.
Walker Evans Archive, The Metropolitan Museum of Art
1946
Untitled
In 1946, Evans turned his attention on an assignment for Fortune to capture the spirit of the American worker. Still wishing to investigate the balance between authenticity and anonymity explored in his Subway Portraits, Evans spent an afternoon on a Detroit sidewalk photographing anyone who came by. He held his Rolleiflex camera at waist height and captured individuals walking in front of a sunlit plywood wall. The resulting photographs, first published in the magazine under the title "Labor Anonymous," were later collected into a book by the same name.

While not posed in the traditional sense, these portraits are skillfully constructed. The spare background and close cropping (favorite techniques of Evans) compel us to focus on details of dress, pose, and expression like the tilt of a hat, or direction of the gaze. The presence of dramatic natural light, and the low angle at which he positions the camera elevates the subject - literally and figuratively. These average men (and one woman) on their way to work appear monumental and heroic.
Gelatin Silver Print - Walker Evans Archive, The Metropolitan Museum of Art
1962
Upstairs Room, Walpole, Maine
In the 1960s, Evans ended two decades of work at Fortune magazine and accepted a professorship at Yale. Recognized as a landmark at the time, Message From the Interior marks a turning point in Evans's career, away from commercial photography and toward more moody, evocative, personal pieces. The series, published as a book in 1966, depicts empty interiors. Evoking the work of Eugene Atget, Evans's personal hero, Evans captures sagging chairs, rumpled bedding, and half-opened doors in great detail as if to preserve these weary structures for eternity.

In Upstairs Room, Walpole, Maine, signs of human presence are evident in the worn floorboards, the scuffed rug, and even the positioning of the chair near the wall at an angle, as if a weary arm has recently placed it there. The lived-in texture of each inanimate object evokes not just one but many dwellers, now absent, who lived in the house over generations. Positively received by critics, these interiors are a meditation on the history of everyday life, and a continuation of Evans's life-long project: exploring different ways to capture what he saw as the essence of humanity.
Gelatin Silver Print - Walker Evans Archive, The Metropolitan Museum of Art
Similar Art
Related Artists
Related Movements & Topics