Artworks and Artists of St Ives School
Progression of Art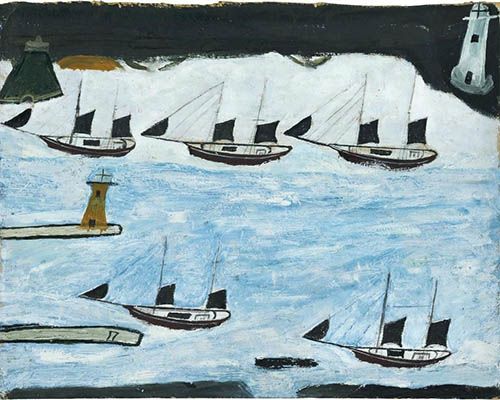 1928
Five Ships, Mounts Bay
Alfred Wallis captures the turbulent energy of the Cornish sea in this painting, with frothy passages of paint that seem to flicker in the light. Tiny fishing vessels drawn with black, spidery lines seem fragile and insignificant in the face of the sea's unstoppable energy. Scattered lighthouses suggest a glimmer of human life, but they are painted with loose, watery paint as if they might collapse at any moment.

Having spent much of his early adult life working as a fisherman in the Cornish coastlines, Wallis knew the mariner's life inside-out, and his unsophisticated paintings capture the perilous nature of life at sea with huge, dangerous waves and fragile boats caught in their majesty. Wallis came to painting later in life (at the age of 70) and was entirely self-taught. This gave his paintings a naïve folk-art look, characterized by broad areas of flat color and thick black contours, painted onto rough scraps of wood or cardboard. Wallis made this painting in 1928, the same year that he was visited and "discovered" by the London-based artists Ben Nicholson and Christopher "Kit" Wood. Nicholson was particularly enamoured with the simple, rugged and untutored style of Wallis's art and he helped launch the Cornishman's career within his lively circle of artistic friends in London. Wallis's innate, almost spiritual, connection with St Ives was also a great source of inspiration for the wider group of artists that would settle in the Cornish town in the post-war period.
Oil and Graphite on Card - Kettle's Yard Collection
1942-3
Linear Construction No. 1
In this light, elemental sculpture, long, thin strands of transparent nylon are stretched through space, curving into and over one another to create a complex network of lines. The strings are pulled taut in directional lines to form an elliptical opening in the centre, from where lines seem to extend outwards into infinity, representing the vast and unfathomably complex stretches of the universe.

Naum Gabo made this sculpture after moving from Russia to the United Kingdom in 1935 and residing throughout the Second World War in St Ives. He was already an established figure within the Russian Constructivist movement, and was well-known for his abstract, sculptural innovations that explored themes of motion, form, and tension in space. While living in Cornwall, however, he pioneered the use of plastic, exploring its lucid, weightless qualities in a series of complex architectural constructions. Themes of space and time were central to his practice, as intricate linear arrangements made reference to the infinite structures of the universe. Art critic Herbert Read noted how his sculptures exist "between the visible and the invisible, the material and the immaterial [reaching] the crystallization of the purest sensibility".

Unlike other St Ives School artists, Gabo's did not draw on his natural surroundings. He did, however, extend a profound influence over the St Ives movement throughout the 1940s and 1950s with his radical abstractions informing the practice of a younger generation of artists including Wilhelmina Barnes Graham, Peter Lanyon, and Patrick Heron.
Perspex and Nylon - Collection of the Tate, United Kingdom
1947
Still Life, June 16-47
Ben Nicholson explores the boundaries between realism and abstraction in this light, ephemeral still life. Skeletal outlines of familiar objects are drawn onto a textured surface, as if floating weightlessly in space above it. The low-relief quality created through layering flat planes and lines on top of one another recalls the radical Cubist paintings of Pablo Picasso and Georges Braque, while black contours and solid blocks of pure, unmixed color reveal the influence of Piet Mondrian.

Nicholson made this work during an especially creative period in his life. It followed the end of the Second World War when he had settled in the St Ives area with his second wife, the sculptor Barbara Hepworth. The work typifies Nicholson's work of the period, which moved away from his earlier, avant-garde abstraction by re-introducing elements of realism such as still life and landscape subjects. British architect David Lewis notes how even in his still life works, landscape was a dominant force, observing how "the intersecting outlines of bottles, jugs and wine glasses ... was landscape".

Within the St Ives community, Nicholson's work bridged a gap between the more traditional landscapes of locals and the experimental abstraction of Constructivism, Cubism, and De Stijl. The gritty surface of Nicholson's work ties his practice with the local artist Alfred Wallis, whose dirty, uneven surfaces had a crude brutality that seemed to reflect the harsh realities of living at sea, a quality Nicholson wished to invoke. He made this surface by scraping it with a sharp blade, leaving behind veils of color. Nicholson found great success with this new style of art in the decades to follow, and his oscillation between traditional realism and radical abstraction had a profound and long-lasting influence on the younger St Ives artists including Patrick Heron and Wilhelmina Barnes-Graham.
1953
Two Black Forms
A series of dark, somewhat menacing, forms emerge from this abstract painting, suggesting rocks cast into the shadowy recesses of night. These broad, flat areas of black are enlivened with blocks of earthy brown, blue and white, naturalistic colors that invite comparisons with the natural world. Sweeping curves are juxtaposed with hard angles, echoing the work of Hepworth, Nicholson, and Gabo.

Wilhelmina Barnes-Graham moved from Scotland to St Ives in 1940 on the recommendation of her friend Margaret Mellis. It was she who suggested Barnes-Graham would find a set of like-minded artists amongst the Cornish colony. After getting to know Nicholson, Hepworth, Gabo, and Bernard Leach, Barnes-Graham's work began to show various influences from her elders. Like Hepworth and Nicholson, in particular, she was fascinated by the idea of translating the Cornish landscape into an abstract, modernist language, as evidenced in Two Black Forms.

After making a visit to Switzerland in 1948, Barnes-Graham made a series of drawings and paintings based on the sharp angles, rough surfaces and transparency of glaciers. From this period forward, her work became increasingly abstracted, combining geometric, rock-like forms with patterns, surfaces and colors drawn from the Cornish landscape. Writer Mel Gooding notes on her response to place and time, "These extraordinary descriptions of sea forms might better be described as meditative abstractions and reflective imaginings. They derive from deeply sensed knowledge of the ways in which energy finds its forms".
1958-59
Blue Painting (Squares and Disc)
Heron plays with the sonorous possibilities of blue in this lively, animated painting, bringing tones of ultramarine and aqua into a playful geometric design. Soft panels are painted with loose, aqueous passages of paint, placed side by side, or on top, of one another to create a sense of depth and space. Thin slivers of white peek through in between some shapes like sunlight sneaking through a crack, while the single circular form on the left is almost outlined by a halo of light.

Heron made this painting having recently moved to the clifftop eyrie of Eagle's Nest in St Ives. He called the paintings made during this prolific period an exploration of "space in color", using interwoven passages of color to create the sensations of light and space on canvas. Their dazzling brilliance would lead to international recognition as one of Britain's leading post-war abstract painters. Much like Nicholson and Peter Lanyon, the "hard-won" surface was a vital ingredient in his practice, one he would work and rework in layers, leaving behind ghostly palimpsest traces which could then be built on top of with fresh new passages of paint.

Heron's earlier paintings were figurative, many of which illustrated views across St Ives using heightened colors and bold lines. But by the late 1950s he had moved into pure abstraction, taking influence from the Abstract Expressionists, and particularly Mark Rothko's saturated passages of color. His abstractions carried with it the spiritual essence of St Ives, capturing the crystalline waters, wide-open skies and shimmering textures of Cornwall. Writer Laura Freeman comments on the way his work conveys the excitement of Cornwall with an entirely abstract language, writing, "Patrick Heron's paintings of the 1950s melt like ice creams. You want to run your tongue along the canvas and catch the drips. They capture a sense of summer holiday sea-and-scampi freedom".
1959
Covert
Angular shards of light and shadow seem to bristle across the surface of this splintered canvas, suggesting energy, movement, and space. Muted shades of black, white, brown and grey allude to the natural world of thick forests, damp trees or heavy undergrowth, while their reduced tones allow the richly-textural surface of the design to take centre stage.

Winter spent much of his early career painting dramatic responses to the Cornish landscape, but by the 1950s his language became increasingly abstracted, taking inspiration from the automatism and gestural energy of the New York School. But Wynter's work was still deeply invested with a spirit of place; a response to the Cornish wilderness where he lived and worked for the best part of his career. His home was in a remote cottage above the village of Zennor (near St Ives) where he could be fully immersed in the wilderness. He observed, "The landscape I live among is bare of houses, trees, people; is dominated by winds, by swift changes of weather, by moods of the sea [...] These elemental forces enter the painting and lend their qualities without becoming motifs".

Wynter's paintings of the 1950s nod towards a wide range of earlier avant-garde styles, such as the muted colors and multiple perspective of Cubism, Marcel Duchamp's mechanised early figurative works, the automatic drawings of Surrealism, and even the brimming energy of the Italian Futurists. But in contrast with these styles, Wynter's works are purely abstract, merging mutual artistic influences with an intuitive response to specific time and place (late 1950s St Ives). Writer Michael Bird observed of Wynter, "There's an imaginative consistency to his thinking, a kind of poetic logic that runs right through from his student days to his final works".
Oil on Canvas - Calouste Goulbenkian Museum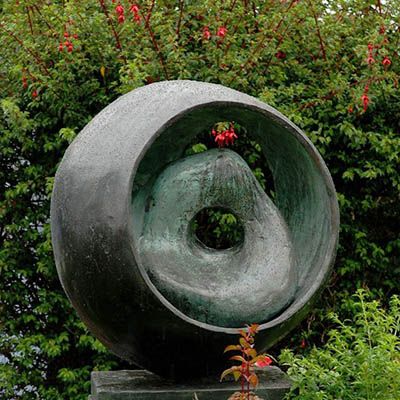 1963
Sphere with Inner Form
In this bronze cast sculpture, a sweeping circular form encases a smaller shape, as if shielding it from harm. The outer casing is smooth and solid, a protective layer to the softer, more organic interior, which still seems to be growing and developing. Themes of protection and growth occupied much of Hepworth's oeuvre, and she observed the universality of this subject, noting how there is "an inside and an outside of every form [...] a nut in its shell or of a child in the womb, or in the structure of shells or of crystals, or when one senses the architecture of bones in the human figure".

Hepworth was settled in St Ives with an established and successful career by the time she made this work. It typifies her interest in flowing, circular forms and their deep connection with the patterns and forms of nature, particularly those in the Cornish landscape, such as sea shells, curling waves, and rock formations. Enclosure was also a recurring subject in Hepworth's art, which she explored in a variety of ways. Critics have often compared these inner and outer forms with a child growing in a mother's womb. Art critic Adrian Stokes noted, "This is the child which the mother owns with all her weight, a child that is of the block yet separate, beyond her womb yet of her being".

The "pierced" hole in the centre of this sculpture was a progressive and innovative approach to sculpture that Hepworth had been exploring since the 1930s; she had opened up the traditional solidity of sculpture to allow air to circulate through the work. Writer Jeanette Winterson spoke of the profound new meanings opened up by these "holes", observing, "The hole is a way back and a way forward. The hole is also the space occupied by the air we are breathing now, by the sunlight that has taken eight minutes to reach us, and by the starlight that is two thousand years old".
Bronze Cast - Barbara Hepworth Museum and Sculpture Garden, Saint Ives, United Kingdom
1963
Wreck
Peter Lanyon - who had taken up hand-gliding and his paintings were often inspired by air movements and the feeling of weightlessness in air - captures the wild turbulence of nature with gestural, aggressive streaks of color. Paint is built up in layers to convey depth, movement, space, and the heightened drama of being exposed to the windswept coastline of his home county of Cornwall. On the left a white, circular form pulls us in like a porthole window, offering a view into the depths of the canvas behind it.

Lanyon made this painting in response to the wreckage of the French trawler named Jeanne Gougy which was dashed onto the jagged rocks at Land's End in 1962. Lanyon had travelled with his family to see the wreck just a few days after the disaster, and was struck by the raw brutality of the ruined boat. His painting captures the harsh and unforgiving nature of the sea with sweeping aqua blue gestures, while a tangle of yellow, red, and flesh tones suggest the forms of the boat in the process of being torn apart.

Lanyon mimed the language of Abstract Expressionism throughout his career and this particular work marked a new departure into daring, bright streaks of color, echoing the work of American Action Painter Willem de Kooning. Like the Abstract Expressionists, Lanyon was more concerned with painting a spiritual response to the world through energised lines, marks and colors, rather than realistic or semi-realistic representations. But, in contrast to the American artists, Lanyon's work was bound up in the unique atmosphere of the Cornish coast and its unique coastal energy. Art historian and curator Toby Treves notes of Lanyon, "He had the ability to express something in a landscape that no one had been able to do before - he managed to evoke a real feeling of being in the place physically and emotionally, with the most wonderful selection of colours - a remarkable feat".
Oil Paint on Canvas - Collection of the Tate, United Kingdom