Artworks and Artists of Situationist International
Progression of Art
1957
Psychogeographique de Paris. Speech on the Passions of Love
This work depicts a city map of Paris, cut into various pieces and rearranged with red broken lines added to create random paths. The work embodies Debord's concept of creating new relations to urban environments. The conventional map, showing planned pathways and routes and place names, is détourned to depict a psychological geography of Paris. The randomness of placement conveys that this 'map' and its structures could be transformed and constantly adapted by the individual's playful and creative behavior. One wanders through this city in the process of dérive between ambient units that have emotional resonance, experiencing the city in a very different way.

Debord's work was a pioneering visualization of his concept of psychogeography, which he defined as "the study of the precise laws and specific effects of the geographical environment, consciously organized or not, on the emotions and behavior of individuals". It influenced the SI's extensive later use of collage and détournement, which included the repurposing of mass media materials like tourist maps. This work also influenced Constant Nieuwenhuys' extensive New Babylon (1956-1974), a series revisioning European cities.

Debord's concept of psychogeography remained a continuing influence into the 21st century. In the 1990s it informed Neoist and other avant-garde academic groups and led to the foundation of The Workshop for Non-Linear Architecture and its programs in London and Glasgow, and the publication of Transgressions: A Journal of Urban Exploration. In the early 21st century Provflux and Psy-Geo-conflux, two experimental action events, developed in the United States in 2003, used psychogeographic maps in various actions. Aleksander Janicijevic, the leader of the Urban Squares Initiative, continues to explore the concept in his artistic practice and in his books, Urbis - Language of the urban fabric (2003) and MyPsychogeography (2015). Recently, a number of phone apps, including Drift, Random GPS, and Derive, have also been developed, to bring the practice of dérive into the digital age.
Lithography, print on paper - Frac Center-Loire Valley France
1956-57
Letter to my Son
With the spontaneous energy of a child's drawing, loosely sketched and brightly colored figures emerge from a multilayered composition, each of them looking at the viewer with large staring eyes. A dissonance is created between work's vitality and the frenetic, almost anxious expressions of the figures. Referring to Ole, Jorn's son born in 1950, the title also evokes writing, as do the lines as if sketched with a pen or a pencil, conveying a kind of message that David Ebony has described as, "epitomizing the existentialist angst of postwar Europe". At the same time, what Ebony called Jorn's "primal visual language," has a raw celebratory vitality.

When he became artistic leader of Situationist International, Jorn was noted as a founder of the art collaboration CoBrA, but also "a pioneer of European tachiste painting and Art Informel", as Ebony writes. He continued to use many of the same experimental techniques, such as gestural painting and using blotches and stains, to create near abstractions that retained figurative elements and vivid colors while involved with Situationist International. Yet, despite the title's emphasis on writing, the collage effect (as if the disparate figures had been transposed and arranged on a single plane) and the graffiti-like energy of the lines informed SI's artistic praxis from the start. Shown at the 1957 World's Fair in Brussels, this work brought international attention to Jorn and the newly formed Situationist International. Jorn's work was influential, with Ebony writing that his "work seems to presage later developments, like the Neo-Expressionism of Georg Baselitz and Julian Schnabel in the 1980s".
Oil on canvas - Collection of the Tate, United Kingdom
1957
The Change
Using the taches (or stains and blotches) of Tachisme, Rumney's abstract painting creates a vibrant field of mostly primary colors, in which a random and broken grid of black lines emerges. The shapes and grid convey a quasi-geometric effect, and as these traditional forms blur and merge, they form a psychogeographic map of some undefined location or state of mind.

This work was first shown in the 1957 Metavisual, Abstract, Tachiste at the Redfern Gallery in London, the year that Rumney launched the London Psychogeographic Society of which he was the sole member. Spending much time living in Italy and France in the early 1950s, he had become aware and influenced by Debord's concepts. While his first solo show at the New Vision Centre Gallery in London in 1956 made him well-known as part of the international movement toward gestural art, he viewed himself as more connected to a tradition of political dissent, inspired by Surrealism. In his catalogue statement, Rumney wrote, "An act of creation must be autonomous and independent of the creator...The power of a work of art rests in its subject. The subject is independent of all formal qualities and becomes a violent and powerful entity in its own right".
Oil paint, household paint and metal leaf on hardboard - Collection of the Tate, United Kingdom
1958
Industrial Painting
This work is an abstract and gestural painting over 250 feet long. As the painting is unrolled from its wooden spool, the canvas's swirls and blotches of light blue and green, yellow, bright pink, and black are suggestive of figures and buildings in their vibrancy. As only some thirty feet can be displayed at once, experiencing the work becomes a kind of journey, unfurling each view that leads playfully into another.

Pinot-Gallizio made this work with his "painting machine", which he attached mechanical rollers to long tables to create. As art historian Catherine Wood writes, the work "utilised the artist's scientific knowledge alongside technology associated with mass production to create something that was, in contrast to the usual application of these processes, chaotic and entirely unique. "

A trained chemist, Pinot-Gallizio met Asger Jorn in 1955, and they subsequently launched the Experimental Laboratory of the Imaginist Bauhaus in Pinot-Gallizio's studio in Alba, Italy. A number of artists and writers including Walter Olmo, Enrico Baj, Piero Simondo, and Elena Verrone experimented and collaborated in the laboratory, as Baj experimented with what he called 'nuclear art,' and the composer Olmo developed his "tereminofono", an experimental electronic instrument derived from the theremin. Pinot-Gallizio's development of industrial paintings was championed by Debord as a radical technology where art could be combined with industrial processes to consistently create new creative situations. Pinot-Gallizio's innovations extended to collaboration and marketing, his "numerous collaborators including other artists and children...[applied]...the paint with particular gestures prescribed by Gallizio...Following this alternative mode of production, Gallizio's paintings were sold by the metre in the street market of Alba as well as in commercial art galleries", as Wood writes.

Aside from this work, Pinot-Gallizio's other major work was Cavern of Anti-Matter (1959). Shown in Paris, Cavern of Antimatter was a complete immersive environment, with the industrial painting used to cover the ceiling, walls, and floor of the exhibition space at the Galerie Drouin to create what the artist described as an "antiworld". The exhibition helped establish Situationist International as a cultural and artistic force in Paris. The artist's works have been viewed by some critics as precursors of Environmental art and Happenings, and has received renewed contemporary interest since it was shown at the 2008 Sydney Biennial and at the Museo Centro de Arte Reina Sofia, Madrid in 2010.
Monoprinted oil and acrylic paint and typographic ink on canvas - Collection of the Tate, United Kingdom
1959
Le canard inquiétant (The Disquieting Duckling)
A gigantic duckling, its body and head a swirl of neon colors, impasto paint and thick vigorous lines, towers above a cottage on the bank of a quiet pond. The title is apropos, as the almost Godzilla-like duckling disturbs the traditional pastoral scene with orange paint dripping from its beak, the landscape disappearing in a sickly green on the right, and yet the creature is also exuberant as if spontaneously painted by a child. Alluding to Hans Christian Andersen's fairytale, "The Ugly Duckling," about a swan raised by a family of ducks, the work reflected Jorn's sympathy with those displaced by the dominant social system, echoing Michèle Bernstein, a leading critic and cofounder of the movement, who declared, "monsters of all lands unite!".

The innovative artistic leader of Situationist International, Jorn pioneered works like this one, which he called "modifications". As art historian Karen Kurczynski describes, Jorn added "grotesque imagery or abstract painted or dripped additions to amateur academic-style paintings found in flea markets". As Jorn wrote when the work was first exhibited at the Galerie Rive-Gauche in 1959, "In 1939 I wrote my first article ("Intime banaliteter" [Intimate banalities] in the journal Helhesten) in which I expressed my love for sofa painting, and for the last twenty years I have been preoccupied with the idea of rendering homage to it". He intended to "erect a monument in honor of bad painting. Personally, I like it better than good painting...It is painting sacrificed".

The Galerie Rive-Gauche catalog began with Jorn's statement, "INTENDED FOR THE GENERAL AUDIENCE, READ EFFORTLESSLY...If you have old paintings, do not despair. Retain your memories but détourn them so that they correspond with your era." As he explained, "Détournement is a game born out of the capacity for devalorization. Only he who is able to devalorize can create new values." Jorn's "modifications," while exemplifying painterly détournement also pointed toward his next artistic evolution, in 1961 he left the Situationist International and founded the Scandinavian Institute of Comparative Vandalism in Silkeborg, Denmark, focused on researching the culture of Scandinavia in the Viking era.

Scorned by the general audience at the time of their exhibition, Jorn's modifications influenced Alexis Smith, Jim Shaw, and Enrico Bai, and subsequent artists, including Lee Krasner, who détourned her own work by cutting up a previous painting and rearranging the pieces. Jorn's modifications also influenced conceptual artists, including Lorna Simpson, Gran Fury, Tania Bruguera, and Sherri Levine, and, more recently, Betty Thompkins in her Women Words series (2017-18).
Oil on canvas (older painting) - Museum Jorn, Silkeborg, Denmark
1959
Mémoires
This double page of a sketchbook collages fragments of text taken from a variety of sources and a black and white cartoon where a lecturer points to a white empty screen. Superimposed on the text, blotches and drips of bright purple and pink paint disrupt its meaning with a gestural dynamism. At times, as the purple dots are clearly connected by lines, a sense of a random network is created that becomes an explosion of pink on the right. Jorn dripped, dropped, and sometimes painted with the tip of a matchstick to create this vigorous fluidity. At the top of the right-hand page, the phrase, "HOWLING IN FAVOR OF," references Debord's film, Hurlements en Faveur de Sade (Howling in Favor of Sade). Using no images, this 1952 experimental film displayed a white screen when people were talking on its soundtrack and a black screen during long pauses of silence. It began with Debord's statement, "Cinema is dead. Films are no longer possible. If you want, let's have a discussion". This particular image is a representative excerpt from the material that fills the entirety of the book.

Jorn divided the 64 pages of the sketchbook into three sections, called structures portantes, or architectural load-bearing structures, in order to recount Debord's philosophical autobiography as he founded the Lettrist International. Titled "June 1952," the first section begins with a Karl Marx quotation, "Let the dead bury the dead, and mourn them.... our fate will be to become the first living people to enter the new life". The text and images throughout were taken from mass media sources and included photographs, cartoons, city maps, all arranged to drift over the page, as the collage superseded conventional page orientation. The reader wanders through the book in a process of dérive, wandering through the book as one might wander through an environment.

The book was also famous for its jacket, made out of sandpaper, an idea that originated in a conversation between Jorn and V.O. Permild, the printer, who related: "Long had [Jorn] asked me, if I couldn't find an unconventional material for the book cover. Preferably some sticky asphalt or perhaps glass wool. Kiddingly, he wanted, that by looking at people, you should be able to tell whether or not they had had the book in their hands. He acquiesced to my final suggestion: sandpaper (flint) nr. 2: 'Fine. Can you imagine the result when the book lies on a blank polished mahogany table, or when it's inserted or taken out of the bookshelf. It planes shavings off the neighbor's desert goat". This idea of a cultural product that destroys the others around it would later inspire Peter Saville, the lead designer for Factory Records, to use sandpaper on the record sleeve of the album The Return of the Durutti Column (1980). Other artists have created similar homages to Jorn's original work.

Debord and Jorn had previously collaborated on Fin de Copenhague (1957), described by art historian Sylvie Lecoq-Ramond as "the denunciation of the consumer society, an attack against the established values of the avant-garde." When the book was published Architectural Review called it a "remarkable piece of improvisation among the techniques of graphic reproduction" and praised its indifference to the "sacred rituals of printing". As art critic Rick Poynor noted, the "startling layouts (using found material) anticipate, by 30 or more years, the typographic and textual fragmentation of Cranbrook, CalArts and Ray Gun magazine, which became a global design phenomenon".
Illustrated Book - The Metropolitan Museum of Art, New York
1965
New Babylon/Sevilla TRIANA-GROEP (New Babylon/Seville TRIANA-GROUP)
In this work, Constant has superimposed the designs for his project of an anti-capitalist city, New Babylon, over a commercially available ink and watercolor map of Seville, Spain. The irregular sized rectangles, which outline structures and pathways in black and red ink, create a kind of wandering grid over the map, their random divergences evoking the path of one roaming the city. The transparency of the superimposed forms reflects the artist's concept for the city - "New Babylon is a gigantic labyrinthine complex raised above the earth on tall pillars. All forms of transport circulate below it. The various tiers of the city can be reached via lifts and stairs and are almost entirely roofed-in and climate-controlled. With their many levels and terraces, they form a vast multi-layered space that constantly offers new surprises as a result of its functional flexibility, climatic variability and light and sound effects. New Babylonians can wander around like modern nomads, in search of new experiences and unknown sensations".

The Dutch born Constant became friends with Asger Jorn in the postwar period and the friendship between the two began an important element of the founding of the CoBrA movement. In 1956 Asger Jorn invited Constant to Alba, Italy, where Constant presented "Demain la poésie logera la vie" (Tomorrow poetry will house life) - his vision for a new architecture that would sustain and inspire a creative lifestyle. In 1957 he began working on the New Babylon series (1956-74); as art critic Nina Siegal wrote, "He spent the next two decades absorbed in this vision, which he expressed through a variety of media, including architecture, sculpture, furniture design, photography, geographical maps and philosophical writings."

He first showed work from the series in a 1959 exhibition at the Stedelik Museum in Amsterdam, where it was met with acclaim. However in 1960 Constant left the Situationist International because he felt it was driven, less by common goals, then by individuals pursuing their own interests. As Nina Siegal writes, "his vision rested on the birth of a new kind of human. Freed from work by anticipated automation of all kinds of production, people would become more playful, experimental and less bound to traditional home and work spaces...These future creative types would need more flexible working and living spaces, and they'd develop new kinds of social networks to enable them to share resources".
Ink, paper - Museo Reina Sofia, Madrid, Spain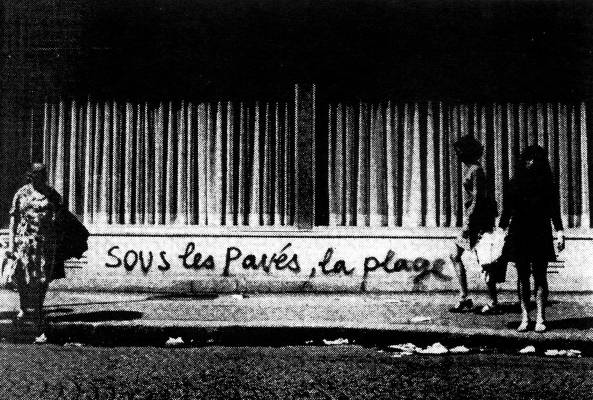 1968
"Sous les pavés, la plage!" ("Under the paving stones, there is a beach!")
In this photograph the Situationist phrase "Sous les pavés, la plage!" ("Under the paving stones, there is a beach!") is seen written in large black letters which extend along the sidewalk, just above street level, as three women walk by. During the May 1968 uprising in Paris, thousands of students tore up the streets, using the paving stones to build barricades and discovering the stones had been originally placed on sand. The phrase became a rallying cry, advocating for the dismantling of the social system in order to live a free and unregimented life, symbolized by the underlying "beach." As historian Sadie Plant wrote, the expression "captured both the tactics of the revolutionaries, for whom the cobblestones provided the most obvious weapons against the police, and the symbolic meaning of this détournement of the streets," while "Anonymous, cheap, and immediate, the use of graffiti...epitomized the avant-garde dream of art realized in the practice of everyday life."

Perhaps the most famous of all Situationist International works, the phrase became ubiquitous throughout Paris, written on walls, streets and signs by any number of anonymous artists and students. Bernard Cousin, a student activist, and Bernard Fritsch, who had previously worked in advertising and public relations before becoming a Situationist known as Killian, created the phrase for the movement on May 22, 1968. As Cousin explained, "We wanted to create a graffiti on which we would agree, him, the revolutionary and Parisian situationist and I, the bourgeois Catholic and provincial."

The phrase resonated culturally, shaping French society and politics into the 21st century. Speaking of the challenges facing a new generation in France in 2008, Cousin explained, "The pavement represents our buildings, the roads, the road surface and what we build around it, if we tear it off it is because we no longer understand its layout and its utility, we no longer understand the plan...The beach is much older, it is under and it is before the pavement. It is quite possible that before climbing the dune to explore the vast world we have lived a few million years as semi-aquatic mammals. The total happiness of the child wading at the edge of the water, our evocation the evening when we created the graffiti, could be our paradise lost, that would explain many things of the body of the man and his behavior. It's up to you, young people to explore now."
Graffiti - Paris, France