Progression of Art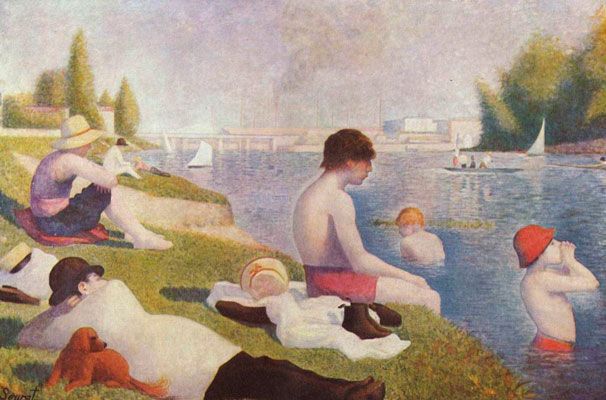 1884
Bathers at Asnières
Seurat's first important canvas, the Bathers is his initial attempt at reconciling classicism with modern, quasi-scientific approaches to color and form. It depicts an area on the Seine near Paris, close to the factories of Clichy that one can see in the distance. Seurat's palette is somewhat Impressionist in its brightness, yet his meticulous approach is far removed from that style's love of expressing the momentary. The scene's intermingling of shades also demonstrates Seurat's interest in Eugene Delacroix's handling of shades of a single hue. And the working class figures that populate this scene mark a sharp contrast with the leisured bourgeois types depicted by artists such as Monet and Renoir in the 1870s.
Oil on canvas - Art Institute of Chicago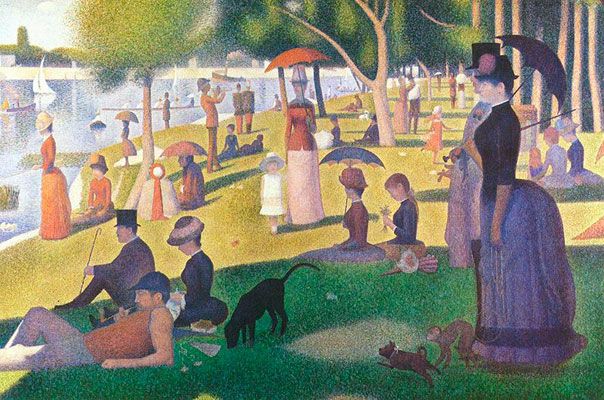 1884-86
Sunday Afternoon on the Island of La Grand Jatte
Seurat's Sunday Afternoon on the Island of La Grand Jatte was one of the stand-out works in the eighth and last Impressionist exhibition, in 1884, and after it was shown later that year, at the Sociéte des Artistes Indépendents, it encouraged critic Félix Fénéon to invent the name 'Neo-Impressionism.' The picture took Seurat two years to complete and he spent much of this time sketching in the park in preparation. It was to become the most famous picture of the 1880s. Once again, as in Bathers, the scale of the picture is equal to the dimensions and ambition of major Salon pictures. The site - again situated on the Seine in northwest Paris - is also close by. And Seurat's technique was similar, employing tiny juxtaposed dots of multi-colored paint that allow the viewer's eye to blend colors optically, rather than having the colors blended on the canvas or pre-blended as a material pigment. The artist said that his ambition was to "make modern people in their essential traits move about as they do on [ancient Greek] friezes and place them on canvases organized by harmonies." But the classicism of the Bathers is gone from La Grand Jatte; instead the scene has a busy energy, and, as critics have often noted, some of the figures are depicted at discordant scales. It marked the beginning of a new primitivism in Seurat's work that was inspired in part by popular art.
Oil on canvas - Art Institute of Chicago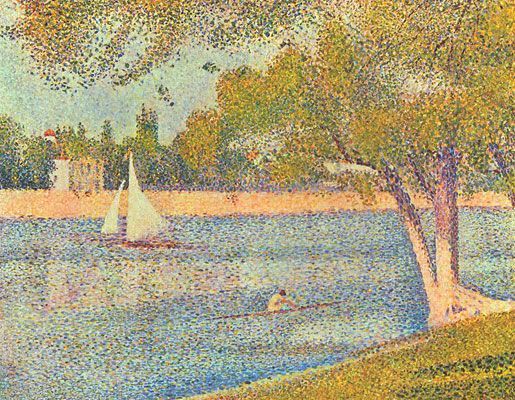 1888
La Seine à la Grande-Jatte
La Seine à la Grande-Jatte of 1888 shows the artist returning to the site of his most famous painting - A Sunday on La Grande Jatte painted two years prior. This later composition demonstrates Seurat's continued interest in form and perspective, but reveals a much softer and more relaxed technique than La Grande Jatte. The soft atmosphere is made up of a myriad of colored dots that mix optically to mimic the effects of a luminous summer day.
Oil on canvas - Royal Museums of Fine Arts of Belgium, Brussels
1888-90
Young Woman Powdering Herself
Young Woman Powdering her Face is a portrait of Seurat's mistress Madeleine Knobloch. It is an adoring likeness that jokingly contrasts the classical monumentality of the figure against the flimsy Rococo frivolity of the setting. It is also strongly marked by Seurat's increasing interest in caricature and popular art, sources which lent a new expressiveness to his work which accorded with the growing contemporary interest in Symbolism. Knobloch was a working-class woman with whom Seurat maintained a long term secret relationship, keeping her separate not only from his bourgeois family but also from his bohemian friends. When the painting was shown in 1890, her identity remained concealed. Knobloch was given some of Seurat's paintings as an inheritance but she cut off all communication with his family after his death.
Oil on canvas - The Courtauld Institute of Art, London
1887-88
Circus Sideshow
Circus Sideshow is considered one of Seurat's major figure paintings. Yet it is much more condensed than his other mural-size paintings. This was Seurat's first nocturnal painting and it debuted at the 1888 Salon des Indépendants in Paris. It depicts a ringmaster and musicians under twinkling gaslight who are attracting a crowd of potential ticket buyers. The composition was drawn from on-site sketches he made in the spring of 1887, when Frenand Corvi's traveling circus performed in Paris (it appeared regularly in Paris between the 1870s and the First World War). Though Seurat frequently attended circus-like events in his leisure time, this painting was the first important picture Seurat dedicated to a scene of popular entertainment. The pattern of circles, ovals and rectangles in the background has attracted much notice from critics, as many of the forms are hard to explain in terms of the structure of the setting. It has been argued that they derive from Seurat's understanding of various contemporary theories of expression, which advocated the use of particular forms and colors to convey particular types of emotion.
Oil on canvas - Metropolitan Museum of Art, New York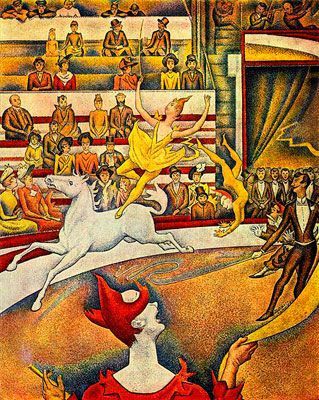 1890-91
The Circus
Seurat's early paintings often feature a remarkable stillness, even with complex figure compositions, but The Circus features a scene of dynamic movement, and is typical of his late style. The scene is borrowed from an anonymous poster for the Nouveau Cirque, printed in 1888, although the horse and bareback rider have been reversed. The figure in the first row of seats, with a silk hat and a lock of hair visible under it, is the painter Charles Angrand, a friend of Seurat's. This painting was Seurat's last, and was left unfinished when he died suddenly in March of 1891. It was sold shortly thereafter to his friend Paul Signac.
Oil on canvas - Musée d'Orsay, Paris
Similar Art
Related Artists
Related Movements & Topics