Progression of Art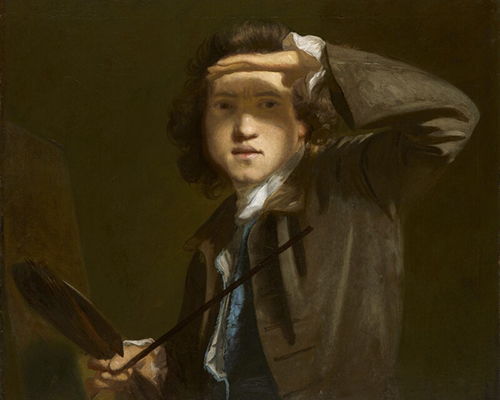 c.1747-49
Self-portrait shading the Eyes
This painting is an early self-portrait by Reynolds; a subject he returned to often throughout his career. This was probably painted prior to his trip to Europe and in it he shows himself turning to look towards the viewer, his left hand positioned at his forehead as if helping him to see better (or shading himself from bright light?). In his right hand he holds an artist's palette and a mahlstick. As such, this work bears the distinction of being the only self-portrait in which the artist depicted himself with the tools of his profession. That he did this at a young age, demonstrates his pride in his career and the painting acts as an assertion of himself as an artist and serves as an early indication of his skill as a self-publicist. The painting was originally vertical in format and was later reduced at the top and bottom, probably in the 19th century.

The composition of the piece departs from the norms of portraiture for the period where sitters were portrayed formally and in well-established poses. This is noted by art historian Mark Hallett, who writes that, "very differently, Reynolds depicts himself as a man of action, who, raising his arm to his face as he twists away from his canvas, is caught in the moment of painting". This sense of movement and the use of a non-standard pose can be seen as an early experiment that would inform Reynolds later portraits.
Oil on canvas - National Portrait Gallery, London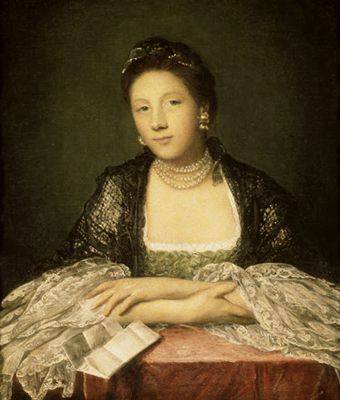 1759
Miss Kitty Fisher
Miss Kitty Fisher features a woman wearing a fashionable gown, multiple strands of pearls around her neck, and a pearl encrusted tiara in her dark hair. Her head is titled slightly to the left as she looks keenly at the viewer. On the table in the foreground there is a partially unfolded letter which reads "My dearest Kit" and is dated "2 June 1759". Reynolds painted Fisher on a number of occasions and at first glance, one sees a portrait of an aristocratically-styled woman who is the picture of decorum and sophistication. The sitter, however, was in fact a courtesan who was famous in British society for her sexual alliances with a number of high-profile aristocrats. Reynolds subtly draws attention to her reputationby the inclusion of the letter, apparently from one of her admirers.

The work demonstrates Reynolds' eclectic choice of subjects, including those that would court controversy and shock the public. In fact, Fisher was not the only courtesan that he painted, the well-known Nelly O'Brien also sat for him multiple times. The way Fisher is depicted can be seen as a forerunner to modernism. While the subject of courtesans and prostitutes had long been depicted in art, here Reynolds does so in a new way, presenting a woman who would be known by the viewing public, boldly staring out at and confronting the viewer in an unapologetic fashion. She displays no shame about her profession. It is this same type of gaze that, years later, would cause outrage in Edouard Manet's paintings Olympia (1856) and The Luncheon on the Grass (1862).
Oil on canvas - The National Trust, Petworth House, UK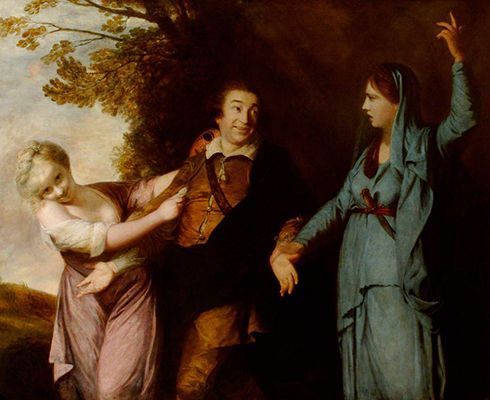 1761
Garrick between Tragedy and Comedy
David Garrick, the famous actor, playwright, and theater manager is depicted in a pastoral setting between a blonde woman wearing a provocatively low-cut dress (comedy) and a more conservatively dressed woman in a blue robe (tragedy). Reynolds was a great admirer of the theater and his patronship also helped him to maintain his circle of contacts and gain introductions to new clients. He was a close friend of Garrick and this image references Garrick's profession as an actor showing him being pulled between the two genres of theater. This idea of a person represented or divided by different elements was utilized more than once by Reynolds and can also be seen in paintings such as Sarah Siddons as the Tragic Muse (1783-84) in which the figures of Terror and Fear lurk in the shadows.

The clothes and stylized poses of the women reflect their different roles and this is an example of Reynolds' widespread use of symbolism in portraiture. Not only do the figures embody their respective acting genres, however, but the painting also takes on a wider allusion, comparing Garrick's theatrical choice to that of Hercules. In classical mythology, Hercules had to choose between the paths of Virtue and Vice, often represented as figures in allegorical works of the period. In comparing Garrick with Hercules, Reynolds makes a humorous comment on 18th century concepts of heroes and heroism. Whilst this lighthearted approach was appreciated by many, it was seen as flippant and verging on disrespectful to the traditions of classical art by others, notably the American-British artist Benjamin West.
Oil on canvas - The National Trust, UK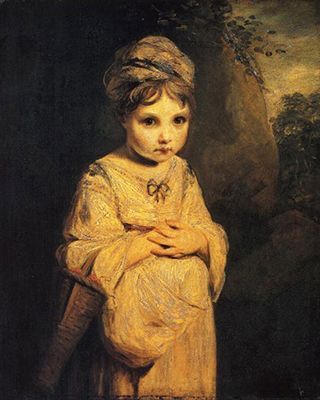 1773
The Strawberry Girl
This work is arguably the best known of Reynolds' fancy pictures, a genre he began to paint from the 1770s. Featuring young children, such pictures often included exotic costumes and fantasy locations. This image is intended to invoke a sense of pity in the viewer and for curator Lucy Davis, "her large deep-set eyes gaze intensely at the viewer and, combined with her timid, hunched posture, create a rather pathetic effect". Reynolds often used poor children as models which if it was the case here (although the sitter is unknown) it would have helped lend an authenticity to to the sad life that the young figure is presumably meant to have led.

Strawberry sellers were a common sight in 18th century London, but were usually young women as opposed to children. Age, however, is not the only area in which Reynolds has employed dramatic license in the image. Davis further explains how, "removing the figure from an urban setting, he emphasized her isolation by painting her in front of a looming rocky outcrop. He amplified the picturesque tone of the picture by inventing an exotic costume for the girl." All of these details imbue the work with a slightly surreal and unsettling quality. Interestingly, this sense of the uncanny is heightened by the pale color palette of the piece, although this is due to fading, rather than being representative of Reynolds' artistic vision. The artist was a keen experimenter, trying out new paints and pigments and this has led to fading, blistering and cracking on a number of his works.

That Reynolds greatly enjoyed painting these fancy paintings has been well documented by his biographers. According to James Northcote, who spent years as his assistant, "so desirous was Sir Joshua to arrive at excellence, that I have known him to work days and weeks on his fancy subjects, on which he could practice every experiment at pleasure, while numbers of his portraits remained unfinished....Such was his delight in working on those fancy subjects that he was content to indulge it even at the expense of his immediate interest."
Oil on canvas - The Wallace Collection, London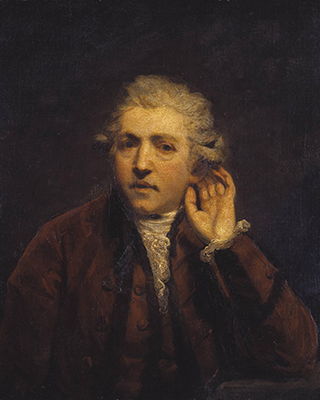 1775
Self-portrait as a Deaf Man
In this self-portrait, Reynolds portrays himself from the waist up wearing a dark brown jacket with white ruffled shirt beneath. Set against a black background, the viewer's eye is drawn to the light shining on his face and gray hair. His left hand is raised and cupping his left ear making it appear as if he is struggling to hear something. One of many self-portraits the artist created during his lifetime, here we see the deeply personal, auto-biographical way he chose to depict himself. By drawing the viewer's attention to his left ear, he is giving visual manifestation to the hearing loss he struggled with in the later years of his life. While Reynolds often created a theatrical staging for many of his portrait sitters, with his own portraits rather than paint a highly idealized version of himself, he painted a brutally real assessment.

This work shows Reynolds' mastery over the use of light and shading in his portraits. The black background of the painting and his clothes stand in sharp contrast to the light that washes over his face and hand serving to draw attention to the most important aspect of his painting; the ear. Alive with Baroque energy and the assured use of chiaroscuro it demonstrates the influence of artists like the Italian master Caravaggio on his art.
Oil on canvas - Tate Galleries, London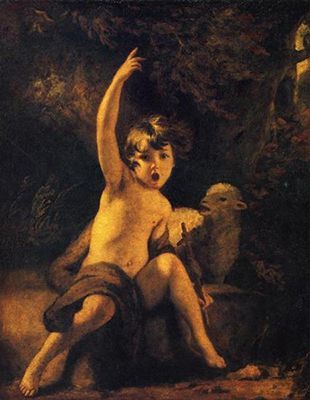 1776
St John the Baptist in the Wilderness
Here, Reynolds has depicted the biblical figure of John the Baptist as a young child in the wilderness and the work highlights three key characteristics of Reynolds' art. First, while not his primary subject matter, it provides a fine example of Reynolds' religious paintings of which the figure of John the Bapist was one of his favorites to depict. The wild gesturing of John heralds the coming of Christ, who is symbolically represented by the lamb beside him and his impending sacrificial death through the cross John holds. Secondly, it shows the influence of the Italian Old Masters on Reynolds' work complete with the complex shading reminiscent of Caravaggio and references to Raphael's painting of the same subject from 1518-1520. Lastly, depicting John the Baptist as a child, allowed Reynolds to create a fancy picture, something which he enjoyed doing and which, by this time in Reynolds' career, were developing a solid reputation. Curator, Lucy Davis describes how, the choice of depicting John the Baptist was, "a subject which enabled him to pay homage to Old Master religious imagery, both in terms of subject matter and in composition and technique. However, with characteristic ingenuity, Reynolds transformed the composition from a purely devotional image to one which aligned closely with his secular fancy pictures of children."
Oil on canvas - The Wallace Collection, London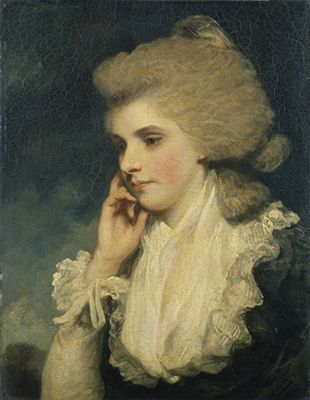 1781-84
Frances, Countess of Lincoln
This work is a fine example of the Grand Manner style, a type of portraiture that Reynolds developed and built his career upon. Often these paintings were of family members of devoted patrons and this is true for this painting. Frances Seymour-Conway was the daughter of the Marquess of Hertford a great supporter of the artist. The work was one of a pair he created of Frances and her sister Elizabeth and highlights his mastery and command of paint as well as his ability to capture the sophistication of British high society fashions. According to curator Lucy Davis and art historian Noémi Duperron, "this pair of portraits emphasizes the two women's stylishness of hairstyle and dress...To convey the light, delicate character of the frilled collars as well as a sensation of their transparency, Reynolds has layered different consistencies of paint in these portraits, including strokes of liquid paint...He clearly worked quickly in painting the two sisters' clothing, often using a wet-in-wet technique."

Reynolds' ability to capture the humanity of his sitters is also present in this work. The way Frances is portrayed reflects her recent widowhood with her pose drawn from Italian painting where it conveyed both thoughtfulness and melancholy. In depicting her in this manner, Reynolds not only captures her grief but presents a picture of ideal femininity represented through her fashionable presentation and appropriate depth of feeling.
Oil on canvas - The Wallace Collection, London
Similar Art
Related Artists
Related Movements & Topics