Artists
Catherine Opie
Biography and Legacy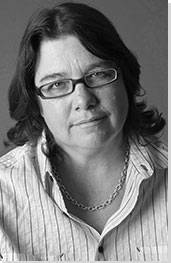 Born: 1961 - Sandusky, Ohio

"I have vivid memories of going to the National Portrait Gallery. I was probably eight or nine. So often, we relate much easier to a visual world."
Biography of Catherine Opie
Childhood
Catherine Opie was born in Sandusky, Ohio. At eight years old she wrote a school book-report on the photography of Lewis Hine and was moved by his appetite for social reform. "Hine was able to change the law through his images of child labour and I got very attached to the idea of what those pictures could do. I haven't stopped using the camera since," she said.
Opie was given a Kodak Instamatic by her parents and immediately began photographing herself, her family, and her neighborhood; exhibiting a fascination with community and identity that still pervades her work. By the time she was 14 she had built her own darkroom in her family's new home in San Diego. "I wanted to figure out the world through making images," she said
As a "quiet rebellious" teen, Opie knew she was gay, but the lack of role models around her made coming out a difficult process. This experience shaped her and influenced a life-long career photographing the LGBTQIA community. She said: "It is really important to be out and do the work that I do. I want to create examples for younger people."
Education and Early training
Despite her passion, Opie's parents told her a career in art was not a feasible one, so she decided to become a kindergarten teacher instead. One year into her studies, though, she called home and said: "Mom, I'm an artist and I need to go to art school". She completed her Masters of Fine Arts from the California Institute of the Arts in 1988 and three years later shot to fame with her breakthrough Being and Having series, which portrayed her friends from the queer, leather and BDSM communities in Los Angeles and San Francisco. Their faces and bodies were juxtaposed against bright backgrounds and her depiction of everyday peers using traditional portrait photography was unusual and attention grabbing. She said: "A lot of my friends were fighting AIDS or dying. And I wanted to make a body of work that used bright backgrounds offsetting it, almost like a Hans Holbein painting." Opie considers herself a political activist as well as an artist, fighting for equal rights for LGBTQ people. She added: "We all witnessed partners dying of AIDS and not being allowed into emergency rooms, and we saw families come in, who were conservative, and take everything because the other partner didn't have any rights."
Opie was also inspired by landscape and architecture and in 1994 began to examine the Los Angeles cityscape in her photo series In Houses, Freeways and Mini-Malls.
She returned to portraiture in 1998 when she set off on a road trip to hunt down lesbian relationships for her series Domestic. Her outgoing and affable personality helped her win her subjects' confidence, enabling her to produce insightful and intimate portraiture. The series was a nod to Robert Frank's 1950s road trip photo series The Americans - the highly influential photo book depicting post-war America. The images unpacked the gloss of American culture, highlighting racial and class divides. Taking this one step further with her work, Opie's Domestic subverts the heterosexual norm and presented another way to think of the family.
By the age of 40 she had fulfilled a lifetime's ambition when she gave birth to her baby Oliver - realizing a dream she had thought from childhood would be denied her due to her sexuality. This experience led Opie to document her own role as mother, framing a multiplicity to her identity as woman, lesbian, and mother: she presents herself as butch, kinky, and sexualized, but also as a devoted mother, as in Self Portrait, Nursing (2004).
Mature Period
Opie is also a celebrated landscape photographer, and her 2003 Surfers series shows the Malibu community set against the dramatic seascapes of the west coast.
In 2012 Opie began a series of portraits of fellow artists, and to date she has produced portraits of a range of influential designers, painters, filmmakers and writers, including Lynette Yiadom-Boakye; Isaac Julien; Duro Olowu; Celia Paul; Gillian Wearing; Jonathan Franzen; John Baldessari; Rick Owens; Anish Kapoor; and David Hockney. The portraits, which draw on Renaissance painting, were heavily staged and lit against a black background. British conceptual artist Gillian Wearing, who sat for Opie, said: "Her lighting brings an amazing painterly quality. She captures people in an extraordinary way."
In 2018 she released her first film, The Modernist, a 22-minute movie containing 800 photographs about a frustrated artist who, unable to buy his own home, starts burning down houses.
Still living in West Adams with her wife, the artist Julie Burleigh, Opie is a key figure in the city's cultural life, so much so that she has been dubbed by friends "the mayor of Los Angeles". She has served as a professor of photography at UCLA since 2001 and now sits on the boards of the Los Angeles Museum of Contemporary Art and the Andy Warhol Foundation.
The Legacy of Catherine Opie
From Opie's subcultural roots working out on the margins of society, the photographer is now a well established artist and personality, listing well-known creatives like David Hockney and Gillian Wearing among her friends, and having her work displayed in the White House. She is considered to be one of the leading fine art photographers working in the United States today. In a time when everyone has a camera on their person at any time, and the selfie is the mode of choice in the online galleries of Instagram, Opie's thoughtful, carefully staged, and highly political work stands out among a world of photographic images and invites us to explore our relationship with memory, with history, bodies, and the self. Opie has said, "I think it's harder to be a photographer now than at any other time. We are so oversaturated with images. Right now with my practice, it is the simplicity of - can I hold you? Can I get you to look at the image for any more than a second? Can I allow you to think about skin and expression and light and landscapes that become abstract"?
Mary Coble, the American feminist performance artist, credits Opie with inspiring her work, and in 2016, the Eastman, the world's oldest photography museum, hosted a Catherine Opie inspired Instagram Takeover in which a diverse group of individuals were encouraged to post portraits of themselves and their belongings.
Working in university education, she fights for equality and against misogyny, which she says dominates the art world. In 2017 Opie said, "Being a professor, I track my students, and I have to say that the majority of my male students seem to do very well after graduating, while for my female students it's much harder. It's also visible in the relationship between the quality of the work and money. I'm a very very fortunate artist in that I could make a living out of just being an artist if I chose to, but I also like to teach. I think it's important to mentor a generation of artists."
Most Important Art
Bo (1991)

In Bo, we see a young Catherine Opie staring intensely back at the viewer. She is wearing a fake mustache and carries the both comical and unnerving expression of "a serial killer from the Midwest who's a used aluminum-siding salesman".

The mustard-yellow background echoes Hans Holbein portrait paintings, as well as more recent Pop Art aesthetics. The image presents Opie's signature style; the highly focused, studio print of a human subject against a bright background as she merges past aesthetics with present politics. It is a device to add gravity to the image; to confer authority to the marginalized.

The Being and Having series consists of 13 photographs of Opie herself (as in Bo) and her lesbian friends playing with exaggerated, camp signs of masculinity - mostly fake moustaches and beards. The work is a playful representation of Judith Butler's ideas that gender is something that is performed, and layered, as opposed to a natural thing we are born with. The photograph also documents popular forms of dressing up and male drag amongst Opie's own lesbian community.

The piece subverts traditional visions of female beauty presented in art, by allowing the subject (also the artist) to have agency in looking straight at the viewer, and by covering 'beautiful', 'feminine' features with fake moustaches and beards. "My women embody space, they look back at you, they look off at you. I've always treated women in relationship to holding a sort of power within the frame and a lot of male photographers photograph the woman only as object."

In creating Bo as an alter ego, Opie subverts the traditional male gaze, in which men create 'beautiful' images of women for other men to look at. Instead, Opie looks straight at the viewer out of the picture. She takes on the role of photographer and subject, creating an ambiguous image of masculinity, in place of the expected feminine subject.

Read More ...

Catherine Opie Artworks in Focus:
Catherine Opie Overview Continues Below
If you see an error or typo, please:
tell us
Cite this page

Content compiled and written by Sarah Ingram
Edited and published by The Art Story Contributors
" Artist Overview and Analysis". [Internet]. . TheArtStory.org
Content compiled and written by Sarah Ingram
Edited and published by The Art Story Contributors
Available from:
First published on 19 Jul 2018. Updated and modified regularly.


[Accessed ]