Progression of Art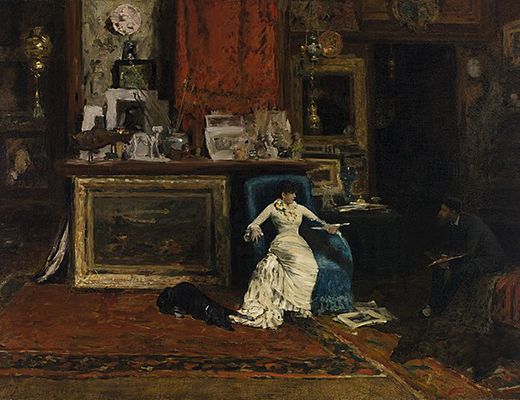 1880
The Tenth Street Studio
A plush studio is the setting for Chase's painting. It is filled with many golden framed pictures and luxurious objects including imported porcelains, a lamp (hanging from the ceiling), a large gold vase (on a shelf), and a large Oriental carpet. Just right of center, a female model in an elegant white dress sits in a vibrantly blue colored chair while the artist sits to the sitter's left sketching and his large black dog sleeps on the carpet.

When Chase arrived back in America after completing his first European tour, he settled in New York City and quickly set about finding a studio that would fulfil his wish of occupying "the finest studio in New York." He settled on a space in the Tenth Street Studio Building and went about decorating it with the collectibles he had amassed while in Europe.

Chase's studio was his haven but it was also a place for friends to gather and to "mingle". Chase was so inspired by his studio that he painted it several times during the 1880s. According to curator, Erica Hirshler, "Chase's rooms, which echoed the great studios he had seen and admired in Europe, enhanced his reputation as a well-traveled, dapper, creative practitioner of the arts. Often wearing a fez and accompanied by one of his pet wolfhounds, Chase presented himself against a backdrop of hundreds of objects from around the world: old master paintings, Japanese parasols, Renaissance furniture, Islamic lamps, fabrics, rustling chimes, great copper pots, and dozens of exotic shoes". The idea that artist and patron were sophisticated enough to appreciate such tasteful surroundings was a significant marker of social standing in late nineteenth century New York.
Oil on canvas - Collection of Saint Louis Art Museum, Saint Louis, Missouri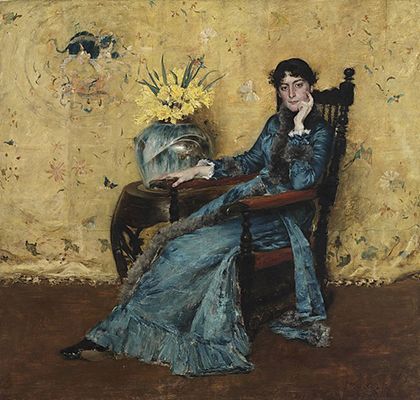 1882-83
Portrait of Dora Wheeler
Dora Wheeler adopts a reflective look as she reclines into a tall backed chair with red seat and arm rest cushions. Wearing a blue dress, trimmed in fur, she rests her chin in her left hand while next to her is a table on which rests a large blue and white vase filled with yellow flowers. According to Hirshler, the artist, "made his name by picturing women [captured] in a variety of roles, both active and meditative, in public and at home, and in professional and domestic guises".

Some of his female sitters were his students who went on to become established names on their own terms. As The Cleveland Museum of Art explains on its website, a young "Wheeler became Chase's first student when he returned from overseas study in Munich and set up a teaching studio in New York. At the time, few American artists accepted women as private pupils. After her course of study, Wheeler joined her mother in launching a successful decorating firm, one of the first businesses in the country to be operated entirely by women. For the firm, she designed luxurious textiles, and the embroidered silk tapestry that fills the background in her portrait references her occupational interest".
Oil on canvas - Collection of The Cleveland Museum of Art, Cleveland, Ohio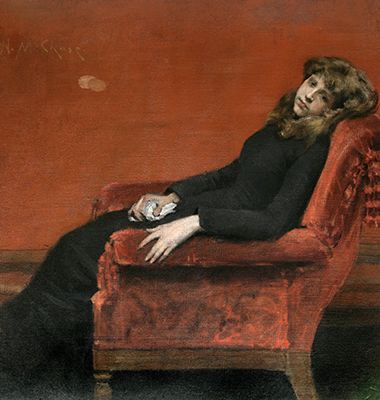 1884
The Young Orphan
It is the gaze of the young woman resting in a red velvet chair that first grabs the attention in Chase's painting. Wearing a long black dress, she rests her head against the back of the chair and looks out absently at the viewer. Set against a red wall, in the same shade as the chair, the only other burst of color comes from the white tissue the young orphan clutches in her right hand.

While Chase was known for his portraits of society women, this is one in which the sitter is steeped in some mystery. As Hirshler points out, "if she is identified as an orphan, she seems plainly in mourning, her black dress and clutched handkerchief indicative of her grief". However, Chase first debuted the work with the title At Her Ease and if we consider the work under that heading then, as Hirshler argues, "her heavy burden is lifted, allowing a more positive interpretation of her daydreams". Given that the theme of women in contemplation was a topic Chase often explored, it is not clear why he chose to change the title, but when he did so, it allowed for a wholly different interpretation of the subject.

James McNeill Whistler's influence is in strong evidence in this painting. The over the shoulder gaze of the woman is very Whistleresque while Hirshler picked up especially on "the famous example that inspired the costume, composition, and thinly applied pigment" that marked Whistler's most famous 1871 portrait of his mother (Arrangement in Black and Grey, No. 1).
Oil on canvas - Collection of National Academy of Design, New York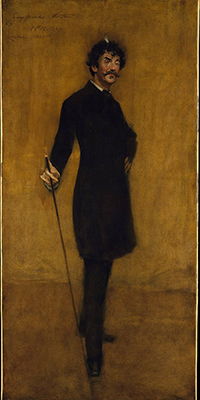 1885
James McNeill Whistler
Chase became aware of Whistler while studying in Munich and would have become closely acquainted with his most famous portrait, Arrangement in Grey and Black, No. 1: Portrait of the Artist's Mother (1871), when it exhibited in 1881 at the Pennsylvania Academy of the Fine Arts in Philadelphia and, in 1882, at the Society of American Artists in New York. Three years later Chase met Whistler in London. Despite Whistler's reputation as a "difficult" man, the two got along famously (initially) and Whistler persuaded his compatriot to extend his stay in England so they might paint one another's portrait. (It is also likely that the two men discussed urban scenes given Chase's imminent excursions into that genre and the fact that Whistler had only recently sketched and painted several London park scenes himself.)

Chase depicts Whistler as a tall, slim, figure bedecked in formal black attire. Whistler looks out at the viewer, his head turned slightly to the right, his left hand resting on his hip, while his right hand holds a long, thin walking cane. While Chase enjoyed painting Whistler, he had a more difficult time as Whistler's sitter and complained in a letter home that "[Whistler] proved to be a veritable tyrant, painting every day on into the twilight, while my limbs ached with weariness and my head swam dizzily".

The style in which Chase depicted Whistler evokes both his subject's own personality and Whistler's influence on Chase. According to Hirshler, "Chase's likeness of his fellow American artist emulated Whistler's spare, self-consciously aesthetic style" and can be seen in some ways as a tribute to the man himself, especially in the way "Chase captured Whistler's theatrical persona in the role of an artist, a dramatic character that Whistler himself cultivated". Whistler, however, did not like the rendering at all and, according to Hirshler, he "called Chase's painting a 'monstrous lampoon' and complained about Chase for the rest of his life". Whistler's portrait of Chase has not survived and many believe that Whistler destroyed it as an act of spiteful retaliation against Chase.
Oil on canvas - Collection of The Metropolitan Museum of Art, New York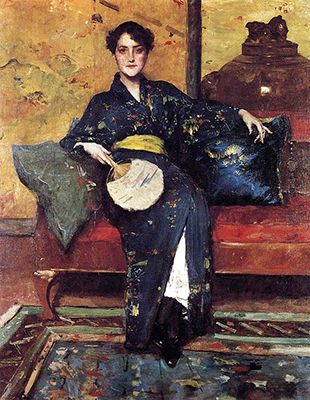 1888
A Comfortable Corner
A dark-haired woman, wearing a blue kimono and yellow sash is seated on a red couch. She is staring out at the viewer, her left arm is draped on a blue pillow as she holds a white fan in her right hand. While the allure of all things Oriental was strong in many artists of the period, Chase's love for Japanese culture was so strong, he not only collected many items from the country, but also named one of his daughters Koto after one of his favorite Japanese students.

Chase painted a series of portraits featuring women wearing kimonos. Often these paintings included depictions of the Japanese objects he had on display in his studio. This painting, as Hirshler explains, demonstrates, "Chase's interest in Japanese art in the context of his penchant for accumulating an eclectic array of beautiful things, while also revealing at least some understanding of Asian compositional devices". Yet the work is still Western in many ways. According to Hirshler, the model's "legs are demurely crossed at the ankle, but the robe allows a glimpse of her polished leather shoes, black silk stockings, and white ruffled petticoat, reinforcing common sensual associations of women, silk textiles, and Asia. Once again, Chase uses the edges and borders of the rug, sofa, and screen to provide an underlying geometrical structure to his composition [...] although the solidity of Chase's forms and the animation of his brushwork prevent this composition from looking anything but Western".
Oil on canvas - Collection of Parrish Art Museum, Water Mill, New York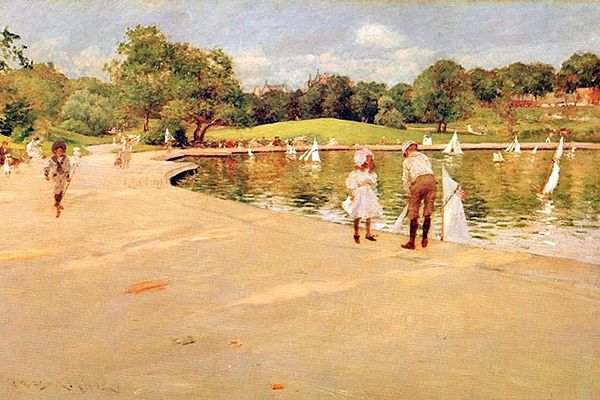 1890
Lilliputian Boat-Lake - Central Park
Chase would have seen many urban subjects painted in impressionistic styles in New York in April 1886, when the Parisian art dealer Paul Durand-Ruel curated an exhibition of some 300 paintings by the likes of Manet, Degas, Pissarro, Monet and Caillebotte. Chase realized that city park scenes offered the perfect setting for impressionistic vignettes; especially so Prospect Park and Central Park which were associated with genteel, petit-bourgeois recreation. The Hirshler observed that Chase often "record[ed] the games and pastimes of youngsters whose families could afford their leisure". In this painting, a young boy and girl prepare to launch their fine toy yacht into a manmade boating lake. The lake is crowded with similar vessels, while other children are seen at the water's edge in various acts of play.

Chase painted several images in New York's Central Park. In choosing such a location he emulated the great French artists who made the theme of Parisian leisure time a key tenet of the Impressionist movement. Indeed, Chase's scene is impressionistic in style; rendered as it is in loose brushstrokes and the plein air approach that captured the variable effects of natural light on canvas. Chase's was a distinctly American setting, of course, and the newly created and modern Central Park (opened to the public for the first time in 1858) saw the Americanization of Impressionism and a more contemporary approach to landscape painting in his country.
Oil on canvas - Private collection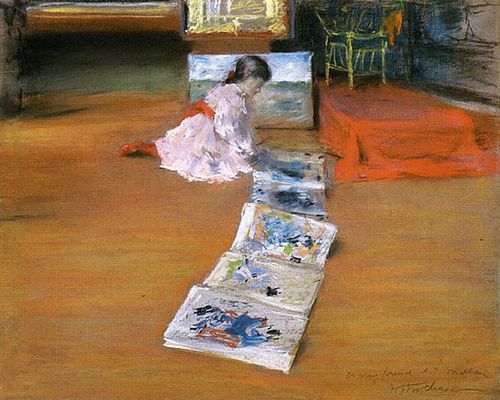 1892
Shinnecock: Studio Interior
A young formally dressed child wearing a pink dress with a vivid red bow tied at her waist and red shoes is depicted sitting on her knees on the floor of a studio. Behind her are a number of paintings in various stages of completion; but it is the large book spread out on the floor in five distinct pages that becomes the focal point of the canvas.

Chase's love of Japanese culture is again in evidence here, although displayed in a rather more subtle way than through his earlier series of portraits depicting women dressed in kimonos. Here, his eldest daughter Alice/Cosy (who he had painted four years earlier dressed in a kimono) is pictured looking at a book of Japanese prints on the floor of her father's studio in Shinnecock Hills, Long Island. As Hirshler observed, in painting these works "he capitalized on popular taste [...] but he also intended to pay homage to the art he deeply admired. Cosy came to share his enthusiasm".

More than its thematic interests, perhaps, this work provides a fine example of Chase's skill in the medium of pastels. The Phillips Collection website describes how, "throughout his career, Chase experimented with pastel alongside his work in oil, translating the painterly qualities of wet color to the velvety effects of dry pigment". Here specifically the medium of pastel is used to render a beautifully realized Impressionistic work.
Pastel on paper mounted on canvas - Collection of Terra Foundation for American Art, Chicago, Illinois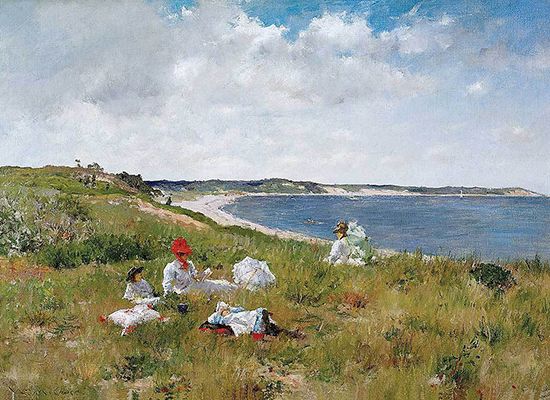 1894
Idle Hours
The title of this painting perfectly sums up the theme depicted. Two women and two young girls are seated relaxing in the grass while in the background we can see a stretch of beach bordering a tranquil blue ocean. This painting provides an example of how Chase used his family as subjects: his wife, Alice, two of his daughters, and his sister-in-law. As Hirshler describes it, "Alice reads while one of the girls gazes up at the shifting clouds, her abandoned berry bucket adding a note of bright red to match her mother's hat and the decorative trim of the plump cushions".

From 1891 Chase spent the summers at his family home in Shinnecock Hills. The home doubled as a summer school where he tutored aspiring artists. Just as Claude Monet drew inspiration from the beautiful surrounding of his gardens in Giverny, so Shinnecock Hills inspired Chase to create some of the best of his landscape paintings. The loose brushstroke style evident here became characteristic of the American Impressionist style of which Chase was a champion. His mastery over the brush is evident here; a point made clear by the author Katherine Metcalf Roof who stated, "Chase always drew with the brush. It was the way natural to him and the method he believed in as the best means to the end. He [even] encouraged his students to paint almost as soon as they drew".
Oil on canvas - Collection of Amon Carter Museum of American Art, Fort Worth, Texas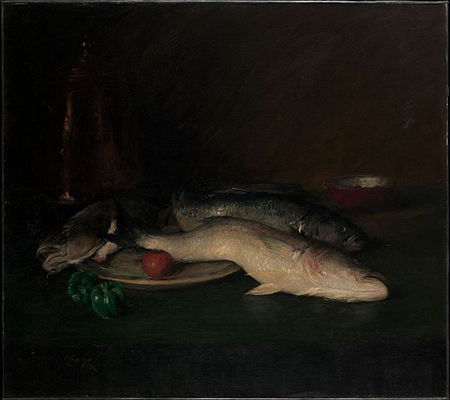 1908
Still Life: Fish
The focal point of this still life are the three fish draped over a plate. Their heads are resting on the tabletop in an unconventional composition that includes two fish on the right side of the canvas and one, partially obscured fish, to the left of the plate. In a predominantly dark and shadowy work, the only color coming from the underbelly of the central fish, the green of two small bell peppers, and the red of the tomato and the bowl. As Bettis put it, "In his later years his still-life oeuvre was enhanced by an extraordinary series of fish studies, in which the artist's virtuoso brush transforms the pink and white luminosity of the recumbent fish to an object of almost abstract beauty', adding that Chase "often executed such studies in three or four hours".

Chase once offered the maxims, "while there is still life there is hope" and "do not try to paint the grandiose thing. Paint the commonplace so that it will be distinguished". According to The Metropolitan Museum of Art, "Chase made many large-scale still-life paintings of fish, usually during his summer teaching trips to Europe. Executed with the bravura brushwork and dark palette of his early Munich period this painting shows the influence of Chase's contemporary, the French artist Antoine Vollon, and of the seventeenth-century Spanish still lifes that Vollon also appreciated".

Chase was interested in what his legacy would be and, as Roof describes, when touring an exhibition with fellow artist Birge Harrison and his wife, Harrison complimented Chase's fish painting calling it a "masterpiece" to which he responded, "Yes, yes, I suppose that some day I shall be known only as a painter of fish". Harrison was not alone in his praise, and according to The Metropolitan Museum of Art, "writing in 'The New Republic' in March 1917, the American connoisseur and collector Leo Stein commented [...] 'Of all non-sentimental still life [...] they are with their bulging mass and sweeping line the most expressive".
Oil on canvas - Collection of The Metropolitan Museum of Art, New York
Related Artists
Related Movements & Topics