Biography of Romaine Brooks
Childhood and Education
Romaine Brooks was born Beatrice Romaine Goddard to an affluent American family whose wealth was derived from her mother, Ella Waterman's family mining fortune. Sadly, this financial security did nothing to prevent a miserable childhood. The youngest of three children, Brooks' father left shortly after she was born and her mother focused all her love and attention on the artist's brother, St. Mar. Mental illness was prevalent in the family and greatly affected her mother and her brother, both of whom were tormented by imaginary voices. When her cousin committed suicide, her mother told her young daughter that she had seen the cousin's ghost. This traumatized Brooks to the extent that she started to create disturbing drawings that featured spirits. Of her childhood, she stated, "My earliest recollection...is an immense impression of fear."
At age six, Brook's mother also abandoned her; she left for Europe with only her son and entrusted Brooks to the care of a poor laundry woman living in New York City. Despite living in squalor, Brooks benefitted from this experience; the family was warm and loving, and the woman of the house encouraged Brooks to draw, something her mother had forbidden her to do. Noticing talent, her surrogate mother-figure also introduced the young Brooks to an artist living in a nearby tenement who further nurtured the young girl's growing interest in art. Eventually her wealthy grandfather located Brooks and sent her to a boarding school. Here she was taught art however many of her fellow students and teachers found her drawings of monsters and ghosts unsettling. Her education continued at an Italian convent, to where her mother sent her to from age 14. Very unhappy at the convent, she attempted suicide and was expelled after a bout of pneumonia. Later at age seventeen, she was sent by her mother to a finishing school in Switzerland where she excelled in art and music. At age 19, she then moved to Paris.
Early Training
In 1895, at age 21, Brooks attempted to break all financial ties with her mother. Unfortunately a highly traumatic episode ensued; without funds she struggled to get by modeling for artists and singing in cabaret, but she was soon forced to ask her older sister Maya for an allowance. When Maya's husband, Dr. Alexander Hamilton Phillips visited Brooks to deliver the money, he raped her resulting in a pregnancy. Brooks gave birth to a daughter in 1897 and immediately gave the baby to the care of a convent. Tragically the baby died less than three months after being given away, news that Brooks only learned of five years later when she returned to the convent in the hope of reuniting with her child.
She had left her baby in order to travel to Rome and begin formal art training; she was 24 and started to attend the Scuola Nazionale. As the only female student enrolled however, she had a difficult time and experienced sexual harassment from her male classmates. According to her biographer, Cassandra Langer, one particular instance involved a male student leaving cards on her classroom stool with inappropriate images on them. The situation escalated and she then found an open book on her stool with provocative text underlined; Brooks was outraged so took the book and hit the instigator hard in the face with it, finally putting a stop to the harassment. After concluding her studies in Italy, in 1900 she continued her artistic education taking classes at the Académie Colarossi in Paris, France.
Brook's brother died in 1901 and then her mother passed away in grief and plagued by diabetes less than one year later. Brooks was thus transformed from a struggling artist into an heiress and an independently wealthy woman. The newly inherited fortune allowed her to spend the rest of her life financially unencumbered. Of this change in her circumstances she stated, "I knew somehow that the simple, almost monastic, life so congenial to me, was now over." With no interest in a traditional lifestyle, in 1903 Brooks entered into a marriage of convenience with John Ellingham Brooks. For the artist, a lesbian, it meant, in addition to a new name, that her husband could serve as a buffer against interest and interference from other men. In turn, Brooks gained the freedom necessary to pursue her art, and her homosexual husband was assured financial security for the rest of his life. Brooks quickly separated from her husband due to his increasing demands that she act more traditionally and attempts to control her money, but the two remained legally married until John Brook's death in 1929, an arrangement that had worked well for both of them.
Mature Period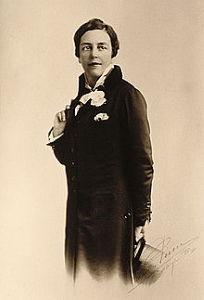 Brooks spent the next decades traveling and living in Europe and establishing her reputation as a serious artist. She spent time living in London and on the Cornish coast, in St. Ives. She started to focus entirely on painting portraits, which she now rendered in a very subtle color palette, basically consisting of a vast spectrum and range of gray. It was at this time that Brooks also became interested in interior design, often using this same reduced and muted color palette to decorate the apartments of her Parisian friends as well as her own. Residing in England during this period, Brooks is likely to have encountered the work of William Morris and other artists involved in the Arts and Crafts Movement.
Throughout her burgeoning career Brooks engaged in intense romantic relationships with controversial figures that would also serve as the subjects for her portraits, a dimension that added great intimacy to her work. Such relationships included a famous dominatrix, Winnaretta Singer, the dancer Ida Rubinstein (said to be the Lady Gaga of her day), and even a rare heterosexual affair with an Italian poet called Gabriele D'Annunzio. D'Annunzio's association with the development of Fascism in Italy, as well as Brook's later support of the plight of Italians during World War II tainted her reputation thereafter.
The artist's longest relationship by far, lasting for more than five decades, was with the fellow American heiress and writer, Natalie Barney. Barney was also in love with Duchess Lily de Gramont, which resulted in a unique open domestic arrangement whereby the three women lived together as a romantic trio until Gramont's death in 1954.
In addition to her chaotic upbringing, heavy with abandonment, madness, and loss, Brooks' life was also shaped by living through the turmoil of two World Wars. During World War I she a volunteered as an ambulance driver and created a fund to support injured French artists, feats which later earned her the French Cross of the Legion of Honor. During World War II, Brooks was trapped in Florence with Barney, constantly trying to protect her lover (because of her Jewish heritage) from the Nazis. The couple lived in harsh conditions, even having to endure the forced stationing of German soldiers in Brooks' home.
Late Period
Brooks' artistic output slowed down greatly after the end of the Second World War. While Barney returned immediately to Paris, Brooks remained for many years in Italy. Of this period she stated, "I remain alone seeking to find the other, the artist self that has deserted me during these years of the war on the hills of Florence." Somehow recognizing that her artistic output was dwindling, Brooks became overcome with a strong desire to look to her legacy and as such approached the Smithsonian Museum of Art in Washington, DC to take much of her work, an invitation that the gallery accepted in 1967.
In the remaining years of her life Brooks' health failed and she grew increasingly depressed and paranoid. Of her last years she wrote, "The death of my mother and brother had not liberated me mentally, and I felt that some part of me still remained with them." Easily agitated by and unnerved by sudden noise, the artist preferred to stay quiet and alone in darkened rooms during the last few years of her life. At the grand old age of 96, Brooks abruptly ended her relationship with Barney, and the same year died alone in her French home.
The Legacy of Romaine Brooks
The style of Romaine Brooks' art in many ways defies classification and does not easily fit into one stylistic category. However, she has been most frequently linked to the movements of Aestheticism and Symbolism because of her leaning towards the non-narrative and the romantic and lyrical qualities of her portraits. While Brooks did not embrace the vivid colors of many of her fellow modernists, she nevertheless made the same bold and somewhat simplified expressive gestural lines as her contemporary Fauves and Cubists. Her portraits are unapologetically honest and real in the same way that the likes of much later twentieth century portraitists, including Alice Neel and Lucian Freud took on board.
The intense concentration on portraiture and investigation into the notion of selfhood is something that Brooks shared with other women painters at the time, and similarly has inspired future generation of women painters. The English woman Gwen John and also the Finnish artist, Helen Schjerbeck repeatedly depicted their own image. John conveyed frustrations surrounding her own visibility by often including a soft blur, and Schjerbeck's face becomes increasingly reductive and skeletal as the years pass by. It comes as no coincidence that this intensified focus on identity comes at the same time as the onset of psychoanalysis. Sigmund Freud started his clinic in 1910 and had already published many notable works by this point; portrait artists working at the turn of the Twentieth Century exemplify this new human exploration.
In her repetition of the motif of women wearing masculine attrite in order to be taken seriously as artists, her work looks forward to the exhilarating career of Frida Kahlo. As such, her legacy lays crucial foundations for the development of Feminist art making and a woman's general refusal to follow convention and succumb to repression. Furthermore, and bringing her influence closer to the present day, Brooks' depiction of women in male dress, helped to push the boundaries surrounding the politics of gender identity and in turn to elevate the subject of the lesbian woman in fine art. As such Brooks' cleared important pathways for contemporary artists interested in the exploration of sexual identity, including Catherine Opie and Gillian Wearing.
Content compiled and written by Jessica DiPalma
Edited and revised, with Summary and Accomplishments added by Rebecca Baillie
"Romaine Brooks Artist Overview and Analysis". [Internet]. .
TheArtStory.org
Content compiled and written by Jessica DiPalma
Edited and revised, with Summary and Accomplishments added by Rebecca Baillie
Available from:
First published on 22 Oct 2018. Updated and modified regularly
[Accessed ]