Artists
Georges Seurat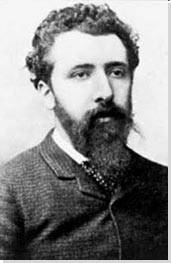 Georges Seurat
French Draftsman and Painter
Movements and Styles: Neo-Impressionism, Post-Impressionism, Pointillism
Born: December 2, 1859 - Paris, France
Died: March 29, 1891 - Paris, France

"Great things are done by a series of small things brought together."

Synopsis
Georges Seurat is chiefly remembered as the pioneer of the Neo-Impressionist technique commonly known as Divisionism, or Pointillism, an approach associated with a softly flickering surface of small dots or strokes of color. His innovations derived from new quasi-scientific theories about color and expression, yet the graceful beauty of his work is explained by the influence of very different sources. Initially, he believed that great modern art would show contemporary life in ways similar to classical art, except that it would use technologically informed techniques. Later he grew more interested in Gothic art and popular posters, and the influence of these on his work make it some of the first modern art to make use of such unconventional sources for expression. His success quickly propelled him to the forefront of the Parisian avant-garde. His triumph was short-lived, as after barely a decade of mature work he died at the age of only 31. But his innovations would be highly influential, shaping the work of artists as diverse as Vincent Van Gogh and the Italian Futurists, while pictures like Sunday Afternoon on the Island of La Grand Jatte (1884) have since become widely popular icons.
Key Ideas
Seurat was inspired by a desire to abandon
Impressionism's
preoccupation with the fleeting moment, and instead to render what he regarded as the essential and unchanging in life. Nevertheless, he borrowed many of his approaches from Impressionism, from his love of modern subject matter and scenes of urban leisure, to his desire to avoid depicting only the 'local', or apparent, color of depicted objects, and instead to try to capture all the colors that interacted to produce their appearance.
Seurat was fascinated by a range of scientific ideas about color, form and expression. He believed that lines tending in certain directions, and colors of a particular warmth or coolness, could have particular expressive effects. He also pursued the discovery that contrasting or complementary colors can optically mix to yield far more vivid tones that can be achieved by mixing paint alone. He called the technique he developed 'chromo-luminism', though it is better known as
Divisionism
(after the method of separating local color into separate dots), or
Pointillism
(after the tiny strokes of paint that were crucial to achieve the flickering effects of his surfaces).
Although radical in his techniques, Seurat's initial instincts were conservative and classical when it came to style. He saw himself in the tradition of great
Salon
painters, and thought of the figures in his major pictures almost as if they were figures in monumental classical reliefs, though the subject matter - the different urban leisure pursuits of the bourgeois and the working class - was fully modern, and typically Impressionist.
In Seurat's later work he left behind the calm, stately classicism of early pictures like
Bathers at Asnières
, and pioneered a more dynamic and stylized approach that was influenced by sources such as caricatures and popular posters. These brought a powerful new expressiveness to his work, and, much later, led him to be acclaimed by the
Surrealists
as an eccentric and a maverick.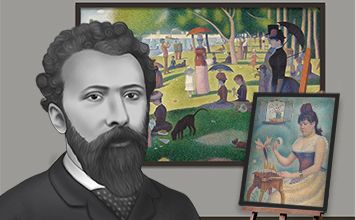 "Some say they see poetry in my paintings; I see only science" was what Seurat said and his development as an artist was a similar progression away from the scenic and emotional, and into the calculated and analyzed.
Influences and Connections
Influences on Artist
Artists, Friends, Movements
Influenced by Artist
Artists, Friends, Movements

Interactive chart with Georges Seurat's main influences, and the people and ideas that the artist influenced in turn.
View Influences Chart

Artists

| | |
| --- | --- |
| | Pierre Puvis de Chavannes |
| | Jean-Auguste-Dominique Ingres |
| | Nicolas Poussin |
| | Eugène Delacroix |

Personal Contacts

| | |
| --- | --- |
| | Felix Feneon |
| | Camille Pissarro |
| | Claude Monet |
| | Édouard Manet |

Movements

| | |
| --- | --- |
| | Impressionism |

Influences on Artist

Georges Seurat
Years Worked: 1874 - 1891
Influenced by Artist

Artists

| | |
| --- | --- |
| | Henri de Toulouse-Lautrec |
| | Vincent van Gogh |
| | Paul Gauguin |
| | Bridget Riley |

Personal Contacts

| | |
| --- | --- |
| | Edgar Degas |
| | Paul Signac |

Movements

| | |
| --- | --- |
| | Post-Impressionism |
| | Pointillism |
| | Op Art |
If you see an error or typo, please:
tell us
Cite this page

Content compiled and written by The Art Story Contributors
Edited and published by The Art Story Contributors
" Artist Overview and Analysis". [Internet]. . TheArtStory.org
Content compiled and written by The Art Story Contributors
Edited and published by The Art Story Contributors
Available from:
[Accessed ]